RIBA Architecture Competition for a Vision of Future Living in Cheshire, Buildings, Architects, Housing News
RIBA Design Competition for a Vision of Future Living, Cheshire
Key Architectural Development Contest in Cheshire, northwest England, UK
12 October 2020
The Heath Business and Technical Park in Runcorn
The Heath Runcorn: RIBA Vision of Future Living competition winner announced
Now let's turn this project into reality say judges as Eco Responsive is named winner of RIBA's 'Vision of Future Living' competition
Runcorn: October 12th, 2020: Eco Responsive Environments, an emerging design and architectural practice based in London, has won the Royal Institute of British Architects' (RIBA) 'Vision of Future Living' competition sponsored by SOG Group, owner and operator of The Heath Business and Technical Park in Runcorn.

The two runners-up from a contest that attracted entries from around the world were UK teams, Kimia Benan with Paul Treacy, and Tom Cookson with Sarah Carroll.
John Lewis MBE, SOG's owner and Managing Director, said: "I'm delighted with the outcome of this fantastic competition, superbly coordinated by RIBA, which has generated amazing designs and ideas from across the world. All three of our finalists provided us with a fascinating insight to what The Heath could look like in the future.
"We've seen extraordinary ideas and designs which set the judges an enormous challenge to choose a winner, but ultimately the submission from Eco Responsive has offered us a breath-taking glimpse of the possibilities for The Heath. It will certainly help us to attract interest from global investors to turn our dreams into reality. Our next steps are now to embark on a feasibility study for the Heath Park programme, and the outcome from the RIBA competition will be key factor in this process.
"I'd like to thank RIBA, and Terry Rogan and Simon Lewis from my SOG team, for their sterling efforts in making this global competition such a massive success."
The 5-strong judges' panel included some of the UK's most influential architects and designers including Paul Monaghan, Professor Rachel Cooper OBE, Hugh Broughton along with Mr Lewis and his own consultant architect, Terry Rogan.
Mr Monaghan, Director of Allford Hall Monaghan Morris, said: "The standard of final entries for this competition was extremely high. Each entry had followed a particular pursuit in great depth illustrated with excellent drawings. The competition winning entry for Heath Park will create a truly 21st century sustainable campus. I have rarely seen such a thorough presentation and I look forward to seeing this vision being built. SOG has a proven track record for delivering major regeneration projects and I feel this is the sort of scheme that must happen, and SOG is an organisation with the credentials to make it happen."
Professor Cooper OBE, Distinguished Professor of Design Management and Policy at Lancaster University, said: "This landmark competition, with a radical brief from the client, challenged architects to rethink the future of place. All the submissions rose to the challenge. The three finalists submitted highly innovative and comprehensive solutions. Eco Responsive Environments truly re-imagined in detail every aspect of The Heath to be a world leading sustainable, resilient place with a blueprint that would deliver economic, social and environmental wellbeing. The Heath has an exciting future."
Mr Broughton, Director of Hugh Broughton Architects, said: "The competition for the redevelopment of The Heath asked architects to consider how we will live, work and play in the future and how we can develop places which are both environmentally and financially sustainable. All three finalists came up with brilliant schemes which were beautifully and eloquently presented.
"Eco Responsive's proposals were selected as winners because they provide a wonderful framework for the future of The Heath which weaves ideas for landscape, water management, food production and work with concepts for inter-generational living which are both optimistic and realistic. It will be truly exciting to see their plans develop under the stewardship of an enlightened client."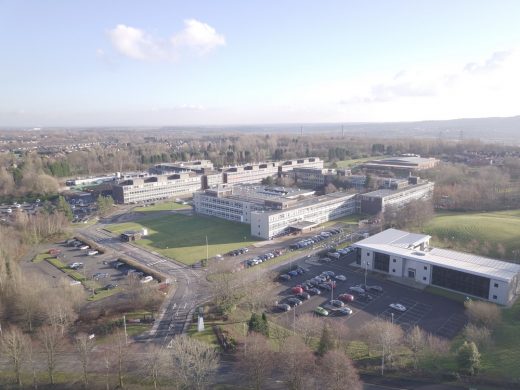 Mr Rogan commented: "It has been a real pleasure to have worked with a client who places people at the core of his business philosophy. John Lewis' vision for The Heath Park Project builds on the successful regeneration of the old ICI headquarters campus and proposes to embrace wider responsibilities to community and the environment, illuminating the way to a better future in how we live, work and play. Eco-Responsive Environments are to be heartily congratulated for a response to the competition brief with a scheme that is all-encompassing, providing a sensitive, innovative but realistic framework for the future Heath Park and also mindful of the ethical investment needed to achieve it."
Prachi Rampuria, Director and Co-founder of Eco Responsive Environments, said: "We are inspired by this vote of confidence in our complex-systems approach to design. As a relatively new practice, this win is a huge milestone for us. Working with an enlightened landowner, vibrant local and regional community interests, this is an exciting opportunity for a beacon project to point up opportunities for tomorrow's world. On behalf of the wider team, we would like to thank SOG and RIBA for this great opportunity."
Joanne Wallis, Senior Competitions Manager for RIBA, said: "This unique project at Heath Park asked competitors to consider not only the reinvention of the site but to consider a new way of living for the future. This has produced original and insightful solutions by all shortlisted entrants. The ideas generated by this competition can now help shape future thinking and act as a catalyst for change. I look forward to seeing the visionary ideas become reality."
SOG sponsored the 'Vision for Future Living' competition in conjunction with RIBA, with the objective of generating conceptual ideas that might be adopted into the Heath Park project, which seeks to transform The Heath into a futeristic version of Port Sunlight. SOG's goal is to turn the location into a sustainable net carbon-free environment where people can work, live and play to meet the needs of the next 20 years and beyond.
SOG MD John Lewis MBE: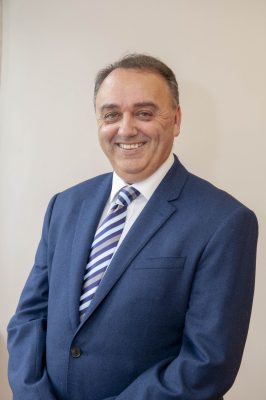 About SOG and The Heath
The Heath Business and Technical Park is a phenomenal regeneration success story. After taking ownership in 2000, SOG transformed the once single-occupancy corporate facility into a thriving independent business park which provides office and laboratory accommodation for more than 120 individual organisations, ranging from business services and IT specialists to those at the cutting edge of science, research and advanced manufacturing. The Park supports 2,000 jobs.
Using The Heath's successful business model, SOG created a consultancy operation under the name of 'Fusion' to offer specialist regeneration advice, guidance and project management services to organisations considering closing or downsizing large sites.
This led to SOG spearheading the repurposing of a former pharmaceutical plant in east London with the creation of Londoneast-uk Business and Technical Park which operated as a sister site to The Heath. SOG helped attract over £2.5billion of investment to the site in Dagenham including projects for Europe's biggest data centre, a regional headquarters building for the Unite Trade Union, an educational campus with state-of-art Person-Environment-Activity Research Laboratory for University College London, an hotel, pub/restaurant and London's first new film studios to be opened for more than 40 years.
Overall, the regeneration programme devised by SOG is expected to produce more than 3,000 jobs in an area suffering from high unemployment. After selling the Londoneast-uk last year, SOG turned its focus back on Runcorn to re-evaluate the potential of its flagship business park, which triggered the RIBA 'Vision of Future Living' competition.
For more information on 'Heath Park' visit: www.heathpark-uk.com
For more on SOG and The Heath Business and Technical Park visit: www.theheath.com
Issued on behalf of SOG Group
25 November 2020
Paul Treacy Architects – Vertical farming concept – Heath Park in Runcorn
Design: Paul Treacy Architects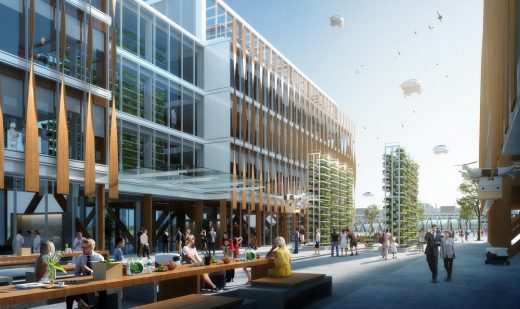 image from architecture practice
RIBA Heath Park Design Competition
10 Mar 2020
RIBA Vision of Future Living Design Competition Longlist
RIBA Heath Park Competition for a vision of future living – longlist announced
Tuesday 10th of March 2020 – Eight design teams have been longlisted for the 'Vision of Future Living' competition following phase one, which sought non-site-specific conceptual ideas on the design of future workplaces, living spaces and external spaces and how they relate to one another.
The eight architectural teams longlisted are:
• Atelier Cole, Cambodia and UK
• EcoResponsive Environments Ltd, London
• Harper Perry, Newcastle
• Kimia Benam & Paul Treacy, London
• Parallel Collective, London
• Periscope Landscape & Architecture Ltd, London
• Pixel, New York & Hong Kong
• Tom Cookson & Sarah Carroll, London
The longlisted teams will now be interviewed by an Evaluation Panel and three will go forward into phase two to develop their designs.
Heath Park, Runcorn, Cheshire: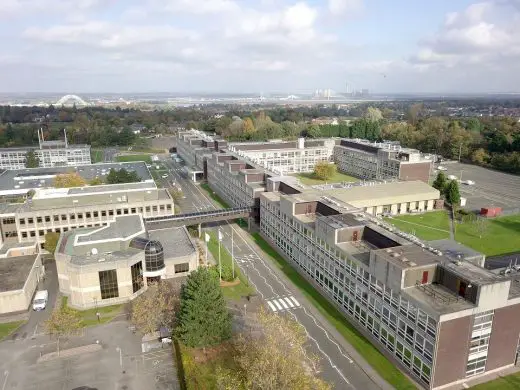 John Lewis MBE, the owner of SOG Group, said:
"We have had exceptional entries from around the world and our very experienced judges were immensely impressed at the high standard and quality of the many submissions we received. After a truly fascinating first round of judging, filled with lots of very detailed and interesting discussion, we have been able to narrow our longlist to eight candidates who will now all go forward to be interviewed in the next phase of the process.
From what we have seen so far, I think it's going to be quite a challenge to select the three submissions for the final shortlist. This is a very exciting period for our Heath Park project and I would like to thank all those who have taken part in our RIBA competition."
SOG Group will unveil details of the Heath Park project at a meeting of Liverpool City Region's MIPIM Partners Group today (10 March 2020) at the Crown Plaza Hotel, Liverpool. The Heath Park project launch had been due to take place at MIPIM 2020, which was been postponed due to the Coronavirus outbreak.
3 Dec 2019
RIBA International Design Competition for a Vision of Future Living
RIBA launches international design competition for a vision of future living
The Royal Institute of British Architects (RIBA) has launched a ' Vision of Future Living' competition on behalf of business and technical park operator SOG Group.
The aim is to generate conceptual ideas which might be adopted to transform the company's 60-acre site in Runcorn, Cheshire into a sustainable, multi-use and carbon-free environment.
The competition initially seeks non-site-specific conceptual ideas on the design of future workplaces, living spaces and external spaces and how they relate to one another. SOG is particularly interested in ideas which promote health and happiness and help to eradicate loneliness and poverty.
SOG's Managing Director, John Lewis, said: "With RIBA's help I am challenging forward thinkers to design a vision of future living that may help us to determine how best to rejuvenate our site at The Heath Business and Technical Park. We need to protect our planet for future generations and respond to a global technological explosion which will change the way we live and work.
Now is the perfect time for us to re-invent this site into a location that rises to the challenges of the future and sets the standards for how we should be living and working in decades to come. We look forward to seeing some truly innovative ideas about how to design and procure sustainable homes and workplaces that are fit for the future."
Renowned Architect Hugh Broughton, the appointed RIBA Advisor for the competition, said: "The regeneration of The Heath bears testament to what can be achieved when people are a project's number one priority.
This competition will build upon the exemplary work of SOG in Runcorn which has preserved jobs and protected the interests of the local community. We hope that designers from around the world will respond with their vision for a brighter future which will enhance well-being, preserve the environment and harnesses technology for the good of us all."
The RIBA competition is open to design professionals and students.
The closing date to submit initial design proposals is 14:00 (GMT) on Tuesday 11 February 2020.
SOG
SOG Group are specialists in facility management and operation of science and business facilities and provide a wide range of specialist services including health and safety, precision engineering and bespoke laboratory design and build.
Location: Cheshire, Northwest England, UK
Cheshire Buildings
Cheshire Architecture Designs
Rockmount Residence, Wirral
Design: ShedKM



photo from architect
Rockmount Residence
New Chester Theatre Building
Design: Bennetts Associates Architects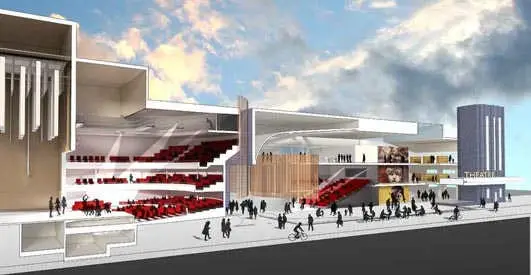 image © Bennetts Associates Architects
Chester Theatre Building
Islands at Chester Zoo Building
Design: AECOM, Architects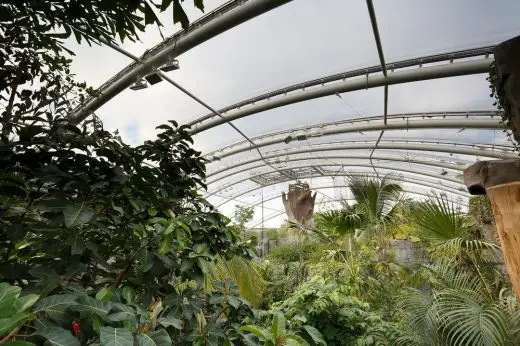 photo courtesy Novum Structures UK
Islands at Chester Zoo Building
English Architect Practices
Comments / photos for the RIBA International Design Competition for a Vision of Future Living Design page welcome