Ipswich architecture news, Suffolk architects, English property projects, Southeast England design proposals
Ipswich Buildings : Architecture
Buildings in Suffolk, east England, UK: Built Environment Information + Images
post updated 16 August 2023
Ipswich Architecture
Ipswich Building News, chronological:
1 June 2022
NW2 Participation Building and Theatre Square
Design: WGP Architects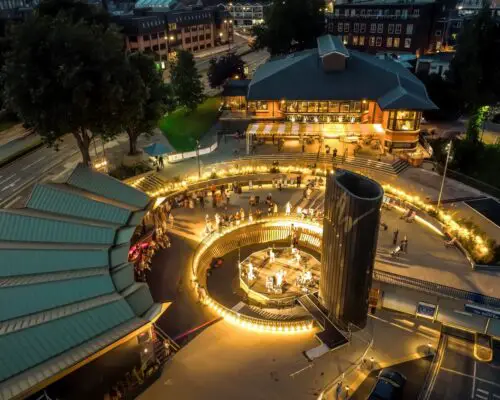 photo : Shaun Barber
NW2 Participation Building and Theatre Square in Ipswich
Taking the top layer of a spiral car park ramp, the NW2 Participation Building establishes a series of spaces for community engagement and performance on an abandoned municipal site. A pleated gold roof canopy and black rubber-clad walls enclose a central public arena – giving shelter to the forecourt of the New Wolsey Theatre and creating the conditions for public performance and other events in the round.
30 Aug 2019
New Cultural Quarter in Ipswich
Design: Waind Gohil + Potter, Architects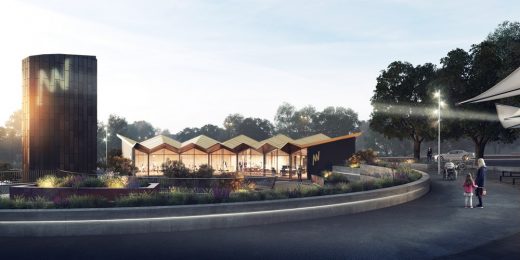 picture from architecture office
New Cultural Quarter in Ipswich
WG+P Architects (Waind Gohil + Potter) have designed a new theatre square and pavilion as part of a wider mixed-use development to revive the Westgate area of Ipswich. The 35,000 sqm site has been incorporated as part of Ipswich Borough Council's development plan.
22 Dec 2017
Broomhill Pool
Design: KLH Architects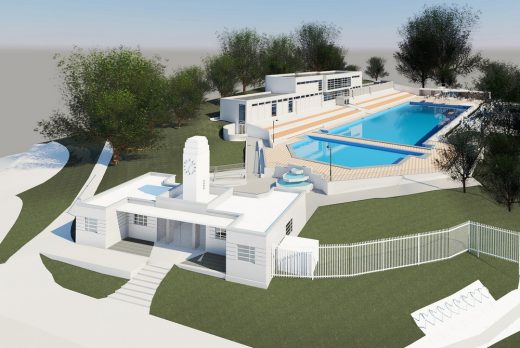 picture from architect
Broomhill Pool Building
A Grade II-listed 1930s lido is set to reopen after being awarded lottery funding. The £3.4 million Heritage Lottery Fund grant will be used towards a £6.5 million restoration of Broomhill Pool in Ipswich. The art-deco building was constructed in 1938 but has been closed for 15 years and has fallen into a state of disrepair.
2 Aug 2016
Orwell Crossings Project Architecture Competition
The Royal Institute of British Architects' (RIBA) Competitions unit is pleased to announce the launch of a design competition with associated tender process on behalf of Suffolk County Council for the Orwell Crossings Project in Ipswich.
Commitment to fund this £77 million project was announced in the Chancellor of the Exchequer's March 2016 Budget and will see the proposed construction of two new crossings near the town's waterfront area, together with the refurbishment of an existing swing bridge across the lock which provides access to the 'Wet Dock' and its marina facilities.
Ipswich Architecture Competition
Key Ipswich Building
Willis Faber & Dumas Headquarters
Date built: 1975
Design: Foster + Partners
Ipswich Buildings
The Jerwood DanceHouse, Ipswich
Date built: 2009-
Design: John Lyall Architects
The Jerwood DanceHouse + The Jerwood DanceHouse
University Campus Suffolk building, Ipswich
Date built: 2007-
Design: RMJM Architects
Suffolk building – Architecture Competition win
Joint venture : University of East Anglia & University of Essex
More Suffolk Architecture online soon
Suffolk, East England
Ipswich and the East England Region
Ipswich is the county town of Suffolk. It lies on the River Orwell, at the point where it broadens into its estuary before flowing out into the North Sea at Felixstowe. It is one of the oldest English  towns.
Its industries have included shipbuilding, brewing, agricultural machine manufacturing, grain and oil milling, brick making and sugar beet processing.
Today Ipswich is still a working port, but although the docks were in full commercial operation well into the post war period, their decline has made way for the waterfront within the town to form a key focus for regeneration. The town is developing the waterfront as a leisure destination, with organisations including the Ipswich Maritime Trust ensuring that the town's maritime history is remembered.
Regional planning strategies have earmarked Ipswich, with a central urban population of about 120,000 people, as the main cultural, commercial and population growth centre.
Architecture in Ipswich
Ipswich has very fine medieval churches and traditional timber-fronted buildings. The waterfront, in particular, saw the development of industrial and commercial architecture in the 19th century. Norman Foster's Willis Faber building, completed in 1975, gave Ipswich one of the icons of high-tech architecture. It is also the youngest building in UK to be awarded Grade 1 listed status. The building sits next to the Grade 1 listed Unitarian Meeting House, one of Ipswich's oldest surviving buildings.
RMJM have recently completed the Waterfront Building for the University Campus Suffolk, and further phases are in development.
Arts in Ipswich
The successful annual Ip-art festival, now in its seventh year, runs for two weeks each July and features dance, visual arts, poetry, music, theatre, literature, opera, cinema and more, in venues around the town. Part of the Ip-art festival is Ipswich Music Day, the largest one-day music event in the East of England.
There are two theatres, the New Wolsey Theatre, established in 2000, with a 400-seat theatre and studio theatre, and the Sir John Mills Theatre, home to the theatre company Eastern Angles. An impressive range of dance and drama schools are thriving in the town.
In Ipswich there are several arts companies that both operate in the town and take their work out into the countryside. DanceEast itself has a rural programme. Eastern Angles offers a specifically rural touring theatre for East Anglia; based at the Sir John Mills Theatre in Ipswich, it takes theatre into village halls and barns. Red Rose Chain, an Ipswich-based film and theatre company, runs an annual festival in Rendlesham Forest, near Ipswich.
University Campus Suffolk
In 2007 the new University Campus Suffolk opened, for the first time giving Suffolk its own university, and the town an important new educational and cultural dimension.
Offering a wide range of courses at both undergraduate and graduate levels, University Campus Suffolk is organised in several locations – Bury St Edmunds, Great Yarmouth, Lowestoft and Otley, as well as the main centre in Ipswich.
Ipswich Library
Ipswich Library is the second oldest municipal public library in the country. It contains an important Benjamin Britten collection and a large collection of the publications of Suffolk poet Edward Fitzgerald – best known as the poet translator of The Rubaiyat of Omar Khayyam. The library also has a significant racing collection.
Ipswich Football Club
Based at Portman Road, Ipswich Town Football Club today plays in the Coca Cola Championship. They won the FA Cup in 1977-78 and the UEFA Cup in 1980-81. In 2009/2010 Roy Keane takes over as ITFCs new manager.
Ipswich People
Famous Ipswich people
• The grandfather and family of Geoffrey Chaucer (c. 1343 – 1400) – lived and worked in Ipswich
• Cardinal Wolsey (c. 1473 – 1530) – the most powerful man apart from the king in the reign of Henry VIII was born in Ipswich
• Thomas Cavendish (1560 – 1592) – known as 'the Navigator' because he was the first to set out to circumnavigate the globe, was also born there
• Will Kemp (died 1603?) – a partner in Shakespeare's Globe, set out to dance from London to Norwich. It took him nine days. He passed through Ipswich on his way
• Thomas Gainsborough (1727 – 1788) – English painter, lived and worked in Ipswich
• Clara Reeve (1729 – 1807) – author of the novel The Champion of Virtue, was born in Ipswich
• Frank Leslie (1821 – 1880) – English-born American engraver, illustrator and publisher, was born and educated in Ipswich
• VS Pritchett (1900-1997) – the British short-story writer and novelist wrote an autobiography that dwells on his birth and childhood experiences in Ipswich
• Giles (1916 – 1995) – the Express cartoonist lived and worked in Ipswich, who supported Ipswich Town, and whose Grandma figure is celebrated in a public sculpture in the town
• Trevor Nunn (b. 1940) – the theatre director went to Ipswich's Northgate Grammar School. In autumn 2009, the pre-London run of It's A Wonderful Life by Nunn will be at Ipswich's New Wolsey Theatre
• Jane Lapotaire (b. 1944) – actress, was born in Ipswich
• Mervyn King (b. 1948) – Governor of the bank of England, was born in Ipswich
• Ralph Fiennes (b. 1962) – actor, was born in Ipswich
• Rachel Fuller (b. 1973) – musician and composer, was born in Ipswich
• Kieron Dyer (b. 1978) – England and West Ham footballer, was born in Ipswich (he started his career with Ipswich Town)
11
• Titus Bramble, (b. 1981) – was born in Ipswich and is currently playing for premier league team Wigan Athletic (he too began his footballing career for Ipswich Town)
• Nik Kershaw (b. 1958) – pop musician, was born in Bristol but grew up in Ipswich
East England Arts Developments
Arts Developments in the East of England
A number of important new arts spaces have opened or, in the next two years, are due to open in the region. As well as DanceEast, these include:
• Aldeburgh Music has recently opened the new Hoffman Building with new performance and rehearsal spaces
http://www.artscouncil.org.uk/pressnews/news_detail.php?rid1&id=1225
• firstsite, the Colchester-based contemporary visual arts organisation, has commissioned a new building by Rafael Viñoly
http://www.firstsite.uk.net/new_buildingl
• Chalkwell Hall in the Borough of Southend is being transformed by the visual arts organisation Metal
http://www.metalculture.com/News-Chalkwell-Hall
• Initial projects for the new National Skills Academy for Creative & Cultural Skills are being developed in the East of England. The National Skills Academy is a network of organisations working together to develop the skills of people working in the sector http://nsaccskills.
co.uk/AboutUs/AbouttheNSA/tabid/431/Default.aspx
• The new Royal Opera House Production Park, a major production facility and centre for skills development, opens at High House Farm, Purfleet, Thurrock in 2010 http://www.roh.org.uk/productionpark/index.aspx
• The new UK Centre for Carnival Arts, in a building by architects Ash Sakula, has opened in Luton
http://www.eeda.org.uk/3946.asp
• Wysing Arts Centre is a research and development centre for artists in rural Cambridgeshire. It has recently opened a new studio building and reception block, designed by HawkinsBrown
http://www.wysingartscentreorg/background
http://www.cabe.org.uk/case-studies/wysing-arts-centre
Location: Ipswich, Suffolk, south east England, UK
County Architecture adjacent to Suffolk
Greene King Brewery designer – Hopkins Architects
Suffolk building : Willis Faber & Dumas architect – Fosters + Partners
Comments / photos for the Ipswich Architecture page welcome