KOA Canvas Apartments, Dubai Homes, UAE Building, Middle East Architecture Photos
KOA Canvas Apartments in Dubai
17 July 2020
KOA Canvas Apartments
Design: T.Zed Architects
Location: Dubai, UAE
T.ZED Architects wraps 'KOA Canvas' with thermally-modified tulipwood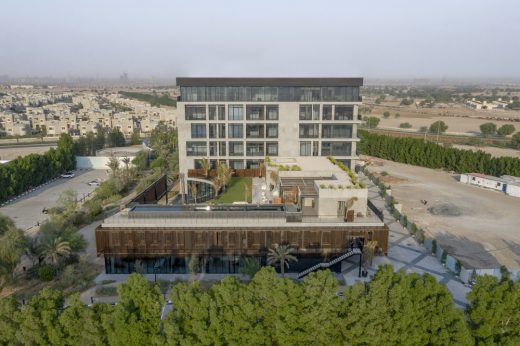 photo © Anique Ahmed
T.ZED Architects have wrapped KOA Canvas a unique new residential community in Dubai representing a new era in modernized urban property development, with thermally-modified American tulipwood. Over 750 square meters of tulipwood thermally-modified (TMT) have been used to create the cladding element, which also transforms into an outdoor shaded walkway and elevated public balcony.
KOA Canvas comprises a collection of 86 residencies, a member's only workplace and social club (Nasab), a multi-purpose amphitheater, a photography studio, a café' and restaurant, fitness facilities, spa treatment rooms and 2 infinity pools. This mixed-use development aims to re-interpret how people live, to re-imagine the public realm of cities, and last but not least to enable social interactions.
T.ZED Architects' design approach was anchored in the investigation of the site itself, the opportunity of responding to a diverse set of expectations and programmes – in such a non-typical mixed-use development, as well as materializing the client's vision into a forward-thinking architectural language and an urban catalyst for a new type of neighborhood in a city like Dubai.
The project also presented the architects with an opportunity to identify a balance between a more traditional culture dictated by an existing framework – to be given a new life – and a modern one anticipating the needs of social customs of our times (internal courtyards and modern majlis).
KOA Canvas documented the successful and sustainable transformation of an existing office building into a thriving urban space for communal activities alongside the creation of an additional two new-built structures, with a variety of programmes that express contemporary architecture of the region. Despite Dubai's natural desert landscape, the design approach for such a wider context in mind led T.ZED Architects to address the architectural proposition by absorbing and infusing the lush environment surrounding the site. This is highly reflected in the materiality chosen for the overall mixed-use development.
According to T.ZED Architects, the design brief presented by the client was very compelling. The overall inspiration for the project came from the unique context and the visionary programme of the project. The opportunity to intervene architecturally within an existing raw concrete structure while designing two new adjacent buildings allowed them to investigate how a sensible, seamless and successful conversation between the two different buildings could be established. In addition, the scale of the project, the design process and the high-level outcomes led T.ZED Architects to investigate the brief on many levels.
"The eco-system and the site, the diverse set of expectations for a non-typical mixed-use development and last but not least the client's passionate vision were the greatest influences. From an architectural perspective, embedding nature into modern residential areas was also the most compelling driver.
This level of accessibility, integration and 'seamless indoor-outdoor living' was a great design motivation and inspiration to us. This attractive prospect to redefine the modern language of buildings fits with our practice's ambition to develop a contemporary architectural framework that is relevant and contextual to this region," said Tarik Al Zaharna, Founder and Director, T.ZED Architects.
Thermally-modified tulipwood was used primarily as a shading element to prevent overheating of the double-height co-working, and closed office spaces. The south-facing and east elevations were clad in vertical TMT louvers that are operable when in close proximity to office windows. This vertical element offers shade to an outdoor amphitheater and creates a clear-cut line between the water feature and usable landscape.
As the TMT wraps around the building to areas that receive less direct sunlight, the vertical turns to horizontal in order to create an extended pergola for shading of social programmes on the ground floor. In plan, the TMT is offset from the building, tracing the sun direction as well as architectural programme of walkways, entrances and restaurant terraces.
"One of T.ZED Architects' key architectural values is materiality and the importance of experimentation with natural materials to the extent of manipulating and enhancing their natural qualities to accommodate the climate and the general context. With KOA Canvas, we have proudly introduced a more innovative approach to designing buildings with natural materials, whose rationale deepens the vision of the programme sought by the whole project.
Such an investigation allowed us to claim that the harsh environment – typical of the Gulf region – is actually conducive to revive and maximize the use of natural resources to the benefit of a physical contemporary structure while bringing harmony to human needs and enhancing human experiences," added Zaharna.
KOA Canvas has its own strong identity, compelling context and programme, a sounding vision to produce a new model of modern living, whereby boundaries are not defined by where one lives, works and socializes. As a result, there was a clear vision on the part of the architects to design and build a development that celebrates materiality, natural light, natural ventilation as well as weathering.
T.ZED Architects have used TMT to not only shade the building, but also cross-ventilate it, and to have visual proof of passing time, all while being purposeful and aesthetically well-founded. Internally, the architects have decided to acknowledge the dual aspect of the timber and have continued the material into some public spaces as a way of drawing the outside in.
"The use of timber has almost always been a common thread in our projects. We celebrate this material despite the slight stigma that comes with applying timber to buildings in the Gulf region. The appreciation of weathering of buildings as well as finding opportunities to celebrate craftsmanship all lay in introducing 'lighter' elements in architecture; these opportunities present themselves perfectly by the use of timber in general.
TMT, along with its durable properties, also provided a rich contrast in color to the quartzite stone building it shades behind. Our historical collaboration fostered with AHEC stems back a few years and this was instrumental in understanding the opportunities for experimenting and favoring this material," proclaimed Zaharna.
According to Zaharna, the material was particularly pleasant to work with as it was easy to cut and mechanical fixing methods were straightforward. Due to its light weight, it was also easy to transport, and storage for acclimatization was done on site. This enabled them to remain on track with regards to project timelines.
Zaharna believes it was vital for them to partner with a leading industry organization such as AHEC, who was prepared to invest in and willing to promote architectural experimentation and research. As a result, KOA Canvas is a unique project that eventually reveals both its success and originality, without shying away from the not-long-ago past where natural materials were adopted to traditional housing and other basic structures in the Middle East.
This is the first time that thermally-modified tulipwood has been used in these quantities in the region and T.ZED Architects are not afraid to let the development weather gracefully as has been communicated in the design brief provided by a highly motivated and visionary client. On their part, the architects are happy to demonstrate the benefits of using natural materials wherever possible, through craftsmanship, an acknowledgement of the context and the environment. Although a large-scale project, KOA Canvas has been approached with all the finesse, craft and detailing to the level of a niche-scale design. The result is a contextually relevant project that aims to contemporize regional architecture.
"KOA Canvas, the first development under KOA needed to set the precedent not only for future developments under KOA, but also needed to challenge the status quo of how developments are thought of regionally. Amongst the many exciting features pertaining to KOA Canvas, an essential one is the fact that this building will weather and will stand the test of time in this arid desert climate.
This is due to a fine balance between using the right materials for external cladding, landscaping and moulding the architecture in a way that relates to the sun-path and wind direction. Now that we understand the versatility of the material, we are looking to evolve the use of thermally-modified tulipwood into becoming a key component of the building's design as well as its performance," concluded Zaharna.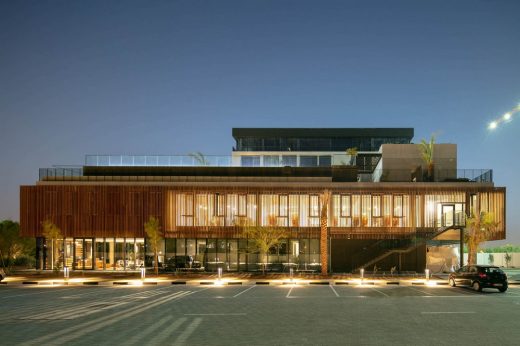 photos © Mark Goodwin
About Tulipwood (Liriodendron tulipifera)
American tulipwood is one of the most prolific hardwood species from the U.S. hardwood forests and is unique to North America. It is a single species and is not a poplar (Populus) being a Magnoliacae producing wood that is superior to the many poplar species. The trees are huge and identified by their tulip-like flowers giving rise to the name. FIA data shows U.S. tulipwood growing stock is 1.02 billion m3, 7.7% of total U.S. hardwood growing stock. American tulipwood is growing 32.5 million m3 per year while the harvest is 12.8 million m3 per year.
Thermally-modified tulipwood has been subjected to high temperatures in a controlled environment, resulting in permanent alteration of the wood's chemical and physical properties. It does not absorb moisture and is dimensionally very stable. It is less prone to warping and twisting with changes in humidity, making it perfect for outdoor use.
About T.ZED Architects
T.Zed Architects is a progressive, international architecture and design practice engaged in projects in the Middle East via their Dubai office, as well in Europe with their headquarters in Luxembourg. Founded in 2015, Tarik Al Zaharna graduated from The Bartlett School of Architecture (UCL) and worked for leading design firms in Europe and the US. T.ZED Architects delivers contextually-driven, highly-detailed and culturally-relevant projects across multiple scales and sectors for public authorities, as well as private and commercial clients.
American Hardwood Export Council (AHEC)
AHEC is the leading international trade association for the U.S. hardwood industry, representing the committed exporters among American hardwood companies and all the major U.S. hardwood product trade associations. For over 25 years, AHEC has been at the forefront of international wood promotion, successfully building a distinctive and creative brand for American hardwoods and providing technical advice for manufacturers, specifiers and designers around the world.
Photography: Anique Ahmed and Mark Goodwin
KOA Canvas Apartments in Dubai, UAE images / information received 170720
UAE Building Designs
UAE Architecture
Dubai Architecture Designs – chronological list
Dubai Architecture Tours by e-architect
The Opus
Design: Zaha Hadid Architects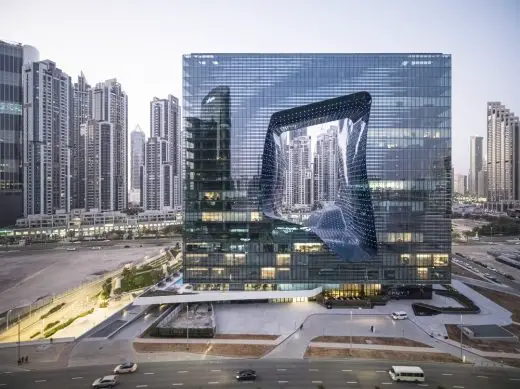 photograph : Laurian Ghinitoiu
The Opus Hotel in Dubai
EXPO pavilion
Architects: 10 Design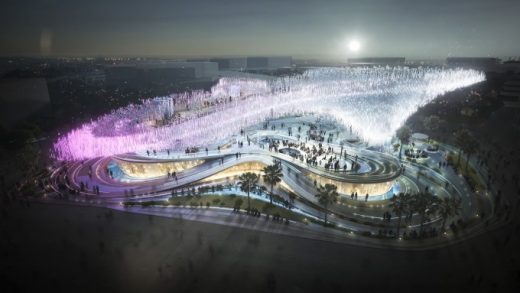 image courtesy of architects office
EXPO Pavilion Concept
ASMA Dubai Mall
Architects: H2R Design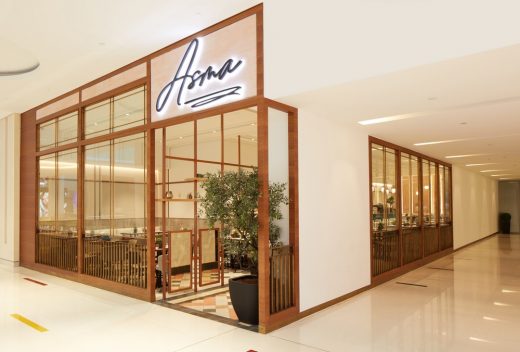 photo : Nikola Stokanovic
ASMA Dubai Mall Restaurant
Flamenca at The World Islands
Design: UNICA Architects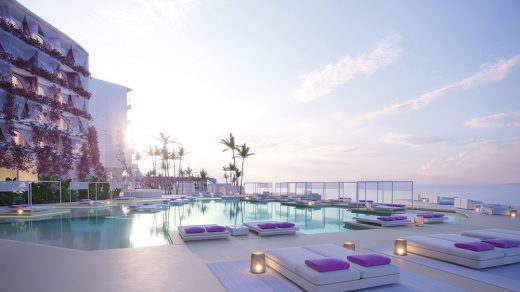 image courtesy of architects
Flamenca at The World Islands in Dubai
Louvre Abu Dhabi Museum Building – a new cultural landmark for the 21st century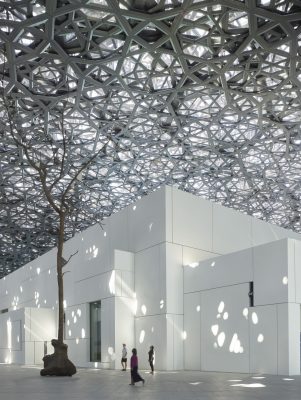 photo © Louvre Abu Dhabi – Photography Roland Halbe
Louvre Abu Dhabi Museum Building
Comments / photos for the KOA Canvas Apartments in Dubai, UAE page welcome