INDEX Design Series Dubai Speakers, UAE Property Trade Show News, Event
INDEX Design Series Dubai Keynote Speakers
Talks at UAE Interior Architecture Show: Jo Hamilton, Henry Holland & Bethan Gray
24 Apr 2017
INDEX Design Series Dubai Keynote Speakers
e-architect bring you three keynote speaker interviews:
Jo Hamilton at INDEX Design Series Dubai 2017
Jo Hamilton to appear at INDEX Design Series: Design Talks
Jo will be appearing at the OFIS sponsored Design Talks at this year's INDEX Design Series – taking place at the Dubai World Trade Centre, May 22-25, 2017 – readers can register to attend at www.indexdesignseries.com
Jo Hamilton – INDEX interview
Jo Hamilton: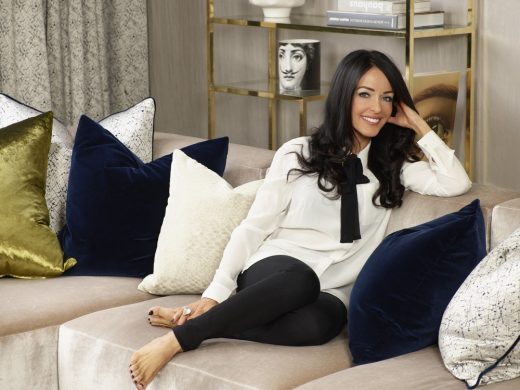 How excited are you to be involved in an interiors show as big and wide reaching as INDEX?
JH: I'm really excited. It's a real honour to be involved in such a prestigious show. I'm really looking forward to meeting with and talking to a wide range of people from across the world and discussing different approaches to interior design.
You've obviously made your name designing living spaces for others. How would you describe your own personal tastes when it comes to your home?
JH: My own personal style is quite eclectic, elegant and tranquil. I don't like an interior to be too contrived or matching. I like things to look as though they've grown organically and that there's a story behind the interior; so that it tells the story of the person that's living there. Art is a big focus – I love art. I love lots of different sorts of art, including very contemporary, abstract, minimalist. Steven Lindsay's work is beautiful – he's one of my favourite artists at the moment.
Jo Hamilton designer: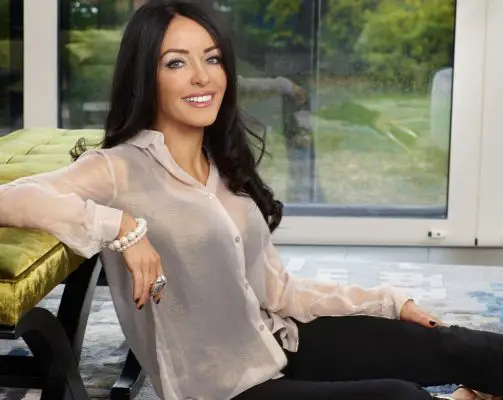 Greens and bold, lush designs are staple trends this year, which goes hand-in-hand with the theme at this year's INDEX. What are some of your favourite 2017 design trends?
JH: I love that the focus is around nature and simplicity. I am always big campaigner for texture. Layers of texture add so much to any scheme. The trends for 2017 see texture in abundance – brushed brass, hand-washed linens and worn leathers and textured wall coverings. Marble and bronze is another favourite. This trend was on the rise last year and it's going to be really big in 2017 – I love the contract between the hard, cold texture of the marble with the warm tones of bronze.
Greenwich Vilage interior by Jo Hamilton: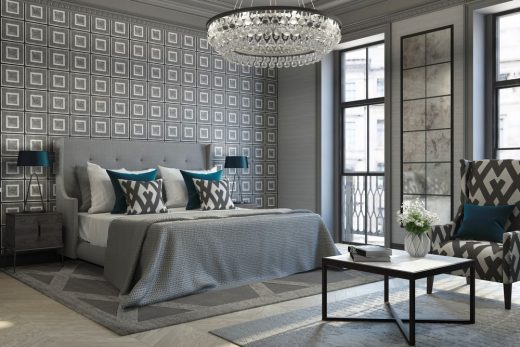 INDEX this year is all about design for the senses – creating spaces that truly stimulate the senses. What can people do to bring design to life in such a way?
JH: The theme Index is taking this year is an exciting one. Nature is a great starting place for any home design and offers a wealth of inspiration on colour, texture and light. A home should be a restful calming space that gives us a sense of peace, it calms the very core of us if we get it right. Lighting is the absolute key in this. People understand they need to physically light a space but often mood lighting is missed out. It's really important to be creative here. Nature uses layer after layer of texture and the results are beautiful.
Greenwich Vilage interior by Jo Hamilton: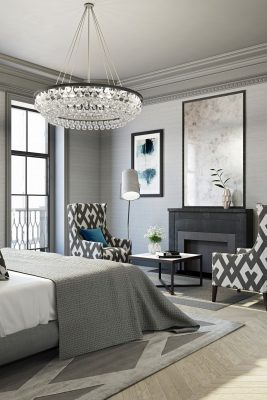 Dubai is home to thousands of British expats. What key differences should expats consider when it comes to designing their home in the desert rather than back in the UK? What should they try and avoid here that they'd maybe incorporate into their interiors back home?
JH: One of the luxuries that Dubai expats will have is the quality of light. They can be softer with tones because subtle beautiful tones will be rendered more clearly and in a way that it is just not back in the UK. The light in Dubai gives a freedom the UK doesn't have to play with colour. The sun is so warm and vibrant, so cooler tones work really well; blues, greens and violets look particularly beautiful. Whereas in the UK we want to warm everything up, in somewhere like Dubai you have the opportunity to bring in cooler, hard textures like stone and marble. Warmth can be brought not only by fabric, but by warmer-toned woods – balancing those cooler textures and colours with warmer textures, warmer materials. Textured fabrics in cushions and accessories will make the scheme feel comfortable as well as beautiful.
Hampstead lounge by Jo Hamilton: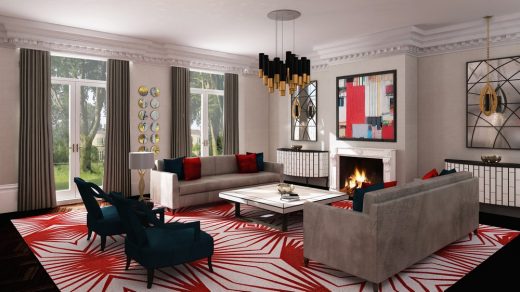 When it comes to designing for a client, how do you to truly understand what that person wants from their space? Do you have any special techniques? Is that one of your favourite parts about being a designer, really getting to know your clients?
JH: It's what really excites me — being able to listen to somebody and translate their likes and dislikes into a discernible style even though they might not even know they have one. It's a real skill and a big part of my job to decipher a client's style and translate that into a coherent design. I'm interested in the client's story, so that I can draw that out and show a journey in the pieces I choose — that might be some very modern piece that is very clean and sharp, next to an antique piece from Hong Kong because the client lived there for a period of their life, or got married or engaged there or some other significant life event. I love that story element of designing an interior.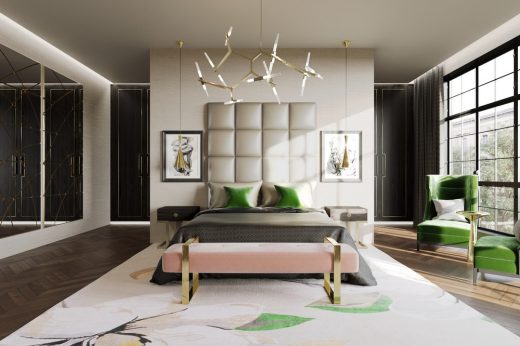 What are the key elements anyone should consider when designing a living space?
JH: Colour, lighting, space and planning. Balancing colours with soft neutral tones is important. Whatever the colour choice, pay attention to the neutral tones you choose to partner them with. We can bring more or less impact depending on how many neutrals we introduce to the scheme.
Lighting is also crucial – good lighting shows the true nature of colours. Design a lighting scheme that really shows your chosen colours off. Pick out beautiful architectural features and create a bit of drama in the room.
Space and planning. Remember to allow the space to breathe – a common mistake is to clutter the space with furniture and to think you need a piece in every single corner, but actually the space will just feel uncomfortable and claustrophobic. So remember to allow space around pieces for flow and calm.
Holland Park cloakroom by Jo Hamilton: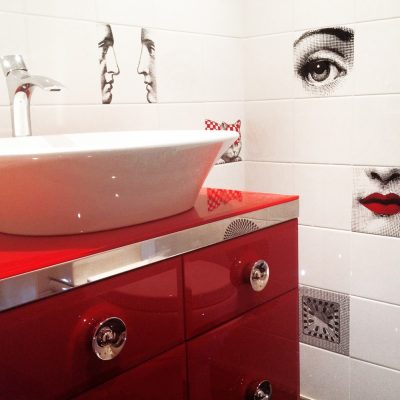 When owning rental properties, what are the biggest dos and don'ts when it comes to their interior design?
JH: Create a really beautiful, elegant backdrop that anybody could just walk into, with soft neutral tones. Don't be afraid to add some colour in the accessories to give the scheme a bit of personality, maybe with a fabulous piece of art or some feature cushions. Don't go garish with colour but do punctuate with it with some nice features and warm tones, inky colours work really well. Because the colour is only in the accessories – if somebody doesn't like it then they can take it away easily enough.
****************
Designer Jo Hamilton: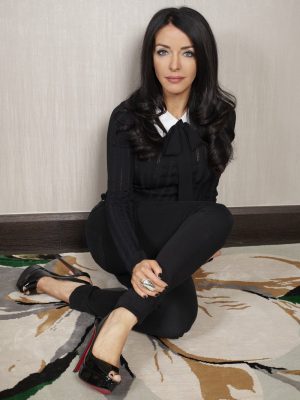 BIO: Jo Hamilton, creative director at Jo Hamilton Interiors, is widely regarded as one of the UK's leading interior designers, noted for her confident grasp of colour, intelligent use of space and luxury aesthetic. She is also a respected public speaker, writer, design commentator, property finder and broadcaster.
Jo has been running her own interior design consultancy since 1995 and has been involved in many high-end developments in both Britain and overseas, including USA, UAE and Saudi Arabia.
Projects have ranged from exclusive city apartments to stylish country retreats; from bars, clubs and restaurants to homes, offices and hotels. She has also designed interiors for yachts and private jets.
She is 'resident interior designer' for popular UK exhibition Grand Designs Live, where she is also a key speaker/presenter and 'show ambassador' along with Channel Four stars Kevin McCloud, George Clarke and, more recently, Charlie Luxton.
Further public speaking appointments have included Top Drawer and the International Property Awards. Jo is also on the judging panel of the prestigious What House? Awards.
She makes regular contributions to the media, including the BBC and Metro, on interior design issues, and features in Sky's Who'd Be a Billionaire? television series along with several other high-end design and lifestyle commentators.
24 Apr 2017
Henry Holland at INDEX Design Series Dubai 2017
Henry Holland to appear at INDEX Design Series: Design Talks
Henry will be appearing at the OFIS sponsored Design Talks at this year's INDEX Design Series – taking place at the Dubai World Trade Centre, May 22-25, 2017 – and that readers can register to attend at www.indexdesignseries.com
Henry Holland – INDEX interview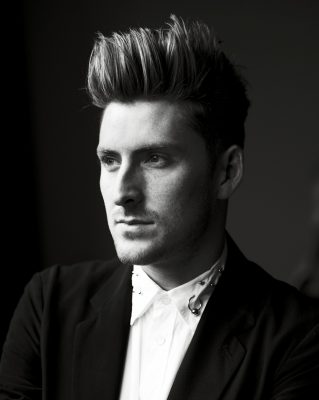 You've just launched your second range with Habitat after your debut last year. Was the move from fashion into interiors a natural one for you?
HH: I see a lot of synergies between fashion and homeware – both in print as well as fabrication and techniques. For me the process is not completely alien but a learning experience of working in different scales, different formats and in different materials.
Words like "bold", "explosive" and "riotous" have been used to describe your style before. How would Henry Holland himself describe the new range?
HH: You're pretty spot on there. This collection is a real riot of colour and the neon lime colour used in the bedding and the throw is really very bold. It is very true to the House of Holland DNA and completely the look at home for any fan of colour and playful print either in their wardrobe or their home.
You previously described cushions as "being the new trainers". Is the design of a home now a bigger reflection than ever of someone's personality? And was it the prospect of being able to offer this reflection that tempted you into interiors?
HH: I love fashion for the way in which it can reflect who you are and what you are about. I feel like a home is very similar in that way and so dressing your home is a similar process for me as dressing myself. I want things that feel personal to me and that are a reflection of me, my partner and my personality.
Where do you find your inspiration and what is your personal mantra when it comes to anything you design?
HH: It sounds silly but you really do find inspiration anywhere and in everything. I think as a creative person working in this industry, you pick up things from all around you from visual references to experiences, travel, people and stories. I love to tell stories through my clothes and it is individuals and their stories that have inspired me the most.
How excited are you by the prospect of meeting thousands of designers from across the world at INDEX?
HH: I'm so excited about meeting thousands of designers. I love meeting new people, exploring opportunities and I also love to travel – so this really is a win-win.
Dubai is known around the world as a city that is so exciting and forward thinking in its design and architecture. Is that something that attracted you to attend INDEX?
HH: The travel and the location being in Dubai definitely helped attract me to INDEX. I have been to Dubai several times before but not for years. I know that it is very fast developing and changing so I'm excited to see these changes for myself.
Having had your big break at such a young age, what would your advice be to any up and coming creative working across any design discipline?
HH: My advice would be to always stay true to who you are deep down and what you are about both through your work and the way you interact with people. This industry is very hard work and having to pretend to be something that doesn't come naturally to you on top of all of that work is exhausting. People really respond to authenticity in today's fashion world more than anything else.
****************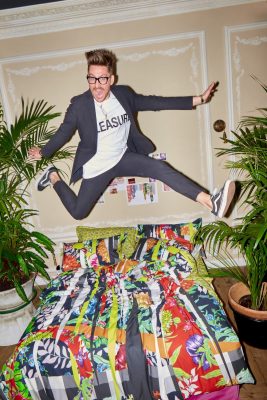 BIO: After graduating from the London College of Printing with a BA in journalism, Henry Holland was catapulted into the fashion limelight in 2006 with his irreverent 'fashion groupies' slogan tees, featuring catchphrases such as "Uhu Gareth Pugh" and "Get your freak on Giles Deacon".
In February 2008, after two seasons showing with Fashion East, House of Holland held its first solo show on the London Fashion Week schedule to critical acclaim. Now in its 10th year, House of Holland is firmly established in the international fashion arena and in January 2012 was awarded a two-season fashion forward sponsorship.
One of Britain's most exciting designers, Henry has carried his fashion philosophy seamlessly into his interior endeavours. The 33-year-old is making his INDEX debut just two months after the launch of his second interiors range with British décor giants Habitat, following the remarkable success of his debut line a year earlier.
His style is famed for being bold and brash, featuring bright colours and a range of textures and patterns.
24 Apr 2017
Bethan Gray at INDEX Design Series Dubai 2017
Bethan Gray to appear at INDEX Design Series: Design Talks
Bethan will be both appearing at the OFIS sponsored Design Talks and exhibiting at this year's INDEX Design Series – taking place at the Dubai World Trade Centre, May 22-25, 2017 – and that readers can register to attend at www.indexdesignseries.com
Bethan Gray – INDEX interview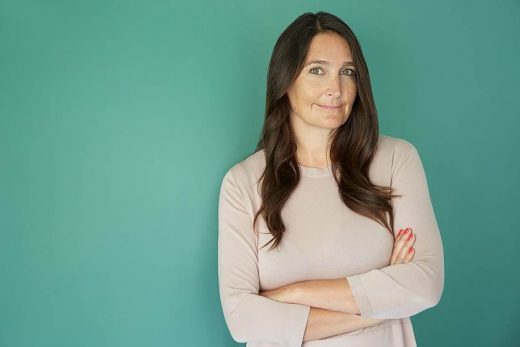 How excited are you to be making your debut appearance at INDEX?
BG: I'm really thrilled! I love the excitement of trade fairs, and am particularly intrigued by this year's INDEX. It's going to be fascinating to see for the first time all that is on offer across the show, as well as experience the fully-immersive features – I'm intrigued! We'll be having elements from our Shamsian Collection on display both in the VIP Oasis, which was designed by our close partners Harrods Interiors, as well as on our stand in the Luxury Pavilion. I can't wait to hear the feedback. It's going to be a busy show!
You describe your signature style as incorporating "a love of detail, tactile textures, and luxurious materials such as semi-precious stones, marble, wood, and hand-tooled leather". INDEX 2017 is all about design for the senses. Do you consider that kind of sensory stimulation a vital part of design and, if so, why?
BG: Being a designer I am of course a very visual person. In my designs I focus on the use of graphic pattern and colour palette, as I think in combination these can have a powerful effect on one's mood – we all have a very visceral reaction to colour and pattern. Recently I've designed a café. The brief was to evoke an emotion of my choice – and I chose "calm". We created cosy inviting areas, using pink and jade veneer fretwork, with inlayed brass. The result was also very textural, which added a sense of belonging and warmth. Finally wave music was added to really promote a sense of balance and harmony. It's been very effective.
What is your own personal mantra when it comes to any product you design?
BG: I focus on creating pieces that are warm, contemporary, timeless and elegant. I love to use high-quality natural materials, with a focus on craftsmanship – pushing the boundaries where possible.
As a first time visitor to INDEX, where we have more than 800 furniture and product exhibitors, what kind of items on show do you think will really pique your interest?
BG: I've been working closely with master craftsmen from the GCC for many years now, from founding the Ruby Tree with Islamic Arts and Crafts Scholar M Abdul Karim Crites to working with renowned Iranian artist Mohamed Reza Shamsian in Oman. I'm really looking forward to seeing other elements of master craftsmen's work on show that I may not have come across before.
What are some of your favourite 2017 design trends?
BG: For me, 2017 colours such as pink, jade and teal will continue to be popular, especially in combination with warm metallics. Rich patterns and textures will be combined in a new contemporary decorative style. This is a big move away from the Scandinavian pared-back style we've seen dominate over the last few years.
The pieces you create have "a rich pattern of influences and inspirations, which draw on craft traditions of both East and West", with you citing your own Arabian heritage as being a key influence on your work. What similarities do you find between the two design styles, despite their obvious differences? What is your secret to combining the two in a way that seems so natural and organic?
BG: In my work, I focus on the similarities between the craft traditions of the East and West. In fact, the East has been very instrumental in inspiring and informing design styles that are now common place in the West – such as monochrome. It's my own and my ancestor's journeys that influence and inspire me to look for these similarities.
At the heart of my design process is cultural referencing – through my travels and research I'm inspired to create original contemporary pieces that resonate with global, as well as local, audiences.
Where, for you, does the balance lie between style and functionality in both design and interiors?
BG: For me, design itself is about finding the right balance. I like to create an atmosphere that is inclusive and comfortable, featuring symmetry, making it easy on the eye and helping balance the senses. It's important to me though that this balance is carried through in terms of usage and practicality of the interiors, and with pragmatism and functionality important in the design of the pieces.
What can you tell us about your latest range?
BG: My latest range is the Shamsian Collection, created in collaboration with Mohamed Reza Shamsian, a highly sought after, masterful Iranian artist, and his team of 70 highly skilled craftsmen based in Muscat, Oman. The collection is inspired by regional architecture, and features intricate marquetry, a traditional Islamic craft dating back to the sixteenth century, on Italian stained birds-eye maple, in stunning combination with solid brass or iridescent mother of pearl. Detailing on the beautiful Nizwa cabinet takes inspiration from the rounded architectural castellation patterning of the Nizwa Fort in Oman whereas detailing on the Dhow takes inspiration from the sails of the regional sailing boats.
****************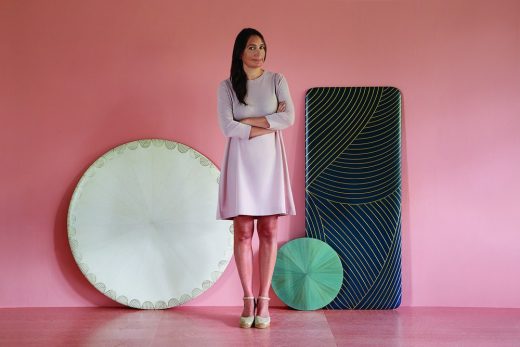 Bio: Bethan Gray, winner of the prestigious "Best British Designer" award, has an extraordinary background. Her family hails from an ancient Rajasthani clan that over centuries migrated across Arabia and Persia before settling in the Celtic heartland of Wales. It's a journey and heritage that weaves a rich pattern of influences and inspirations, which draw on craft traditions of both East and West. To this Bethan adds an innate ability to translate and transform a variety of cultural references into iconic contemporary pieces.
"Cultural referencing is at heart of my design philosophy. Through my travels and research I'm inspired to create original contemporary pieces that resonate with global, as well as local, audiences. I'm particularly drawn to the graphic nature of Islamic art and craft", says Bethan.
Her work has been exhibited in New York, Paris, Milan, London and Dubai, and her own boutique collections are available globally from leading retailers such as Harrods, Liberty, Le Bon Marche and Lane Crawford.
Having taught at Central Saint Martins, she continues to value the importance of nurturing the next generation of talent. Bethan works extensively in the Middle East, in particular on supporting the revival of traditional Islamic Art and Craft through Turquoise Mountain, a charity founded by HRH Prince Charles, as well as by direct collaboration with master craftsmen on exquisite commissions and collections.
2017 INDEX Design Series
2017 INDEX Design Series, Dubai, UAE
INDEX: The 2017 INDEX Design Series will take place at the Dubai World Trade Centre between May 22nd and 25th. Last year, the show – which is organised by dmg events and runs alongside Workspace and Middle East Stone and Middle East Covering – attracted more than 34,000 designers, retailers and high net-worth individuals from over 100 countries.
INDEX specializes in bringing trade and consumer customers together with leading suppliers of interior products from across the globe, acting as the bridge between manufacturer and procurer for fit-out and furnishing projects across the UAE and GCC. It offers design professionals from across the Middle East, Africa and Asia the opportunity to be part of the most extensive sourcing platform of interior focused retailers and wholesalers anywhere in the region.
Speakers including Henry Holland, Bethan Gray and Jo Hamilton will feature at our OFIS sponsored Design Talks, which will offer insight into all elements of design and the business behind it.
INDEX Interior Design Event in Dubai, UAE
5 Apr 2017
INDEX Design Series Dubai 2017

To find out more, visit www.indexdesignseries.com
INDEX Design Series Dubai 2017 information received 050417
Location: Dubai World Trade Centre, Dubai, United Arab Emirates
Dubai Architecture
Bussola Restaurant in Dubai
LW Design Win Restaurant Design Award At SBID Awards 2016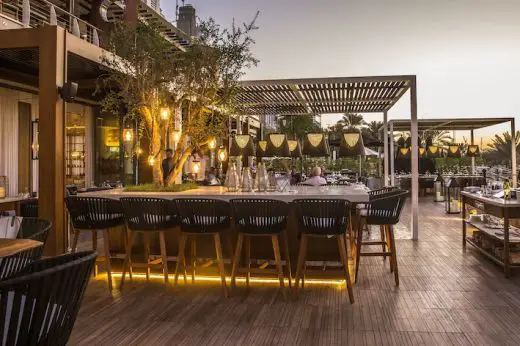 image courtesy of architects
SBID Awards
Waterfront City Dubai UAE : Madinat Al Soor
Comments for the INDEX Design Series Dubai 2017 page welcome
Website: INDEX Design Series Dubai