Green Solution House Bornholm, Danish Building, Baltic Sea Design by 3XN Architects, Images
Green Solution House on the island of Bornholm
Ecological Building on an island in Denmark design by 3XN + William McDonough + Partners
29 Nov 2018
Post updated with new images
2 Jan 2017
Green Solution House Bornholm Shortlisted for Mies van der Rohe 2017 Awards
Mies van der Rohe 2017 Award Nominations
13 Jan 2012
Green Solution House
Design: 3XN Architects / William McDonough + Partners
Conference center "Green Solution House" will take sustainability to a new level
Danish practice 3XN is the architect behind a new experimental conference center and hotel where everything is adapted to the circulation of nature and where guests will get an idea of how it feels to live in a world without waste.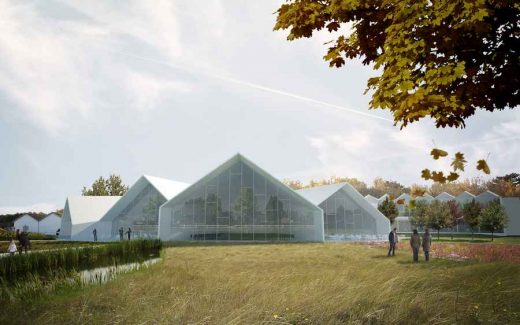 image Courtesy architecture office
No waste
The Green Solution House conference center on the Danish island of Bornholm is designed and developed in accordance with the principles of Cradle 2 Cradle®. This means that all materials used in the building are either fully recyclable or biodegradable. Hence, the building design takes on the ambition to eliminate the concept of waste.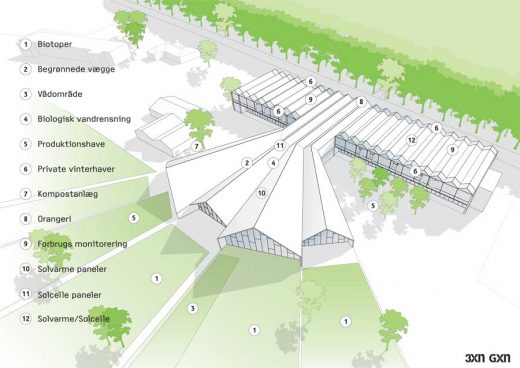 The project is managed by Kasper Guldager Jørgensen, head of 3XN's innovation unit, GXN: In Denmark, the construction industry alone is responsible for 30% of all waste generated. Waste that puts an enormous burden on the environment, but with Green Solution House we demonstrate that this is a problem, which we can actually solve.
Eliminating waste means that everything must be part of a circulation. Thus, the building is designed for disassembly and constructed of defined recyclable materials. Solar energy produces the energy consumed in the building, rain water is collected and water used is biologically cleaned and reused. Integrated green houses produce organic fruits and vegetables for the hotel restaurant. Further, the daily material flows from running the center is either recycled or composted.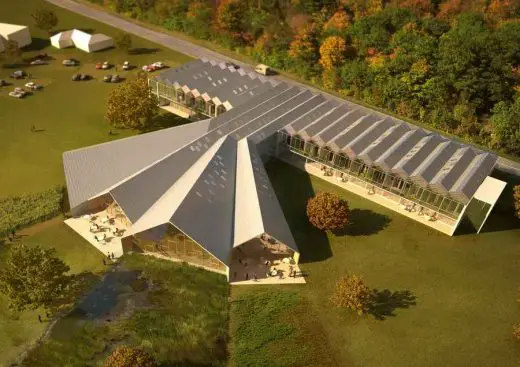 High ambitions
For Kasper Guldager Jørgensen it is part of his everyday work to investigate how fungus can be used as isolation material or how algae can be used in solar screening. This is why he is excited that the Green Solution house is a building in continuous development. It will be a dynamic building, a showroom that we will keep enhancing in order to demonstrate the most cutting edge solutions within sustainable building, and it will give the guests an inspirational and unusual experience.
The Island of Bornholm is already a popular travel destination and surveys made among professional conference organizers show that the Green Solution House will attract even more visitors to the small scenic island. Bornholm has a clear vision to become one of the most ambitious European communities within sustainable living and the Green Solution House is a core element of this vision.
With its innovation unit, GXN, Danish practice 3XN is in front when it comes to investigating and introducing sustainable materials and technologies in architecture. GXN consists of a multidisciplinary team of architects, engineers and designers. The unit has currently 11 ongoing research projects and takes part of all projects managed by 3XN.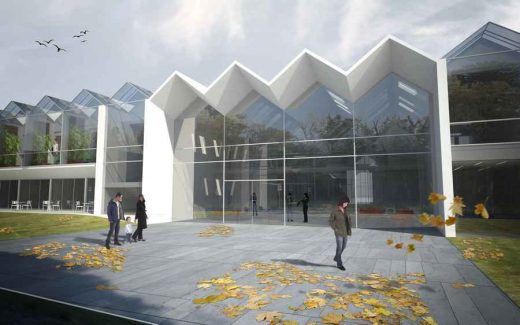 Green Solution House Bornholm – Building Information
Title: Green Solution House
Address: Strandvejen 79, 3700 Rønne, Denmark
Client: Hotel Ryttergården
Size: 4.500m2
Completion: 2013
Budget: 65 mio. DKK
Lead Architect: 3XN and GXN (design and project management)
Partner Architects: William McDonough + Partners (cradle to cradle)
Engineers: Esbensen Consulting Engineers (climate and energy)
Green Solution House will be an innovative laboratory that integrates the latest knowledge within materials and appropriate green technologies. At Green Solution House, our intention is to be restorative instead of just reducing harm. We believe that design can make the world a better place, if done with the right intentions. The building is Cradle to Cradle inspired and will show regenerative solutions on biodiversity, materials, energy, and water, and will be waste free. At Green Solution House we want visitors to leave inspired and be able to contribute positively to local and global communities.
The four goals of the Green Solution House
1. To be a platform for the highest level of sustainable development
2. To be an example of continuous improvement
3. To show solutions on biodiversity, materials, energy, water, and waste
4. To grow a local and global network for knowledge sharing
About Cradle to Cradle
Cradle to Cradle is about creating buildings in such a way that all materials at the end of their lifespan become nourishment for new circuits. Either in the form of 'biological materials' that can easily go back to the water or soil without providing synthetic materials or toxins, or as "technical materials" that continually circulate as pure and valuable materials within closed industrial circuits. For this to be done, the buildings must be designed so they can be disassembled in clean materials that can be recycled over and over again. without losing quality. All together five different circuits can be identified:
Water Circuits – design where rainwater is collected and consumption of water is cleaned and recycled
Nature Circuits – design that incorporates the surrounding nature and enhances biodiversity
Technical Circuits – design with materials that can be reused in technical cycles without generating waste.
Biological Circuits – Design with biodegradable materials which can compost after use
Energy Circuits – design where the energy used is based on renewable energy
A Cradle to Cradle house is a living building that has the same features as a tree. It produces oxygen, purifies water and air, generates more energy than it consumes, binds CO2, develops microclimates and supports biodiversity (source: Cradle to Cradle Denmark).
30 Mar 2011
Green Solution House Bornholm
Design: 3XN Architects / William McDonough + Partners
3XN Enters Innovative Cooperation with William McDonough + Partners
The international team is about to develop one of Europe's first and most ambitious Cradle to Cradle® projects; the Green Solution House on the island of Bornholm, Denmark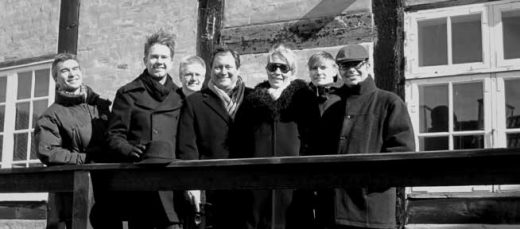 Green Solution House will be an innovative 'Demonstratorium' facilitating the development and test of new green technologies on an international scale. At the same time the building will function as a showcase in itself; designed according to the Cradle to Cradle® principles, the project is anticipated to integrate the latest knowledge within materials and appropriate technologies.
The project is a key element in Bornholm's 'Bright Green Island' vision, which promotes the island as an excellent sustainable test community due to its size, population and energy supply. Once completed, the Green Solution House will include facilities for conferences, research and exhibitions. Kasper Guldager Jørgensen, Head of 3XNs Research Department GXN explains:
– Our objective is to create an innovative platform for the highest level of sustainable development. The building itself will be an example of continuous improvement and demonstrate new solutions addressing biodiversity, materials, energy, water, and waste. This way the Green Solution House will contribute to knowledge sharing in a local as well as a global perspective.
Partner and Managing Director of William McDonough + Partners, David M. Johnson, continues:
– William McDonough + Partners is thrilled to be collaborating on this very ambitious project with 3XN, Esbensen and the other incredible team members in Denmark. We are inspired by the strong business model that has been envisioned at the Green Solution House and the Bright Green Island initiative on Bornholm Island. This project is determined to create a model for future generations to participate in, be inspired by and to learn from.
3XN's Principal Kim Herforth Nielsen sees a great potential in the partnership as well:
– We are very excited about this opportunity to collaborate with a renowned international partner like William McDonough & Partners. Architecturally 3XN is determined to unite aesthetics with green and human architecture. I look very much forward to experiencing the synergy that can rise from the fusion between our design approach and their expertise within sustainability. Green Solution House is expected to be completed in 2012.
Green Solution House Bornholm – Further Information:
Learn more about the 'Bright Green Island' vision at www.bornholm.dk
Learn more about 3XN and the research department GXN at www.3xn.dk
Learn more about William McDonough + Partners at www.mcdonoughpartners.com
Green Solution House Bornholm images / information from 3XN Architects
3XN Architects
Location: Strandvejen 79, 3700 Rønne, Denmark
New Architecture in Denmark
Danish Architecture Designs – chronological list
Visitor Centre Hammershus Bornholm, Denmark
Design: Arkitema, Architects with Professor Christopher Harlang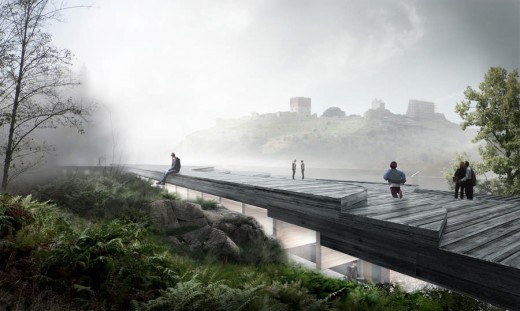 image courtesy of architects
Denmark Architecture – Selection:
Culture Island, Middelfart, Denmark
Comments / photos for the Green Solution House Bornholm – Danish Architecture page welcome