Cuba Developments, North Caribbean Building Projects, Central America Design News, Property
Cuba Developments : Building Links
Cuban Building Development, Properties Info – northern Caribbean Built Environment
Cuban Architecture Designs – chronological list
Cuba Property Information : Building Design Links
Northern Caribbean Architectural Posts, alphabetical:
Location: Republic of Cuba, northern Caribbean
Architecture in Caribbean Area
Guantanamo Bay Detention Center design by zerOgroup, 'I LOVE GITMO':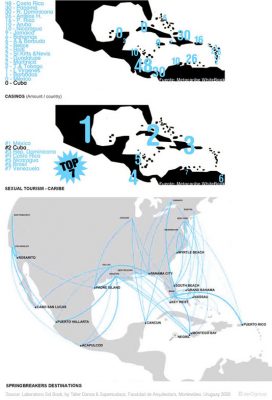 image courtesy of architects
The country, officially the Republic of Cuba, is a unitary sovereign state comprising the island of Cuba as well as Isla de la Juventud and several minor archipelagos. The country is located in the northern Caribbean where the Caribbean Sea, the Gulf of Mexico, and the Atlantic Ocean meet. It is south of both the U.S. state of Florida and the Bahamas, west of Haiti, and north of Jamaica. Havana is the largest city and capital; other major cities include Santiago de Cuba and Camagüey. This is the largest island in the Caribbean, with an area of 109,884 square kilometres (42,426 sq mi), and the second-most populous after Hispaniola, with over 11 million inhabitants.
Prior to Spanish colonization in the late 15th century, the country was inhabited by Amerindian tribes. It remained a colony of Spain until the Spanish–American War of 1898, which led to nominal independence as a de facto United States protectorate in 1902. As a fragile republic, the country attempted to strengthen its democratic system, but mounting political radicalization and social strife culminated in the dictatorship of Fulgencio Batista in 1952.
Further unrest and instability led to Batista's ousting in January 1959 by the July 26 Movement, which afterwards established a government under the leadership of Fidel Castro. Since 1965, the state has been governed by the Communist Party. A point of contention during the Cold War between the Soviet Union and the United States, a nuclear war nearly broke out during the Cuban Missile Crisis of 1962.
source: wikipedia
Comments / photos for the Cuba Architecture Information page welcome