Top 5 places to visit in Cuba, Havana Buildings, Northern Caribbean Property Designs, Central America
Top 5 Places to Visit in Cuba
16 February 2022
This Caribbean country has a history unique to others in the region. Its beautiful beaches are pretty much a guarantee, but the turbulent history the country has been through gives the island nation a beauty like no one else's. It gives the Hispanic state a unique touristic appeal. In this article, we will sum up five places you should visit should you travel to Cuba, and we'll try to be representative of this vibrant nation!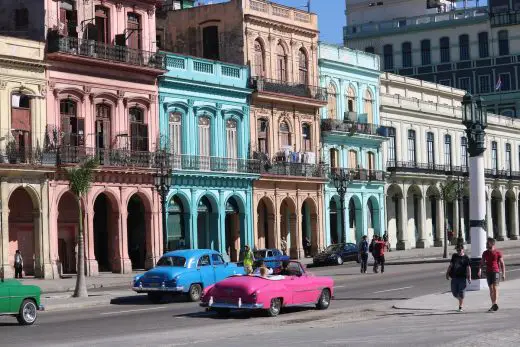 Old Havana
Cuba is called "a living museum," and perhaps no other place represents this sentiment better than Old Havana: a downtown district of the Cuban capital. Old Havana, or Habana Vieja in Spanish, is a UNESCO World Heritage Site. The buildings in this district are well-preserved, while renovations are making sure that life continues to bustle inside and outside the old town's colorful walls.
The old district prides itself on its architectural masterpieces, such as the Cuban Baroque icon Catedral de San Cristobal, Bodeguita del Medio where Hemingway used to chill, and the Castillo de la Real Fuerza military fortress standing proud.
Viñales National Park
The island nation boasts yet another UNESCO World Heritage Site, this time a natural beauty: the Parque Nacional Viñales. It is located in a valley in the Sierra de Los Órganos, north of Pinar del Rio.
Steep limestone hills stand tall all along the valley, providing a stunning contrast to the soft and fertile valley floor. Where the limestone pillars don't "grow", fruit and vegetables, as well as tobacco, flourish.
You can tour the park in more ways than one, on foot by hiking or on horseback.
Varadero
We're looking to show you that Cuba is beyond beautiful beaches, but it would be a sin to not mention just how beautiful their beaches are. Varadero is one of Cuba's top beach destinations, and it is not difficult to see why: the stunning biological diversity of the area coupled with the soft white sands and clear blue waters are like nothing else in the world.
The Varadero Ecological Park gives another meaning to the saying that Cuba is a living museum: the park features the Cueva de Ambrosio cave, inhabited by bats and adorned by ancient pictograms, as well as the Cueva de Musulmanes, which is home to human remains over 2500 years old. This park makes Cuba not only a unique place to understand modern human history, but also ancient indigenous history and the history of human evolution.
The area also provides numerous resorts and various beach activities, such as snorkeling and deep-sea fishing, as well as trips to cultural attractions.
Trinidad
Yet another UNESCO World Heritage Site, traveling to Trinidad is like traveling to a not too distant past, of a society still connected, yet different than ours. The masterfully restored buildings and neat cobblestone paths are remnants of the town's colonial glory, of when Trinidad flourished from sugar and slave trades.
The city center features the neoclassical masterpiece that is the Church of the Holy Trinity. Trinidad in general is a treat for any art enthusiast, who could visit the Casa de Aldeman Ortiz art gallery, as well as the Palacio Brunet, a grandiose 1812 house that still keeps its original frescoes and marble floors.
Baracoa
For the ultimate remote Cuban feel, visit Baracoa, the oldest city in Cuba. Mostly cut off from the world until the La Farola highway was built in the sixties, the city still keeps its unique identity.
The city also features a wide range of what makes Cuba what it is: the architecture is charmingly colonial, waterfalls refresh the city, while the beaches remind you that this is the crème de la crème of island life. That's not all: the jungly hillside is a UNESCO Biosphere Reserve, where wildlife more vibrant than the architecture thrive.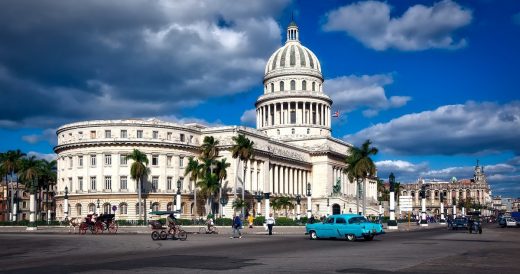 Getting ready
We tried to be as representative as possible, but five places can't cover the whole range of Cuba's stunning beauty. We say: go ahead and explore for yourself!
Start by gathering the needed documents and applying for a visa. If you're a US citizen, or even simply traveling from the US, there are several nuances you should keep in mind.
Good luck and bon voyage!
Architecture in Cuba
Contemporary Architecture in Cuba
Guantanamo Bay Detention Center : Proposal
Northern Caribbean Architecture in Cuba
Comments / photos for the Top 5 places to visit in Cuba page welcome
Cuba, northern Caribbean