TAB 2017 Vision Architecture Competition, Tallinn Architectural Contest, Estonia
TAB 2017 Vision Competition News
bioTallinn – radical revision of the contemporary 'urbansphere': Estonian Centre of Architecture Design Contest
12 Jan 2017
TAB 2017 Vision Design Competition
TAB 2017 Vision Competition
TAB 2017 announces Vision Competition looking into the future of Paljassaare Peninsula in Tallinn, Estonia
Tallinn Architecture Biennale 2017 has announced TAB 2017 Vision Competition, offering architects, scientists and artists the chance to define a new urbanity of the Paljassaare Peninsula in Tallinn in the era when no ecosystem is unaffected by human action.
The deadline for the one-stage international competition is 25th of April 2017. TAB 2017 Vision Competition challenges participants to rediscover potential connections between the artificial and natural landscape of Tallinn by addressing the relationship found in the Paljassaare Peninsula between land and coast, development and conservation, wastewater treatment and protected ornithological areas. The participants are asked to propose design solutions with a clear interest in experimentation and engagement with emergent digital design or biotechnologies.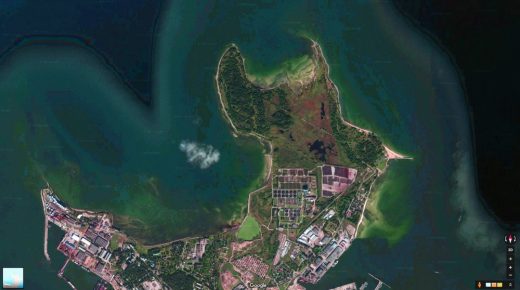 TAB Vision Competition has been a regular part of the biggest architecture event in the region since the Biennale was launched in 2011. The vision competitions are organised in cooperation with Tallinn City and always focus on an area of Tallinn in need of new ideas or development. In 2015, the competition concentrated on one of the central transport intersections of central Tallinn, and in 2013 the focus was on rethinking Soviet period housing area in Väike-Õismäe. The 2017 brief has been proposed by biennale head curator Claudia Pasquero together with the assistant curator for architecture and urbanism Alice Buoli.
The jury of the competition is composed by Rachel Armstrong (Newcastle University), Liam Young (SCI-Arc), Claudia Pasquero (Bartlett UCL / ecoLogicStudio), Veronika Valk (Estonian Academy of Arts) and Toomas Tammis (Estonian Academy of Arts).
Vision Competition Jury member Rachel Armstrong from Newcastle University says the competition invites architects to imaginatively and practically engage with this site situated within the contrary realms of post industrial landscapes, shifting ecosystems and new locations that can accommodate our growing population: "The provocation to re-articulate a third millennial relationship between human and non human, landscape and building and the character of the natural environment, sets the scene for a biourbanism with the potential to reinvent the way we live and inhabit our world. Potentially we may even be able to imagine how metropolitan developments may augment the liveliness of our living spaces, rather than depleting them."
Claudia Pasquero, Head Curator of TAB 2017 and member of the Vision Competition Jury:
"With this competition we are collecting visions for the future expansion of Tallinn into the Paljassaare Peninsula, a prototypical Anthropocene landscape where urban waste water treatment and ornithological diversity overlap and clash. The Vision Competition calls for new hybrid scenarios represented as simulations of potential future coexistence. Proposals should be in the form of short videos or simulation frames where spatial articulation is a clear function of time. All kind of simulation methods are welcome from the most abstract digital computation to analogue material experiments. A specific set of data is provided upon registration and participants are invited to engage with this information as starting point for their simulations."
The Vision Competition challenges participants in considering Paljassaare as a potential hinge point and interface of new local and international dynamics which include distributed economies of production, heritage as a process, tourism as material practice.
Timeframe
Deadline for submission of competition entries is 25th of April 2017
Selected winners will be announced by the end of May 2017 and will be invited to take part with their submissions to the Curator Exhibition and will be invited to the Symposium in September 2017.
All submitted projects will be exhibited as part of TAB 2017 Bio-Tallinn
Prizes
– First Prize:
4.000€
– Second Prize:
2.000€
– Third Prize:
1.000€
+ Five honorable mentions
Competition participants may submit relevant questions until 20th of January to the e-mail address [email protected].
Competition brief: http://tab.ee/
Tallinn Architecture Biennale TAB is an international architecture festival which introduces local architecture culture, current issues concerning architecture, and looks at the future of the architectural profession. TAB offers a programme of events for both architecture professionals, students and everyone interested in architecture. TAB Tallinn Vision Competition is one of the central events of TAB programme.
TAB 2017, titled bioTallinn proposes a radical revision of the contemporary 'urbansphere' by suggesting novel terms for its sustainable co-evolution with the biosphere. TAB will showcase visionary models of urban development that respond to principles of biological self-organization, and that operate by embedding computational logics onto material substrata, the embodied algorithms of the future bio-city. TAB 2017 curatorial team is led by Claudia Pasquero and the event is produced by Estonian Centre of Architecture.
TAB 2017 Vision Architecture Competition information from Estonian Centre of Architecture
TAB 2015 Vision Design Competition
TAB 2015 announces Vision Competition "Epicentre of Tallinn"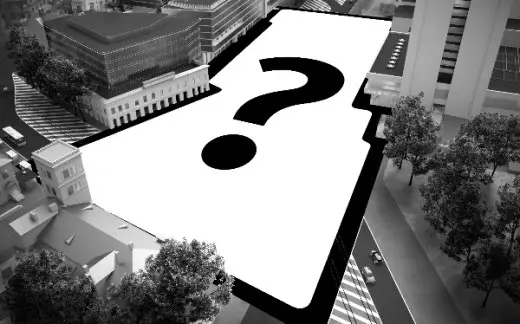 TAB Vision Competition 2015 page
Tallinn Architecture Biennale 2017
TAB Vision Competition 2013 page
Location: Tallinn, Estonia
Estonia Architecture
Academy of Arts, Tallinn
Architects: Mikou Design Studio
Tallinn New Academy of Arts
TAB 2013 Vision Design Competition
TAB 2013 Vision Competition Invites Architects to Reinterpret Soviet Modernism in Tallinn
Väike-Õismäe, Estonia: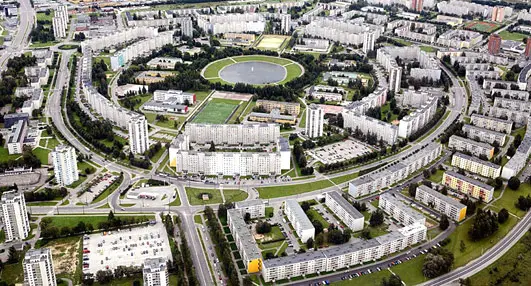 photo : Arne Maasik
The Estonian Centre of Architecture in collaboration with the City of Tallinn announced the Tallinn Architecture Biennale 2013 Vision Competition: Recycling Socialism. According to the curators of TAB 2013, the aim of the open international vision competition is to gather architectural ideas and methods to enhance the current life quality as well as to envision the future of the iconic block-housing district of Väike-Õismäe ("Little Blossom Hill") in Tallinn. The deadline of the competition entries is April 30th, 2013.


image from Estonian Centre of Architecture
CONTACT
[email protected] | +372 56 760 167
TAB 2013 | www.tab.ee
TAB 2013 Vision Architecture Competition information from Estonian Centre of Architecture
Tallinn Architecture Biennale
Tallinn Architecture Biennale : New international architecture forum – 2011
Estonian Centre of Architecture and TAB Tallinn Architecture Biennale
New Estonian Architecture Exhibition – 'BOOM/ROOM', Moscow
New Estonian Architecture Exhibition – 2011
Exhibition BOOM/ROOM: NEW ESTONIAN ARCHITECTURE will open on 21 June at MUAR – Russian State Museum of Architecture, Moscow.
Estonian Centre of Architecture
Architecture Competitions
[AC-CA] Architecture Competitions
Museum Of Architecture Competition
election of Estonian architecture from the last decade. The opening will be accompanied by a seminar, where Estonian architects and institutional representatives discuss the latest tendencies in Estonian architecture.
Estonian Architectural Designs
Lasva Water Tower
Architects: logon
Estonian Water Tower Building
Semi-autonomous sauna, western Estonia
Design: Architectural Bureau Pluss
Estonia Sauna Building
Comments / photos for the TAB 2015 Vision Architecture Competition – Estonian Design Contestt page welcome
Website : Tallinn