ONE PRIZE Design Competition, Brooklyn Architecture Design Contest, News
ONE PRIZE Competition – Winners
Brooklyn Navy Yard Design Contest, NY, USA – Terreform ONE
30 Oct 2014
ONE PRIZE 2014
Winners of ONE Prize 2014 announced
Two First prizes, one Third prize, and one Honorable Mention were announced today.
The competition drew ninety-two teams, including 236 team members from twenty-two countries.
1st Prize: $3500 each
#059: THE LUCENT CUBE, "CAD monkeys: Yun Wan, Christina Militaru, Nghia Nguyen, London.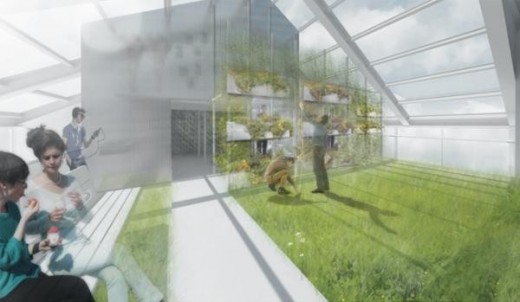 #078: SELF GROWING LAB: Diaz Paunetto Arquitectos, PSC: Victor Diaz, Ariel Santiago, Carlos Garcia, Danniely Staback, Nestor Lebron. San Juan, Puerto Rico.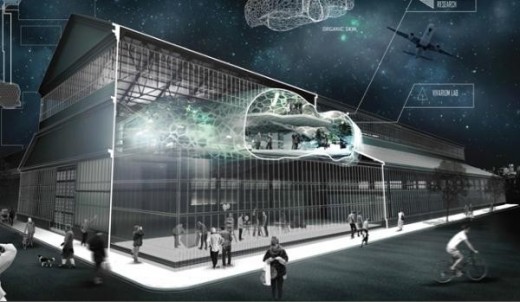 3rd Prize: $1000
#103 COL-LAB, DDEC: Jaehun Woo, Youra Cho, Sang Hoon Park. Seoul, South Korea.
Honorable Mention:
#094: SKOOL HAUS, Nikole Bouchard: Nikole Bouchard, Vanessa Moon. Milwaukee, USA.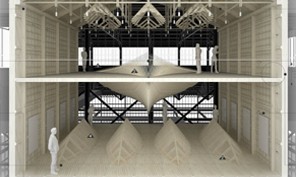 The winning entries to this year's ONE Prize competition addressed our call for a new teaching facility through a broad spectrum of functional, spatial, and symbolic strategies. We are pleased to announce the winners, each of which took a distinct and consistent approach to the project.
The two first prize projects represent two poles of conceiving ONE Lab that complement each other. One of them, THE LUCENT CUBE, is elegant, straightforward, and functional. It occupies the open space of Building 128, along with the "eave" space assigned to ONE Lab. Like the functional spaces proposed by the developer, it is a simple box. The multi-story structure distributes the program areas in a clear and intelligent manner, with more public functions at the lower floors, new vertical circulation, more private uses above, and a roof garden at the top (interior) level. Although some jurors found the project somewhat unadventurous, its simple luminescence and polycarbonate materials provided a clear identity and believable material vocabulary.
The other winning project, SELF GROWING LAB was unabashedly assertive in its formal language and technological optimism. The project seemed poised to take over the whole building, and even to burst out of it. The self-growing lab evokes many of the technologies and growth forms associated with Terreform ONE's body of work. The project's strength is primarily metaphorical, and its bio-technologies are unproven but innovative. Some jurors found it too resolutely formal and its functional spaces insufficiently defined.
The third place project, COL-LAB, mediates between the ONE Lab facility and a new public space for the Navy Yard. The designers suggested using the roof on the courtyard side as a public area for seating and display — an idea that transforms the scope of the project from a purely interior space into a public outdoor roofscape. The functional spaces for ONE Lab are at the upper levels, with a new raised roof structure. While such construction might well desirable, it is not feasible in reality because of regulatory constraints. This, however, did not affect the judging, but the project would suffer if the roof could not be raised, since the programmatic spaces for ONE Lab would be reduced.
Honorable mention went to SKOOL HAUS, a project that starts from a metaphorical evocation of hand-made wooden boat construction, which may seem strangely at odds with a building whose function was to assemble giant engines for modern warships. The project presentation was highly evocative, and its finesse appealed to many jury members, even if at times it strained their credulity. Nonetheless, it underscored the relation of ONE Lab to the water, even suggesting that large parts of the program could be launched onto the water, and that overturned boat-like forms could provide unexpected opportunities for functional use.
I would like to take this opportunity to thank the jury for their efforts and insights into these exciting projects. Of course, there would be nothing to judge without the imaginative projects of the contestants. Congratulations to the winners!
ONE PRIZE Competition – Winners images / information from APOLLO Architects & Associates
ONE PRIZE Design Competition 2014
ONE Prize 2014 Jury
– Christian Hubert, principal of Christian Hubert Studio and Chair of Terreform ONE: Chair
– David Bergman, Principal, David Bergman Architect and Professor, Parsons School of Design
– Luis Berríos-Negrón, Founder, Parmodular and The Anxious Prop and Visiting Lecturer, School of Architecture of the Münster University for Applied Science
– Anya Bokov, Architect and Adjunct Professor, Moscow Architectural Institute – – – – – Matthias Böttger, Co-Founder, Raumtaktik
– Jean-Louis Cohen, Sheldon H. Solow Professor in the History of Architecture, Institute of Fine Arts, New York University
– Scott Demel, Director of Operations, Marvel Architects
– Talia Dorsey, Principal, The Commons INC
– John Hockenberry, Host, WNYC's The Takeaway program
– Mitch McEwen, Principal, McEwen Studio and Partner, A(n) Office
– David Ruy, Co-Director, Ruy Klein
– Robyn Shapiro, Director of Community, The Lowline
– Mark Shepard, Architect and Professor, University at Buffalo
– Michael Szivos, Founder, SOFTLab and Visiting Professor, Pratt Institute's Graduate School of Architecture
– Jack Tchen, Associate Professor, New York University Gallatin
– Billie Tsien, Co-Founder, Tod Williams Billie Tsien Architects
– Adrian Welch, Director, e-architect
– Karen Wong, Deputy Director, The New Museum
Location:Brooklyn Navy Yard, NY, USA '
ONE PRIZE Design Competition : 2011
Tenting Design Contest New York : Festival of Ideas for a New City
New York Building Designs
Manhattan Mountain, Lower East Side : Ju-Hyun Kim, architect



rendering courtesy Ju-Hyun Kim
YOTEL Times Square, New York Hotel : Rockwell Group



photo : Nikolas Koenig
Barclays Center, New York



image © SHoP Architects
Bay Residence, Long Island, NY : Stelle Architects



photo : Jeff Heatley
Building Competitions : Archive
Comments / photos for the ONE PRIZE Competition – Winners page welcome
ONE PRIZE Competition – Winners : page