Marstopia Competition Winners, Martian Design Contest, Outer Space Architecture, Architect
Marstopia Architecture Competition
Eleven magazine Design Contest for the first human colony on Mars – winners news
22 May 2018
Marstopia Design Competition Winners
Marstopia Architecture Competition Winners News
Visions of Marstopia
Winners of Eleven's International Space Competition on Martian Vernacular Design Announced.
The results are in and the winners of Marstopia are finally here! The competition – the sequel to Eleven's award-winning Moontopia – set its sights on Mars and asked the creative community one question: what does Martian vernacular architecture and design look like?
Hundreds of people from all across the world responded to Eleven's 9th international competition. Some with visions of utopias, others with dystopias. Some focusing on small-scale exploratory units, others with urban models for fully fledged Martian cities. Whatever the intention, one thing is certain: the red planet has been an inspiration for some fascinating concepts, and the idea of a martian vernacular has given rise to some truly creative, amazing visions.
The submitted proposals are simply mind-blowing and Eleven are excited to announce the winners of this truly out of this world challenge.
WINNERS:
'Dandelion Shelter' by Karl-Johan Sørensen & Sebastian Aristotelis Frederiksen (Denmark)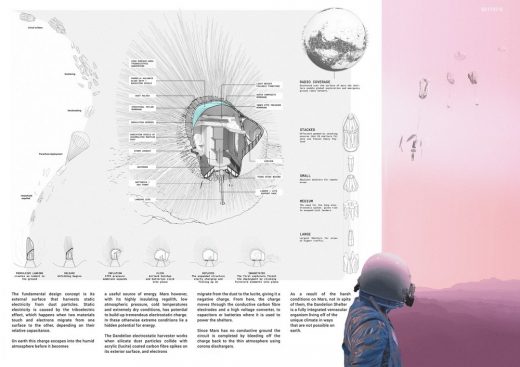 Every once in a while, great things really do come in small packages. Dandelion Shelter is an exquisitely detailed and refined design which comes to life through beautiful renders of life on Mars.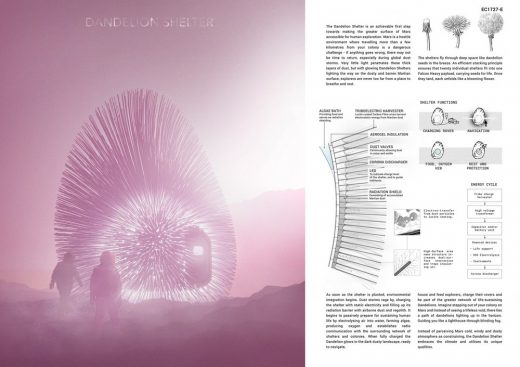 Every detail of this project has been considered and conveyed through a masterclass of how to pitch your vision in architecture. Inspired by Dandelions, this self-building 'fluffy' martian shelter is clad with a glowing Triboelectric Harvester which transforms electrostatic energy into power and traps Martian dust as a radiation shield.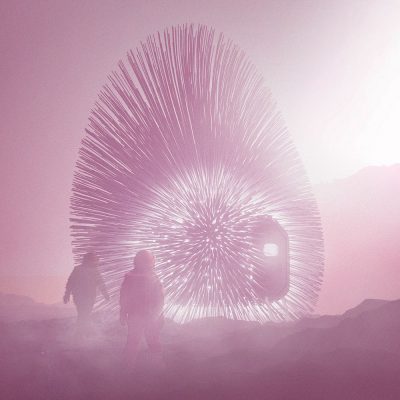 The pod also employs an Algae Bath as a secondary radiation shield and food source for its inhabitants. Elegant, Smart and Protective: the perfect companion for a Martian adventure.
RUNNER-UP:
'Mars H2.0' by Aleksandar Bursac & Ivan Djikanovic (Serbia)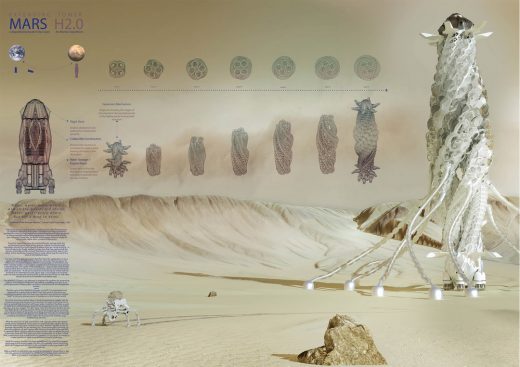 Mars H2.0 accurately emphasises our need to steadily test and push boundaries as a species. Behind the enticing visualisations, the fluid design – inspired by honeycombs – promises to be a hypothesis that would be able to persist in a hostile environment such as Mars.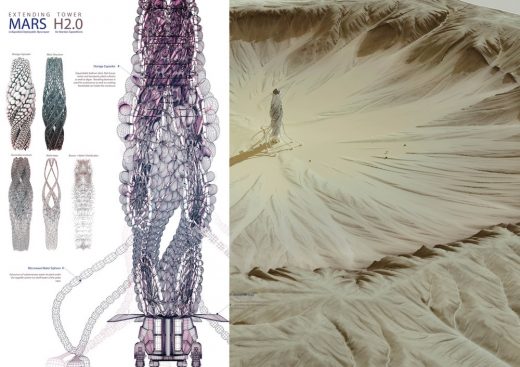 The project details a rocket ship which – upon landing – transforms itself into a vessel for habitation and a harvester of Martian water.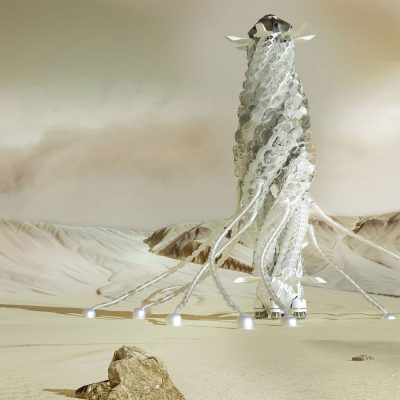 Mars H2.0 isn't just a dwelling, but a dynamic generator for life.
PEOPLE'S CHOICE:
'Desert Snowflake' by Robert Salazar, Anastasia Prosina & Svetlana Krinochkina (USA, Russia)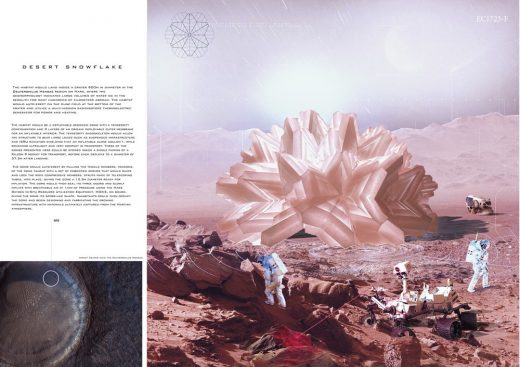 This self-erecting, ultralight, deployable Geodesic Dome takes Buckminster Fuller's ideas into the new millennium. Desert Snowflake, the winner of the people's votes, is an ode to architectural origami form.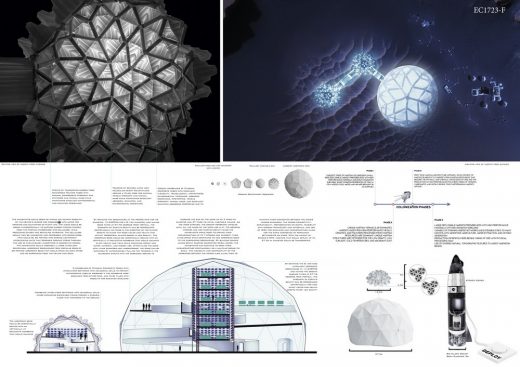 It showcases the value of flexible, lightweight yet highly-robust construction systems paramount for extraterrestrial colonisation.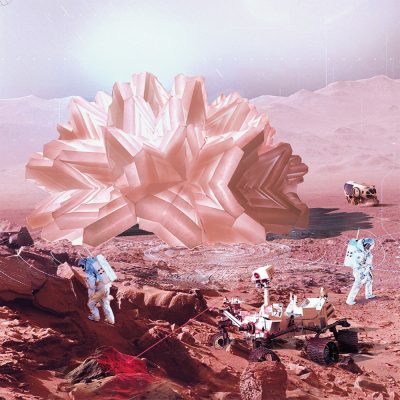 The spore-like structure has been designed with adaptability and modularity in mind, allowing for continued growth of the Martian colony in time.
HONOURABLE MENTION:
'The Peristalsis Project' by Anastasia Prosina, Svetlana Krinochkina & Robert Salazar (Russia, USA)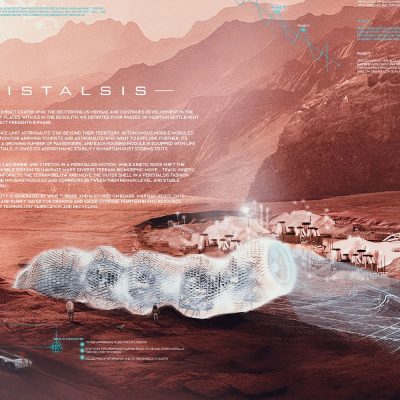 The Peristalsis Project is an excellent example of nature-inspired design on a technological high. The star of the proposal is a mechanical caterpillar-like, ultralight inflatable structure which is half dwelling, half machine. The design can move around the landscape thanks to a belly of boron carbide scales and kinetic rod pistons enabling peristalsis locomotion through shape-memory tendons that contract its body. The movable architecture is also entirely self-reliant, capable of generating its own energy thanks to wind turbine systems harvesting the harsh storms of Mars.
HONOURABLE MENTION:
'Mars Paracity' by Prerit Kaji, Arijit Sen & Jerrold Moses Ayque (India, Philippines)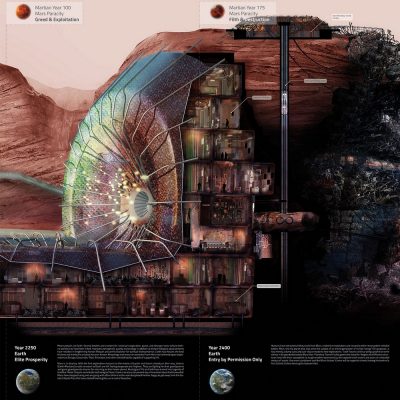 Aside from the stunning visualisations, this project moves beyond a mere Martian colony into a critique of the human spirit. Dark, dystopic, but truthful, it makes us rethink our priorities for future interplanetary conquest and questions our moral compass. As the world prepares to colonise Mars, Mars Paracity forces us to take a moment to reflect on our true intentions, methods and reasons behind our needs to do so. The project is an architectural story which delves into the parasitic side of our human spirit, making us consider our conscience as a race to secure the future of humanity on earth and beyond.
HONOURABLE MENTIONS:
'TerraForMars' by Adam Fernandez & Lizhen Xu (France)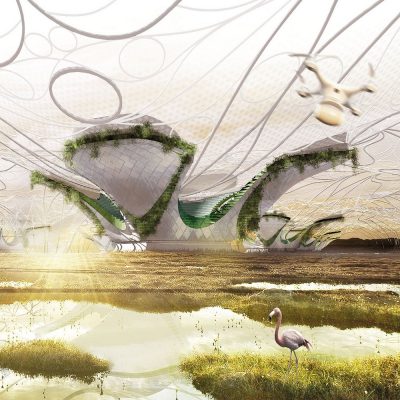 This proposal of terraformation is trying to understand and solve one of the main problems for a fully breathable and livable Mars: the electromagnetic shield of the planet. It does so by disrupting the idea of ordinary domes in favour for more organic forms built by 3D printing drone robots. The result is the creation of an impressive geometry developed like a blanket, able to adapt to the orography of the planet. The outcome is an adaptable human-made atmosphere which both promotes terraforming and the advancement of two contemporary hot-technologies: 3D printing and drones.
HONOURABLE MENTIONS:
'Below Freezing' by Shane Powers & Linjie Wang (USA, China)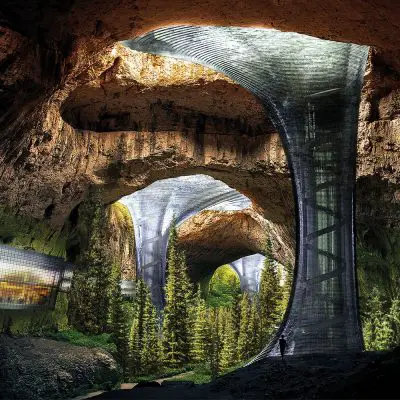 The idea of using martian lava tubes as a basis for shelter recently became very popular in the debate of Martian colonisation. This project stands out from its competitors because of the thoroughly thought out mission steps and well-designed construction process of the sealing structures. Below Freezing outlines a relatively large and well-protected space that first explorers will have at their disposal. The best advantage of this idea is the Ice Tower. It is a creative combination of a skydome with a weather shield and a vertical transportation system integrated with it. The project highlights the use of delta 3D printing from above and melted ice as building blocks. It is a rational approach, which maximises the best opportunities from what local conditions can give. All this is presented through beautiful self-explaining renderings and drawings.
HONOURABLE MENTION:
'Hyperdome' by Paolo Venturella & Cosimo Scotucci (Italy)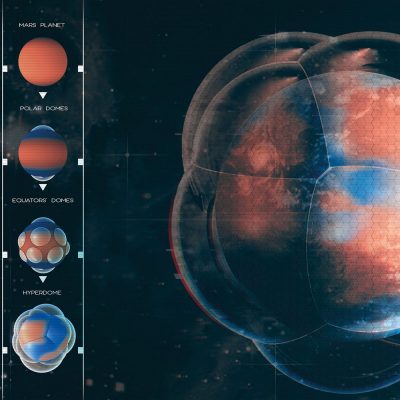 Hyperdome isn't about creating a settlement on Mars; it's about making Mars liveable by completely transforming its environmental makeup through the construction of a human-made atmosphere. A very bold proposition which highlights the environmental impact human beings can cause on planets.
HONOURABLE MENTION:
'Dust to Dawn' by Milad Moghary, Yibin Yang, Ismail Seleit & Matthias Wechsler (Iran, China, Egypt, Germany)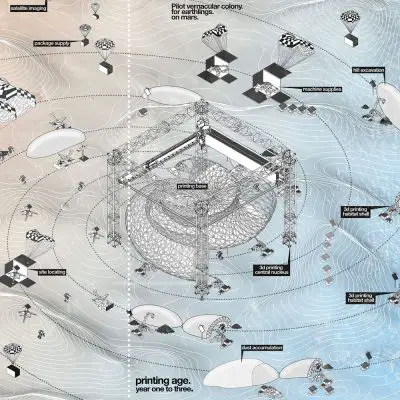 Dust to Dawn is a master plan for a time-driven Martian vernacular which seeks to create a model for a self-growing colonisation system on the red planet. As an ecology of infrastructures, multiple complex systems are overlaid on one another to produce a plan that outlines a multi-stage approach to the inhabitation of this foreign planet. The idea of a new vernacular colony is underlined by the concept of communal growth and the positive exploitation of resources found on Mars itself. The result is a resilient system of survival, able to expand organically, 3D printed from Martian compounds following the Fibonacci Sequence. The decision of representing the sequential growth of the colony in a diagrammatic single-drawing style sheet is a kind of martian 'Where's Wally?', which asks the viewer to explore and discover the ethos surrounding this Martian concept in a fun and effective way.
HONOURABLE MENTION:
'Kloroplast Mars' by Roger Badia Rafart (Spain)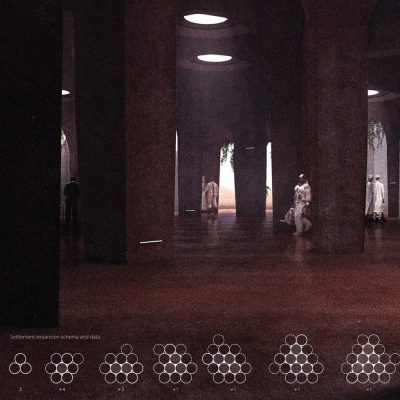 Aside from the beautiful presentation which displays evident architectural craftsmanship, Kloroplast Mars defines a new start for humanity through a modular martian vernacular seeking to emphasise the core roots of what it means to dwell. We like the simplicity of this concept that by no means undermines the potential of this new martian architectural model. The construction system is clear and straightforward, which adds to the overall potential of this design. In a far frontier such as Mars, flexibility and adaptability are crucial to survival. This system provides this with beauty and style.
HONOURABLE MENTION
'To Mars' by Chawapol Watcharasukarn & Prapatsorn Sukkaset (Thailand)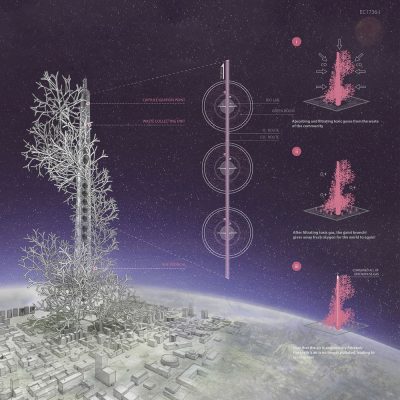 Although the design can be said to be highly unrealistic, the idea of harnessing Earth's waste to bring life on Mars is killing two birds with one (big) stone! After all, this is a competition about imagining Utopia, which in itself is rooted in ideas rather than realism. This proposal suggests an interesting dichotomy between the symbiotic relationship that Earth and Mars could have: each other benefitting from their disadvantages, working together to help one another survive. On earth, bronchi-like mega-towers suck out the pollutions and greenhouse gasses from our atmosphere. These get sent to Mars, where they are released into the red planet, beginning to form conditions conducive to life. Very conceptual, but graphically stunning, and with a vision that draws you in.
HONOURABLE MENTION:
'Clove' by Justin Jed Zumel (USA)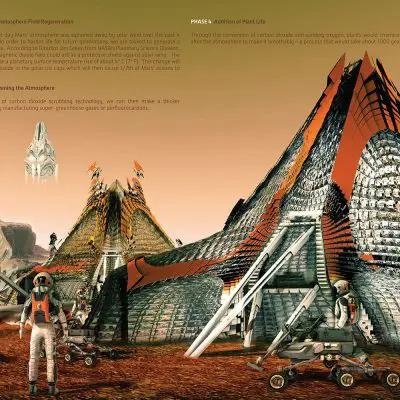 An intelligent design for the first Martian explorers. Clove is one of the best examples from the competition which shows us how a landing module could transform and adapt itself to a living unit on Mars. But beyond the initial landing party design, Clove outlines a four-stage phased growth system which would eventually generate a breathable ecosystem for humans to live freely on Mars. Beautiful renders and fantastic detailing bring this project to a new level of realism.
HONOURABLE MENTION:
'Particle Regeneration' by Chi Bhatia, Joanna Maria Lesna, Bryan Rincon & Wala' Sahloul (India, Poland, Colombia, Syria)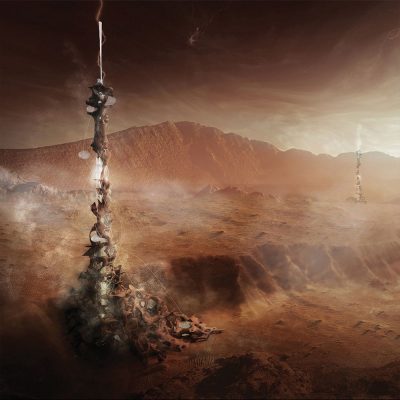 Particle Regeneration is one of the few projects which tackles some of the most severe threats of Martian living – being the lack of water and the frequent violent sandstorms – and harnesses them to its advantage. "Forms follows environment" is the underlining thesis of this project. A real example of human ingenuity in turning adversities into opportunities, which comes to life in a functioning, sustainable vertical community inhabiting stunning architectural forms.
HONOURABLE MENTION:
'City Crater' by Wenyi Zhu, Qizhen Tang & Xiaohan Ding (China)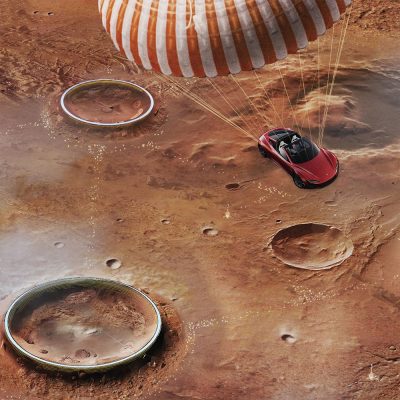 It looks like Elon's red Tesla is back, and this time it's landing on Mars! But nevermind about Mr Musk's space-car, City Crater is a vision of life on Mars which defines a vernacular urban model for the red planet. This concept imagines cities built into the rims of Martian craters, with a strong emphasis put on the refinement of Martian water in the pursuit of self-sustaining life. The ring-cities take a geological element and turn it into an architectural plinth, maximising on the in-situ geomorphology and minimising the visual impact of development on Mars despite the large-scale proposal. Did we already mention the red Tesla?
HONOURABLE MENTION:
'Leviathan 01' by Gleb Goncharenko & Ksenia Zabardygina (Russia)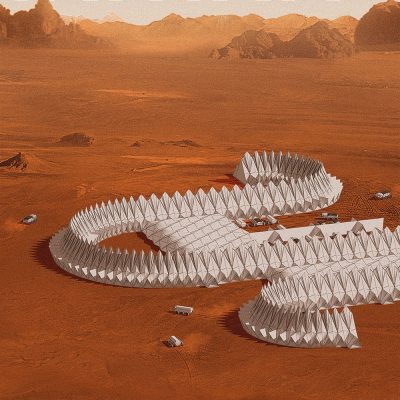 Project Leviathan 01 is a clever, feasible and organised overground concept. It's functional and linkable block design allows for additional connections and extensions. Its modular nature provides a system that is allowed to grow, move and transform in time, reflecting the needs of its inhabitants. The design is made from a rigid-frame structure which creates both unity in style but also flexibility within, as it allows for a whole series of functions to inhabit it. We like the origami-like foldings that give the project it's distinctive look, but also serve an essential role in adding strength to lightweight muli-core panels. The inspiration behind the 'look' is Leviathan, a once mythical creature believed to live on Mars. Now long dead, its bones are turned into architecture.
HONOURABLE MENTION:
'Colony' by Bonnie Gordon (Australia)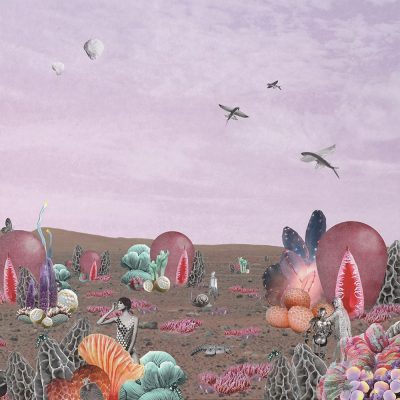 When asked to imagine a colony on Mars, this project leaps forward beyond architectural form and into the very foundation of life itself. Based on Dr Michio Kaku's scientific possibility that DNA originated on Mars and was brought to earth by galactic debris, and linking this theory with Dr Robert Zubrin's observations that life on earth is responsible for terraforming our planet, this project introduces a natural process of Martian colonisation that surpasses the human species itself. How do you colonise Mars? You let Mars create it's own life forms… with a little help from human science. Colony is about ensuring the process of life on Mars instead of planting an alien human settlement on its soil. Stunning concept. Stunning graphics. Utterly mesmerising. The idea that a colony on Mars should be about terraforming and create in-situ martian life rather than impose human domination is poetic, unique and highly original.
HONOURABLE MENTIONS:
'S.E.E.Ds of Mars' by Nicholas Ho & Darren Chan (Hong Kong, UK)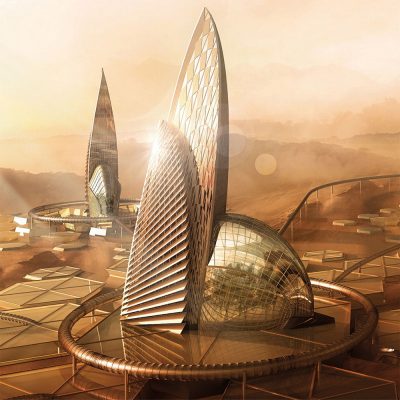 The project's opening narrative shows a deep understanding of the 'why' behind the mission and each step that follows from the technologically-based construction, through the various project stages, and the overall design concept carries the same force and determination on this singular mission. Most compelling is the new architectural and engineering language that is given birth and life in the illustrations and renders that are profoundly thoughtful and composed. This phased city, inspired by concepts derived from natural systems, includes the use of advanced robotics and drones.
Hungry for more visions of Marstopia? Come and check out our winning entries in full and take a look at the rest of the amazing projects here.
Image credits: Eleven Magazine Ltd.
Previously on e-architect:
15 Nov 2017
Marstopia Design Competition
Marstopia: Call for Entries
Eleven continues their adventures in space by launching an international architecture & design competition on Martian living.
Eleven has announced their latest ideas and design competition 'Marstopia', the official sequel to their 2016 award-winning international challenge Moontopia. This latest competition invites creatives from all around the world to imagine Marstopia – the first human colony on Mars – and in doing so, begin to define Martian vernacular design.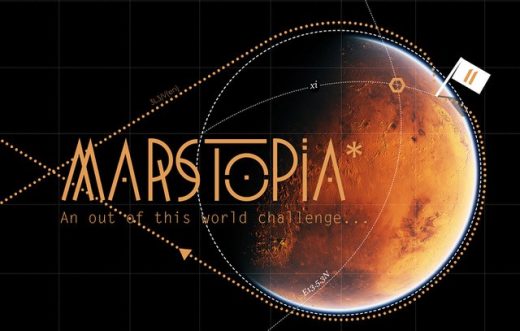 image from architectural contest organisers
Today, science fiction dreams of turning mankind into a multi-planetary species are well within our reach. As scientific and technological breakthroughs are fueling a renewed space race, it is becoming increasingly clear that the colonization of Mars is within our lifetime.
In the contemporary discussion of Martian colonization, the focus is predominantly on the science and technological aspects of getting to the Red Planet. As these fields pave the way for Mars to become an opportunity for groundbreaking exploration, where does this leave the creative industries? Despite dates being set for missions to Mars, there is still a huge gap in the field of Martian architecture and extra-terrestrial design.
This gap represents the genesis of Marstopia, a competition designed to get the creative community engaged with this new field and generate visions of future worlds beyond ours.
What does Martian vernacular design look like? You decide.
Marstopia challenges architects, designers and visionaries to engage with this hot topic, inviting them to conceptualize their visions of Marstopia and opening up the debate of Martian colonization to the creative fields.
Do you see Martian colonisation as an exciting prospect, or as a step too far? Is living on Mars an inspiring Utopia or a questionable Dystopia? Whatever your stance, this competition provides a platform for creative expression on the future of design and architecture beyond our planet.
Marstopia is open to all creatives – both professionals and/or students – from around the world. Participants, who can compete individually or in a team of up to four people, are asked to register and submit their proposals online by the 11th of March 2018, in the form of two digital A1 landscape sheets accompanied by an additional 500 words explanatory text. Models are highly encouraged but are not mandatory.
The winners of Marstopia will also be invited by our competition friends Mars City Design™ to attend an exclusive 10 day summer workshop in Los Angeles on Mars architecture including a mentorship programme to develop the design concept further with leading space agencies, VIP visits to space companies and JPL NASA, and a once in a lifetime opportunity to networking with professionals, pioneers and visionaries in the space industry.
The competition, which officially opens for registration on Saturday the 11th of November 2017, is scheduled to run for four months, closing on the 11th of March 2018 at 11:00am (UK Time). Awarded entries will be officially announced on the 11th of May 2018. Winners will be selected by an international jury panel of pioneers and experts in the field of Martian exploration and architecture. The public will also have an opportunity to vote for their favourite design online which will go on to win the People's Choice Award.
'Marstopia' is Eleven's ninth international competition to date. Since their creation in mid-2015, the challenges launched by this UK based magazine and creative agency have received great global success. Previous competitions have been exhibited in Europe and the USA, published in multiple international magazines such as the Architecture Review, the AJ, Dezeen, Archdaily and Designboom, and have been featured in Bustler's 'Top-10 Best Competitions of the Year Awards' in both 2015 and 2016.
For more information on Eleven's Marstopia challenge and to register, please visit: https://www.eleven-magazine.com/?competition=marstopia
Competition Schedule:
Competition Opens: 11th November 2017
Early Bird Fees change to Standard Fees: 1st December
Standard Fees change to Late Bloomer Fees: 1st March 2018
Registration Closes / Submission Deadline: 11th March at 11:00am (UK Time)
Public Voting Opens Online: 13th March
Public Voting Closes Online: 10th May at 11:00am (UK Time)
Winners and Awarded Announced: 11th May 2018
Competition Fees:
Early Bird: £60
Standard: £80
Late Bloomer: £100
Competition Awards:
– Winner: £2000 and Sponsorship courtesy of Mars City DesignTM to attend an exclusive 10-day workshop and space-architecture mentorship programme in Los Angeles, valued at $3,000 per person. Workshop scheduled for August 2018. (Please Note: Exact dates of workshop to be confirmed. Sponsorship does not include travel to and from LA and hospitality.)
– Runner-Up: £400
– 6x Honourable Mentions: no cash (boo) but lots of glory (yay)!
– People's Choice Award (selected by general public voting online): £100
*All of the awarded entries listed above will be published on Eleven's 'Elevenses' feed, social media, Apple News channel, and feature prominently on the 3rd issue of Eleven's new monthly (out on the 11th June 2018). In addition, awarded entries will receive fantastic worldwide attention through Eleven's media partners.
Confirmed Competition Jury:
– Marc Guberman – Team Leader of Mars Habitat Project and Partner – Fosters + Partners
– Andrew Aldrin – Director – Buzz Aldrin Space Institute
– Alberto Villanueva Galindo – Academic and Director – IDEA Architecture Office
– Jessie Andjelic – Co-founder of SPECTACLE & Head of Mars Studio, University of Calgary
– Vera Mulyani – CEO & Founder – Mars City Design, Executive Director & Founder – Spaceport LA
– Dmitry Zhuikov and Arina Agieieva – Founders – ZA Architects
– SEArch+ – First Place in NASA's 3D Printed Habitat Challenge for Mars
– Monika Lipinska, Inci Lize Ogun & Laura Olivier – Winners – Eleven's Moontopia Competition
– Andrea Verenini – Founder – Eleven Magazine
– Eloise Carr – Editor and Creative – Eleven Magazine
Images: Eleven-Magazine.com
About Eleven:
Eleven is an online architecture platform interested in design-led innovation. Part of what we do is organise and run international competitions. We plan to launch a whole variety of design and architecture competitions in 2017. Past competitions by Eleven include the award-winning Cambodia 2015 (3rd place in Buster's Competition of the Year Award 2015, exhibited in London's Covent Garden in association with the Architecture Review and also exhibited at Boston's BAC), San Francisco 2016, Moontopia (7th place in Buster's Top Ten Best Competitions of the Year Award 2016), Biomimicry, Rome 2017 , Planetarium and Shelter 48 . Our current live competitions are Safari, running until the 11th of January 2018 and Marstopia. We are always looking for new opportunities for collaborations, so please get in touch if you wish to connect!
Architecture
London Architecture Links – chronological list
Los Angeles Architecture Links – chronological list
eleven Design Competitions
Shelter 48: Emergency Life Support Design Architecture Competition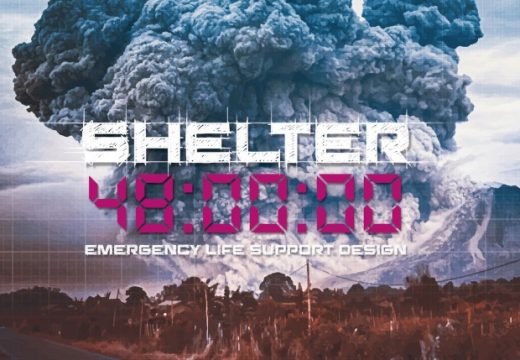 image courtesy of architecture magazine
Shelter 48 Architecture Competition
Safari: Zimbabwe 2017 Competition
e-architect offer a discount on this competition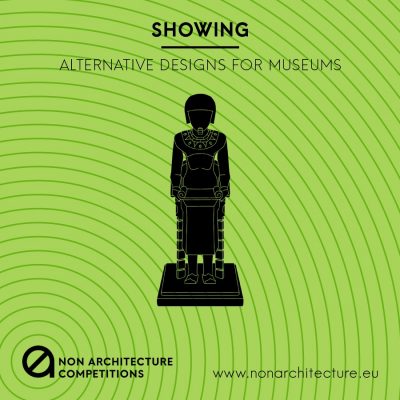 arquideas Architecture Competition
Landscape Observatory Pamukkale Architecture Competition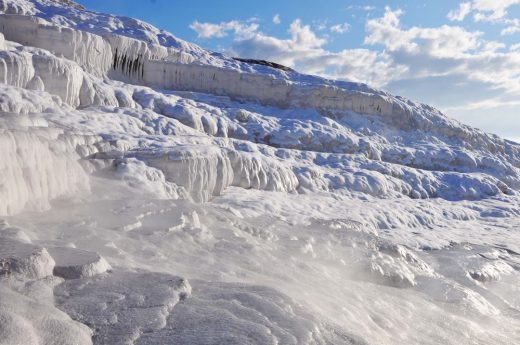 Build A Retirement Community on A Shoestring Design Competition
Los Angeles Architecture Designs
Openhouse, Hollywood Hills
Design: XTEN Architecture
Hollywood Hills Home
Walt Disney Concert Hall – Los Angeles Philharmonic
Design: Frank Gehry – Gehry Partners
Walt Disney Concert Hall Building
Comments / photos for the Marstopia Architecture Competition page welcome
Website: MARSTOPIA by Eleven: Architecture and Design Competition