International Backwoods Cabin Design Contest, Building, Architects, New Brunswick, Canada
International Backwoods Cabin Competition
Canadian Architecture Contest – Community Forests International (CFI)
8 Mar 2014
International Backwoods Cabin Design Competition
International Backwoods Cabin
March 7th, 2014
Paris – Los Angeles – Tokyo – New York: Canadian cabin design competition draws over 50 submissions from around the world. Young winner Nathan Fisher of Toronto awarded $1,000 and will see his design built on 580 acre sustainably managed forest by competition host; Community Forests International.
Sackville, New Brunswick, Canada (March 7th, 2014) – Community Forests International's (CFI) panel of judges faced a larger than anticipated responsibility last week when over 50 entries from around the world poured into the organization's sustainable cabin design contest.
1st Prize – Whaelghinbran Nomadic Cabin
Designer: Nathan Fisher, B.Arch Sci, M.Arch
Location: Toronto, Ontario, Canada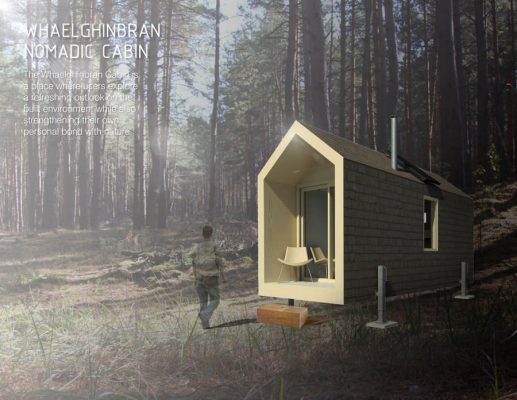 Striving to meet the high standards set out in the competition criteria, teams from Japan, the United States, Italy, Romania, China, Spain and several other countries explored new approaches to the traditional backwoods cabin experience. Many drew inspiration from the region's proven building traditions, including Acadian architectural vernacular and the traditional wigwam of the Mi'kmaq and Maliseet First Nations. Others emphasized the poetic side of architecture, compelling a sense of wonder and excitement about communing with Canada's wilderness; something Community Forests International believes is vital to building pride in New Brunswick's vast natural wealth.
– Contest details including commentary and quotes and from judges, winners and Community Forests International.
http://forestsinternational.org/news/post/paris-los-angeles-tokyo-new-york-the-world-answers-cfis-design-challenge
"The cabin will be a great retreat and allow our organization the ability to host interns, apprentices and artists in the coming years as the rest of our Rural Innovation Campus unfolds. " – Jeff Schnurr, CFI Executive Director
"The quality of the submissions was extremely high, and demonstrated the potential of an international competition to generate some really insightful innovation. The winning design was not only innovative, smart and elegant, but managed to very effectively capture, in a few simple moves, all of the key requirements of the competition brief. This is yet another example of how the team at CFI are blurring the lines between rural and global and finding clever ways to innovate."- Craig Applegath, Competition Judge/Architect
International Backwoods Cabin Design Competition winner: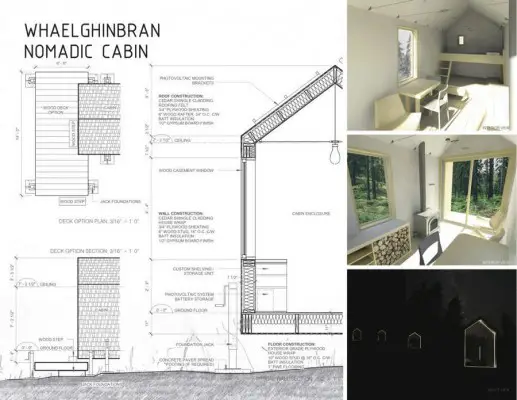 From the Judges:
"The Nomadic Cabin entry meets all of the competition requirements in spades. It is compact, easily constructed from local material, is easily movable, and is beautiful. The designers have also been very subtle and sophisticated in the key design moves they have made – like the trailer jacks to support the cabin. I have a sense that this design will become a popular approach for building rural cabins in the future, and could become an iconic feature of the Acadian Forest landscape." – Craig Applegath, Architect, PPOAA, AAA, Architect AIBC, NSAA, FRAIC, LEED® AP
From the Designer:
"Transporting the cabin mitigates the environmental impact on the forest by allowing users to periodically relocate to permit old sites to regenerate. As an example, cabins can be moved over winter snow, pulled by farm equipment or livestock on a large sled or trailer and relocated before Spring on a new site to allow the previous location to regenerate. The ability to transport the cabin can also allow construction to occur in a controlled environment, removing the environmentally harsh construction process from the sensitive forest." – Nathan Fisher
From Community Forests International:
"We're all really excited to build the Nomadic Cabin – it's a brilliant concept and it fits our vision of strengthening people's connection to the land here in New Brunswick perfectly. And I'm proud that it was a young Canadian who came out on top – this was a very competitive international contest and I think Mr. Fisher did great by drawing on his personal knowledge of our environment and traditions while also pushing the envelope on small, environmentally friendly building." – Jeff Schnurr, CFI Executive Director
1st Runner Up – Acadian Abstraction
Designers: Belle Stone, BA, M.Arch & Jeffrey Sullivan, BFA, M.Arch, MCM
Location: Brooklyn, New York, USA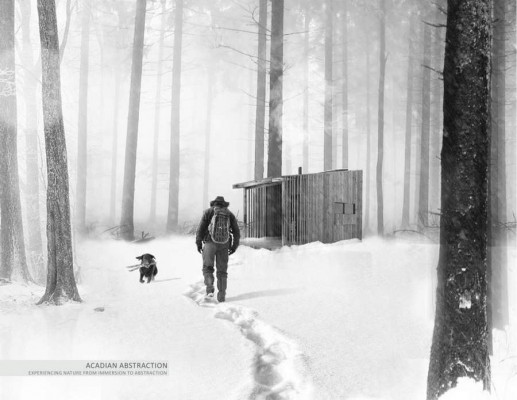 Judge's Award for Architectural Poetry – Hearth
Designers: Kyle Schumann, B.Arch & Katie MacDonald, B.Arch
Location: Los Angeles, California, USA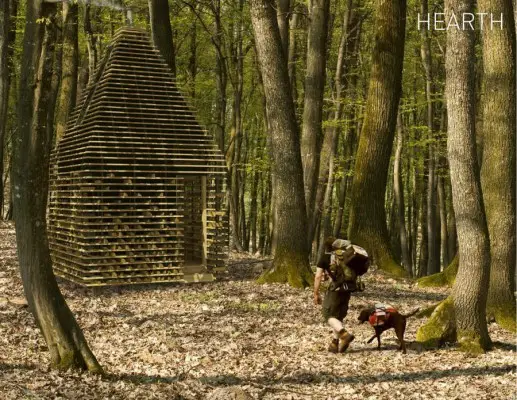 *People's Choice Award – Marlice
Designers: Alice Dupin, M.C.E, M.Arch and Marion Filliatre, M.C.E, M.Arch
Location: Paris, France
*Determined by highest number of online votes from the general public.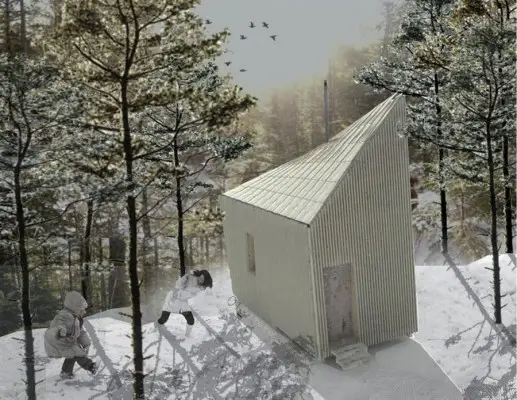 – Gallery of 57 cabin design submissions (high resolution available for all entries) http://forestsinternational.org/cabin-design/
International Backwoods Cabin Design Competition images / information from Community Forests International (CFI)
Location:London, UK
Recent Architecture Competitions
Busan Tower Architecture Competition
Dubai Architecture School Tower Competition
Architecture Competition with US$ 7000 prizes
Space For Life International Architecture Competition
Canadian Architecture



image from architects
Comments / photos for the International Backwoods Cabin Design Competition page welcome
International Backwoods Cabin Competition – page