Bee Breeders Architecture Competitions, Homemade Dessert Contest, Design, Architects
Bee Breeders Architecture Competition
Charlie Hebdo Portable Pavilion: Architectural Contest – International Search for Designers
12 Apr 2016
Charlie Hebdo Portable Pavilion Competition
Charlie Hebdo Portable Pavilion Design Competition Winners
The winners of this architecture competition have been announced. The design competition tasked participants with designing a mobile structure to support and promote the principle and ideals of free speech.
Charlie Hebdo Portable Pavilion Competition Winner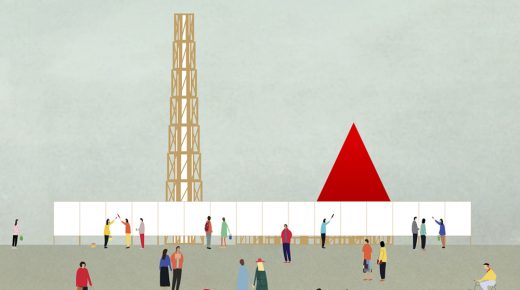 Charlie Hebdo Portable Pavilion Competition
Charlie Hebdo Portable Pavilion Design Competition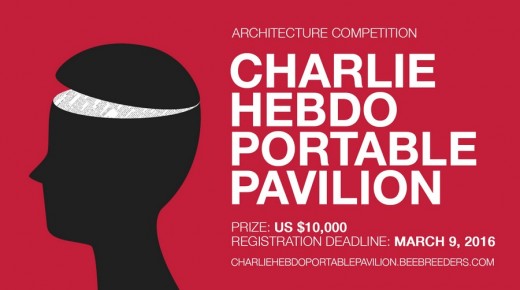 Bee Breeders' new architecture competition – the Charlie Hebdo Portable Pavilion – looks to help
spread the message of the importance of the right to free speech. The purpose of the structure is
to deconstruct the idea of free speech, reminding visitors that freedom of speech is a luxury not all
people can enjoy and educate people about the situation in other countries around the world. The
recent events in Europe have highlighted how the civil liberties we often take for granted are
denied to many all around the world.
The Charlie Hebdo Portable Pavilion will enable exhibitions on the importance of free speech to
travel the world and work to leave a positive lasting impression.
http://charliehebdoportablepavilion.beebreeders.com/
Registration for the Charlie Hebdo Portable Pavilion architecture competition is open now until the
March 9, 2016.
Winners will be announced on the April 6, 2016, in the meantime more information can be found
on http://charliehebdoportablepavilion.beebreeders.com/
11 Nov 2015
Bee Breeders Competitions
Bee Breeders
HMMD has been relocated to a new website: http://beebreeders.com/
Formerly known as Homemade Dessert Competition – HMMD
Bee Breeders (former HMMD Group) is an international team of construction industry related professionals who organises architecture competitions focusing on initiating progressive ideas. We look to create an avenue through which fresh design concepts and visions can be generated, expressed and showcased. Bee Breeders has teamed up with various gallery representatives and well-known international artists to organise architecture competitions. These projects are intended to provoke, excite, inspire, and stimulate creative ideas and innovation.
Bee Breeders is a trading brand of Concept Labs Limited registered in Hong Kong. Registration No. 2290360.
Legal address: Room D, 17/F., Billion Plaza 2, 10 Cheung Yue Street, Lai Chi Kok, Kowloon, Hong Kong.
Online Payment processing: West Coast Inter LP Suite 2, 78 Montgomery Str., Edinburgh, EH7 5JA, Scotland, United Kingdom
CONTACT: [email protected]
21 Apr 2015
Bangkok: I am Fashion Hub Winners
Bangkok I am Fashion Hub Competition Winners
INTERNATIONAL ARCHITECTURE COMPETITION
PREWORD
Emerging from an unexpected context, the Bangkok Fashion Hub seeks to gather the local, regional, and international fashion communities in an active environment in the Thai capital. Part community center, part retail, part library, part school, part exhibition, and part public space, the diverse program calls for strong designers to weave together disparate functions into one strong concept.
Each entry was evaluated on a number of criteria, including but not limited to: strength and clarity of concept, originality, quality of presentation, response to urban context, and most importantly, its viability as a cultural fashion hub. While the concept of a "Fashion Hub" is vague and somewhat subjective, the judges placed particular focus on the architecture's ability to invite the community inside via a spatially porous place that encourages unexpected visitors and chance encounters. As such, the fashion hub transcends beyond the fashion world to engage anyone passing through the neighbourhood, country, or region.
1st PRIZE – Project ID 646
Winners: Ilya Pugachenko, Andrey Sayko, Alla Aniskova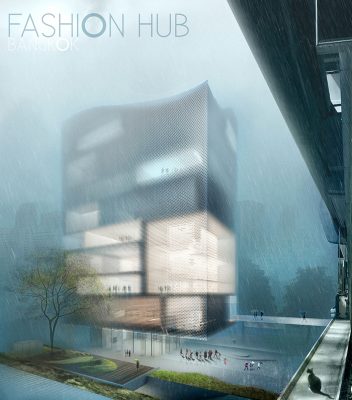 This entry is striking as a floating ethereal presence on the site. It is clean and compact while also poetic and provocative. The choice for semi-transparency is both well-resolved and highly relevant in the context of fashion and textiles. The use of translucent polymer tubes as a stacking architectonic element presents both an innovative structural thesis as well as a poetic experience from both inside and outside the project. This envelope also reflects and reacts to the diverse program inside. Each portion of the façade is defined through the quantity of light desired, creating a unique gradient of translucency specific to each room function. Ultimately, the bundle of straws façade carries the potential for a provocative play of light within each space, evoking the sublimely airy work of artist Tara Donovan. To this end, as the visitor moves through a room, the light and view through the tubes would change with each step, establishing a subjective view in which no one space or view is exactly like another.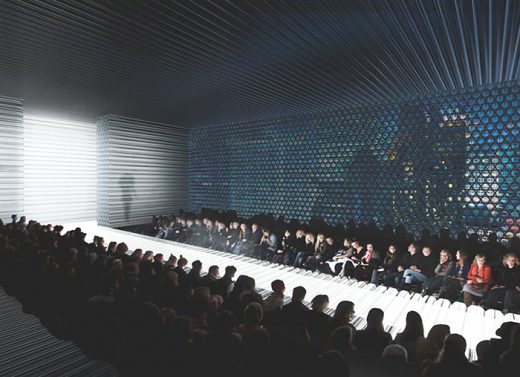 In addition to the central thesis of the façade, the spaces throughout are tidy and well-resolved. Although volumetrically simple, there are select moments throughout the project that allow for joy and exception. The triple-height library space, for example, is equally successful as a project within a project, poetically driving a triple-height core of books through the heart of the space. The semi-transparent façade also strengthens the runway space, in which we see a subtle reveal of the model's silhouette before she emerges on the runway, thus venerating the central female figure of runway shows.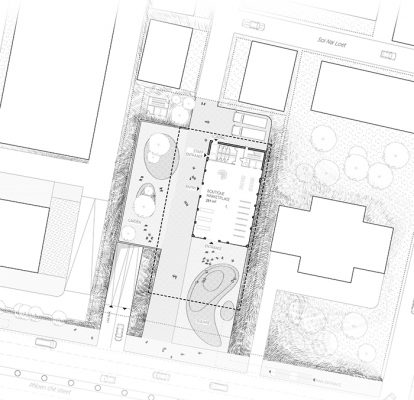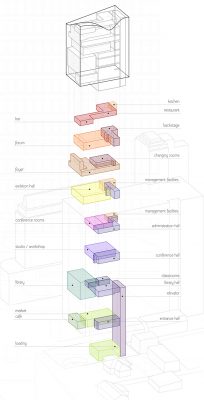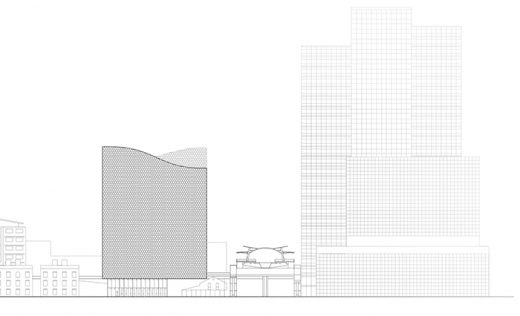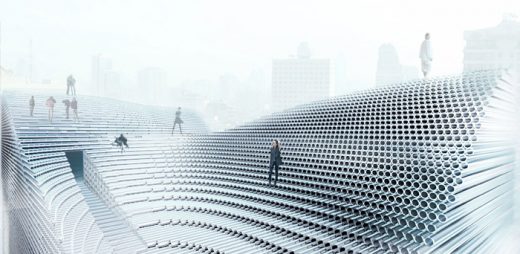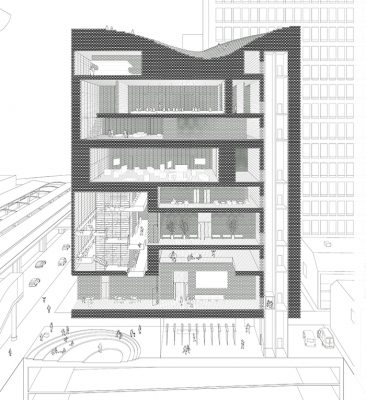 Finally, the project's approach to context achieves a nice balance between the scale of the adjacent towers, train station, and multi-family residential. The rough volume as placed on site is a fitting size in order to participate in the city's skyline while remaining elegant and light. Similarly, the choice to pull the building back from the street edge provides for some much-needed breathing room between the building and stacked street/train zone. The subtle yet beautiful play between the undulating roof terrace and ground floor public space provide two moments of respite from the rigidity of the structural tube system. The levitating volume is a symbolic and radiating entity, drawing people's curiosity and welcoming them through simple iconic entrances.
2nd PRIZE – Project ID 655
Winners: Jun Hao Ong, Raphael Cheng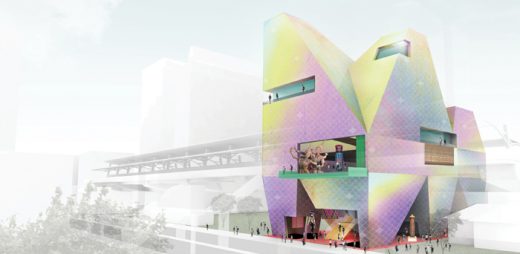 This entry, although quite loud at first glance, presents a clear and convincing argument for the flexibility of the fashion hub, claiming that at its core, it must grow and change with the varying program needs of the center. The flexibility of the space, implemented primarily through a large retractable platform in the center of the project, achieves the core concept of the task – to accommodate all kinds of people and all kinds of activities. Although flexibility is key to this approach, the focus on fashion remains equally strong throughout the presentation, evidenced particularly well through a series of axonometric diagrams showing the precise configurations for Bangkok fashion week, a textile symposium, and a local fashion marketplace.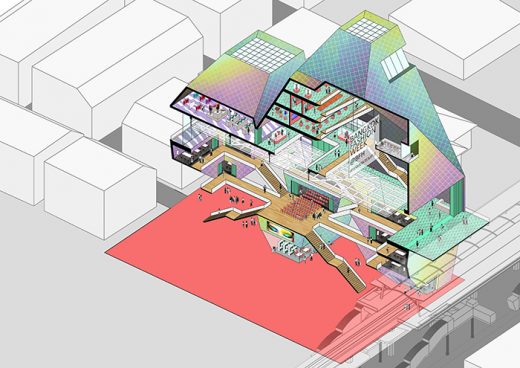 As a subtle nod to traditional Thai building typologies, the 'wat' and 'sala' are used as a clever mechanism to establish program hierarchy, and successfully strike a balance between a closed object and an open hub. Evoking a contrast of solid and void, the wat and sala characterize the two sides of the fashion industry; one (solid) housing knowledge, craft and design, and the other (void) housing performance and exhibition, directed towards the public and consumer audience. This is formalized as the inside of the solid volumes of the prisms hosts activities such as class and conference rooms, studios, library, storage and services, while the remaining negative volume is a stage for public and open exhibitions, shows, and shops.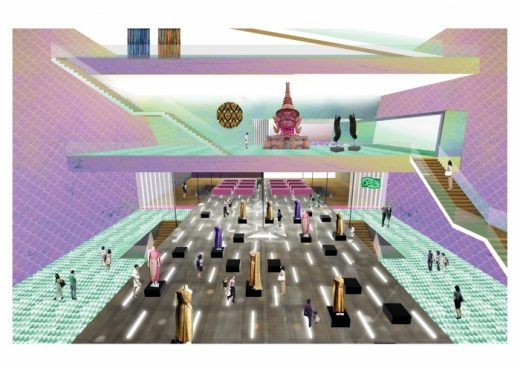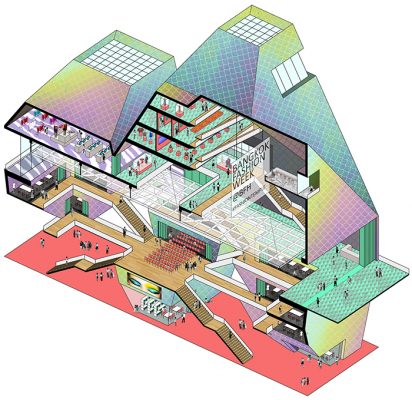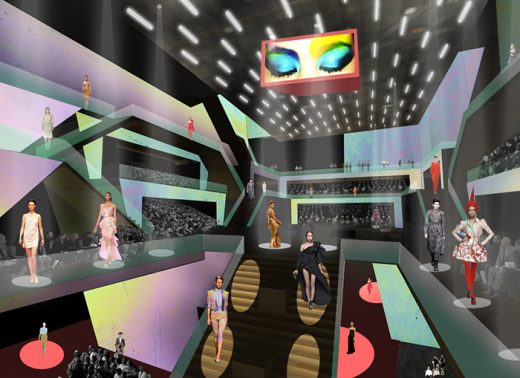 Also noteworthy is the project's effortless and fluid connection between the street level, the interior public spaces, and the train platform level above. The judges were particularly convinced by the central atrium volume, in which several levels of weaving staircases provide a breathable knot of circulation through the heart of the project. Once again referencing the importance of spatial flexibility, this knot participates in an unconventional runway which snakes throughout the entire building, thus challenging the runway typology entirely. Rather than a platform extruded through a box, this project proposes a continuous loop through all levels and all spaces throughout the structure as a gesture to bring fashion closer to the people, rather than isolating it at the terminus of a poorly-frequented red carpet.
3rd PRIZE – Project ID 981
Winners: Quyet Tien Ngo, Mingbo Wang, Junwei Xie, Arnaud Rossocelo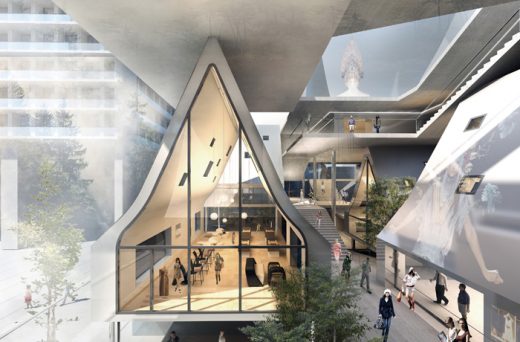 This entry, in contrast to the majority of submissions, conceives of the project as a series of small volumes linked by an activated interstitial space, rather than as one towering object on site. As such, and coupled with the choice to use extruded house forms, it evokes the idea of a village or campus, thus establishing a strong and unique identity for the fashion hub. This exploration in interstitial space allows for a variety of experiences and views as one moves through the project, fulfilling its task as a community destination for both fashion lovers and laymen alike. This is reinforced with the ease and presence of access from both the street and train platform levels, resulting in a porous campus that welcomes unexpected visitors from many directions and levels. The choice to scatter smaller volumes throughout the site in favor of one large object also helps to mitigate the drastic change in scale between the adjacent towers, train station, and multi-family residential.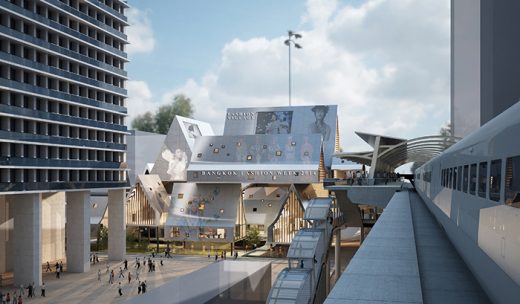 The brief yet convincing exploration into the climatic benefits of scattering compact forms around the site is also well-rooted in Thai vernacular architecture. Although loosely reminiscent of Herzog & de Meuron's Vitrahaus, this project takes a deeper inspiration than most entries from Thai vernacular architecture, incorporating not only the abstracted form, but more importantly, traditional methods of climate mitigation. The sensitivity to local climate lends a richness to this project's concept, and it is easy to imagine the interstitial space being comfortable throughout the year by incorporating shade and natural breezes. Although the design would present some clear structural challenges, the concept of a neighborhood within a neighborhood is convincing, and promises to be a vibrant hub for both fashion and non-fashion community activity.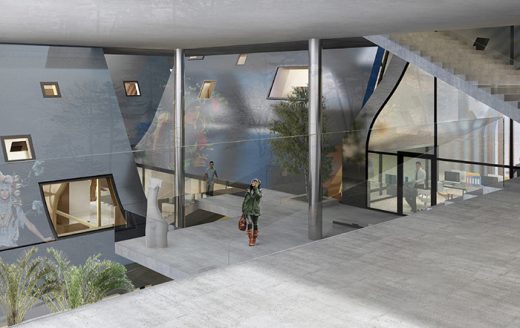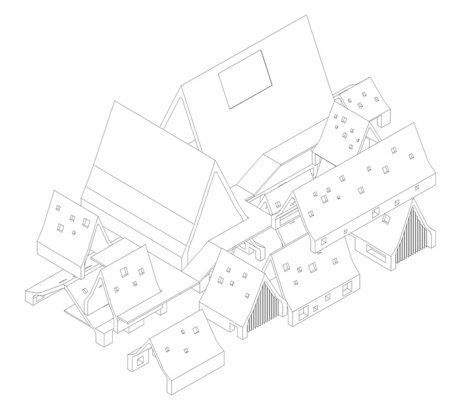 HONORABLE MENTIONS
– John Gaitan
– Chun Wai Charles Lai / Takehiko Suzuki / Doyeon Cho
– Pablo Bodega / Guillermo Piedrafita / Leandro Villalba / Luis Quintano
– Pattra Khoirangub
– Jianing Xu / Yukiko Idei
– Santi Musmeci / Sebastiano Maccarrone / Paola Simoncelli / Daniele Verducci
Website: Bangkok: I am Fashion Hub Competition Winners : external page
18 Feb 2015
Bangkok: I am Fashion Hub
Bangkok: I am Fashion Hub International Architecture Competition
HMMD ARCHITECTURE COMPETITIONS
BANGKOK: I AM FASHION HUB
Final registration deadline: 25 February
HMMD architecture competitions organisers, in co-operation with some of Bangkok's most prominent new fashion designers, are supporting Thailand's goal of becoming the ASEAN Fashion Capital. As such, HMMD asks designers from around the world to submit architecture visions for a regional ASEAN Fashion Hub that would be based in Bangkok.
The final registration deadline for the "Bangkok: I am Fashion Hub" architecture competition is Wednesday, February 25, 2015.
HMMD will award a total of US$ 10 000 in prize money to competition winners as follows:
1st prize winner – US$ 6000
2nd prize winner – US$ 3000
3rd prize winner – US$ 1000
Competition Schedule:
Closing date for registration: Feb 25, 2015 (11.59pm GMT)
Closing date for submission: Mar 16, 2015 (11.59pm GMT)
Announcement of the winners: Apr 2, 2015
Bangkok architecture (pictured below is Central Embassy Bangkok Building):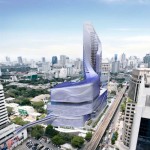 Website: Bangkok: I am Fashion Hub Competition : external page
Previously:
HMMD international architecture competition organisers in cooperation with Liepaja City Council, Latvia call for ideas!
We feature two architecture vision competitions:
Rebirth of Bath House – US$ 7000 in prizes and article in e-architect for top 3 proposals!
Early registration deadline: March 15
Final registration deadline: May 2
The War Port Microtecture – US$ 2000 in prizes and article in e-architect for top 3 proposals!
Final registration deadline: March 12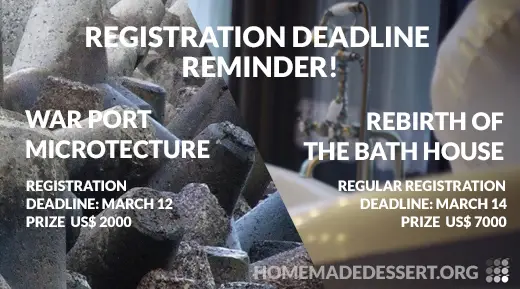 5 Mar 2014
Rebirth of the Bath House
Rebirth of the Bath House International Architecture Competition
Architecture Competition / US$ 7000 / registration closing date: May 2, 2014
As the first competition in a design series focused on Liepaja Seaside Park – a historically exclusive retreat area in Liepaja, Latvia – you are presented with an opportunity to express your vision for the revitalisation and further development of the 'Bath House', designed by Paul Max Berchi in 1902.
Inside its richly furnished halls, visitors had the chance to experience immersion in warm seawater, and healing mud baths. Visitors were offered a range of recreational therapies like hydrotherapy, Roman and Irish saunas, and latter mud, carbonic acid, and sulfur baths. After WWII the swimming facility functioned as a resort and sanatorium, attracting health and rest seekers from Latvia and abroad. In 1978 an underground lake 1300 meters beneath the swimming facility was discovered, containing high-quality minerals. The valuable spring remains active, and a recent water quality check proves that the water is in excellent condition and usable for therapeutic purposes. However, in 1993 soon after Latvia regained its independence the sanatorium was shut down and has remained closed since, nevertheless due to rapid economic growth in the region, there are hopes that this iconic building can be restored and once again used as the Bath House.
The design brief is flexible, open for modifications and improved development strategies. The proposal should consider all areas inside and outside the building. We encourage participants to reactivate the iconic Bath House building, as well as add new structures and new functions to the complex.
Rebirth of the Bath House Jury:
Indulis Kalns – Liepaja city head architect, Latvia
Gemawang Swaribathoro – architect, OMA, Hong Kong
Andrejs Edvards Rauchut – 2010 Cooper Union graduate, associate professor at RISEBA
Allison Schwartz – architectural designer, MA Architects, USA
Agata Piet – architect PhD student, Faculty of Architecture, Wrocław University of Technology, Poland
Audrey McKee – architectural designer, Renzo Piano, France
Rebirth of the Bath House Prizes:
1st prize – US$ 5000
2nd prize – US$ 1500
3rd prize – US$ 500
+ 6 honourable mentions
Enter the Rebirth of the Bath House architecture competition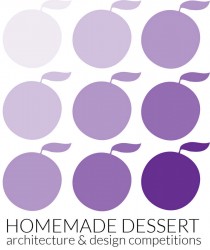 2 Mar 2014
War Port Microtecture
War Port Microtecture International Architecture Competition
"Objects (…) become collective architectures when they are part of an interaction between object-place-users, from which actions result." (Marcos Rosa, in Microplanning: Urban creative practices)
Homemade Dessert, in cooperation with the Liepaja City Council, invites you to participate in the third international architecture vision competition on Karosta, Latvia: War Town Microtecture.
Karosta translates as War Port (or Navy Harbor). It is located in the west of Latvia, in the city of Liepaja. Karosta used to be a secret military town for the Russian Empire, and later on for the Soviets. As Latvia regained its independence in 1991, the Soviet army had to leave Karosta. As a consequence, the population dropped dramatically from 25 000 to 6 000 inhabitants and the town has fallen into a state of partial despair.
To cover all scales of Karostas urban revitalization plan, this time Homemade Dessert asks you to focus on Karosta's small-scale architecture forms – playground areas, bus stops, benches and information signs, in order to develop a consistent concept to reinforce and reflect the identity of the Karosta.
An essential aspect of good urban design is the capacity of the objects (no matter the scale) to become more than mere objects. They must be dependent on their relationships so as to complete an articulating scheme. As such there is no specific area of intervention. Those objects are supposed to be placed around the town, accordingly to your understanding of relationships they produce.
The War Port Microtecture Jury:
Indulis Kalns – Liepaja city head architect, Latvia
Alona Martinez – lecturer, School of Architecture, University of Plymouth
Dr Louis Gyoh – architect and academic, RIBA, MCIOB, FRSA, United Kingdom
Ardzuna Sinaga – associate at AECOM Asia Pacific
Gemawang Swaribathoro – architect, OMA, Hong Kong
Andrejs Edvards Rauchut – 2010 Cooper Union graduate, associate professor at RISEBA and a Fulbright grant recipient
Rajiv J. Fernandez – architectural designer, Tamarkin Co, USA
Mandy Too – architectural executive – DPA, Singapore
Allison Schwartz – architectural designer, MA Architects, USA
Agata Piet – PhD student, Faculty of Architecture, Wrocław University of Technology, Poland
Simon McGown – project designer, Morphosis Architects, USA
Collin Anderson – writer, architect, Renzo Piano, France
John Simons – designer, KPF, USA
The War Port Microtecture Prizes:
1st prize – US$ 1000
2nd prize – US$ 700
3rd prize – US$ 300
+ 6 honourable mentions
The War Port Microtecture architecture competition
Homemade Dessert Architecture Competitions images / information from Homemade Dessert – HMMD Architecture Competitions, Latvia
Location:Veca Ostmala 40, Liepaja LV3400, Latvia
Baltic thermal Pool Park Architecture Competition
International architecture vision competition organisers Homemade Dessert announce a new architecture vision competition in Latvia:
"BALTIC THERMAL POOL PARK"

Homemade Dessert in cooperation with Liepaja City Council, Latvia ask you to present the vision for a new development that would consist of thermal pool park with outdoor and indoor SPA facilities.
Efforts to restore Liepaja as a resort city have been revived in the new millennium. The wide beaches here attract visitors seeking recreation in the waterside cafés and bars, and nature lovers seeking peace on the coast. The unique natural healing resources available here call for the development of a new resort and health tourism amenities. Liepāja is the 3rd largest city in Latvia and 10th largest one in the Baltic States.
Homemade Dessert Design Competition in Latvia
Comments / photos for the Homemade Dessert Architecture Competition page welcome
Homemade Dessert Architecture Competition