International Space Design Award—Idea-Tops 2019 NYC, Architectural Contest China
Idea-Tops launches at Times Square New York City
Chinse Architecture Contest Prize in Manhattan, NY, USA – A963 Design Portal News
June 21, 2019
The Idea-Tops Award 10th Anniversary Global Promotion Launched in New York
On June 14th, the 10th anniversary global promotion of the International Space Design Award – Idea-Tops was launched in New York, USA.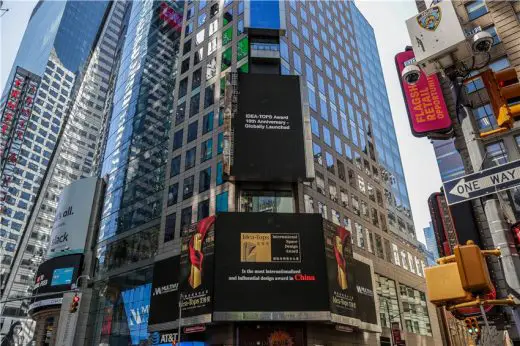 Idea-Tops 2019 launches at Times Square in New York City
Idea-Tops Award aims to identify and praise designers and works that pursue innovation and greatness in the form of technology application, artistic performance and reproduction of cultural characteristics. It also aims to create the world's most ideological and influential design award. Moreover, Idea-Tops Award is highly praised for the designers' never-ending wisdom, advanced innovative ideas and goodwill towards humanity and environment.
Idea-Tops Award is highly recognized by designers for its professionalism, academics and international influence. As an important award in recognition of outstanding talents, Idea-Tops Award openly solicits works from the global design community once a year and helds the Awarding Ceremony every April. The approval of winning the award is to show the world the top honors of the elites in the field of architecture and interior design.
In 2015, the Idea-Tops Organizing Committee cooperated with 10 top universities of the world, including Harvard University, Yale University, Oxford University, Cambridge University, Tokyo University, MIT, Paris University, Rome University, Tsinghua University, Peking University and other famous professors and academic leaders, and launched the International Design Forum. Zheng Shiling (academician of the Chinese Academy of Sciences) serves as the chairman, Lu Xiaobo (Dean of the Academy of Fine Arts of Tsinghua University) serves as the vice chairman, and Liu Yu-Tung (Doctor of Architectural Design of Harvard University and Vice President of Asia University) serves as the vice-chairman and executive chairman. The International Design Forum is held every year to promote the development of design industry with academic height.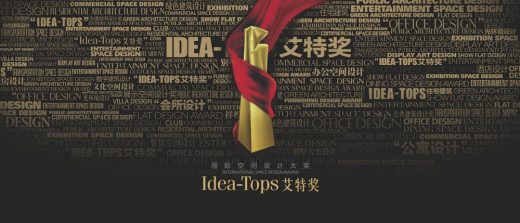 In 2016, the 7th Idea-Tops Award attracted more than ten architects who participated in the Venice Biennale of Architecture before. During the 7th Awarding Ceremony, the forum "Dialogue Venice Biennale of Architecture" was successfully curated. For the first time, leading architects from England, France, Italy, Austria, Serbia and other countries were gathered to analyze and reveal Venice Biennial of Architecture exhibition participation and design concepts, as well as Designers' thinking, which caused great impact on the industry.
In 2017, Benedetta Tagliabue (Pritzker Prize Judge and director of the internationally renowned architectural firm EMBT Miralles Tagliabue) joined the Idea-Tops Jury. During the 8th Awarding Ceremony, major principals and leaders of the World Expo, Venice Biennale of Architecture and Pritzker Architecture Prize were invited to carry out high-specification exchanges together. Ms. Martha Thorne, Executive Director of the Pritzker Prize and Dean of IE School of Architecture and Design, attended the International Masters Forum and Awarding Ceremony, and jointly presented the award to the winners with Mr. Zhao Qingxiang, Executive Chairman of Idea-Tops Award, which promoted China's design to the world stage.
During the 9th Idea-Tops Awarding Ceremony, Mr. Wu Liangyong, the academic leader of Chinese architecture and urban planning, academician of Chinese Academy of Sciences and Chinese Academy of Engineering, was awarded "Lifelong Achievement Award". This is the first "Lifelong Achievement Award" in the Idea-Tops' history.
In the past nine years, the Idea-Tops Award has conducted more than 50 rounds of forums and promotional activities in many cities around the world. More than 100 media partners, including TACC, CCTV, Phoenix Satellite TV, Hong Kong Satellite TV, People's Daily, Xinhua Daily and Nanfang Daily continue to report on the Award.
This time, the leading figures in global architecture and design who represent Idea-Tops as Award Winners, Jury and Participants of Idea-Tops International Design Forum, including Professor Wu Liangyong (academician of the Chinese Academy of Sciences and the Chinese Academy of Engineering, famous Chinese architect), Massimiliano Fuksas (designer of T3 Terminal at Shenzhen Airport, famous Italian designer), a famous contemporary French architect Jean Nouvel as well as representatives of Chinese design and brands together will be on the world's central stage of New York Times Square, showing the charm and elite of the Idea-Tops Award to the world.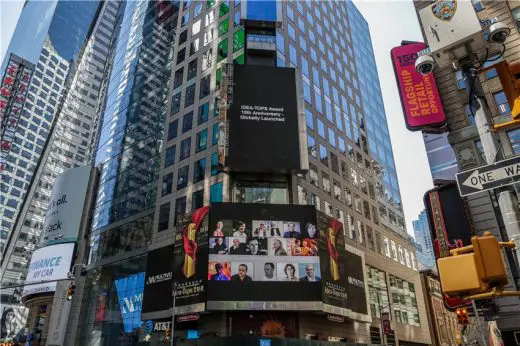 Times Square in New York, USA, is located in the heart of Manhattan, which is known as "the crossroads of the world". Following the general release of "China National Image Film", a series of excellent Chinese brands, such as Alibaba, Tencent, Baidu and JingDong, have made their voices to the world. Idea-Tops is not only an important design award, but also a platform for sharing and exchanging global experience and cooperation in design and architecture. In China, over two-thirds of real estate developers will choose Idea-Tops awardees as preferred partners, more and more high-end project investors, business groups and hotel groups connect with Idea-Tops Organizing Committee to seek cooperation with top designers or design institutions.
With the principles of being professional, rigorous, impartial and fair, Idea-Tops attracted nearly 10 million architects and interior designers from more than 50 countries and regions, including UK, USA, France, Italy, Germany, etc., increasing the number of entries by thousands annually. The 10th Anniversary of the Award will be an annual design event attracting worldwide attention.
It is reported that the 10th Anniversary of Idea-Tops Award will have four major initiatives: first, the Organizing Committee entrusted CISION, the world's leading public relations communication agency, to promote the 10th Anniversary of the Award worldwide and further enhance the international influence of the Award: second, Idea-Tops Award will focus on the future of design and on young designers, launching a growth plan for young designers in China; third, further explore the world's top architects and designers, so that more dimensions of outstanding design can be disseminated to enhance the amount of gold Idea-Tops Award;fourth, the design enabling industry, the organizing committee and design education, product manufacturing, intelligent, fashion industry and many other enterprises to reach cooperation, to design and promote the development of the industry at a higher level.
Information received from Idea-Tops 210619
International Space Design Award—Idea-Tops and e-architect are Media Partners.
Idea-Tops promote e-architect's extensive Architecture Walking Tours network which now covers 82 cities globally with over 140 guides, since starting back in 2000.
International Space Design Award – Idea-Tops
To start work on your entry today, head to Idea-Tops entries
International Space Design Award Idea-Tops News – 2018
International Space Design Award—Idea-Tops
International Space Design Award—Idea-Tops 2017
Location: Times Square, New York City, NY, USA
New York Buildings
Contemporary Manhattan Architectural Developments:
NYC Architecture Designs – chronological list
New York City Architecture Walking Tours by e-architect
Times Square Architecture
XXX Times Square with Love in New York
Design: J.MAYER.H und Partner, Architekten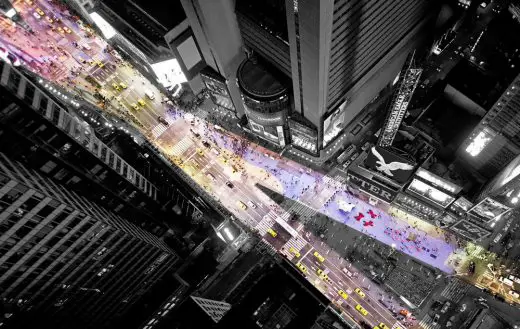 photo © J.Mayer.H
Make America ♥ Again, Times Square New York
Design: Noa Haim/ Collective Paper Aesthetics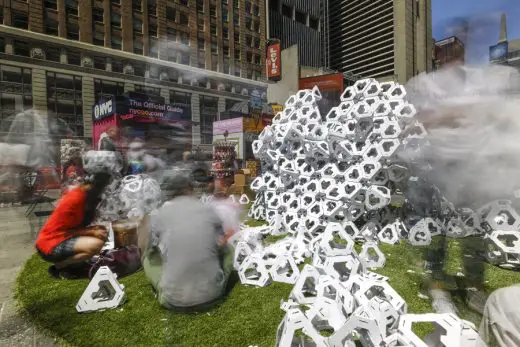 photograph : Jason Isolini
CitizenM Hotel New York Times Square
NYC Architecture
126 Madison Avenue Building , 15 East 30th Street, NoMad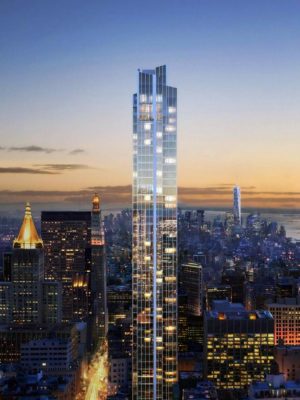 render courtesy of Handel Architects
View over Central Park Apartment in Manhattan
TWA Flight Center Redevelopment News
New Buildings in China
Architecture Competitions
Architecture Competitions : links
World Architecture Festival Awards
Comments / photos for the Idea-Tops 2019 launches at Times Square in New York City page welcome.