2012 Ceramics of Italy Competition, Ceramic Tile Building Contest News, Design
Ceramics of Italy Tile Competition : Architecture Contest
2012 Ceramics of Italy Tile Design Contest : Architecture Information
8 Dec 2011
2012 Ceramics of Italy Tile Competition
Annual Celebration of Design Excellence
CALL FOR ENTRIES: 2012 CERAMICS OF ITALY TILE COMPETITION
(December 2011) The Italian Trade Commission and Confindustria Ceramica, the Association of Italian Ceramics comprised of over 200 Italian ceramic tile manufacturers, announce the official call for entries for the 2012 Ceramics of Italy Tile Competition.
For 19 years, the competition has proudly recognized the outstanding work of North American architects and designers who have featured Italian ceramic tiles in their institutional, residential or commercial/hospitality projects. Past winners include Belzberg Architects, Rene Gonzalez and Bernard Tschumi Architects. Their projects are an example of the perfect pairing between innovative design ideas and products from the leading manufacturers of Italian ceramic tile in creating exceptional spaces. The celebration of these projects that use Italian tile range from large-scale buildings to small residential homes.


Ceramics of Italy Tile Competition
For the 2012 Tile Competition, North American architects and interior designers are invited to submit domestic and international, new or renovated, projects completed between January 2007 and January 2012. A judging panel of design experts will critique the projects based on their creativity, functionality and aesthetic appeal. The official criterion for the jury includes: overall design of the project; innovative use of tile; tile design; quality of installation; degree that tile enhances the setting; and the project's sustainable attributes. Winners will be announced at the Ceramics of Italy Press Conference during Coverings, held in Orlando, Florida from April 17-20, 2012.
Award recipients in each category will receive a cash prize of $4,000 and a five-day trip to Bologna, Italy to attend Cersaie 2012 – the world's largest exhibition for ceramic tile and bathroom furnishings – joining a delegation of top consumer and design journalists. In addition, Ceramics of Italy will recognize the contributions of the contractors and distributors involved in the winning works, with an additional $1,000 to be shared by the team. The association is proud to support these partnerships, as they help in the creation of such projects.
In accordance with the environmental values of our Ceramics of Italy manufacturers, the Tile Competition works hard to reduce its carbon footprint by making the competition completely digital and free to enter. Applications, guidelines, and an inspirational archive of past winners are all available on the competition's official website, www.tilecompetition.com.
17 Feb, 2012 : deadline for entries
Ceramics of Italy
Ceramics of Italy is the trademark for Italian manufacturers of ceramic tiles, sanitaryware and tableware, that are members of Confindustria Ceramica. For more information on the ceramic tile sector, visit the gateway www.italiantiles.com with links to our three key industry sites: www.laceramicaitaliana.it (the official website of Confindustria Ceramica), www.italytile.com (the official website for the Ceramic Tile Department of the Italian Trade Commission) and www.tilecompetition.com (a digital guide to the Ceramics of Italy Design Competition). For instant updates on Ceramics of Italy, visit www.facebook.com/CeramicTilesOfItaly or http://twitter.com/tilesofitaly.
Ceramics of Italy Tile Competition information received 081211
Ceramics of Italy Tile Competition – 2012-13



image from organisers
Tile Competition Italy
Confindustria Ceramica – the Italian Association of Ceramics comprised of over 150 Italian ceramic tile manufacturers – and the Italian Trade Commission announce the official call for entries.
Location: Italy
Italian Architecture Competitions
Italian Architecture Contests on e-architect:
Re-use Grottole Church Competition, Grottole, Matera, Basilicata, southern Italy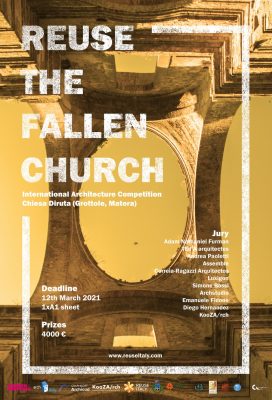 image courtesy of contest organiser
Re-use Grottole Church Design Competition
San Pardo Architecture Competition, Matera, southern Italy
Italian Architecture Competition
Cava de'Tirreni Design Competition



image courtesy of architects
Cava de'Tirreni Building, Design Competition Italy
CityVision Architecture Competition



images from Sitbon Architectes
Venice City Vision Competition
Archasm Fashion Pavilion Milan Architecture Competition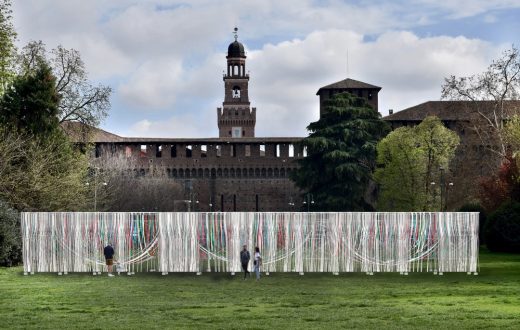 image courtesy of architects
Fashion Pavilion Milan Competition
Made in Macef Competition, Italy
Reuse the Roman Ruin: Piscina Mirabilis Competition
Architecture Competitions
Recent Architectural Contests – Selection
PFFF Inflatable Architecture Competition
PFFF Inflatable Architecture Competition
Leipzig Architecture Contest, Germany
Leipzig Architecture Competition : Monument to Freedom and Unity
Flinders St Station Architecture Competition, Melbourne, Australia
Melbourne Design Competition
eVolo 2012 Skyscraper Competition
Architects, students, engineers + designers invited to participate in this architecture competition
eVolo Skyscraper Competition – 2011 for ref.
Building Competitions : Archive
Comments / photos for the Ceramics of Italy Tile Competition 2012 – Annual Celebration of Design Excellence page welcome