Venice City Vision Architecture Competition, Italy, Venetian Design Contest
City Vision Competition : Inflatable Architecture Contest
CityVision Competition : Italian Architecture Contest
19 Mar 2012
CityVision Architecture Competition
PFFF Inflatable Architecture Competition, Sicily, Italy
Sitbon Architectes are a young architecture firm based in Paris. They have won the first prize of the CityVision Competition Pfff Inflatable Architecture.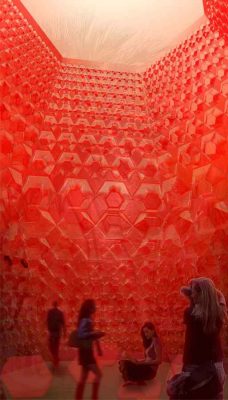 image from Sitbon Architectes
Results of the international competition organized by CityVision and FARM were announced at MACRO – Museum of Contemporary Art in Rome.
The distinguished jury composed by Italo Rota, President of the Jury (Studio Italo Rota, Milano), Benjamin Ball (Ball + Noguès, Los Angeles), Marco Canevacci (Plastique Fantastique, Berlin), Vanessa Todaro (OFL Architecture, Rome), Andrea Bartoli (FARM) selected the project 'Grenade' by Sitbon Architectes to be realized.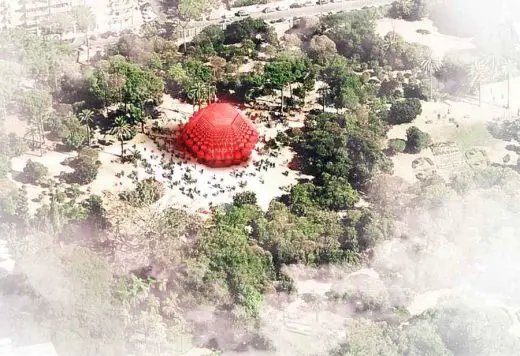 image from Sitbon Architectes
It's a mobile pavilion, in recycled plastic, conceived for art exhibitions and that is destined to be installed in cities around the world.
Project Title: Grenade
Client: Farm & Cityvision
Architect: Sitbon Architectes
Gross Floor area: 30
Status: 1st prize
Project Description
EXPLOSIVE ART
Mobile Architecture The theme of the pavilion is to think of the city as an immense architecture in constant mobility, by the transformation of its town planning, of the wanderings of its inhabitants, etc. The time dimension becomes essential in this management of the living area. By lauding the mobility, we question the vision of the architecture as a motionless element to in-vest it with another appropriate life, which allows each one to grow, to be transformed and to move.
Farm pavilion defends an architecture which can adapt to the needs of individuals, and which is thus fundamentally evolutionary. It runs tracks to rethink our ways of life the architec-ture through the inflatable imagination. Indeed, Farm pavilion restore to the individuals an active role with regard to the architecture. Ready to explode, it represents artists' seeds of tomorrow. Irresistible as the fruit. Schemer as the weapon. And light as a high cloud high.
WAKE UP THE CITIES
A reenergizing and regenerative territory The Pavilion is ideal to revitalize in energy. It brings harmony and serenity and evokes the sym-bol of fertility with its pomegranate pips. Exceeding the conventional limits, it crosses the borders of the unknown territory to activate our intuitions and our extrasensory sensations. Grenade is a supporter of a harmonious spirituality connected to the body and to the landscape which surrounds it. He aims to open contacts between each one in order to discuss around art, culture, … Once installed, the Farm detached house created an automatic interaction with its context that is reflected through its membrane and to which gives another view of what we are used to see. It activates a click so that every body can appreciate Farm Art.
Perfect Symmetry for envelope conception The idea is to give a new configuration of inflatable structure by assuring the balance to face wind, and other atmospheric conditions. Safety and security are thus parameters mattering. The adopted inflation principle is a double wall presenting a series of swollen cellular compartments, here the seeds, which forms a carrier structure. Space inside is not pressurize.
Grenade will thus be easily mountable and knockdown, as a simple inner tube. It is made of surfaces in revolution around a central axis for symmetry. So every point of the envelope surface is in balance, to protect structure from the loads imposed by wind, etc. Like this, we also avoid wrinkles, unsightly distortions or collapse. Based on a hexagon registered in a circle of four meters of beam, the internal space, of 13 meters high, offers 30m ² of space of readings and presentations.
Innovative and conscious architecture The plastic composite material used for Grenade arises from the recycling. Its tissue confers the resistance, the filler and protects against elements. Its solidity allows a long lasting of existence. It is also resistant to flames distribution so as to satisfy the applicable codes relative to the fires.
Resisting to drive, tears and abrasion, the material is translucent, almost as juicy as the fruit. This one has a degree of minimum opaqueness to absorb UV. The patchwork of the project is linked by sealings executed under heat and that stiffen the hole volume. Grenade ambition is also to revalue, plastic, one of the XX century biggest discoveries, by model-ing an organic body. So that we feel a little like in the plasma of our mother's stomach.



images from Sitbon Architectes
Written Report
Grenade aims to create a relation with its environment. Unplugged, the pavilion will be easily transported from town to town. It represents the identity of Farm: avant-gardist, anarchist and contemporary sponsor. As a mad plastic ovni, it promotes art exhibitions and presentation. A new way to spread art and culture in an original way.
Its volume is voluntarily attractive. It is also high to be easily located in the city. Some of the seeds are also scattered to create a route leading to the pavilion. Special for reading and presentation, the internal space gives a different perception of the outside. Each grain has a specific view and the skylight connect us to the sky. It shows a vision of the future city that dispatches 3D dimensions as grenades exploded.
The plastic allows great creative freedom. The choice of this material constitutes the envelope of the inflatable structure and has considerable influence on the behavior of Grenade. The complexi-ty lies in the main forces acting on a structure like the air pressure inside the inflation and ex-penses (aerodynamic) wind.
The assembly time is remarkably lower than conventional stands then, the volume of transport is much lower. In addition, during its rapid rise, the state of surprised by the originality of the for-mat is complete. Its weight allows it to be exposed anywhere with a low price. Mounting up the system can be done without any difficulty by anyone while remaining portable. All this without affecting the image of Farm. On the contrary. All is about having an original approach of the in-flatable form, to show its best face.
The air pressure required to maintain position in an inflatable structure is low, a static pressure of about 1 inch of water, or 0036 psi is sufficient. Practically, the pressure will depend on the pre-vailing wind speed detected in the city where Grenade will be installed. In general, the minimum pressure of inflation of the inflatable structure is 50% of the dynamic wind pressure, which al-ready allows it to withstand winds of 60 to 70 m / h.
The ground is secured by the entire perimeter of the pavilion, so that it resists to the total effect of lift due to air pressure and wind. The anchoring ballast is a satisfactory method of fixation for the type of inflatable chosen. And sand, filling the lower seeds, are used at the base to make weight.
The Pavilion did not even need to name Farm because we recognized it directly. As the Happiness flag. It is the identity of Farm. A door open to horizons. Inspire a breath of pom-egrenate to the city and gives a break in today's world which is rather hyperspeed than low.
Grenade promotes mobility by Farm and is like a buffer that absorbs the various cities imaginations where he settled and rebroadcasts them to its next stop. Moreover, the trace of light moving on the membrane suggests that art will always be a universal language.
PFFF Inflatable Architecture Competition images / information from Sitbon Architectes
5 Dec 2011
Venice City Vision Architecture Competition 2012
PFFF Inflatable Architecture Competition, Sicily, Italy
registration deadline : 9 Jan 12.00 (GMT)
PFFF is an architecture competition dedicated to architects, designers, students and engeneers focused on the design and realization of an inflatable pavilion that can embody the spirit of the FARM project.
The competition is promoted by CityVision and FARM, a contemporary active cultural and turistic center project based in Sicily that has as first mission the promotion of contemporary art and culture.
PFFF was established under the FARM Cultural Camp project, which aims to carry around the world works and installations by national and international creative youth.
This international competition has two goals:
1. Stimulating the research on new materials and new technologies for inflatable and temporary buildings.
2. Encouraging the designers' creativity.
The inflatable mobile pavilion project will have a maximum size of 50 square meters.
The pavilion will be used many times and it will have to be easily transportable and installable in squares, parks, meeting places of different cities and FARM Cultural Camp tour's stops.
The study of the atmospheric conditions (wind, rain, heat, cold) will be very important as well as the pavilion's internal security.
The study of materials, methods of inflation and deflation, structure anchoring to the ground and openings will be critical to the success and safety of the project.
PFFF will be judged by an international jury which will have as president Italo Rota, founder of Studio Italo Rota & Partners and again Benjamin Ball, Marco Canevacci, Vanessa Todaro and Andrea Bartoli, all of whom are distingueshed by the large experimentation willingness in their work. Inside this issue you will have the opportunity to virtually meet some of them, their ideas and their philosophies and to have a look to their work's images.
Venice City Vision Architecture Competition from City Vision Magazine
http://www.cityvision-competition.com/pfff/
14 Jul 2011
Venice City Vision Architecture Competition Winners
Winners of the VENICE CITYVISION COMPETITION
CITYVISION competition is an international ideas competition, which challenges architects, engineers, designers, students and creative individuals to develop visionary urban proposals with the intention of stimulating and supporting the contemporary city.
Through innovative ideas and methodologies, which can improve the connection between the historical, present and future city, CITYVISION aims to foster a critical evolution of architectural historiography.


image from organisers
The objective of the competition is to drive the imagination, by the use of new materials, echo-technologies, parametric software and territorial organizations for a future vision of the city. The Judging Panel of the 2011 edition was composed by leaders of the architecture and design fields: 4 members and a presiding president including BJARKE INGELS (BIG Architects) Copenhagen / New York Jury President, NERI OXMAN (Material Ecology) New York, ELENA MANFERDINI (Atelier Manferdini) Los Angeles, MARIA LUDOVICA TRAMONTIN (Università di Cagliari) Cagliari, BOSTJAN VUGA (Sadar Vuga) Ljubljana. The Jury selected a first and a second prize and 11 honorable mentions.
Venice Cityvision Competition had 250 registered groups (462 participants) and received 201 proposals from all five continents. During the competition a special prize has been added, FARM special prize, and Andrea Bartoli (farm's owner) selected the winner.
Venice City Vision Competition Winners
First place (2000€)
group G8U3F7 – Alberto Bottero, Simona Della Rocca, Valeria Bruni
Second place
group 5G8J4E – Onorato di Manno (Group Leader), Lorenzo Catena, Francesco Cusani, Flavio Graviglia
The FARM special prize (1000€)
group O8L4D1 – Ada Bartkowska, Marek Ejsztet, Michał Kulesza, Piotr Matuszek, Tomasz Tymiński, EwaZwierzchowskia, Jaroslaw Szewczyk
Venice City Vision Competition Honorable Mentions
G6C9S1 – Roberto Roncoroni
M4Q9L1 – Artico Matteo, Bittolo Mattia, Fracassi Silvia, Trevisan Matteo
X7F5L2 – Vladimir Andjelkovic, Dijana Adzemovic Andjelkovic, Aleksandar Bogojevic, Ranko Pavlovic, architect
G4D1C0 – Mauro Frate, Giorgio Donà, Matteo Pollani, Filippo Bergianti, Ludovico Sternini, Simone Visentin
J7S9W1 – Julien Combes, Gaël Brulé (Atelier CMJ)
W4Q8U6 – Pedro Jesús Muñoz Rodríguez
B3P2Q8 – Ali Farzaneh, Maider Ainara Llaguno Munitxa, Kensuke Hotta
H7T3D1 – Au Man Ying, Ng Kei Yiu, Or Man Piu, Ou Yang Hau Yee
O7Y5R4 – Clinton Miller
P6G3S8 – Sean Wittmeyer, Nile Greenberg
R7H2S9 – Giorgio Cucut, Anna Merci
To explore winners and honorable mentions visit the www.cityvision-competition.com/judge/archives/category/winners
Cityvision is also pleased to announce the CITYVISION Y1 event, organized by Francesco Lipari and Vanessa Todaro that will starts September 16th, 2011 at the MAXXI. Presentation of City Vision mag 4 – September Special Issue and award ceremony of Venice CityVision International Competition.
Architect Joshua Prince Ramus (REX architects), just awarded as one of the five greatest architects under 50 in the world, will hold a main lecture.
Venice Buildings



image from architect
Venice Buildings
Previously:
15 Feb 2011
Venice City Vision Architecture Competition
VENICE CITYVISION
English text (scroll down for Italian):
Architecture Competition
16 Feb – 6 Jun 2011
Rome February 16th 2011. City Vision announce the ideas competition about the city of Venice "Venice City Vision Competition". Venice City Vision Competition is the second edition of the international competition series promoted by City Vision Mag.
The purpose of Venice's competition was to give the opportunity to architects, designers and students to activate their creativity to stimulate the contemporary potential of the city and besides wanting to enhance the historic texture of the city, sees on the aquatic identity of the lagoon a fundamental starting point to create new visions about a possible development of this component. The imagination of the participants, the use of parametric software and eco technology will be the main driver of Venice's visions and the proposals will shown how to create new digital landscape for a city so connected to classicism and tradition.
The Venice ideas will be judged by an international jury which will have as president Bjarke Ingels, founder of the Danish office BIGand Neri Oxman, Elena Manferdini, Maria Ludovica Tramontin and Bostjan Vuga, all of whom are distinguished by the large experimentation willingness in their work.
The roman edition has attracted more than one hundred participants from all over the world and has amazed us with an upload page completely full of very interesting projects, which were judged by a jury of international architects led by Juergen H. Mayer and members as Francesco Gatti, Francesco Lipari, Felipe Escudero and Michael Caton.
Venice City Vision Architecture Competition – Schedule, 2011
16 Feb: Announcement of the competition
21 Mar: Question submission deadline
4 Apr: Early registration deadline
27 May: Late registration deadline
6 Jun: Submission deadline
Jun: Announcement of results
Sep: Projects Exhibition, Awards Ceremony and Conference
Info: www.cityvision-competition.com – info(at)cityvision-competition.com
VENICE CITYVISION

Architecture Competition
Italian text:
16 Febbraio – 6 Giugno 2011
Roma 16 Febbraio 2011. City Vision annuncia il concorso d'idee sulla città di Venezia "Venice City Vision Competition". Venice City Vision Competition è la seconda edizione della serie di concorsi internazionali promossi da City Vision Mag . L'obiettivo di Venice City Vision Competition parte dalle stesse linee guida dell'edizione romana ed, oltre a voler valorizzare il tessuto storico della città, vede nell'identità acquatica della laguna uno starting point fondamentale per creare nuove visioni di un possibile sviluppo di questa componente.
Architetti, designer e studenti sono chiamati a spingere la propria creatività per stimolare il potenziale contemporaneo della città oltre a voler valorizzare il tessuto storico della stessa. L'immaginazione dei partecipanti, l'utilizzo di software parametrici ed eco tecnologie saranno il motore principale delle visioni per Venezia e le proposte mostreranno come sia possibile creare nuovi paesaggi digitali, per una città così legata al classicismo e alla tradizione.
Le visioni veneziane saranno giudicate da una giuria internazionale che avrà come presidente Bjarke Ingels, il fondatore dello studio danese BIG ed ancora Neri Oxman, Elena Manferdini, Maria Ludovica Tramontin e Bostjan Vuga tutte figure che si distinguono per la forte componente di sperimentazione nel loro lavoro.
L'edizione romana ha richiamato più di cento partecipanti da ogni parte del mondo e ci ha stupito con una pagina di upload completamente full di progetti, tutti molto interessanti, che sono stati giudicati da una giuria di architetti internazionali con a capo Juergen H. Mayer e jury members come Francesco Gatti, Francesco Lipari, Felipe Escudero e Michael Caton.
CALENDARIO
16 Febbraio 2011_Annuncio del concorso
21 Marzo 2011_Scadenza invio domande
4 Aprile 2011_Prima registrazione
27 Maggio 2011_Ultima registazione
6 Giugno 2011_Scadenza consegna
Giugno 2011_Annuncio dei risultati
Settembre 2011_Mostra progetti, Cerimonia di premiazione e Conferenza
Info: www.cityvision-competition.com – info(at)cityvision-competition.com
MAXXI Roma Event, Italy
'Y1/CITYVISION independent architecture stuff'



photo : Roland Halbe
Curated by Francesco Lipari and Vanessa Todaro (OFL architecture), will be held on September 16th, 2011 at the MAXXI. Architect Joshua Prince Ramus (REX architects), just awarded as one of the five greatest architects under 50 in the world, will hold a main lecture. Presentation of the CityVision magazine Special issue 4 and award ceremony of Venice CityVision International Competition.
Location: Venice, Italy
Venice Biennale



photo © Adrian Welch
Venice Biennale – Exhibitions, Designs, Images
Venice Architecture Biennale Arsenale Pavilions



image © Adrian Welch
Venice Architecture Biennale Arsenale Pavilions
Venice Architecture Biennale Giardini Pavilions



image © Adrian Welch
Venice Architecture Biennale Giardini Pavilions
Venice Biennale Croatian Pavilion 2010
The Ship : Floating Pavilion



picture : Zelimir Grzancic
Venice Biennale Croatian Pavilion
Venice Architecture Biennale 2010 British Pavilion
Venice Biennale British Pavilion
Venice Architecture Biennale Danish Pavilion
Venice Architecture Biennale Irish Pavilion
Venice Architecture Biennale 2010
Venice Biennale Interview – Adrian Welch with Bjarke Ingels
Comments / photos for the Venice City Vision Architecture Competition page welcome