Marina City Towers Chicago Buildings, US 20C Architect, American Midcentury Architecture Images
Marina City Towers Chicago
Iconic Midcentury Landmarks in Illinois design by Architect Bertrand Goldberg, USA
Oct 10, 2016
Design: Bertrand Goldberg Architect
Location: Chicago, Illinois, USA
Discover What it's Like to Live in Chicago's Marina City Towers
Step inside these iconic midcentury landmarks
Article first published on Houzz
Rafael F. Bermejo, Houzz Contributor
Marina City Towers Chicago Buildings
The Marina City towers, designed and built between 1959 and 1967, are two of the most recognisable structures in Chicago – America's 'windy city'. Architect Bertrand Goldberg's distinctive-looking high-rises, part of a larger Marina City complex, are icons of modern architecture. This year, the Chicago City Council recognised the historical significance of Marina City by designating it a Chicago landmark.
Architect Iker Gil, who recently bought an apartment in one of the towers, and Swedish photographer Andreas EG Larsson, who lives in Los Angeles, began documenting the towers and their residents in 2008. Three years later, the photographs were displayed in the exhibition, Inside Marina City, at the Chicago Art Institute. Larsson's images showed how residents live in the mixed-use complex.
A selection of Larsson's photos appear below. We spoke with Iker Gil; current resident James Pike, and Chicago architect Andrew Moddrell, who lived in the complex some years ago. The three shared their insights into the project, its residents and the architectural significance of the towers in Chicago.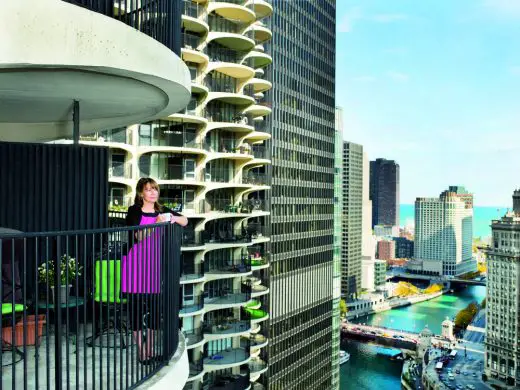 Photo by Andreas E.G. Larsson – Browse home design ideas
Architecture told through its inhabitants
Larsson's images show that, although the building retains the hard and singular architecture inherent to Bertrand Goldberg's style, as well as a formal homogeneity, the residents have transformed their apartment interiors to suit their taste. "There are 900 apartments in total," says Iker Gil of MAS Studio. "Seventy percent are one bedroom, 20 percent are studio apartments and 10 percent have two bedrooms. We photographed 40 different ones. Overall, this is a very diverse community.
"There are students, architects and older people who have lived here for 50 years," Gil says. "It's a very interesting mix. We wanted to tell the stories of the people who live here without revealing their identities, but also show the architecture through the residents. We wanted to give a view of how people live in this icon of modern architecture in Chicago."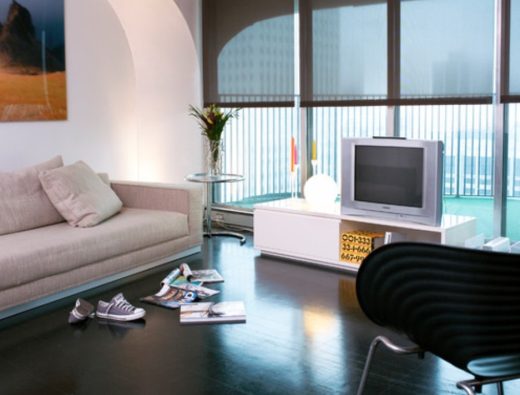 Photo by Andreas E.G. Larsson – Search home design design ideas
Emotional ties
The Marina City complex consists of five buildings: two towers shaped like ears of corn (the residential part), a concert hall (formerly a theatre), a hotel (previously offices) and the base – with restaurants – which connects these five buildings and the marina (from which the towers take their name).
"It's a small city," Gil says. In fact, this was Goldberg's intention. The architect had the idea that workers wouldn't abandon the city for the suburbs. Each tower has 60 floors, the first 19 of which are parking. Floor 20 is a communal area, "where you can often see young and old people chatting", according to Gil. From floor 21 to 60 are 900 apartments.
"There are only five people still living here who moved in way back when Goldberg finished constructing the building," Gil says, "but more interesting is the fact that there are people who just move floors within the same building. That's something we found to be unique, as there are people who have such strong ties and so much attachment to the building."
"I can't speak about all the people here – it's one of the most densely populated city blocks in North America," says resident James Pike. "But most people I know who live in the towers aren't there just for the location, which is one of the most convenient in the city, but, instead, to be part of the ever-evolving history of a masterpiece."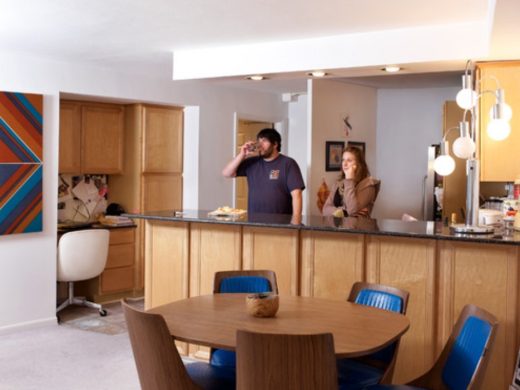 Photo by Andreas E.G. Larsson – Browse home design photos
An urban centre on the river
"A one-bedroom apartment costs more or less $1,700 [around £1,313] per month," Gil says of the tower units. "It's a much lower price compared to what you would normally pay in this area, as the building is old and there are a lot of people who value more modern buildings that offer other kinds of services. I have a 15-[square]-metre balcony, on which my wife and I spend a lot of our time, especially between May and November.
"In my opinion, this is a fantastic place," Gil says. "You're in the city centre, next to the river and enjoying the best architecture. I'm very interested in the architect's desire to inject life into the Chicago River, which until some years ago was considered a cesspool used mainly for industry. This building was for workers to live in the city. Of course, the apartments aren't huge, but the idea of moving the city to the river is really interesting. As it has such a strong aesthetic, many are curious as to how people live inside it."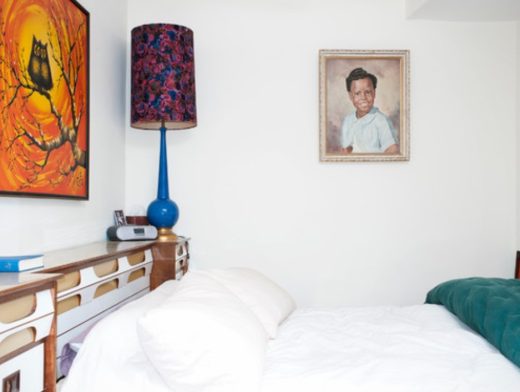 Photo by Andreas E.G. Larsson – Look for home design design inspiration
Architectural icon
"Marina City was born out of an urgent need to invent a new architecture that could resist and combat suburban flight from downtown Chicago," says Andrew Moddrell, architect and founder of the Chicago-based studio PORT Urbanism, who also once lived in the Marina City towers. "Its iconic form emphatically expresses this urgency. Although 50-plus high-rise towers of equal or greater height have been constructed around it over the last 50 years, Marina City endures as an architectural icon because it still feels more ambitious. And it is."
Find more bedroom ideas for your home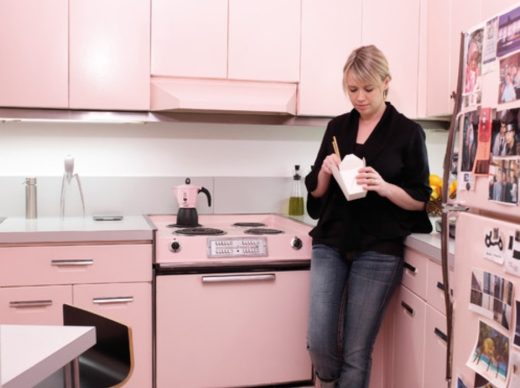 Photo by Andreas E.G. Larsson – Discover home design design inspiration
In 1964, the Marina City towers became the tallest apartment buildings and the most dense mixed-use complex in the world. While post-World War II housing and interstate highway legislation were together catalysing suburban sprawl across the US, the Goldberg team had to lobby the Department of Housing and Urban Development in Washington, DC, to underwrite and recognise the unprecedented mixed-use project as viable housing.
As for its impact on Chicago, not long after Marina City invented the mixed-use complex, Chicago's Hancock Tower doubled down on the model, effectively stacking Marina City's two, 180m-high towers on top of one another to top out at about 360m, according to Moddrell.
Read tips on how to renovate a midcentury home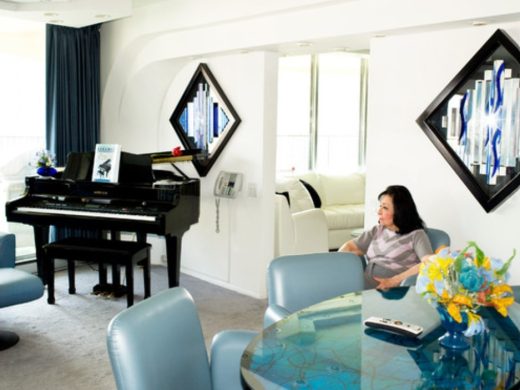 Photo by Andreas E.G. Larsson – Look for home design pictures
A positive outlook
"Marina City is pure optimism rendered in reinforced concrete – optimism about the city, optimism about humanity, optimism about the future," James Pike says. "There are few opportunities in life to live within such a powerful idea. The inescapable fact is that we design our world and it designs us in return. How could I think of living anywhere else?
"I recently took a break from living in Marina City to live in a different architectural gem by Mies van der Rohe on Lake Shore Drive here in Chicago," he says. "Now that I've been back in Marina City for a bit, I have a further appreciation for its generous outdoor space and the special relationship it has with our city," Pike says. "But don't misunderstand: that Mies apartment was awesome. Perhaps the ideal scenario would be to spend summer in a Goldberg and winter in a Mies."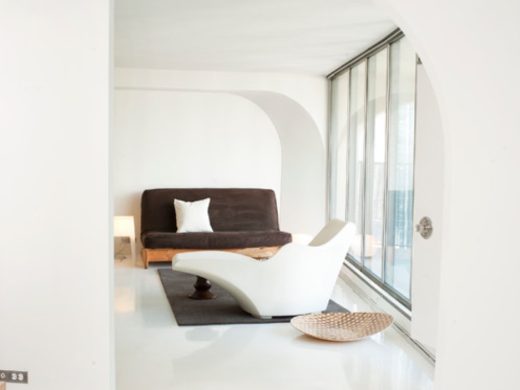 Photo by Andreas E.G. Larsson – More home design photos
"For me, the loveliest thing about Marina City is perhaps a little bit nerdy/architect-y," Pike says, "but it's the way the exterior columns curve and branch off to meet the structural beams in one direction, and then the balconies in the other – it's pure architectural poetry. You can often find me drinking a glass of wine and considering all it took to divine the octagonal shape to make all that happen so elegantly – with no computer modelling!
"All of us living here know we're in a very special place," Pike adds. "You couldn't help but think that, considering how many times you see tourists stopping to take photos or discuss – some hate, most love – the building, as you cross the Chicago River on your walk back home. All of this generates a certain camaraderie. Also, I've had many an instance when I'm sitting on my balcony and a friend from the other tower sees me and shouts an invitation for an impromptu party, and vice versa."
Discover 5 essential interiors pieces for a midcentury mood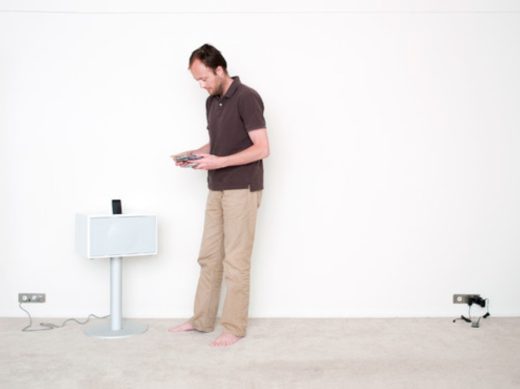 Photo by Andreas E.G. Larsson – Look for home design pictures
Why live in Marina City?
"The balcony space is so large, you hardly even know what to do with it," Pike says about the advantages of the Chicago tower apartments. "The roof decks offer a peculiar vantage point as to what it must be like to fly on a spaceship through downtown Chicago. And cab drivers know exactly how to take you home, no matter where you are. Also, you have the very best view from any laundry room on earth."
Marina City Towers Chicago Buildings images / information received Oct 10, 2016
Location: Marina City Towers, Chicago, IL, United States of America
Chicago Architecture
Chicago Architecture Designs – chronological list
Chicago Architectural Walking Tours
Modern Architecture
Major Chicago Buildings
Trump International Hotel Tower
Comments / photos for the Marina City Towers Chicago Buildings – page welcome
Website : Marina City