Tmat Boey, Cambodian Eco Lodges Building, Asian Tourism Architecture, Images, Prototype
Tmat Boey Eco-lodges Cambodia
Wildlife Protection Development in Southeast Asia by Building Trust International
25 Mar 2015
Tmat Boey Eco-lodges
Design: Atelier COLE in partnership with WCS and BTi
Location: Kulen Promtep Wildlife Sanctuary, Cambodia
Saving wildlife through building community led eco-lodges in Cambodia
Tmat Boey Eco-tourism Lodge building trust
Protecting wildlife: Promoting eco-tourism
Building Trust international are pleased to announce a new sustainable design prototype for an eco-lodge that will assist local villagers protecting natural areas by attracting local and foreign tourists to see critically endangered species thereby creating local income that is not based on selling forest products.
Tmat Boey Ecolodge designed by Atelier COLE in partnership with WCS and BTi: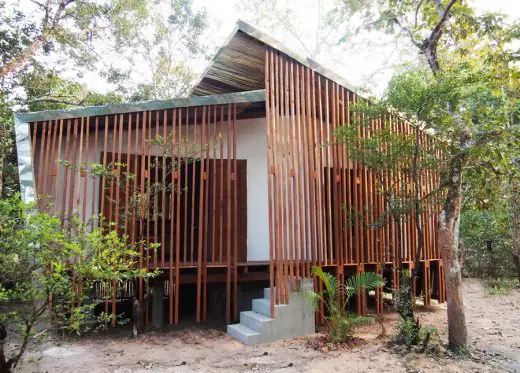 Building Trust international have worked alongside Atelier COLE, the Wildlife Conservation Society (WCS) and the Sam Veasna Center (SVC) on a new eco-lodge designed and built by the local community, NGO partners and through a hands-on participatory design and build workshop. Building Trust were requested by WCS to work with the local community in Tmat Boey, in the north of Cambodia to design and construct a new lodge facility for WCS and SVC's well established award-winning eco-tourism project. The project is located in Kulen Promtep Wildlife Sanctuary and is managed by the Ministry of Environment.
The roof goes up: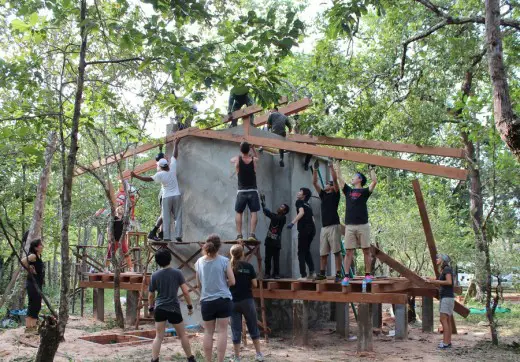 Birdwatchers from across Asia and beyond flock to Cambodia for a glimpse of two of the world's rarest birds: the giant ibis and its cousin the whiteshouldered ibis. The birds' nesting grounds sit at the outskirts of Tmat Boey, a rural village where WCS and SVC have worked with the community to develop an eco-tourism project. This ground breaking project has turned village farmers into custodians of the natural habitats the wildlife around them inhabit. Protecting threatened forests and in doing so providing an
income to the whole community.
The eco-lodge takes shape: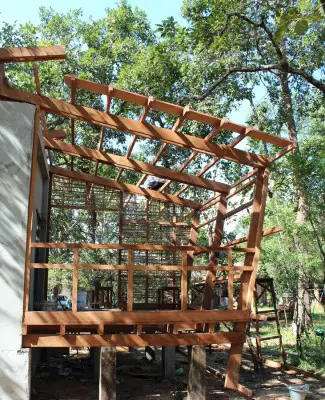 The community receive a conservation contribution from every visitor who sees an ibis while on their tour. These community contributions are then used by the village to purchase items such as medical supplies, school books and pay for repairs to local infrastructure. A great incentive for the locals to protect these magnificent birds.
The design makes use of natural materials such as earth and bamboo. An adobe mix was created to place on the external walls with a lime plaster used to form a smooth, clean finish. Bamboo was sourced locally and used to create the roof and side wall facades. Recycled plastic bottles were collected from the local community and used to help create a staircase to reach the lodge itself, while also educating on the importance of recycling and reusing materials.
Community help out on site: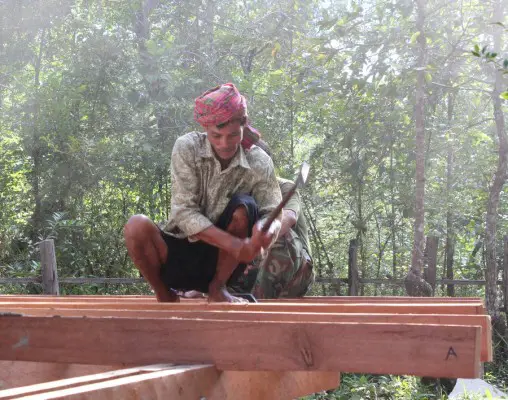 It is hoped the newly designed lodge will attract wildlife enthusiasts from Asia and beyond who while being amongst nature will be inspired by the sustainably built lodge. The adobe and lime plaster have a cooling effect and the form creates a natural airflow throughout. The new building features moveable swinging windows which were built from locally sourced timber and can be positioned to allow guests to watch wildlife from the comfort of their own room.
The overhanging split roof was used to create a frame protecting the natural materials within. The concept of the wrap around angled roof is based on reducing solar gain on the walls and defining the building against the dense forest canopy with more than a nod
to traditional northern Cambodian architecture.
Community consultation at Tmat Boey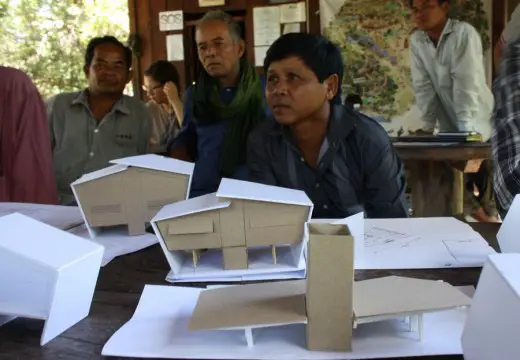 The workshop itself allowed for the crossover of skills between the Tmat Boey community, local contractors and Building Trust volunteers. Working alongside the community ensured ownership of the project by the people it supports. Building Trust are due to host a number of design and build workshops throughout 2015 promoting natural building, community engagement and sustainable construction techniques.
"WCS and BTI share a set of core values, valuing high quality outputs with a commitment to sustainability. We also share a similar approach; community consultation is at the heart of what we do, at every stage of the conservation process, because of this we are excited to work with BTI. Their beautiful, functional and sustainable designs help us increase the benefits that remote communities receive from the biodiversity values of the areas where they live and we work." Ross Sinclair, Director, WCS Cambodia.
Adobe plaster is placed onto bamboo weave: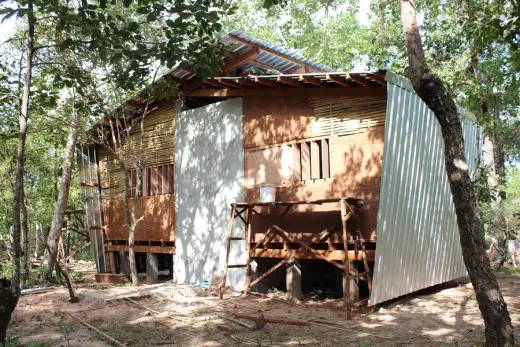 About Building Trust International
Building Trust International is a non-profit organisation offering design assistance to communities and individuals in need. Building Trust International assesses areas in need, finds sustainable, economical aid solutions and ultimately provides buildings and infrastructure. These core actions have blossomed into advocating and educating on the principles of socially aware design, providing an accessible resource on humanitarian design projects and providing a structure for the crossover of information between design professionals. Building Trust International is a charity registered in England and Wales (1142338).
www.buildingtrustinternational.org
About Wildlife Conservation Society
The Wildlife Conservation Society, founded in 1895, has the clear mission to save wildlife and wild places across the globe. Our story began in the early 1900's when we successfully helped the American bison recover on the Western Plains. Today, we protect many of the world's iconic creatures here and abroad, including gorillas in the Congo, tigers in India, wolverines in the Yellowstone Rockies, and ocean giants in our world's amazing seascapes.
www.wcs.org
Sam Veasna Centre
Sam Veasna Centre (SVC) provides wildlife tours in Cambodia to create jobs and alternative incomes for rural Cambodians that in turn protects the amazing flora and fauna of Cambodia. In partnership with Wildlife Conservation Society (WCS), SVC arranges itineraries and day trips to key bird sites across Cambodia, using local information from WCS rangers to locate flagship species.
www.samveasna.org
About Atelier COLE
Atelier COLE is an architecture and design practice. Established in 2010 their work includes low cost residential, public art, public projects and masterplanning. They are led by the idea that sustainable design is about doing more with less and that designers should be catalysts, working alongside clients for better solutions rather than solely providers of design solutions. This ultimately creates more holistic results that have the opportunity to go beyond the conventional boundaries of a building or single project.
Issued by Building Trust International, 24th March 2015
Images © WCS and Building Trust
Tmat Boey Eco-lodges Cambodia images / information from Building Trust International
Location: Cambodia, Southeast Asia
Building Trust International Projects in Cambodia
Sustainable Housing Solutions for Cambodia, Phnom Penh
Design: Building Trust International, Habitat for Humanity and Karuna Cambodia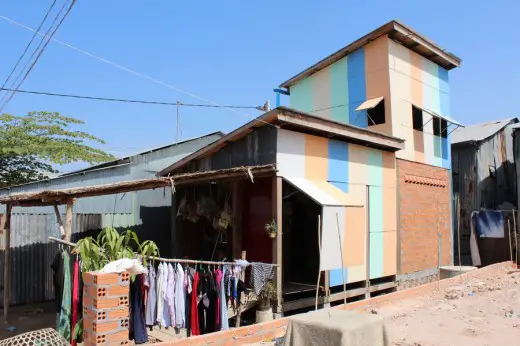 Sustainable Housing Solutions for Cambodia
Building Trust International Design Competition
Cambodian Sustainable Housing Design Competition
Bear Rescue Centre in Cambodia
Buildings in Cambodia
Buildings in Cambodia – recent posts
Safe Haven Buildings, Ban Tha Song Yang
Rintala Eggertsson Architects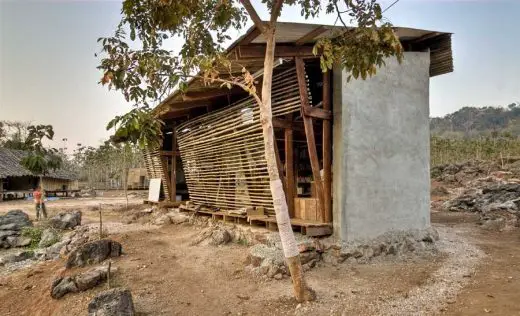 photo : Pasi Aalto / Tyin Tegnestue
Safe Haven Orphanage
Comments / photos for the Tmat Boey Eco-lodges Cambodia page welcome