Vila Tugendhat Brno, Mies van der Rohe Building Photos, Architect, Modern Czech House
Vila Tugendhat, Brno : Mies van der Rohe House
Mies van der Rohe House in the Czech Republic – Modernist Home Photos + Information
27 Mar 2012
Location: Brno, Czech Republic
Date built: 1930
Architect: Mies van der Rohe ; renovation architect: AMOSDESIGN
Article by Colin Eaton
Vila Tugendhat Renovation
New photographs of Villa Tugendhat added – 27 Mar 2012: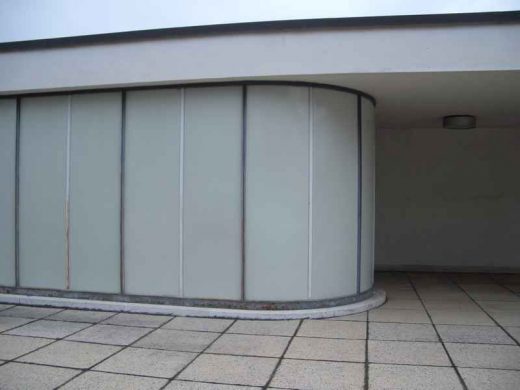 photograph © Colin Eaton
Villa Tugendhat
On 6th March last, Villa Tugendhat reopened to the public after its closure and a complete two-year refurbishment program which included full restoration of its interior and furnishings. I was lucky enough to visit just before its closure for said renovation in September 2005, but more of that later.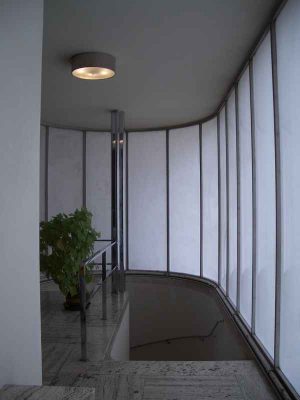 photo © Colin Eaton
Preceding the opening to the public was the ceremonial opening which took place on 29th February. Given the status of the Tugendhat Villa in the canon of architectural works and its UNESCO listed status it was to be expected that the opening would attract major heads and representatives. A press conference was attended by Brno City Mayor, Roman Onderka, Deputy Mayor Robert Kotzian, daughters of the Tugendhats, Daniela Hammer-Tugendhat and Ruth Guggenheim-Tugendhat. It was fitting, given the cultural and artistic openness of the Tugendhats in firstly commissioning Mies and secondly living the modernist dream so fully that a musical performance was given by the legendary Brno jazz musician Jaromir Hnilicka. What would Grete's mother have thought!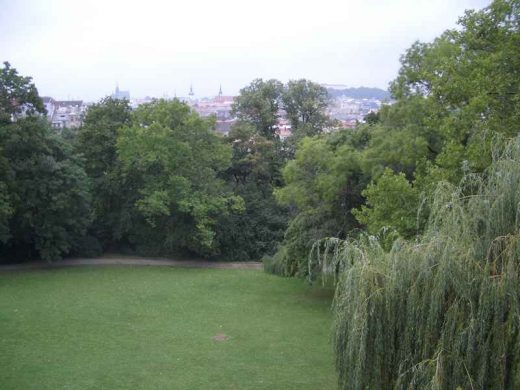 photo © Colin Eaton
A newly extended guided tour is offered which includes the technical floor of the house and a newly installed exhibition in the basement informing visitors about its architect, Mies van der Rohe, the villa, the owners and their lives there until their departure in 1938 due to the second World War. There is also (of course) the ubiquitous book and souvenir shop in the basement where visitors can purchase publications on villa Tugendhat and Brno architecture of 19th and 20th centuries.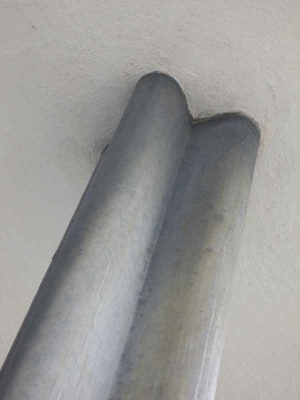 photo © Colin Eaton
Fritz and Grete Tugendhat first met Mies van der Rohe in Berlin in the summer of 1928 and during that summer Mies visited the site which was originally belonging to a house in Sadova Street owned by Alfred Low-Beer, Grete's father. On 22 April 1929 an application for planning permission was submitted and in June of that same year construction began.
Records show that planning permission was granted by the Municipal Council of the Provincial Metropolis of Brno on 26 September 1929!
Construction of the villa was completed in August 1930 with the Tugendhats moving in during December of that same year. They were forced to leave in 1938! On 4 October 1930 the building was confiscated by the German State Secret Police. From August 1945 to June 1950 the villa was used as a school of music by Karla Hladka, professor of the Brno Academy of Music. In October 1950 the villa was transferred to the ownership of the Regional National Committee, who assigned it to the State Institute of Remedial Exercises. During this time most of the interior fittings and furnishings were plundered and seized. From 1962 to 1969 the villa was used as a rehabilitation centre for the Childrens Teaching Hospital. Finally, on 1 January 1980 the villa was transferred to the ownership of the National Committee of the City of Brno and between 1982 and 1985 under the State Institute of Historical Towns and Buildings reconstruction of the villa commenced. The villa was then used as prestigious accommodation for visiting dignitaries until in 1993 Brno City Council issued a resolution on the cultural use and importance of the building resulting in its opening to the public on 1 July 1994. It was granted national cultural monument status on 16 August 1995 and was listed in the UNESCO world cultural heritage in December 2001.
Fritz and Grete Tugendhat in commissioning Mies and such a piece of architecture showed a great deal of bravery and intelligence. Both coming from wealthy bourgeois families they broke the mould! Theirs was a house which at the time of its creation met with much interest and enthusiasm and even scandal. The idea of the house involved a denial of the traditional concept which regarded the house as functional units distinctly separated from one another. Here emphasis was placed on the significance of space and those spaces inter linking and of their relationship with each other and their outside spaces. Unlike the bourgeois compartmentalised rooms of the Tugendhats parents houses and indeed their neighbours their newly commissioned villa celebrated dynamic continuity arising from an uninterrupted flow with areas or 'rooms', (on the living, or second floor in particular) delineated by way of screens or columns. Those wonderful polished chrome columns in 4 sections, seen also in Mies Barcelona Pavilion. Other devices used to denote, or suggest spaces were the free standing red onyx wall and the semicircular in plan wall at the dining space using Makassar ebony. Curtains and placement of specially designed furniture also defined spaces. The organisation of space and the inter-relationship became important and subsumed the mere decoration of compartmentalised spaces as would have been seen generally at the time, particularly in such bourgeois circumstances.
And so to the refurbishment program. When I visited in September 2005 with an architect colleague from Prague we found a seminal work largely untouched. No signage or flashing lights at the entrance. We were indeed one of the last to visit before its imminent closure for the purposes of this complete restoration and refurbishment. Given our interest and background we were delighted to receive access to 'behind the scenes' areas such as the plant floor and roof.
The plant floor provided great interest for it was here that such forward thinking elements as an air-conditioning engine with air mixing filtration and heating chamber were to be found. The new refurbishment we are told has renovated the boilers and retractable window mechanism among the other technical wizardry which also included a 'moth' chamber!
One of the most memorable moments was the sense of calm and ease with which the front elevation, or massing was treated by Mies and its relationship with the public street – indeed the public. A prelude of horizontal elegance gives way upon entering and descending to the living floor, (second) to an operatic magnificence whereby that opacity is replaced with thin columns and an expanse of glass giving onto a sloping pasture of lawn. The sequence of spaces from the entrance and its devices of compression and release, both in spatial terms and in their materiality allow for a richness of experience and many architectural moments as one walked through the villa.
The renovation architects AMOS Design have used all available resources available to inform their work here including period photographs, project documentation as found in museums, including MOMA, literature, contacts with the families of the original owners, the Tugendhats and those of van der Rohe as well as research visits to many buildings designed by Mies.
Replicas of hinges, parts and materials were made. Only original materials were used such as wood panels, plywoods and veneers, 100% zinc plate, solid steel, chrome, hand-tanned leather and European and tropical hardwoods.
On the bedroom floor for instance Palisander is used in the build in wardrobes and on the living floor the bookcase has been restored in veneered Makassar ebony and fitted with a licquor cabinet and humidor as indicated by the original documentation.
The curved partition wall in the dining space has also been newly reconstructed and renovated. Interestingly art historian Miroslav Ambroz discovered the wall, (it had previously been removed) in a university canteen in Brno in 2010 where it was used as wall cladding for the previous 70 years! The panels were removed and restored with new sections added as required.
For me, personally (if somewhat selfishly!) I have always to some extent questioned the refurbishment of these buildings in relation to 'how far does one go'? For me they sometimes run the risk of losing their essence and primary function, (which as a private dwelling in this case no longer in any event exists) and becoming more akin to entertainment venues, shopping malls, interpretative centres, souvenir shops and the like. I also wonder whether using materials no longer generally used because of sustainability concerns is valid. Perhaps it is?
That being said, there is no doubt that villa Tugendhat, (and indeed its commissioning owners) experienced a varied and sometimes turbulent history and it is to be celebrated that, particularly given its seminal and architectural importance it now enjoys a somewhat calmer existence thanks to this careful and complete refurbishment by AMOS Design.
Read more at: http://www.tugendhat.eu/
Tugendhat Villa architect : Mies van der Rohe
Tugendhat Villa Brno Renovation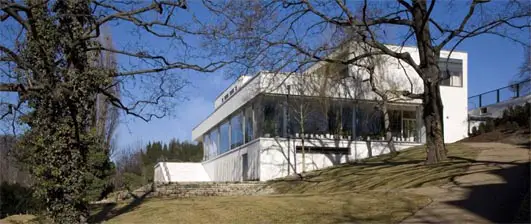 photo from architects
Address: Černopolní 237/45, 613 00 Brno-sever, Czech Republic
Phone: 545 212 118
Location: Černopolní 237/45, 613 00 Brno, Czech Republic, central eastern Europe
Czech Architecture
Brno building project by Eva Jiricna Architects
More Czech architecture : Prague Building
Mies van der Rohe architecture : Barcelona Pavilion



photo © Adrian Welch
The Future of Brno Centre Design Competition
Comments / photos for the Vila Tugendhat Brno house design by Mies van der Rohe Architect page welcome
Website: www.tugendhat.eu