Brabazon masterplan Filton Airfield, YTL Developments Bristol, Gloucestershire Regeneration News
Brabazon masterplan, Filton Airfield, Bristol, Gloucestershire
8 April 2022
More connected, More sustainable, More opportunities:
Updated masterplan for Brabazon to create the most exciting new city district in the Southwest
Location: former Filton Airfield – North Bristol, South Gloucestershire, Southwest England, UK
Design: architects Feilden Clegg Bradley Studios
Brabazon – City Green: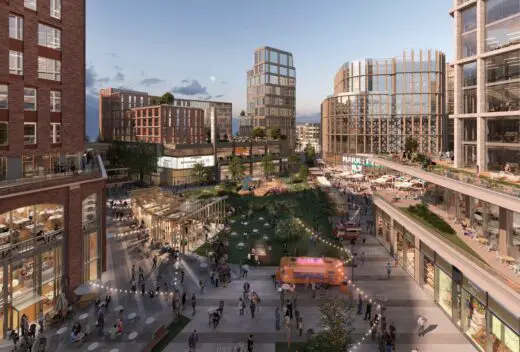 Updated Brabazon masterplan in South Gloucestershire
YTL Developments has submitted a planning application to update the masterplan for Brabazon: the new neighbourhood for Bristol being built on the historic former Filton Airfield.
YTL Developments originally announced plans to revise the masterplan for Brabazon in 2021. Since then, the team has spent months meeting with local people and businesses, charities, community groups and public bodies across Bristol and South Gloucestershire to create a shared vision for the most exciting new city district in the south west, with the supersonic YTL Arena Bristol at its heart.
Lake in Brabazon Park: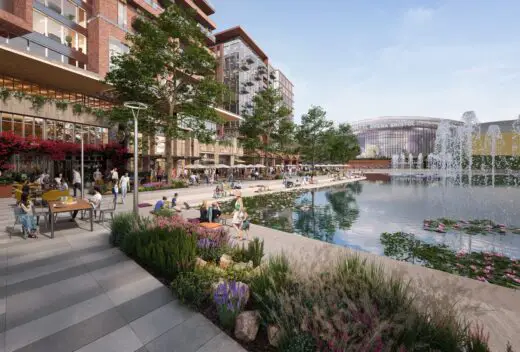 The revised masterplan, developed in collaboration with world-renowned, locally-based architects Feilden Clegg Bradley (FCB) Studios, was submitted for approval to South Gloucestershire Council on 6th April 2022.
YTL Developments already has planning permission – granted in 2018 – to develop Brabazon into a new community. In addition, in 2020, the company also received consent to reimagine the iconic Brabazon Hangars – where every UK Concorde was built – into a supersonic 17,000 capacity arena for Bristol.
Atkinson Grove – The Hangar District at Brabazon: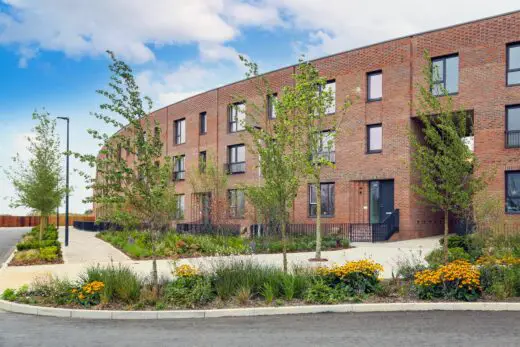 However, since then the housing crisis and climate emergency have only got more acute, while there is also a greater imperative to 'level-up' every region of the UK following the Covid-19 pandemic.
As the largest area of brownfield land in the south west, located along existing public transport routes and at the heart of a world-leading employment cluster less than 5 miles from Bristol city centre, Brabazon is perfectly placed to help Bristol and the wider region tackle the challenges we all face.
Yet under the current consented masterplan, Brabazon would remain a suburban location. The updated masterplan is designed to ensure instead that it becomes a new urban destination that lives up to the legacy of the former Airfield's pioneering past, driving local prosperity for the next generation.
Aerial view of the new station at Brabazon (August 2021):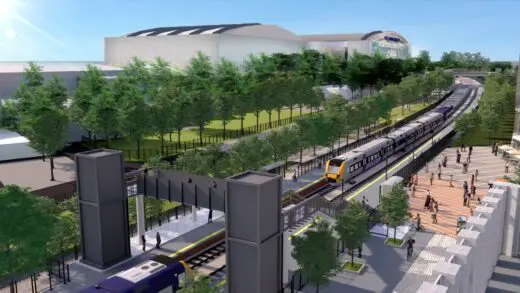 Seb Loyn, Planning & Development Director for YTL Developments says:
"Bristol and South Gloucestershire face a housing crisis and need to build more than 100,000 new homes within the next two decades.
"But it is not enough to just build homes: if we are to tackle the climate crisis, we need to make sure we build more sustainable homes in the right places. This means on brownfield land along existing transport corridors like at Brabazon, where public transport connections and active travel routes provide a genuine alternative to car-dependent lifestyles.
Brabazon Station: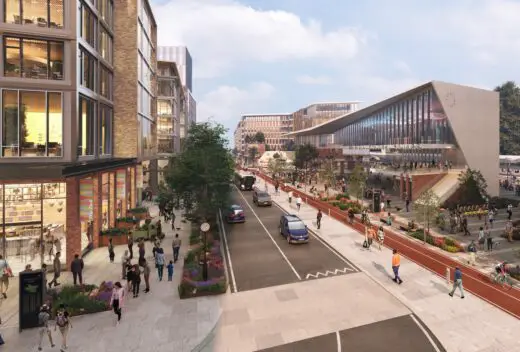 "Brabazon sits on major public transport corridors, including the M1 MetroBus route and Concorde Way cycle path. A train service from the new rail station being built at Brabazon will connect to Bristol Temple Meads in less than 15 minutes when operational in 2023.
"Nowhere in the West of England is better placed to build the new homes, offices, schools and community facilities we need, and to do so in a way that is environmentally and economically sustainable.
"Crucially, additional homes and offices will only be built as and when improved public transport connections come forward. The proposals submitted today have a series of checks and balance in place to ensure that increased density can only be delivered at the same time as the additional public transport needed to support it."
The revised masterplan is designed to meet the needs of local people while also delivering on the objectives of both the National Planning Policy Framework (NPPF) and South Gloucestershire Council's Local Plan.
Brabazon – The Badminton House Type: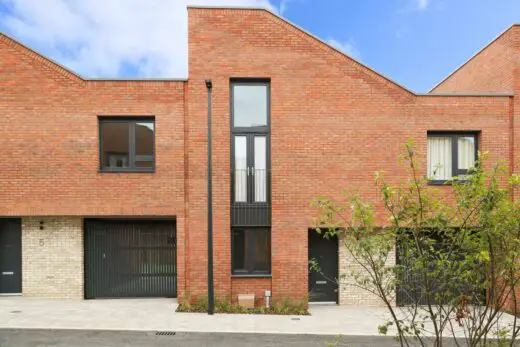 The overarching objective of the NPPF is to ensure development is economically, socially and environmentally sustainable.
Economically, the revised masterplan for Brabazon is forecast to create over £5billion of added economic value, with sufficient commercial space to support over 30,000 jobs. Socially, it represents a huge investment in the community that changed the world when it built Concorde, with three new schools, a health centre, community facilities and over 35 hectares of new public green spaces, including the largest new urban park in the south west for 50 years.
And environmentally, the new masterplan makes best use of the largest area of brownfield land in the south west and will catalyse major upgrades to public transport, when the alternative is unsustainable single-use development in out-of-town locations and on green belt land.
Brabazon aerial view: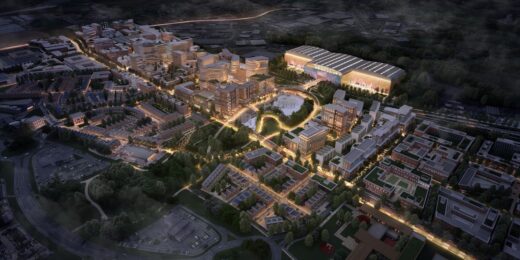 The vision for Brabazon also aligns with South Gloucestershire Council's Local Plan. With two new primary schools, one secondary school and provision for a major higher education or research institute, the revisions to the masterplan will help to give the best start in life for young people. As a multi-generational community, it will support those most in need to help themselves, with student accommodation for young people, through to retirement properties for older people.
At the same time, the flexible housing framework will encourage inclusive communities and sustainable growth, with the potential to deliver over 1,000 new affordable homes within a '15-minute neighbourhood', where every daily need or essential service is less than a 15 minute walk or bike ride away.
Brabazon landscaping: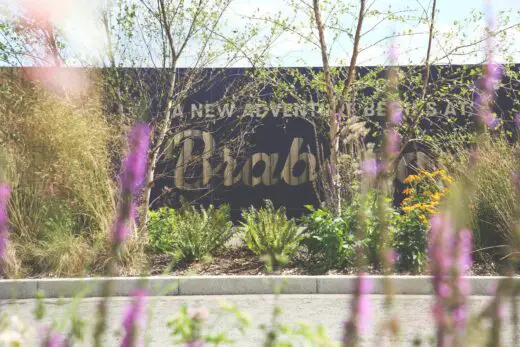 Finally, it will create value for the community, with a range of new facilities including a GP surgery, a library and a community centre.
While the revised masterplan for Brabazon is being assessed by the planning authorities, YTL Developments is continuing to deliver the first phase of new homes at Brabazon, with record demand for its range of new houses and apartments that are designed to be different. Construction of YTL Arena Bristol is also expected to begin this year, while detailed planning applications have already been submitted for key infrastructure that already has outline consent, including the primary network of roads and cycle paths, the new rail station and Brabazon Park.
CPNN Map: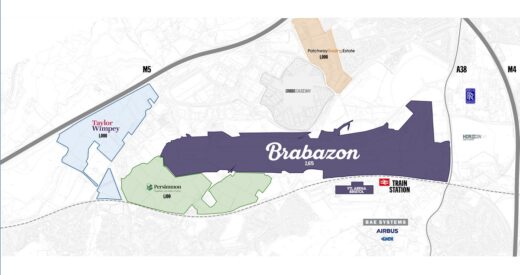 WHAT ARE THE KEY FEATURES OF THE UPDATED MASTERPLAN FOR BRABAZON?
The key elements of the revised masterplan for Brabazon are as follows:
More green space
The proposals include plans for the largest new urban public park in the Southwest for 50 years. At 15 acres – equivalent in size to Castle Park – Brabazon Park will redefine quality public open space. Based around a three-acre lake, it will feature walking routes, water gardens, exercise areas and children's playgrounds, criss-crossed by wildlife corridors planted with native species.
The new station at Brabazon from the footbridge (August 2021):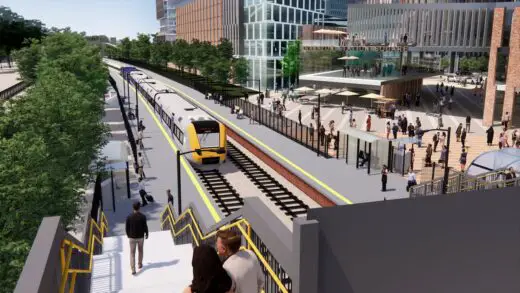 More jobs and opportunities
Brabazon is at the heart of a world-leading cluster of aerospace, engineering and technology companies. North Bristol's top 25 employers alone have over 45,000 staff within a few miles of Brabazon, mostly working in high-skilled roles. For over 100 years, these cutting-edge companies – Rolls-Royce, Airbus, GKN and others – have created jobs, opportunities and prosperity for the whole region.
But now there is almost no space for them to grow.
Brabazon already has consent for enough commercial space to support 10,000 jobs. The revised proposals include space to support up to 30,000 jobs.
Brabazon – Master Bedroom (Show Home):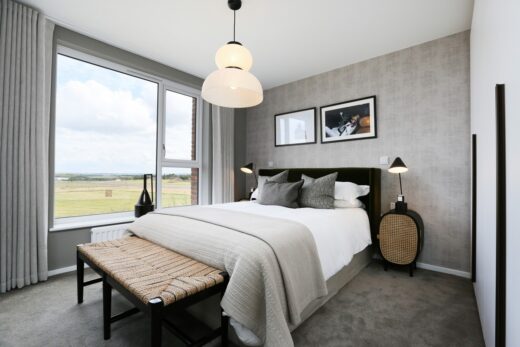 More homes
For a generation, a lack of supply of new homes has forced up the cost of housing in Bristol. The West of England region needs to build over 100,000 new homes in the next 10 years to meet demand. Yet at the current approved density, Brabazon – the largest brownfield site in the Southwest – would feel like a suburban rather than an urban location.
Brabazon is a constituent part of the Cribbs-Patchway New Neighbourhood (CPNN), which will deliver 5,700 new homes across North Bristol. Under CPNN, the land occupied by Patchway Trading Estate was earmarked for 1,000 new homes. However, that project is no longer expected to go ahead. The revised Masterplan for Brabazon seeks to transfer those 1,000 homes to Brabazon, increasing its allocation to 3,675 homes, without increasing the total number of homes being built in North Bristol.
The revised plans will also include a flexible framework to allow the number of homes built at Brabazon to increase in stages beyond 3,675 up to a maximum of 6,500, should the frequency and capacity of public transport services and active travel routes (e.g. cycle paths) increase sufficiently to accommodate additional homes.
Brabazon – New homes at The Hangar District: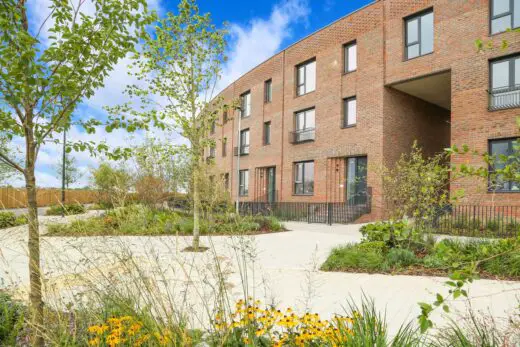 More sustainable living
Building more homes on brownfield sites such as Brabazon eases pressure on the Green Belt. If we don't maximise the potential of brownfield land, the region's demand for new homes will mean more development on green fields in unsustainable out-of-town locations.
To be more sustainable, Brabazon is designed to be a 15-minute neighbourhood where every daily essential – where you do your food shopping, where your children go to school, where you'd go for an evening out – is a short walk or cycle ride away. Under the existing planning consent, over £100m is being invested in new infrastructure, designed to encourage public transport usage and minimise the need for private cars.
Infographic – Public Transport enabling increased density at Brabazon:

To date, 95% of new houses at Brabazon have been A-rated on their energy performance certificates (EPCs), thanks to features like solar panels, electric car-charging points and the latest Siemens appliances, as well as insulation that is 10% more efficient than regulations require. Nationally, only 2% of new homes currently reach the 'A' rating standard.
For more information, visit: https://www.ytldevelopments.co.uk/brabazon-planning
7 May 2021
The Navigator Building at Brabazon in South Gloucestershire
First new apartments go on sale at Brabazon
Location: Barnwell Crescent – former Filton Airfield – North Bristol, South Gloucestershire, Southwest England, UK
Design: architects Feilden Clegg Bradley Studios
Brabazon will be a thriving new neighbourhood for Bristol. With the first new houses approaching completion, YTL Developments is now launching The Navigator Building: the first offering of one and two-bedroom apartments at Brabazon.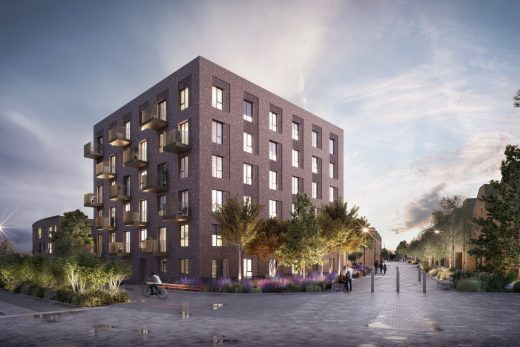 images courtesy of YTL Developments
The Navigator Building at Brabazon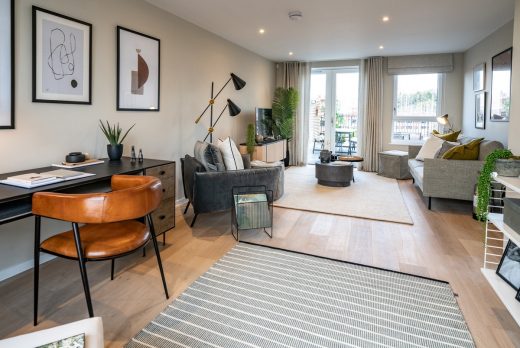 Brabazon masterplan, Filton Airfield, Bristol, Gloucestershire information / images from developer
Previously on e-architect:
1 Nov 2017
Filton Airfield Masterplan in South Gloucestershire
Filton Airfield Regeneration
Design: Allies and Morrison ; Landscape design: Grant Associates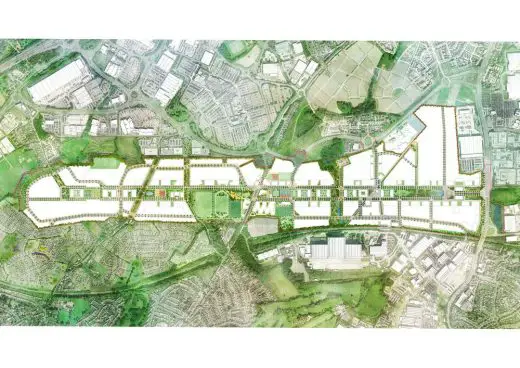 image courtesy of architects
Filton Airfield Masterplan
Location: Bristol Filton Airport, Gloucestershire, England, UK
Gloucestershire Architecture
Gloucestershire Buildings – Selection
YTL Arena Bristol Entertainment Complex
Design: Grimshaw ; Manica Architecture ; Grant Associates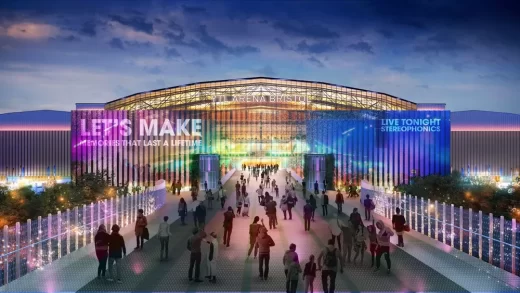 image courtesy of architects
YTL Arena Bristol
St Christopher's Square
Design: PRP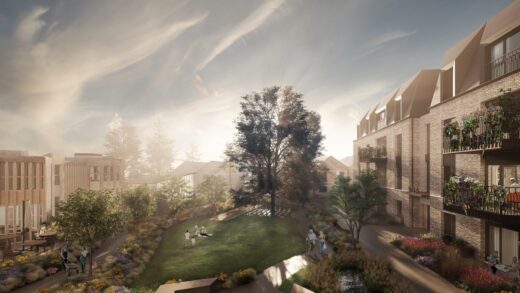 picture courtesy of architects office
St Christopher's Square Bristol later living
Forest Green Rovers Eco-park Competition
Design: Zaha Hadid Architects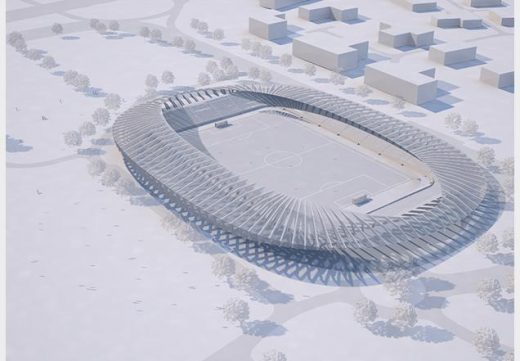 image courtesy of architects
Forest Green Rovers Eco-park Gloucestershire
New Bristol Zoo, Wild Place Project, Blackhorse Hill
Design: Feilden Clegg Bradley Studios / Grant Associates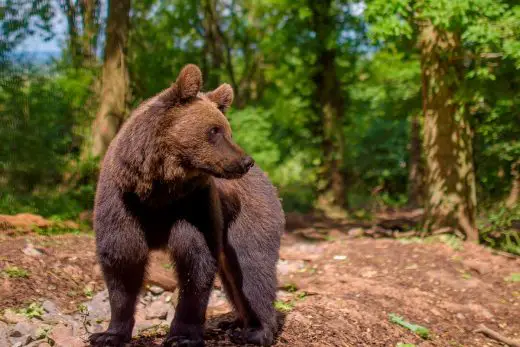 photo courtesy of architects office
Bristol Zoo, Wild Place Project
Outhouse, Brockweir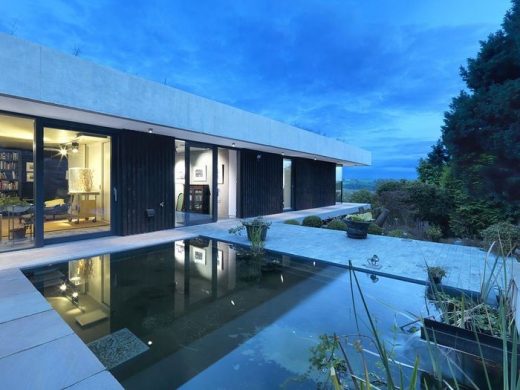 photograph : Charles Hosea
Gloucestershire Luxury Residence
University of Gloucestershire Business School
Design: Austin-Smith:Lord Architects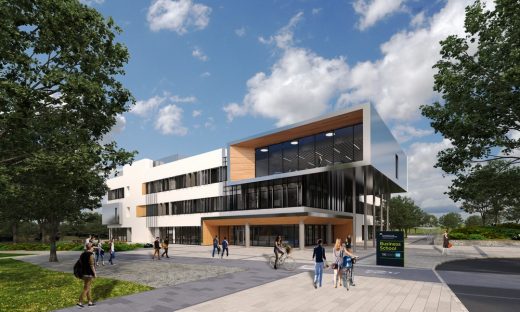 image courtesy of architects
University of Gloucestershire Business School
County Architecture near to Gloucestershire
Comments / photos for the Brabazon masterplan, Filton Airfield, Bristol, South Gloucestershire page welcome