New Gehry in Sydney Book, UTS Dr Chau Chak Wing Building, NSW Design, Architect, Australia
Gehry in Sydney Book
Dr Chau Chak Wing Building: UTS Business School design by Gehry Partners LLP
26 + 24 Nov 2015
New book: 'Gehry in Sydney'
Book release: 'Gehry in Sydney'
cover image: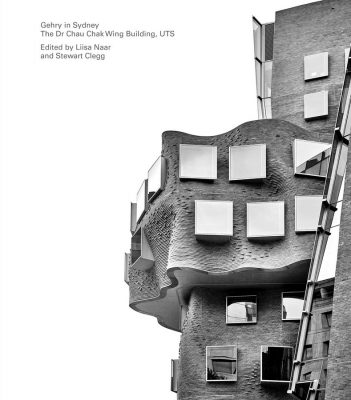 New Frank Gehry in Sydney Book
A new "fly on the wall" book traces the trajectory of architect Frank Gehry's first Australian project, from concept to completion.
Gehry in Sydney: The Dr Chau Chak Wing Building, is edited by Dr Liisa Naar and Professor Stewart Clegg of UTS Business School, which moved into the building in Ultimo, on the southern edge of the Sydney CBD, a year ago.
Detail of north and west façades from level 8 up: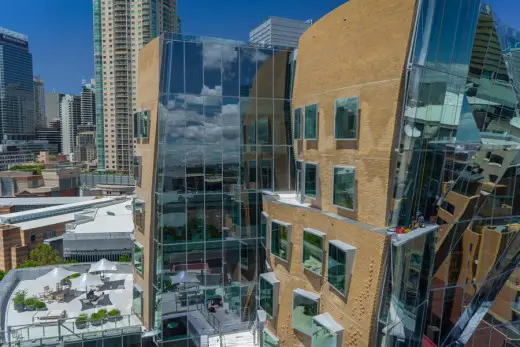 Photography: Coptercam
Dr Naar, a designer and a UTS Chancellor's postdoctoral research fellow, spent hundreds of hours as a "fly on the wall" over the three years it took for the building building to move from concept to completion.
"My particular interest is in the social construction of architecture. That is, in the practices around how architect and client relationships evolve and how innovative architects works with clients to convince them to take up their innovative design ideas," Dr Naar says of the research project.
Mary Ann Street entry at night: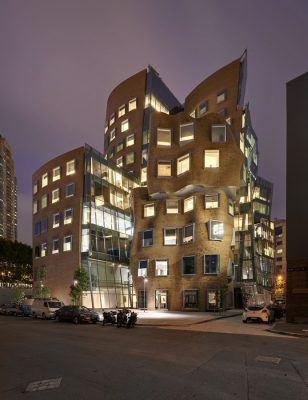 Photography: Michael Nicholson
The Dr Chau Chak Wing Building is certainly innovative, with its 'skin' of hand-laid, undulating brickwork tied to a steel substrate that determines its shape.
Dr Naar describes the Dr Chau Chak Wing Building, which she now works in, as having "a sense of humour and a very human scale".
One thing that struck her about the project was the sense of "ownership" among the contractors on site, especially the bricklayers. "It was quite extraordinary," she says. "They faced a really challenging task in creating the brick skin. Those who rose to the challenge embraced it and were changed by it."
At the Goods Line entry on level 3 the brick façade wraps and folds into the internal spaces. View looking north: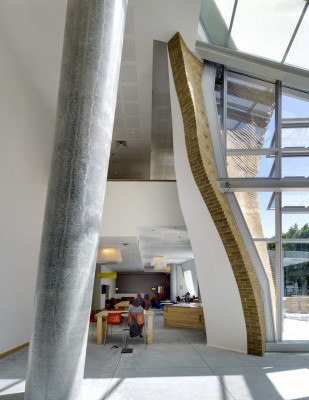 Photography: Michael Nicholson
The brickwork was constructed by Favetti Bricklaying. Achieving its fluid appearance was a technical feat that involved corbelling (stepping) individual bricks to articulate the building's organic shape. The bricks – around 320,000 in total – were custom made for the building and laid by hand.
The project team also included executive architects Daryl Jackson Robin Dyke and construction company Lend Lease.
Professor Clegg, a leading international researcher in management, with an interest in large, complex projects and the built environment, was intrigued by Gehry's attachment to physical models. Gehry Partners' prolific production of physical models is considered atypical for architects in these days of 3D computer-aided design.
As the building steps in the external terraces provide dramatic views of the complex façade where the brickwork peels away allowing more light into the building: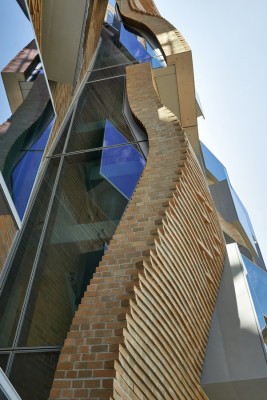 Photography: Michael Nicholson
"While virtual technologies are significant in Gehry's repertoire, physical models remain central to his design practice," Prof Clegg says. "The models form a common boundary between different worlds – the world of architectural practice and the client's world – bridging them.
"Models do much more than just represent the potential building," Prof Clegg adds. "In many ways their representational role is less significant than their role in facilitating strategic and interesting conversations."
At more extreme points of the façade, the steel channels that the brick ties are designed to slot into become more concentrated in number: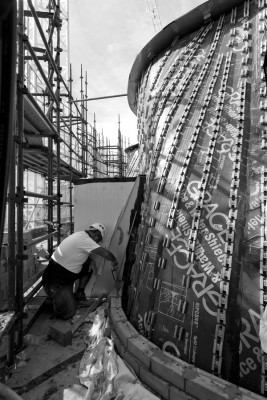 Photography: Martin Van der Wal
Gehry in Sydney is richly illustrated with photos, sketches and plans and includes interviews with Frank Gehry and Gehry Partners design team members Craig Webb and Brad Winkeljohn. It also includes "tales from the field" from the people and firms in Sydney that made the project possible.
It is published by Images Publishing and available from www.imagespublishing.com (RRP $US75).
Gehry's Tree house in Sydney
Dr Chau Chak Wing Building in Sydney
Design: Gehry Partners LLP with architect Daryl Jackson Robin Dyke (Australia)
The Dr Chau Chak Wing Building: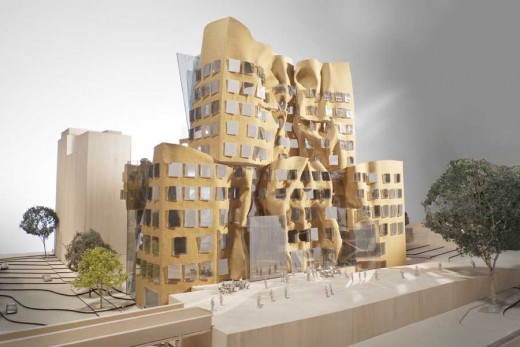 Lend Lease, one of Australia's largest contractors, has been appointed by UTS to build the Frank Gehry-designed Dr Chau Chak Wing Building aka 'Gehry's Tree house'.


image : Gehry Partners, LLP


image : Gehry Partners, LLP


image : Gehry Partners, LLP


image : Gehry Partners, LLP
Dr Chau Chak Wing Building – UTS Business School Sydney images / information from UTS
Frank Gehry architect
Location:UTS, Sydney, NSW, Australia
UTS Buildings in Sydney
UTS Tower Sydney
LAVA



image : LAVA
UTS Building Sydney
'Tower Skin', LAVA's speculative transformation of the UTS tower in Sydney Australia, has won a ZEROprize Re-Skinning Award. The awards are given by Zerofootprint, a leading organization in the global fight against climate change. The United Nations Habitat is a partner of the awards.
University of Technology Sydney – Broadway Building
Denton Corker Marshall



image by architects
University Technology Sydney
Denton Corker Marshall wins design competition for a new Broadway Building for the University of Technology, Sydney. Architects Denton Corker Marshall have won the two stage international design competition for a new state-of-the-art Faculty of Engineering and Information Technology building on Broadway for the University of Technology Sydney.
Australian University Buildings
Sydney Architecture – Selection
Darling Quarter
Design: Francis-Jones Morehen Thorp



photograph : John Marmaras
Darling Quarter Sydney
Holman House, Dover Heights, east Sydney
Design: Durbach Block Architects



photograph © Brett Boardman
Sydney Waterfront House
Surry Hills Library Building, Surry Hills, New South Wales
Design: Francis-Jones Morehen Thorp



image : John Gollings courtesy by FJMT
Surry Hills Library
Comments / photos for the Gehry in Sydney Book – Dr Chau Chak Wing Building, UTS Business School page welcome