Public and Private Roeselare Building, Belgium Architecture, Interior Design
Roeselare Knowledge Centre ARhus
Belgian Reconstruction Project design by BURO II & ARCHI+I
12 Mar 2014
Roeselare Knowledge Centre ARhus Building in Belgium
Multifunctional Inner-city Area with Private and Public Functions
Design: BURO II & ARCHI+I
A key project in the heart of the Belgian city of Roeselare is the renewal of the inner-city nucleus formed by Noordstraat, Ooststraat and Henri Horriestraat. The city centre will be structurally strengthened by enlarging a modern centre of knowledge and learning, developing additional commercial premises and building new homes. The renewal project is situated right in the centre of the city. It is an integral part of the main shopping precinct that stretches between the Saint Michael Church and the Grote Markt (market square) on the one hand and the railway station on the other.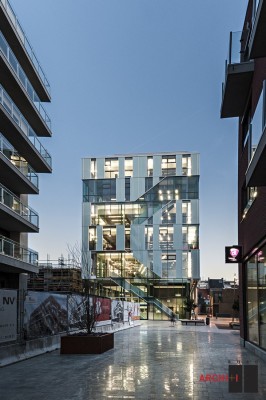 The 'knowledge centre' project is situated on the former site of the Bank of Roeselare in the heart of the city. The site will become a new multifunctional inner-city area with private and public functions including everything from housing, homes for senior citizens, shops, offices and exhibition areas to a knowledge centre with a library. The knowledge centre is going to be an open house, a public information forum and meeting place for people of all ages.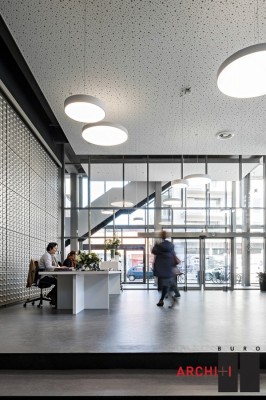 This new node of functions in the city will be built around a pedestrian shopping street with a public square. The site connects directly with the existing shopping streets and the Grote Markt, the market square.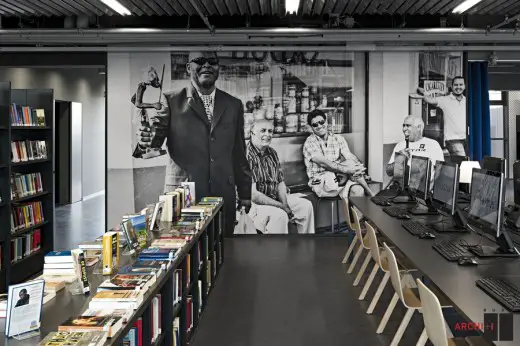 The project's multifunctional embodiment and high-quality architecture will enhance the liveability of Roeselare's nucleus.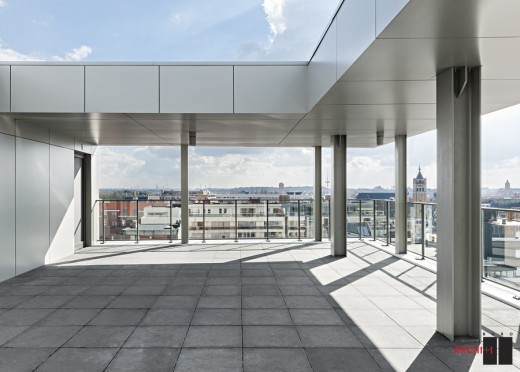 From city of Roeselare, the aim is to archieve a E-70-level for this building.
Related to the integration of special techniques and technical installations gas heat pumps are used for heating, condensing adiabetisches unti + active cooling beams for heating and cooling.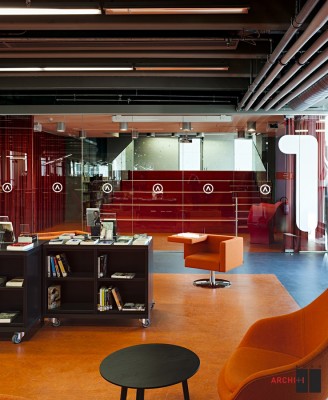 Roeselare Knowledge Centre ARhus – Building Information
Architects: BURO II & ARCHI+I, Brussel
Client: City of Roeselare
Status: Actual execution term: yard started January 2010
Handover date: February 20, 2014
Surfaces: Gross fl oor area: 7.460 m²
Demolition of 8.927,65 m² + 38.136,81 m² [full ex-kbc site] Demolition for construction + waterproof shell: Coussée-Bostoen nv
Closed shell construction and fi nishes: Strabag Belgium nv
Lifts: Coopman liften nv
Sanitary/HVAC: Six bvba
Elektrical installation: Fabricom nv
Library automation: Van Den Brandt Automatisering
Smoke and heat extraction installation: Brakel Aero
Sprinkler system: Sicli nv
Windows: De Witte Aluminiumconstructies
System supplier aluminium: Reynaers Aluminium
Fixed furniture: Cattebeke Pol bvba
Photographs: Klaas Verdru
Location: Roeselare, Brussels, Belgium, western Europe
Belgian Architecture
Contemporary Architecture in Belgium
Comments / photos for the Roeselare Knowledge Centre ARhus – Belgium page welcome