Wangjing SOHO in Beijing, Zaha Hadid China, Architect, Design, Winner, News, Architecture Images
Wangjing SOHO in Beijing
Contemporary Building in China: three towers + public park design by Zaha Hadid Architects
post updated 6 August 2021 ; 28 Jul 2017 ; 17 Mar 2017
Wangjing SOHO
Design: Zaha Hadid Architects
Location: Beijing, China
Wangjing Soho wins Zhan Tianyou Award for Engineering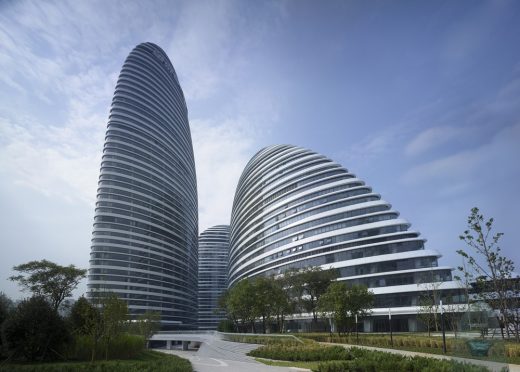 Wangjing SOHO is located in northeast Beijing between Fourth and Fifth Ring Roads.
Served by Wangjing and Wangjing East subway stations on Line 15, and the Wanjing West interchange station with Line 13 – as well as the Futong and Wangjing South stations to be built as part of the new of the Line 14 – the site is near the Airport Expressway approximately halfway between Beijing's Capital Airport and the centre of the city. Access to each of these key transport links has contributed to the fluid composition of Wangjing SOHO.
Developed in the mid-1990's as a large residential area approximately 12 kilometres from the city center, Wangjing has also become a key hub for Beijing's IT and telecommunications, home to Chinese and International technology companies including Microsoft, China Telecom, AlcatelLucent, Sony and Panasonic, as well as global manufacturers such as Siemens, Daimler and Caterpillar.
Many of Beijing's IT companies are also located in Wangjing with these multi-national firms, which has in turn made Wangjing one of the most popular locations for the capital's innovative tech start-ups such as Momo. Subsequently, there is an increasing demand for a variety of flexible office spaces in Wangjing: from units with the smallest floor area to suit new firms with a single employee – yet also offering the possibility for expansion; to offices with a large open-plan arrangements to house the Beijing headquarters of a global IT corporations.
With the ongoing development of increased housing and transport links to the rest of the city, and many respected educational and cultural institutions such as Beijing Number 80 High School, the China Central Academy of Fine Arts and 798 Arts District, Wangjing has developed into a diverse community in the creative and IT sectors. The opportunities offered by the IT and telecommunications industries have established Wangjing as an important employment, residential, transport, educational and cultural hub in the north-east of Beijing; integral to the multi-modal urban plan for the capital that does not impact existing social and infrastructure networks in the centre of the city.
Located in Wangjing's centre, Wangjing Soho is a mixed-use development consisting of three towers 118, 127, 200 meters in height designed as three interweaving 'mountains' that fuse building and landscape to bring together the surrounding community with a new 60,000m2 public park. The design responds to the flows of the city and allows natural daylight into each building from all directions. The juxtaposition of the tower's fluid forms continuously changes when viewed from different directions; appearing as individual buildings in some views, or as a connected ensemble in others. The orientation and composition of the towers has been defined to direct visitors and staff to the various transport links that surround the site . The cohesive design of the project creates an anchor and identity for the growing Wangjing community.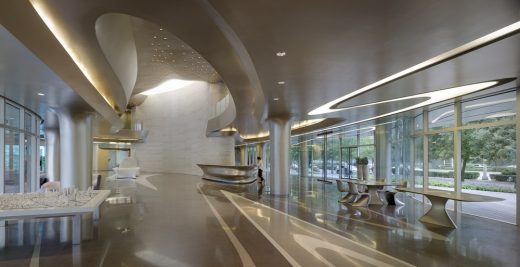 Dividing the total 560,000 m2 built area required by the client into three smaller buildings has reduced the scale of the project, in comparison to a single building placed on the 115,393 m2 fan-shaped site. Large public spaces open 24 hours a day include a park to the south and landscaped gardens to the north, east and west with activity zones and water features that have already become popular areas for the local community. The large entrance lobbies for each tower face outwards towards the city and extend through each building to the central shopping street and plaza in between the towers that in turn flows into public gardens and courtyards.
The total above-ground floor area of Wangjing SOHO is 392,265 m2, with four levels below ground totalling 129,000 m2 that includes secure parking for 8256 bicycles and showers for cyclists. Priority charging spaces for low-emission vehicles are also included within the basement car park.
The thin floor plates provide flexible, openplan office space and the tapering section of each tower provides the extensive natural daylighting to each office, retail and lobby. Windows on every floor of the towers open to enable each office to be naturally ventilated whenever appropriate.
Double-insulated unitized low-e glazing systems (U=1.7W/m2oC and SC= 0.4) and horizontal ribbons of white aluminium external louvers provide overhangs for sun shading as well as maintenance terraces and water collection. The envelope insulation (U=0.55 W/m2oC) reduces heating/cooling requirements and MEP systems are also designed to reduce emissions, potable water usage and energy consumption in Beijing's extreme weather, including: heat recovery from the exhaust air; energy efficient control sensors; grey water reuse system and low flow-rate fixtures; energy monitoring systems; high-efficiency pumps, fans, boilers and chillers. Simulation test results for Wangjing SOHO list a 42% reduction in annual water potable water and 12.8% reduction in energy costs from ASHRAE standard buildings.
Low VOC interior materials are carefully chosen to eliminate the pollution sources from within, and the fresh air rate per person provided exceeds the ASHRAE standard by 30%. High efficiency filters are installed in the air handling system to remove PM2.5 particles.
Towers 1 and 2 of Wangjing Soho were sold out before completion. Tower 3 has been retained by SOHO China and leased as temporary office space booked via the SOHO 3Q app. 90% of the tower 3's inaugural leasing tenants are the innovative companies in Beijing's rapidly developing IT and Telecommunications sectors that comprise Wangjing's growing business community.
Wangjing SOHO by Zaha Hadid Architects – Building Information
Location: Beijing, China
Date: 2014
Client: SOHO China Ltd. Status Completed
Program: Office & Retail
Size: 521,265 sqm
Architect: Zaha Hadid Architects
Design: Zaha Hadid Patrik Schumacher
Project Director: Satoshi Ohashi
Project Associate: Armando Solano
Project Team: Yang Jingwen, Christoph Klemmt, Shu Hashimoto, Yung-Chieh Huang, Rita Lee, Samson Lee, Feng Lin, Seungho Yeo, Di Ding, Xuexin Duan, Chaoxiong Huang, Ed Gaskin, Bianca Cheung, Chao-Ching Wang, John Klein, Ho-Ping Hsia, Yu Du, Sally Harris, Oliver Malm, Rashiq Muhamadali, Matthew Richardson
Competition Team: Satoshi Ohashi, Christiano Ceccato, Inanc Eray, Ceyhun Baskin, Chikara Inamura, Michael Grau, Hoda Nobakhati, Yevgeniya Pozigun, Michal Treder
Consultants
Structure: Adams Kara Taylor UK (Competition) / CCDI Beijing (SD), (DD), (CD)
Facade Arup Facade HK (SD)
Inhabitat Beijing (DD)
Mep, Vt, Fire Safety, Sustainability: Hoare Lea UK (Competition) Arup Engineers (SD)
Size
Site Area: 115,393 sqm
Gross Floor Area: 521,265 sqm
Footprint Area: 21,000 sqm
Above Ground: 92,265 sqm
Towers & Pavilions
Tower 1: 136,384 sqm
Tower 2: 125,131 sqm
Tower 3: 125,307 sqm
Pavilions: 5,443 sqm
Below Ground: 129,000 sqm
Height Tower 1: 118m
Tower 2: 127m
Tower 3: 200m
Pavilions 1 & 2: 15m
Pavilion 3: 6m
Top of occupied floor: 179m (43 floors)
Floors Above Ground 2 Retail
37 Office
Floors Below Ground
1 Retail
3 Parking Levels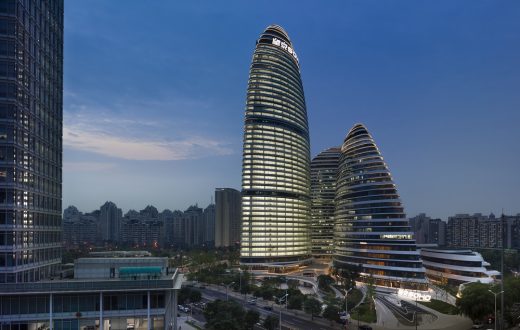 Photography: Virgile Simon Bertrand
Wangjing SOHO in Beijing images / information from Zaha Hadid Architects
Wangjing SOHO in Beijing buildings design : Zaha Hadid Architects
Location: Galaxy Soho, Beijing, China
Recent Beijing Architecture
Beijing Architecture Walking Tours
Another Chinese building design by Zaha Hadid Architects on e-architect:
Hongqiao Soho, Shanghai, China
Hongqiao Soho
Beijing Zhongshuge Lafayette store interior
Architects: X+LIVING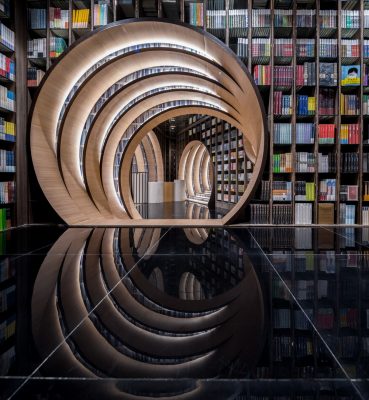 photo : Wu Qingshan
Beijing Zhongshuge Lafayette store design
Beijing CBD Eastern Expansion
Design: SOM, architects
Beijing CBD
Z15 Tower – tallest building in Beijing
TFP Farrells, BIAD, ARUP and MVA
Z15 Tower
Central Chinese Television Tower
Design: Rem Koolhaas Architect / OMA
CCTV Beijing
Capital Airport
Foster + Partners
Beijing Airport Building
Comments / photos for the Wangjing SOHO in Beijing – Zaha Hadid China page welcome
Website: Zaha Hadid Architects