Porta Fira Hotel Barcelona, Spanish Tower Building, Toyo Ito Spain
Porta Fira Hotel : Barcelona Skyscraper
Catalan Skyscraper Building design by Toyo Ito / b720 Architects
page updated 20 Jul 2016 ; 8 Aug 2011
Porta Fira Hotel Barcelona
FCC wins Emporis Skyscraper Award for Porta Fira Hotel
Porta Fira Hotel scoops gold Emporis Skyscraper Award 2010
Two Barcelona FCC skyscrapers ranked in top 10 (Diagonal ZeroZero, wins 9th place)
Design: Toyo Ito & Associates / b720 Fermín Vázquez Arquitectos
Madrid, 8 August 2011: Fomento de Construcciones y Contratas, FCC, the Spain-based infrastructure and environmental services company, has won the Emporis Skyscraper Award 2010 for its construction of the Porta Fira Hotel in Barcelona. The building was chosen from over 300 skyscrapers around the world.
The Emporis Award for the Best New Skyscraper, is the world's most renowned prize for high-rise architecture. The jury is made up of architecture experts from 67 countries. Previous winners include Norman Foster's 30 St Mary Axe ('The Gherkin') in London and Santiago Calatrava's Turning Torso in Malmö, Sweden.
Porta Fira Hotel Barcelona skyscraper: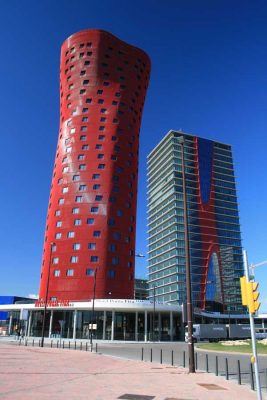 photo from FCC
According to the jury, Porta Fira tower was chosen for its aesthetic beauty and urban integration. Dubai's Burj Khalifa, the world's tallest skyscraper, came second place in this year's awards. In third place was CMA CGM Tower, a 147m tall skyscraper in Marseille, France.
Hotel Porta Fira was designed by the Japanese architecture firm Toyo Ito & Associates and the Spanish firm b720 Fermín Vázquez Arquitectos. The 26-floor hotel tower is 113 metres high and is located in one of Barcelona's busiest areas. Porta Fira belongs to the Hoteles Santos chain, which also owns several other landmark hotels.
According to Fermín Vázquez, the greatest challenge in designing the tower was its shape. The unique façade is made up of aluminium tubular structures that run vertically around the entire exterior, from the ground to the crown. The hotel is visible from a distance due to its striking red colour and its tube-like structure widens as it rises. b720 Arquitectos also designed the Agbar Tower in Barcelona, which came second in the Emporis Skyscraper Awards in 2004.
FCC's 'Diagonal ZeroZero Tower' wins 9th place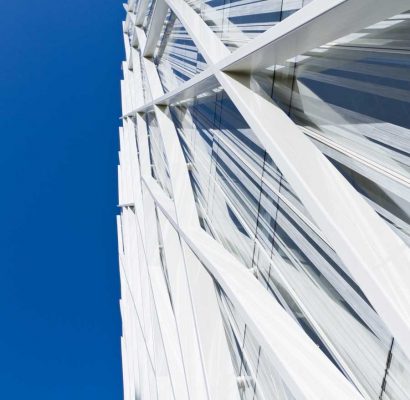 photo : EMBA
In addition to the Porta Fira Hotel, another FCC project was ranked in this year's Emporis Skyscraper Awards. FCC's Diagonal ZeroZero Tower in Barcelona took ninth place. The tower, which was designed by EMBA (Estudi Massip-Bosch Arquitectes), is home to Telefónica's headquarters in Barcelona.
This 25-storey diamond-shaped skyscraper is 110 metres tall and has received several other awards including the Quatrium Prize for architecture in 2010. The top skyscrapers of 2010 include buildings from all over the world, however, according to Matthew Keutenius, architectural expert at Emporis and Chairman of the Skyscraper Awards jury, the Mediterranean coast is now a focal point for world-leading architecture.
Best skyscrapers worldwide, according to Emporis
Ranking Building, City ; Floors ; Height (m)
1 Hotel Porta Fira, Barcelona ; 26 ; 113
2 Burj Khalifa, Dubai ; 163 ; 828
3 Tour CMA CGM, Marseille ; 33 ; 143
4 The Pano, Bangkok ; 55 ; 203
5 Capital Gate, Abu Dhabi ; 35 ; 160
6 The Legacy at Millennium Park, Chicago ; 73 ; 250
7 Strata, London ; 43 ; 148
8 Capital City, Moscow ; 76 ; 302
9 Diagonal ZeroZero Tower, Barcelona ; 25 ; 110
10 International Commerce Centre, Hong Kong ; 108 ; 484
11 Goldman Sachs Headquarters, New York ; 44 ; 228
About FCC
FCC is a global infrastructure and environmental services company, with revenues of over 12 billion euro. Its three main areas of activity are: management of environmental and urban services (household and industrial waste, street cleaning and maintenance, park and garden maintenance, urban furniture and end-to-end water management), design and construction of infrastructure and social amenities, and development of renewable energy. The group, whose principal shareholder is Esther Koplowitz, employs 90,000 people in 54 countries.
Further Information: www.fcc.es
Two of the world's best skyscrapers are now based in Barcelona. Dubai's Burj Khalifa (world's highest building) – came second.
Torre Diagonal Zero Zero came ninth:
Torre Diagonal Zero Zero Avinguda Diagonal, Barcelona
Date built: 2011
Design: EMBA, led by the architect Enric Massip-Bosch



photo : EMBA
Torre Diagonal Zero Zero
Nominated for Best Commercial Building of the Year and Best Structural Design of the Year in LEAF Awards 2011
The Torre Diagonal Zero Zero was a LEAF Awards 2011 Nominee
Address:
El Hotel Santos Porta Fira
Plaza Europa, 45
08908 Hospitalet de Llobregat, Spain
Contact El Hotel Santos Porta Fira : 902 656 186
Location: Plaza Europa, 45, 08908 Hospitalet de Llobregat, Barcelona, Spain, southwestern Europe
Barcelona Architecture Walking Tours
Recent Barcelona Tower
Torre Plaza Europa
Roldán + Berengué arqts.



photograph from architect
Torre Plaza Europa
Barcelona Towers
Sagrada Familia : iconic Barcelona Building
Antoni Gaudi Architect



photograph © Adrian Welch
Montjuic Tower, Hill of Montjuic
Santiago Calatrava, Architect



photo © AW
Agbar Tower, Barcelona skyscraper
Jean Nouvel Architects



photo © AW
Torre de Collserola Building
Foster & Partners Architects



photograph © Thomas Boczko
Free Zone Consortium Office
Josep Lluís Mateo Architect



photo © Adrian Welch
Comments / photos for the Porta Fira Hotel – Barcelona Skyscraper page welcome