Barcelona Architectural Walking Tours, Catalonia Architecture Walks, Catalan Guide
Barcelona Walking Tours : Catalan Guides
Catalan Architecture Guides – Building Walks in Spain
Walking Tours of Barcelona
Contact Isabelle Lomholt on [email protected]
e-architect : Architecture Walking Tours since 2001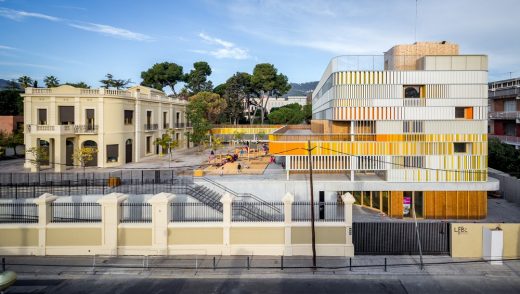 photograph : Simón García
Feedback from a recent Barcelona architecture walking tour:
1 Mar 2013
Our daughter Laura has a passion for architecture and is working hard towards getting the best possible grades in her AS and A2 levels over the next 2 years to achieve her ambition of getting into the school of Architecture at Cambridge or Edinburgh.
With this in mind we decided to take a 4 day visit to Barcelona to look at buildings that Laura had researched, We were delighted to find the e-architect web site and following discussion with Isabelle we were able to e-mail our guide and provide him with Laura's list and our limited timescale.
The result was an extremely well planned tour over 2 days which encompassed all of the buildings that she felt she needed guidance on. Our guide's approach was to take us through the history of the city and its evolution from classic to contemporary architecture. He was enthusiastic, extremely knowledgeable and delivered the information in such a simple but informative way that even Christine and I learnt far more than we could have ever done through our own research. Laura in particular came away with even more enthusiasm for her chosen subject.
We can honestly say that our guide made our trip totally worth while, we would recommend it to anyone who wanted to know about the fabulous diversity of buildings in Barcelona and see parts of the city that they might otherwise miss.
Mike, Chris and Laura Bielinski
Barcelona Architecture Walking Tours : introduction + contact info
Feedback from a recent Barcelona walking tour:
8 Jan 2013
Dear Isabelle,
Peter and I continue to talk about the trip and are still processing all of the information Milos provided to us during three insightful tours he gave us of Barcelona. Our trip was better than we could have ever expected.
We think that we were very fortunate to have Milos as our guide. He was friendly, knowledgeable and extremely generous with his time. He kept me interested, a non-architect, as well as my husband, an accomplished architect. Our guide showed us how Barcelona evolved historically and the masterpieces of each era. He shared with us his love of city planning and his knowledge of architecture. For example, he explained how Passeig de Gracia grew with the expansion of the city toward the hills, and how along the street, three great Modernistas came to create a masterpiece each, side by side, on a single block locals then named the "Apple of Discord".
To our delight, our guide was willing to continue our third tour in spite of the rain. He was flexible in accommodating my wish to walk rather than to ride bikes, as planned. He spontaneously changed his tour route to increase shelter, and in doing so, we enjoyed an hour more than we had bargained for.
Another very helpful thing our guide did for us is he provided an e-mail summary of the previous days' tour. We will definitely use this list to go back and further study the buildings and various areas of the city. We also took advantage of his restaurant recommendations to find tapas and other local foods. For example, on our last day in Barcelona, we dined at the Seven Doors restaurant and immensely enjoyed it.
We hope to return to Europe again soon. We are convinced your individualized tours are the way to go. They give an in-depth knowledge which is so beneficial for experiencing another culture in a short visit.
Thank you for all of your time and helping us plan our trip and connecting us with your guide.
Gratefully,
Gale Tucker and Peter Newlin, FAIA
Barcelona Architectural Tours : suggested tours – options
Barcelona Architecture Tours can focus on traditional buildings, contemporary buildings or both. You can chose among our proposed walking or cycling tours or particular program can be tailored to your group's interests.
Barcelona Walking Tours
Contact Isabelle Lomholt to arrange your Catalan architecture tour on mob. +44 (0)7952 149814 or isabelle(at)e-architect.com
Barcelona Architectural Photos
Architectural Walking Tours by e-architect:
Location: Barcelona, Catalunya, Northeast Spain
Spanish Architecture
Barcelona Architecture : key building to visit
Madrid Architecture Walking Tours
Architecture Walking Tours – city walks
Catalan Architectural Designs
Antoni Gaudi buildings
Comments / photos for the Barcelona Walking Tours by e-architect page welcome
Barcelona, Catalunya, Spain