Tile of Spain Trends from Cevisma 2023, Architecture-Interior Design Prize, Buildings Images
Tile of Spain – Tile Trends from Cevisma 2023
24 May 2023
Tile of Spain – Tile Trends from Cevisma 2023 News
After a two year hiatus, the Cevisama tile fair in Valencia returned with a flourish in 2023 and with 436 exhibitors. Exciting new designs, innovative technologies, inventive formats and inspiring trends were all present at a buzzing show that welcomed 74,115 visitors (25% from outside Spain). Exhibitors, organisers and attendees alike proclaimed the event a significant success.
From decorative drama to subtle elegance, from the latest metallic effects to the sophistication of luxe stone looks, the tiles on display had something for everyone. Colour trends ranged from vibrant yellows to pastel pinks and from serene sea greens to beautiful blues. Pattern was vividly present, either with an ultramodern edge or as a contemporary homage to traditional fabrics and wallpapers. Linear looks were strikingly directional as were volumetric reliefs.
A cautiously optimistic mood from the industry looked forward to overcoming the issues from the fuel crisis to the pandemic to supply chain challenges. Expectations were that a return to growth would be fuelled in part by applying the creative energy so typical of the Spanish tile industry and also by adapting to evolving markets. Furthermore, sustainability remains a core ethos for Spanish manufacturers, combining high-tech solutions with enduring and reliable quality.
Here's a round-up of the key tile trends spotted at Cevisama 2023:
A Glimpse of Gold
Gold has returned to interiors and has found its way beautifully to the tile designs of Spanish manufacturers, with subtle touches of precious shimmer. This can be found as delicate threads inspired by the classic technique of Japanese pottery repair, as brush strokes of gold leaf on mural tiles, or as lustrous homage to the natural patination of metal.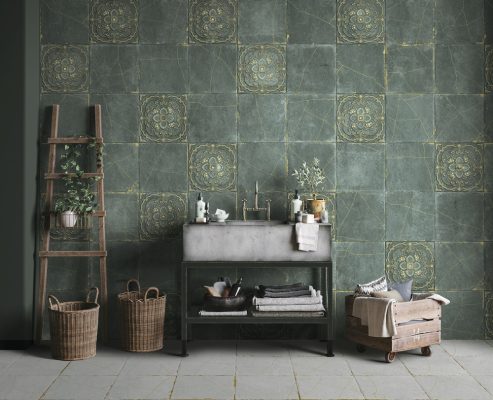 Aparici – Kintsugi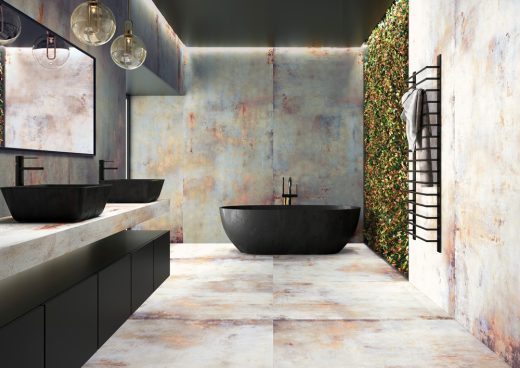 Apavisa – Lamiere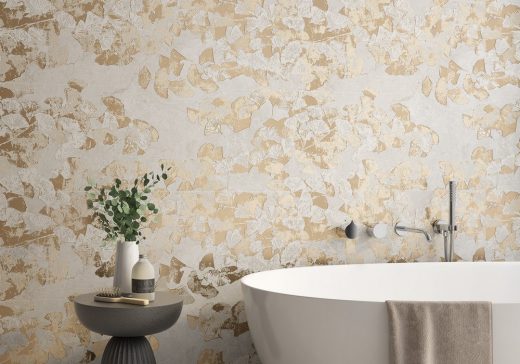 Ibero – Mystic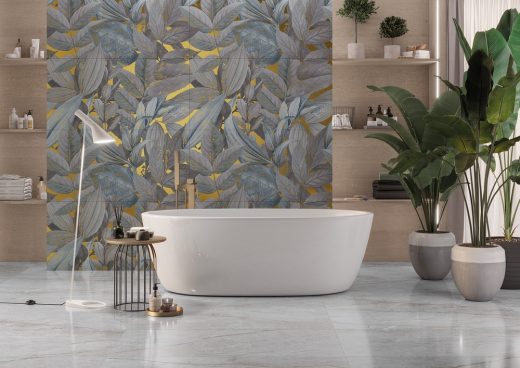 Keraben – Idyllic
Kintsugi by Aparici is inspired by the Japanese technique of repairing ceramics with gold. This characterful porcelain collection comes in white, green and blue in a 30x30cm format. www.aparici.com
Lamiere by Apavisa captures the beauty of oxidized metal in a choice of 3 colours and 4 formats. High tech, anti-slip floor tiles with a subtle but distinctive lustre. www.apavisa.com
Mystic Occitane Art by Ibero is a marble-style wall tile with a special effect of glimmering gold within the delicate indentations that define its robust surface. www.iberoceramics.com
Idyllic Decor Gold by Keraben creates a gorgeous mural effect echoing the use of gold leaf in art or precious wallpapers. A durable, easy-care porcelain wall tile in a 40x120cm format. www.keraben.com
Playful Patterns
Tiles have always been the perfect canvas for eye-catching designs and now manufacturers in Spain are optimising the latest printing and firing techniques to bring stunning new possibilities for playing with pattern. Inspiration comes from sources as diverse as Neo Memphis art or traditional wallpapers and fabrics, while half-moon shapes, ellipses, triangles and diamonds figure strongly, as do exotic birds and flowers.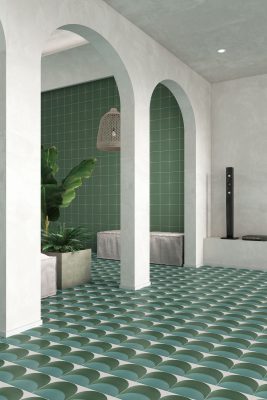 Cevica – Habana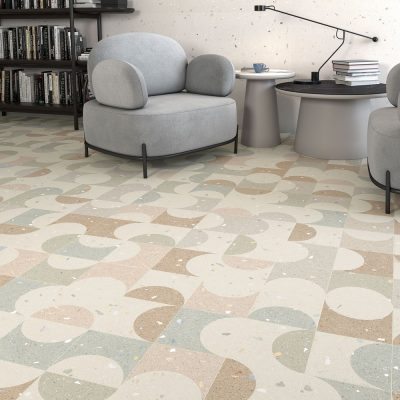 Arcana – Zeppole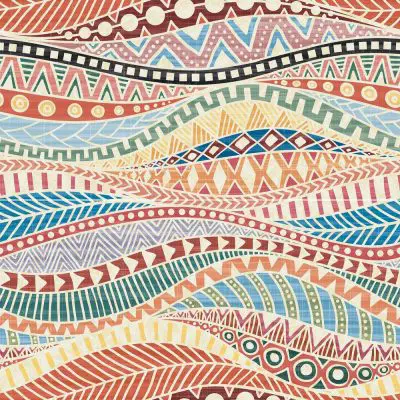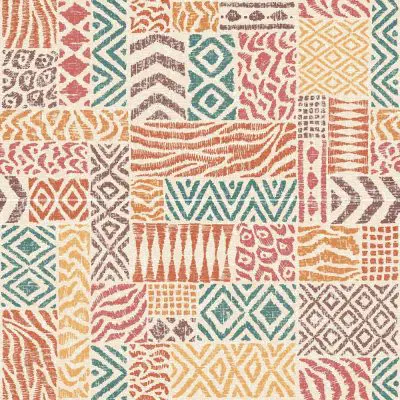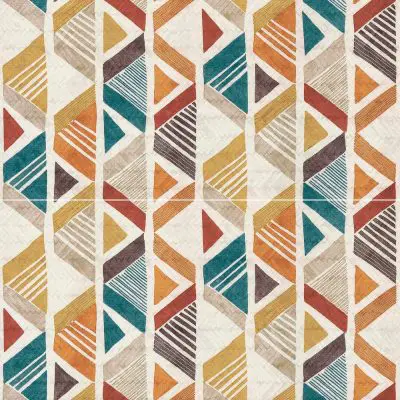 Ceracasa – Couture Ethnic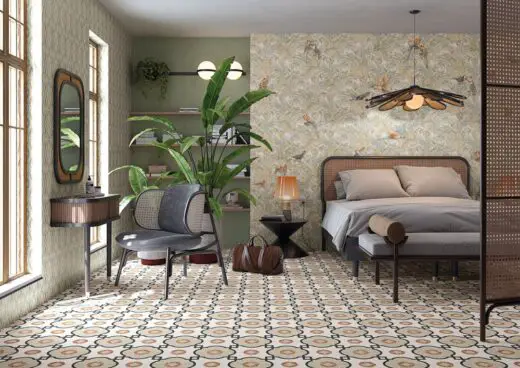 Vives  – Cassis (wallpaper left) Sassari (wallpaper with birds) and Grimaud (floor)
Habana by Cevica is a porcelain floor tile offering inspiring scope for creating dramatic patterns. It comes in a 20x20cm format and several striking deco effects, such as the half-moons of N6, shown here.
Croccante by Arcana offers hi-tech porcelain floor tiles in multiple formats and subtle graphic and chromatic nuances. The curvaceous shapes of Zeppole are shown here. www.arcanatiles.com
Couture Ethnic by Ceracasa takes inspiration from traditional textiles to create joyfully decorative wall tiles in a 49.1×98.2cm format. www.ceracasa.com
Cassis, Sassari and Grimaud by Vives are hi-tech, large format wall and floor tiles, with stunning aesthetics ranging from wallpaper to mural to geometrical effects. www.vivesceramica.com
The New Stone Age
Taking cues from exotic stones and the beauty to be found in the deep earth, Spanish brands are recreating the striking matrix effects of the ancient ground beneath our feet. Bringing gravity and nobility to interiors, these large slab porcelain pieces make for high-performance, easy-care luxury. And who knows what gems the viewer may discover on closer study of each tile's elegance?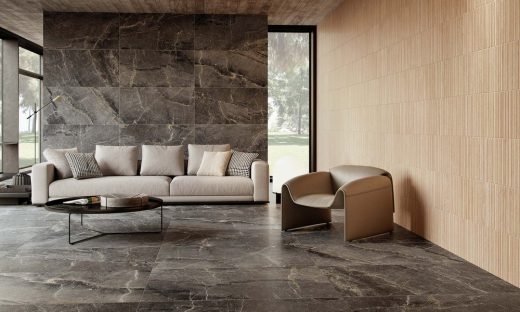 Undefasa – Diverso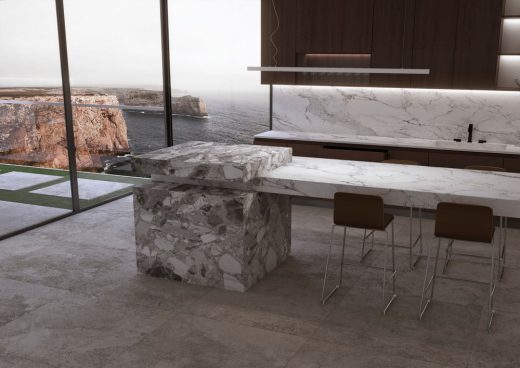 Museum – Sublime Cliff an Iceberg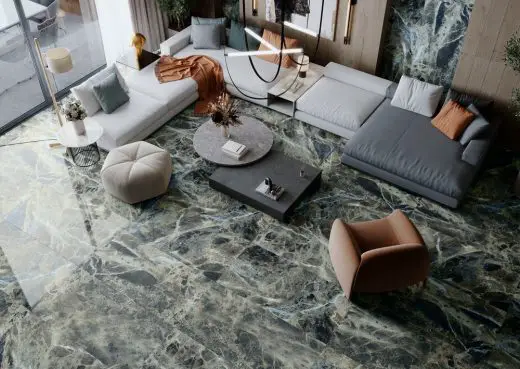 Cristacer – Nirvana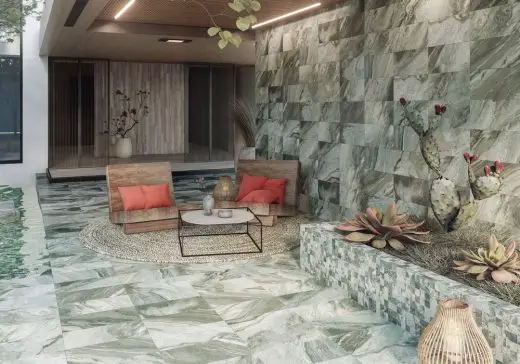 Halcon – Icon
Diverso by Undefasa is an ultra-hard, anti-slip porcelain tile in 4 rectified formats and 5 distinctive and luxurious stone effects, with unique and intriguing veining. www.undefasa.com
Sublime Cliff and Iceberg by Museum are porcelain slabs inspired by the spirit of nature to honour the beauty of rare stones and create sophisticated solutions for wall, floor and worktop. www.museumsurfaces.com
Nirvana by Cristacer is a glossy porcelain tile in a 60x120cm format with a precious stone aesthetic and hints of jade. Robust and resistant it's an ideal floor covering. www.cristalceramicas.com
Icon by Halcon presents a graphic quartzite appearance with distinctive detail and chromatic intrigue. A 30x60cm anti-slip porcelain in 4 colours and 2 finishes, ideal for high-impact exteriors. www.halconceramicas.com
Chic Chevrons
A number of Spanish brands offer collections that are ideal for creating striking herringbone designs on the wall and the floor. Presented in delicious colours and the kind of subtle textures that echo handmade ceramics or timber parquet, the looks are both chic and joyful… and the versatility in terms of installation potential is inspiring.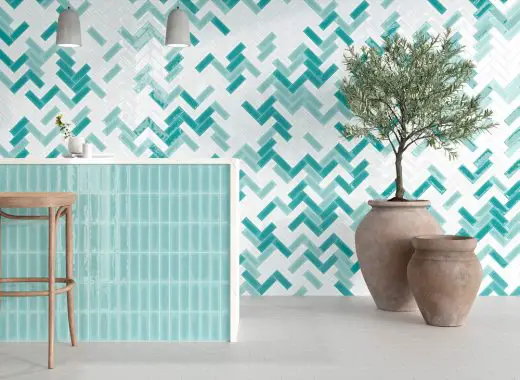 Mayolica – Altea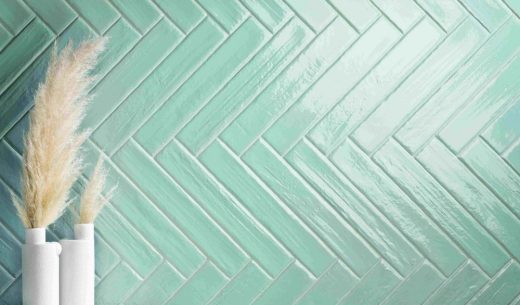 Natucer – Wabi Sabi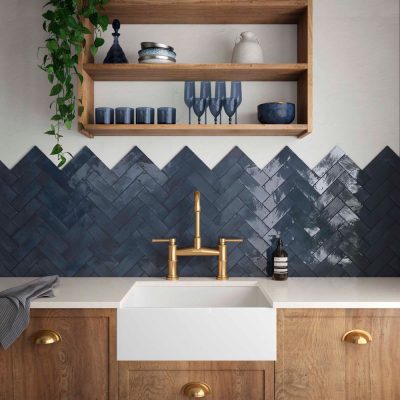 Equipe – Coco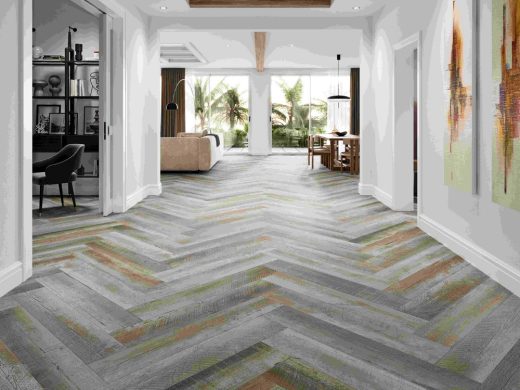 Fanal – Art Wood
Altea by Mayolica, a brick-look glossy wall tile in a 5x15cm format and 9 colours reminiscent of the Spanish seaside, perfect for eye-catching chevron effects. www.mayolica.es
Wabi Sabi by Natucer is an elegant decor tile inspired by the imperfections of handmade ceramics. In 9 colours and measuring 7x40cm, it's ideal for herringbone arrangements. www.natucer.es
Coco by Equipe porcelain wall tiles in matt or gloss come in an endlessly versatile 5x15cm format and 8 appealing colours with a subtle relief to the surface. www.equipeceramicas.com
Art Wood by Fanal replicates the beauty of wood grain and colour tones in a robust 22x120cm plank format that enables high-impact floor coverings. www.fanal.com
Long and Lean
There's a distinct move towards tiles that create a slender, linear effect on the wall or the floor, either as a fresh take on the classic metro tile or re-creating the narrow plank effect of Nordic style wood panelling. While referencing familiar decorative styles, these latest looks from Spain bring a contemporary directionality to interior design.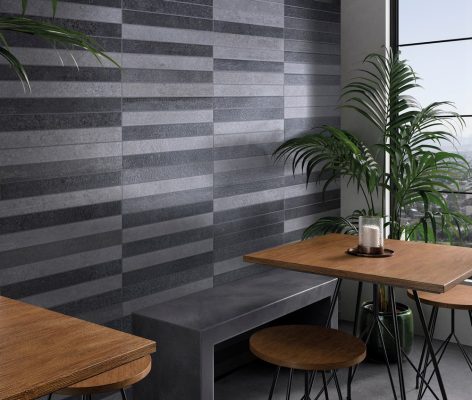 Decocer – Encode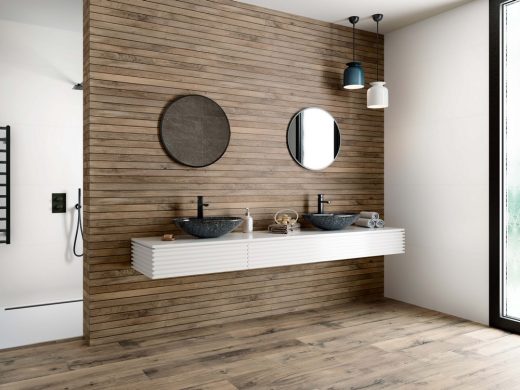 Baldocer – Northwood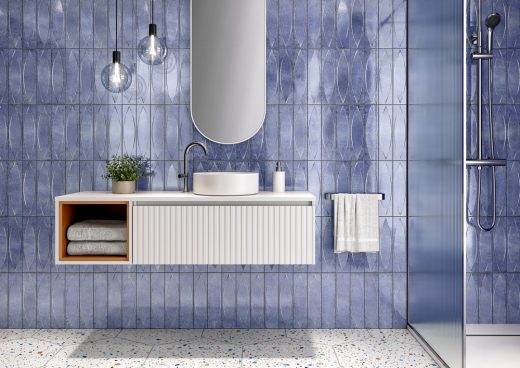 Realonda – Lens

Cerlat – Brunei
Encode by Decocer is a white body wall tile in a slim 5x40cm format, in a harmonious choice of Ivory, Copper, Ocean, Sage or Black, with inspiring potential for unique installations. www.decocer.com
Northwood Elm by Baldocer is a wood-look rectified wall tile in a 33.3 x100cm 'strip' format with an elegant grain pattern and a subtle relief texture. www.baldocer.com
Lens by Realonda, a 33x33cm porcelain tile imitating a slender 11x33cm format, is available in 7 colours and 3 finishes, with a concave 3D effect for fascinating lightplay. www.realonda.com
Brunei by Cerlat is a glossy finish, metro-style wall tile with a textured effect, offered in 9 elegant colours and a 6.5x25cm format for an on-trend linear look. www.cerlat.com
Feeling Groovy
Ceramics lend themselves beautifully to surface texture and 3-D reliefs. Reed-like lines and extruded fluted effects characterise many of the latest designs from Spanish manufacturers, adding either subtle interest or high impact drama to contemporary wall coverings. While being aesthetically intriguing, these on-trend designs are also very forgiving with their easy-care durability.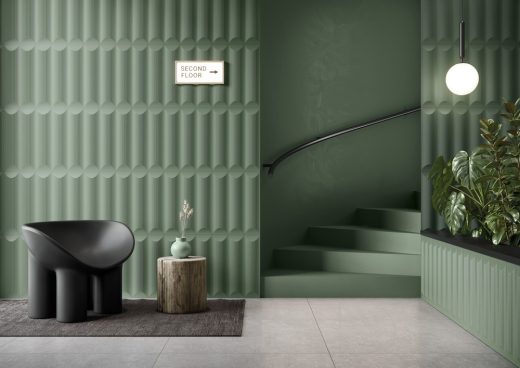 Harmony – Log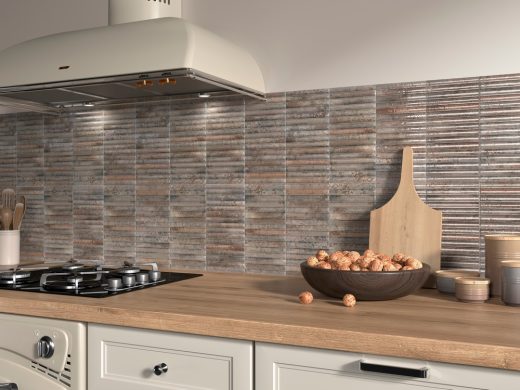 Mainzu – Lugano

Peronda – Cluny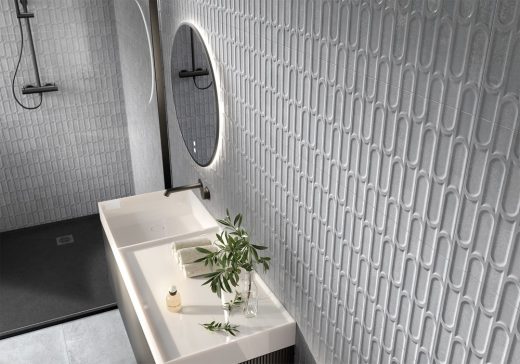 Metropole – Chrome Concept
Log by ALTDesign for Harmony is inspired by the walls of log cabins. A fluted 12.5x50cm tile in 6 colours, it features a grooved texture and a mitred edge for impressive 3D effects. www.harmonyinspire.com
Lugano by Mainzu is a red body wall tile with an attractive bamboo-style relief, offered in fashionable metallic colours and a 15X30cm format. www.mainzu.com
Cluny by Peronda, a large format porcelain tile in 2 finishes and 4 colours, creates an eye-catching sense of movement with its soft, warm tones and wave-like texture. www.peronda.com
Chrome Concept by Metropole is a 30x90cm rectified wall tile with a distinctive retro-yet-contemporary wavelength relief curving over its cement-look surface. www.metropol-ceramica.com
Tile of Spain is the voice of the Spanish tile industry, encompassing more than 120 tile manufacturers. Renowned worldwide for an inspiring blend of aesthetic and technical innovation, Spanish tiles draw on a rich heritage of skill and creativity, while remaining at the cutting edge of design. Manufactured in Spain and widely available in the UK, these products embody the spirit of an industry that prides itself on proposing beautiful, meaningful and high-performance solutions to flooring, wall coverings, furnishing and external paving and cladding. For further information on Tile of Spain:  www.tileofspain.com
Tile of Spain – Tile Trends from Cevisma 2023 images / information received 250523
Location: Spain, southwestern Europe
Tile of Spain Awards Archive
Winners of the 2019 Tile of Spain Awards
18th Tile of Spain Awards in Architecture Design
Winners of the 2018 Tile of Spain Awards
Open call for 17th Tile of Spain Awards
Open call for the 16th Tile of Spain Awards
Architecture Awards
Tile of Spain Event, London
European Copper Architecture Awards
Architecture in Spain
Museo de al Memoria de Andalucía, Granada, southern Spain
Design: Alberto Campo Baeza
Museo de al Memoria de Andalucía
Merida Factory Youth Movement, western Spain
Jose Selgas, Lucia Cano, architects
Merida Youth Factory
Centro Niemeyer, Avilés
Oscar Niemeyer architect
Centro Niemeyer
Comments / photos for the Tile of Spain Trends from Cevisma 2023 page welcome