RIBA Honorary Fellowships 2014, Award, Winning Architects, Architecture
RIBA Honorary Fellowships 2014 Citations
Royal Institute of British Architects Prize
18 Sep 2013
RIBA announces 2014 Honorary Fellowships
RIBA Honorary Fellows 2014 citations:
RIBA 2014 Honorary Fellowships Citations
– Clive Carr : Chair of RIBA Enterprises
Clive Carr is a Chairman who has led what is now known as RIBA Enterprises for 27 years. With a background in publishing, his varied business experience also includes leadership and board roles in the hospitality and sport sectors.
Having been asked to resolve historical issues with the RIBA Journal, he also saw the opportunity to create a business delivering professional indemnity services to the industry. Later, he led the acquisition of NBS, the suppliers of specification and information solutions to construction industry professionals in building construction, engineering services and landscape design. RIBA Enterprises also publishes books on architectural practice management, sustainability, contracts, construction law, building design guidance, monographs on 20th century architects and the annual book on the RIBA's Awards.
Subsequently Clive brought together the four operating companies within the RIBA to create RIBA Companies in 1994. In just the last 10 years, he has led an organisation that has contributed approximately £23m in profits to the RIBA. This considerable sum, on top of membership subscriptions, has allowed the Institute to develop an ever wider programme of cultural and public-facing activities that has raised people's consciousness of the importance of architecture and the built environment.
His quiet authority and leadership has ensured that the Company has continued to perform during two recessions. He has also ensued the business continues to invest to deliver cutting edge new technologies including the current leadership in Building Information Modelling (BIM).
Away from the business, he is a talented artist and lifelong Vice President of Arsenal Football Club.
– Prof Francesco Dal Co : Italian historian of architecture
Francesco Dal Co is one of Italy's most distinguished architectural historians. He graduated in 1970 from the University Iuav of Venice, and has been director of the Department of History of Architecture since 1994. He was Professor of History of Architecture at the Yale School of Architecture from 1982 to 1991 and Professor of the History of Architecture at the Accademia di Architettura of the Università della Svizzera Italiana from 1996 to 2005. He was Director of the Venice Architecture Biennale between 1988 and 1991. Since 1978 he has been the curator of the architectural publications for publishing House Electa and since 1996 editor of the influential architectural magazine Casabella.
He is currently Senior Fellow at the Center for Advanced Studies of the National Gallery of Art, a scholar at the Getty Center, and Member of the Board of Directors of the Society of Architectural Historians. He is also member of the National Academy of San Luca.
He is the author of many definiteive architectural books and monographs, including: The American City (with others), published by in 1979; Modern Architecture (with M. Tafuri), published by Abrams, New York in 1979; Carlo Scarpa, the complete works (with G. Mazzariol) published by Architectural Press, London in 1986; Figures of Architecture and Thought published by Rizzoli, New York in1991, Tadao Ando, The Complete Works, published by Phaidon, London in 1995; Carlo Scarpa: Villa Ottolenghi , published by The Monacelli Press, New York in 1998; Frank O Gehry, The Complete Works, (with KW Forster and A Soutter Arnold), published by The Monacelli Press, New York in 1998; and Tadao Ando 1995–2010, published by Prestel in 2010.
– Roger Graef : Director, film maker, criminologist
Roger Arthur Graef is a criminologist and film-maker. Born in New York, he moved to Britain in 1962, where he has exploited his uncanny ability to gain access to hitherto closed institutions such as government ministries and court buildings to make innumerable ground-breaking documentaries.
Roger served with Sir John Banham (Chair), Dame Mavis McDonald and Kate Faulkner on the RIBA's Future Homes Commission, a year-long independent inquiry into the quality of newly built housing that reported in October 2012. 'Building the Homes and Communities Britain Needs' calls for a revolution in the scale, quality and funding of home-building in order to meet the housing needs of our growing and changing population.
As well as making innumerable films in his particular field of expertise, criminology, Roger has made a number of films about cities and architecture, including a documentary on Walter Gropius and another with the self-explanatory title Requiem for Detroit? A further film 'Is this the Way to Save a City?' prevented the wholesale redevelopment of Cardiff, while a film he made with Simon Jenkins, showed that a Grade II listed building was demolished every day during Save Britain's Heritage Year.
In 1973 he became a member of the board of the Institute of Contemporary Arts (ICA) in London, and created and chaired its Architectural Forum. He also became a part-time tutor at the Architectural Association. He was a board member of London Transport, and co-designed the London Bus Map with Andrew Holmes. He was a member of the Development Control Review, for the Department of Environment and served on the three man Committee for the Control of Demolition, and co-chaired the Study Group on Public Participation in Planning. For the RIBA Housing study, he wrote the chapter on design and was part of the Tottenham Task Force which reported this year, and wrote the chapter on policing.
Graef became a UK citizen in 1995. He was a founding board member of Channel 4 and a governor of the British Film Institute. In 2004 he was awarded a BAFTA Fellowship for Lifetime achievement, the only documentary maker to have received that accolade. He was awarded an OBE in the 2006 New Year's Honours list for services to broadcasting.
– Lluis Hortet : previously Director of Mies van de Rohe Foundation
Lluis Hortet was trained as a Lawyer, specialising in urban planning. From 1983 to 1987 he was Technical Secretary of Urban Planning and Design under the direction of Oriol Bohigas, and the leadership of Mayor Pasqual Maragall. He was very involved in the policies of regeneration of the city, a period very much focused in the creation of new open spaces and public art.
He was also Director of Museums for the City of Barcelona before taking over as Director of The Mies van der Rohe Foundation which had been set up in 1983 by the Barcelona City Hall with the initial purpose of reconstructing the German Pavilion, designed by Ludwig Mies van der Rohe for the 1929 Barcelona International Exhibition. In addition to preserving and managing the Pavilion, the Foundation also focuses on promoting debate about contemporary architecture and urbanism as well as building a documentary archive on Ludwig Mies van der Rohe. Lluis was responsible with the politician Xavier Rubert de Ventós Xavier and Ignasi de Solà-Morales, one of the lead architects on the rebuilding of the Mies Pavilion, for establishing the biennial Mies van der Rohe Award for European Architecture in 1988. In 2000 an Emerging Architect category was added to recognise the work of young professionals starting out on their careers.
In 2001 the Mies van der Rohe Award became the official architecture prize of the European Union. For each two-year period proposals are submitted for the Jury's consideration by a group of independent experts, the member associations of the Architects' Council of Europe (ACE), the other European national architects' associations and the Advisory Committee. The Jury members meet to make a selection of shortlisted and finalist works. They visit the finalist works and then decide the Prize Winner and the Emerging Architect Special Mention. The award process culminates in a Prize database, a published catalogue and a travelling exhibition that features the works chosen by the Jury. All this meticulous and scrupulous work, involving many of the best minds in European architecture, has been overseen by one remarkable man: Lluis Hortet.
– Sir Richard Leese : Leader Manchester City Council
Sir Richard Charles Leese, CBE Kt was born in Mansfield and read Maths at the University of Warwick, later teaching the subject in schools in Coventry and in Minnesota before moving on to youth and community work, and education research. He has been a member of the Labour Party since 1980. Sir Richard was elected to Manchester City Council in 1984 and served on the Education and Finance committees before becoming Deputy Leader. He became Council Leader in May 1996.
Sir Richard has overseen the ongoing oversaw the 10-year regeneration of the city becoming Leader just four weeks before the IRA bomb of 1996, a period which saw the renaissance of Manchester led through an incredible team with Richard and Council chief executive Sir Howard Bernstein (made an RIBA Honorary Fellow in 2004) at its heart. The council has provided an inspiring example of civic leadership echoing the spirit in which the city fathers created the great architectural landmarks of the nineteenth century. Manchester has always had great leadership and it shows in the pride they still take in their city today and the way they value their buildings, old and new and the places people want to come to live, work or play in.
In that time Richard also led the development of a major sports and events strategy including the highly successful 2002 Commonwealth Games which acted as a major catalyst in the regeneration of east Manchester. In 2007 he launched the first Manchester International Festival, a biennial triennial artist-led, commissioning festival presenting new works from across the spectrum of performing and visual arts.
He was knighted for his services to local government in 2006. He is the first chair of the English Core Cities Cabinet, current chair of the Northwest Regional Leaders Board (4NW) and leads on economic strategy and low-carbon for the Greater Manchester Combined Authority.
– Irena Murray : Immediate past Sir Bannister Fletcher Librarian, RIBA
Irena Murray is a Prague-born architectural historian and curator, with special interest in trans-national architecture, Modern Movement, architectural publishing and intellectual history. She studied at Charles University in Prague, Ecole Nationale des Chartes in Paris and McGill University in Montreal where she obtained her PhD in Architectural History and Theory with a dissertation on the post-World War I transformation of the Prague Castle.
Irena Murray served as curator of the National Archives of Canada and of Canadian architecture collections and as Chief Curator of Special Collections at McGill University. From 2004 until her retirement in 2013, she held the position of Sir Banister Fletcher Director of the British Architectural Library, Royal Institute of British Architects. She brought to the role international scholarship of the highest order, thereby raising the status and reputation of the RIBA and its collections. As curator of exhibitions, she presented 'Czech Cubist Architecture and Design' in Montreal, New York and Philadelphia (1991-93); 'Prague Off Centre' (New York, 1995); and a number of monographic exhibitions on contemporary architects and artists. At the RIBA, she has curated exhibitions on Adolf Loos, Mies van der Rohe's Villa Tugendhat and the current exhibition on the work of Charles Correa.
Author of essays and exhibition texts on architecture and contemporary art, she is the editor of Moshe Safdie: Buildings and Projects (McGill-Queen's University Press, 1996), translator of Karel Teige: Modern Architecture in Czechoslovakia (Getty, 2000) and Guido Beltramini's The Private Palladio (Lars Muller, 2012); co-editor of Looking at European Architecture (CIVA, 2008) and Le Corbusier and Britain (Routledge, 2008) and, most recently, of Palladio and His Legacy: a Transatlantic Journey (Marsilio, 2010).
– Nick Pearce : Director of Institute of Public Policy Research, British Architectural Trust Board member
Nick Pearce is the Director of IPPR, the UK's leading progressive think-tank. Nick took two years out (between 2008 and 2010) to serve as Head of the Policy Unit at Number 10 Downing Street, providing a stream of new ideas for the Labour government. He has also worked as an advisor in the Home Office, the Cabinet Office and the former Department for Education and Employment.
He joined the British Architectural Trust Board while at No10 in 2008 and soon secured the first ever Prime Ministerial reception at 10 Downing Street for the RIBA and supporters of British architecture. He also pioneered the first cross-departmental strategy for design, architecture and the public realm. As an active member of the Trust Board, he was commissioned to produce a highly influential report into the RIBA Awards programme which led to many of the changes to the regional and RIBA Awards which were implemented in 2012.
Nick is an author and regular commentator on public policy and the co-editor of the influential journal of political ideas, Juncture. His books include Politics for a New Generation, Social Justice: Building a Fairer Britain, Tomorrow's Citizens and Wasted Youth.
Nick is also a regular blogger, producing finely argued and crafted essays on a vast array of subjects, including the reform of the welfare state, equality in education, land-hoarding by housebuilders and ways to step up house-building, the reform of government spending plans, child obesity and civil service reform. These pieces are as far from the knee-jerk hyperbole of so many blogs as it is possible to be. In much of his writing, he demonstrates his commitment to an architecture of the common good.
– Lady Susie Sainsbury CBE : Client, Deputy Chair of the Royal Shakespeare Company
Susie Sainsbury is Deputy Chairman of the Royal Shakespeare Company and Deputy Chairman of the Royal Academy of Music. She began her career in publishing, working for the Oxford University Press before joining Jonathan Cape, where she was a Commissioning Editor. Later, while bringing up her family, she worked as an editorial advisor on education for Walker Books.
In the US Susie chairs the Board of RSC America Inc., sits on the International Advisory Council and the Dean's Council of the School of Arts at Columbia University, New York, and is a member of the James Madison Council of the Library of Congress, Washington DC. Susie is a Fellow of the Royal Society of Arts; and holds a Hon FRAM from the Royal Academy of Music, and a Hon D.Litt from Warwick University.
Sainsbury Laboratory Building in Cambridge designed by Stanton Williams Architects – 2012 RIBA Stirling Prize Winner: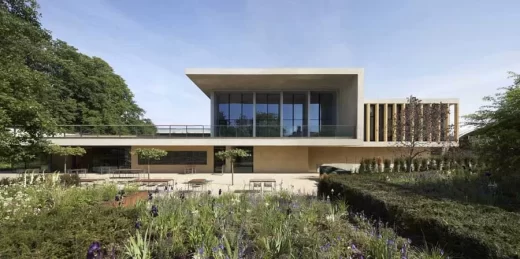 photograph © Hufton+Crow
Susie was awarded a CBE for services to the RSC and to the arts in June 2010. At the RSC she chaired the redevelopment in Stratford-upon-Avon of both the award-winning Courtyard Theatre by Ian Ritchie Architects and the £112.8m transformation of the Royal Shakespeare Theatre, by Bennetts Associates (shortlisted for the RIBA Stirling Prize).
She was part of the client team for the 2012 Stirling Prize-winning Sainsbury Laboratory, Cambridge by Stanton Williams. She acted as an incisive lay judge in the RIBA Awards in London in 2007 and in 2006 she was a member of the RIBA Honours Committee which recommends the name of the Royal Gold Medalist to Her Majesty The Queen, in this instance Jacques Herzog and Pierre de Meuron.
– Thomas Struth : Photographer
Struth, born in 1954 in Geldern, lives and works in Berlin and New York. He is regarded as one of the world's foremost contemporary artists and one of Germany's most widely exhibited and collected fine art photographers. His oeuvre includes depictions of detailed cityscapes, Asian jungles and family portraits.
From 1973 to 1980, Struth studied at the State Academy of Art in Düsseldorf. In 1976 he exhibited a grid composed of 49 photographs taken on Düsseldorf's deserted streets. In 1977 he was the first student to receive a scholarship from the Düsseldorf Academy to live and work in New York. There he created a series of black-and-white urban landscapes, which he showed in his first solo exhibition at P.S.1, New York, in 1978.
In the mid-1980s, he started on a series of both black-and-white and colored portraits of individuals and families illustrating his vision of photography as a science-derived tool for psychological investigation. This continuing work examines the personal and cultural dynamics that condition our self-image, exploring how this self-image will influence our individual and collective identities.
Following these portrait works and struck by the growing popularity of contemporary art, Struth developed his best-known series, the Museum Photographs (1989–2005). Here he captures individuals and crowds looking at iconic works of Western art in the great museums of the world. These images characterize museum visits as complex social rituals of seeing and being seen and address the issue of the way the art survives in public collections.
Over the last 15 years, Struth has steadily expanded his repertoire with other themes. These include New Pictures from Paradise (1998–2007), gathering places for religious believers or tourists (from 1998), and, beginning in 2007, images from the fields of science and research, industrial production and technology, which show how our faith in progress can be visually represented as a process of group dynamics.
RIBA Honorary Fellowships information from Royal Institute of British Architects (RIBA)
RIBA Honorary Fellowships : main page on these architectural honours
Location: UK
RIBA Awards
RIBA Awards



photo © Andrew Lee
Website: Architectural Walking Tours
RIBA International Awards



image : John Gollings
International Architecture Awards
Architectural Design Awards
Architecture Awards – selection below:
Comments / photos for the RIBA 2014 Honorary Fellowships Citations page welcome