Mies van der Rohe 2017 Award, Shortlist, Buildings News, Architects, Designs, Photos
Mies van der Rohe 2017 Award Shortlist News
European Union Prize for Contemporary Architecture – Buildings + Architects
12 May 2017
Mies van der Rohe Awards: European Union Prize Winner in 2017
7 Feb 2017
Mies van der Rohe Award Shortlist 2017
Mies van der Rohe 2017 Awards – 40 Shortlisted Works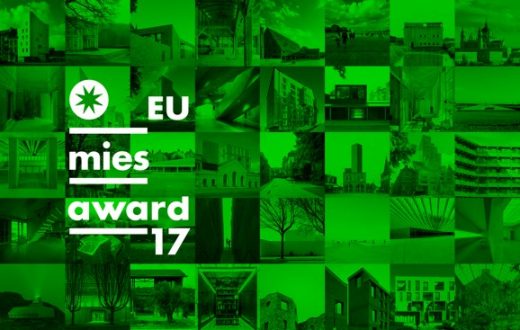 We are pleased to share with you the list of 40 shortlisted works competing for the 2017 European Union Prize for Contemporary Architecture – Mies van der Rohe Award announced by the European Commission and the Fundació Mies van der Rohe.
The British architect Stephen Bates, Principal at Sergison Bates architects, is the Chairman of the Jury composed by Stephen Bates (President), Gonçalo Byrne, Peter Cachola Schmal, Pelin Derviş, Dominique Jakob, Juulia Kauste and Małgorzata Omilanowska.
The Jury has chosen 40 works which highlight the opportunities and the trends of today's European territory: cities, housing, heritage and memory.
From the list of 40 works, 4 of the projects are built in United Kingdom and one project is built in Portugal by a British architectural practice:
– London, UK Holmes Road Studios by Peter Barber Architects
– London, UK Shepherdess Walk Housing by Jaccaud Zein Architects
– London, UK Ely Court by Alison Brooks Architects
– Liverpool, UK Granby Four Streets by ASSEMBLE
– Lisbon, PT Museum of Art, Architecture and Technology by AL_A

The 40 shortlisted works
arranged by country:
Brussel·les, BE – NAVEZ – 5 social units as Northern entrance of Brusselsf
Spa, BE – Polyvalent Infrastructure
Lübeck, DE – European Hansemuseum
Fergitz, DE – Barn
Ribe, DK – Kannikegården
Copenhaguen, DK – Kvæsthus Pier
Skjern, DK – Skjern River Pump Stations
Madrid, ES – Museum of the Royal Collections
Granollers, ES – House 1014
Barcelona, ES – Collective housing for elderly people and civic and health centre
Espoo, FI – Suvela Chapel
Espoo, FI – Opinmäki School
Jyväskylä, FI – Puukuokka Housing Block (house 1)
Poigny-la-Forêt, FR – Community Workshop
Mulhouse, Haut-Rhin, FR – 59 Dwellings, Neppert Gardens Social Housing
Ribesaltes, FR – THE RIVESALTES MEMORIAL MUSEUM
Niça, FR – Ariane futsal sports complex
Dublin, IE – Model School Inchicore
Dublin, IE – Merrion Cricket Pavilion
Milán, IT – Fondazione Prada
Fondazione Prada


photo © Bas Princen
Vilnius, LT – Rasu Houses
Nieuw-Bergen, NL – Landmark Nieuw-Bergen
Rotterdam, NL – Timmerhuis
Amsterdam, NL – deFlat Kleiburg
Timmerhuis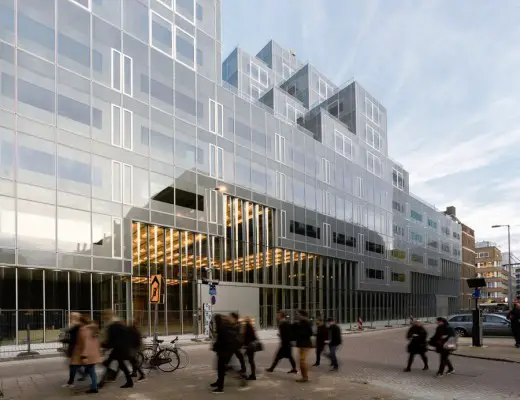 image courtesy of OMA; photography by Sebastian van Damme
Herøy, NO – Weekend House at Sildegarnsholmen
Trondheim, NO – Moholt 50I50 – Timber Towers
Averøy, NO – Eldhusøya Tourist Route Project
Varsòvia, PL – Katyn Museum
Oeiras, PT – House in Oeiras
Lisboa, PT – Museum of Art, Architecture and Technology
Lisboa, PT – EDP Headquarters
Chaves, PT – Nadir Afonso Museum for Contemporary Art
Museum of Art, Architecture and Technology, Lisbon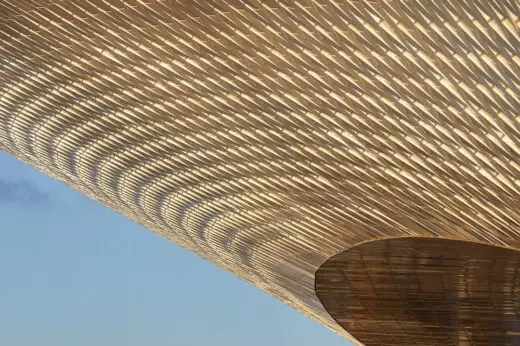 image courtesy of architects
Muntanyes Fagaras, RO – Take a(l)titude
Estocolm, SE – Östermalm's Temporary Market Hall
Östermalm's Temporary Market Hall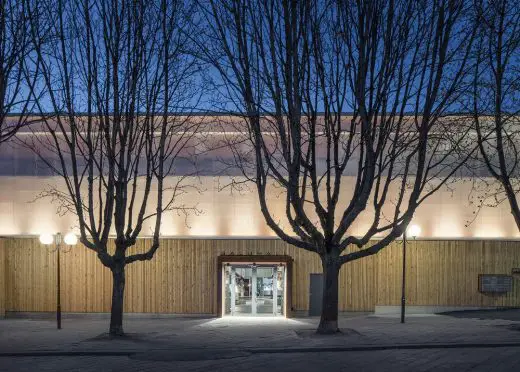 photo © Felix Gerlach
Bademli, Dikili, Izmir, TR – Angelos Organic Olive Oil Mill
Istanbul, TR – Beyazıt State Library Renovation
Londres, UK – Holmes Road Studios
Londres, UK – Shepherdess Walk Housing
Londres, UK – Ely Court
Liverpool, UK – Granby Four Streets
Holmes Road Studios: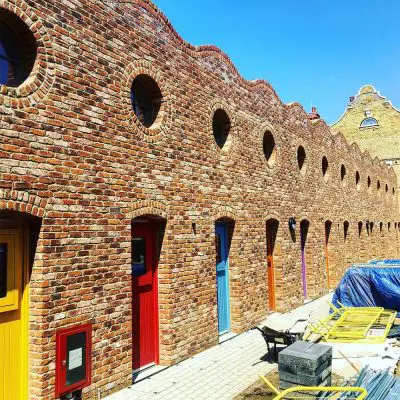 photograph courtesy of architects
Mies van der Rohe 2017 Award Jury
Stephen Bates, chairman of the Jury, architect, born in 1964, UK – Principal, Sergison Bates architects, London – Zurich
Gonçalo Byrne, architect, born in 1941, Portugal – Principal, Gonçalo Byrne Arquitectos
Peter Cachola Schmal, architect, born in 1960, Germany – Director of the Deutsches Architekturmuseum (DAM) in Frankfurt am Main
Pelin Derviş, architect, born in 1967, Turkey – Independent researcher, editor and curator
Dominique Jakob, architect, born in 1966, France – Principal, Jakob+MacFarlane
Juulia Kauste, sociologist, born in 1967, Finland – Director of the Suomen arkkitehtuurimuseo in Helsinki
Małgorzata Omilanowska, art historian and politician, born in 1960, Poland – Professor at the University of Gdansk
Find more about the Jury members here: http://miesarch.com/edition/2017/jury

The Jury members will select the 5 finalist works which they will visit in April. The process will culminate with the Award Ceremony on May 26 at the Mies van der Rohe Pavilion.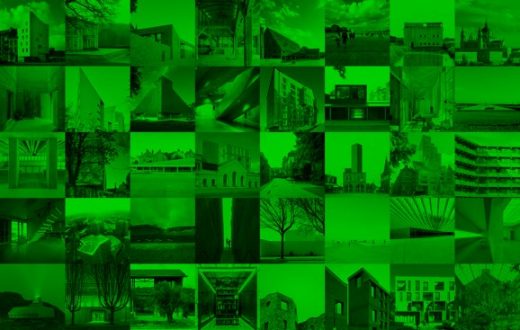 Mies van der Rohe 2017 Award Shortlist information / images received 070217
Mies van der Rohe Award 2017 Nominations
On 29 Dec 2016 e-architect posted the 356 projects Nominations:
Mies van der Rohe 2017 Award Nominations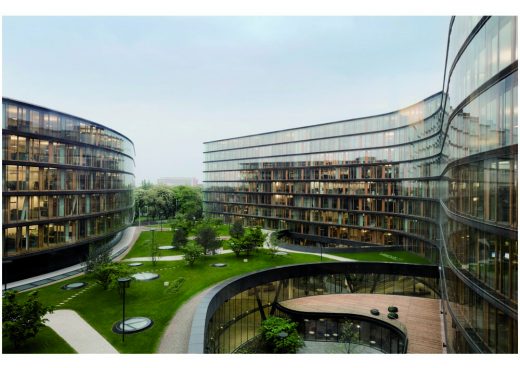 image © Werner Huthmacher
Location: Barcelona, Spain, southwestern Europe
Mies van der Rohe Awards
Mies van der Rohe Award Archive on e-architect
General
Mies van der Rohe Awards: European Union Prize
2015
Mies van der Rohe 2015 Award Nominations
Mies van der Rohe Awards 2015 Finalists
2013
Mies van der Rohe Awards 2013



photograph : Nic Lehoux
2011
2009
Mies van der Rohe Awards Shortlist 2009
Mies van der Rohe Awards 2009 Nominations
Mies van der Rohe Awards Lectures
Architecture Awards
Mies van der Rohe Awards Winner 2011 : Neues Museum
Comments / photos for the Mies van der Rohe 2017 Award Shortlist page welcome
Website: www.miesbcn.com