Emporis Skyscraper Award Winner 2015, Best Tall Buildings, Projects News, Designs
Emporis Skyscraper Award 2015 Winners
Best Tall Building in the World – Tower Architecture Prize Winners
Nov 30, 2017
1 Nov 2016
Emporis Skyscraper Award 2015 Winner
Emporis Skyscraper Award 2015 : The year's best new skyscraper is located in China
The year's best new skyscraper is located in China for the second year in a row
Hamburg, November 01, 2016 – The winner of the world's most renowned architecture prize for
skyscrapers, the Emporis Skyscraper Award, goes to the Shanghai Tower this year.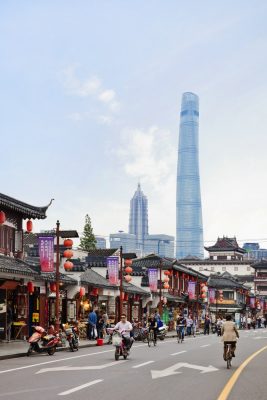 photo © Connie Zhou
Currently the second tallest building in the world and the tallest skyscraper in Asia was chosen by an
international panel of experts from over 300 skyscrapers of at least 100 meters height and which
were completed in 2015. China manages to take the crown for the second time in a row since the
Emporis Skyscraper Award was established in the year 2000. The award, given by Emporis
(www.emporis.com), the international provider of building data, is now into it's 16th year.

The 632-meter tall Shanghai Tower was chosen as the winner for several reasons, including it's
elegant spiraling cylindrical shape which was designed by Gensler Architects. It also impressed
the jury with its extraordinary energy efficiency. The double skin facade of the tower is
reminiscent of a thermos bottle. Moreover Shanghai Tower is the home of the world's fastest
elevator, which can transport people at a speed of 20 meters per second to the viewing platform
of 561 meters height.
Emporis Skyscraper Award 2015
# Building Name City, Country Height Stories Architect(s)
1. Shanghai Tower Shanghai, China 632 m 128 Gensler Architects, 2Define Architecture
2. Evolution Tower Moscow, Russia 246 m 55 Kettle Collective, RMJM Edinburgh
3. Il Dritto Milan, Italy 210 m 50 Arata Isozaki & Andrea Maffei Associati
4. Jiangxi Nanchang Greenland Central Plaza Nanchang, China 303 m 59 Skidmore, Owings & Merrill LLP
5. Abode318 Melbourne, Australia 187 m 57 Elenberg Fraser, Disegno Australia
6. Icon Bay Miami, USA 139 m 42 Arquitectonica
7. D1 Tower Dubai, United Arab Emirates 284 m 80 Holfords & Associates
8. 432 Park Avenue New York City, USA 426 m 96 Rafael Viñoly Architects, Schuman, Lichtenstein, Claman & Efron
9. Citygate Tower Vienna, Austria 110 m 35 Querkraft Architekten
10. ÏCE II Toronto, Canada 234 m 67 architectsAlliance
Source: www.emporis.com
Second place in the voting went to the Evolution Tower in Moscow. It was recognized by the
award jury for its expressive design. Each floor twists three degrees in relation to one below it.
The tower has a rotation from the base to the top by more than 150 degrees. The extravagant
design is inspired by St. Basil's Cathedral in Moscow and Tatlin's tower.
The third-placed building is Il Dritto (The Straight One) in Milan. It is a collaboration between
Japanese architect Arata Isozaki and Italian architect Andrea Maffei. The 210-meter tall tower is
also known as Allianz Tower: the german financial services giant Allianz is the owner. The design
of the facade is inspired by Constantin Brâncuși´s sculpture "Endless Column". Besides it`s
shape the expert jury praises the facade which is slightly curved to outside. One member of the
jury said: "Il Dritto is a major new architectural landmark for Milan and modern Europe."
Shanghai Tower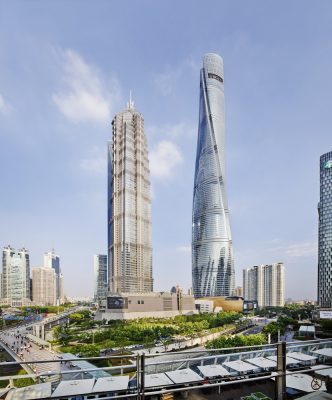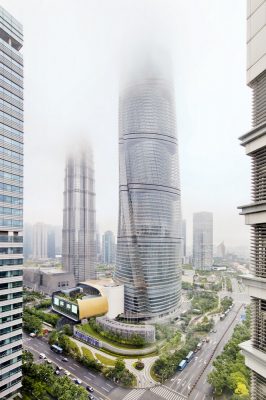 photo © Connie Zhou
Evolution Tower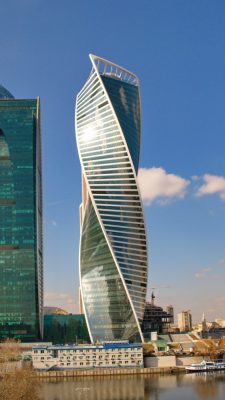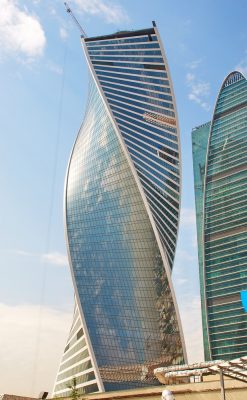 photo © Igor Butyrskii
Il Dritto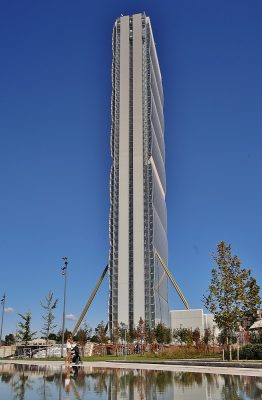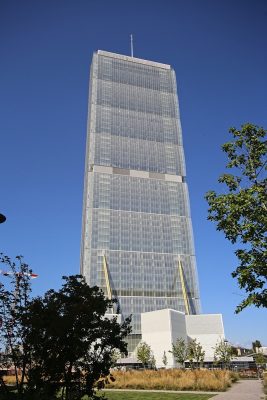 photo © Boris Kauffer
Jiangxi Nanchang Greenland Central Plaza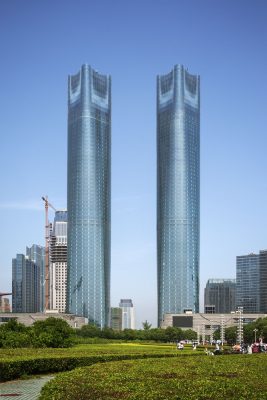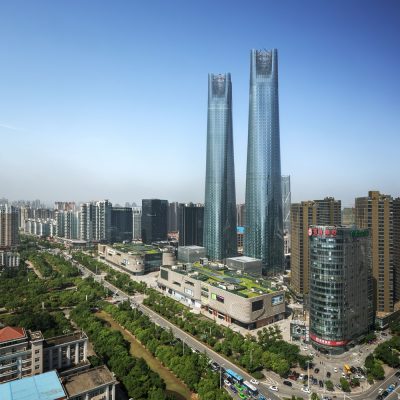 photo © Lv Hengzhong
Abode318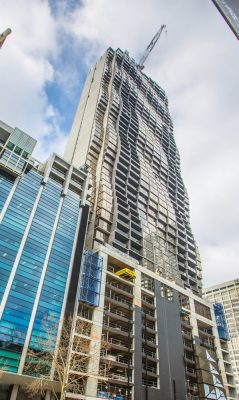 photo © Wang-Hsin Pei CC BY 2.0
Icon Bay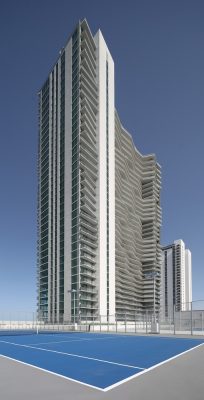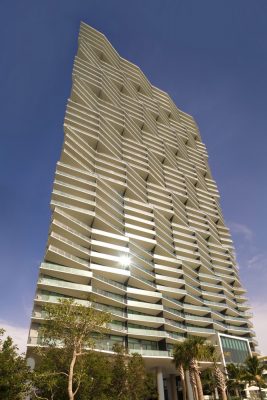 photo © Robin Hill
432 Park Avenue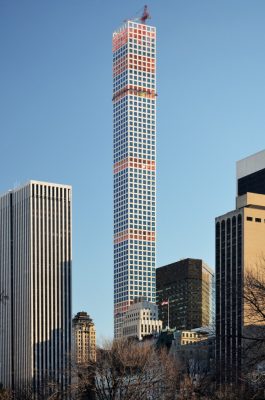 photo © oyce Douglas
Citygate Tower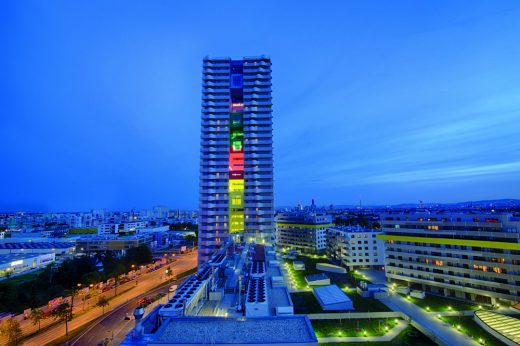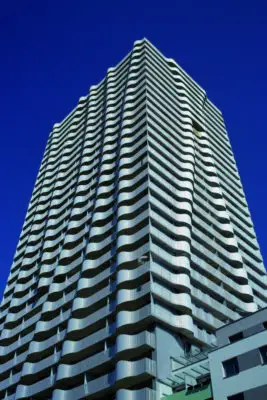 photo © Lukas Dostal
ÏCE II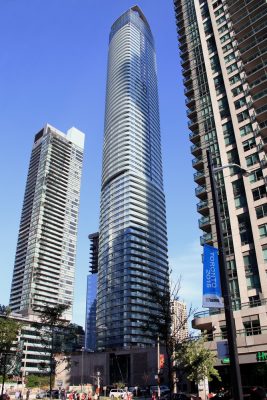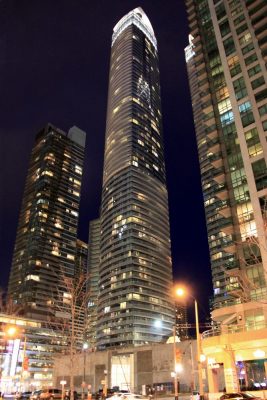 photo © Edvard Mahnic
In 2015, the Top 10 shows a great deal of regional diversity, they were occupied by nominees
from all over the world: from Melbourne, to Moscow, to New York. The USA, known as the cradle
of high-rise architecture, does not feature in the Top 5 this year.
About Emporis
Emporis is a leading database of information about building and construction projects, based in
Germany. For over a decade Emporis has helped companies, organizations and individuals stay
informed about the building industry. The Emporis Skyscraper Award is the world's most
renowned prize for high-rise architecture.
About the Emporis Skyscraper Award
The Emporis Skyscraper Award has been given since 2000. The jury is formed of architecture
experts from all over the world, who judge nominated buildings according to aesthetic and
functional design criteria. Previous winners include Wangjing SOHO (2014) in Beijing, The Shard
in London (2013) and Absolute World Towers in Mississauga (2012).
Emporis Skyscraper Awards images / information from Emporis
Location: Shanghai Tower, Shanghai, China
Emporis Skyscraper Award Past Winners
Emporis Skyscraper Award 2014
Wangjing SOHO in Beijing, China
Design: Zaha Hadid Architects



image from www.emporis.com
Emporis Skyscraper Award 2014
Emporis Skyscraper Award 2012
Absolute World Towers, Canada
Design: MAD and Burka Architects



photo © Edvard Mahnic
Emporis Skyscraper Award winners
First place of the Emporis Skyscraper Award 2012:
Absolute World Towers, near Toronto, Ontario, Canada
1. Absolute World Towers, Canada



photo © Edvard Mahnic
2. Al Bahr Towers, UAE



photo from architects
3. Burj Qatar, Qatar



photo © CSCEC
4. The Bow, Calgary, Canada



photo : Nigel Young_Foster + Partners
5. House on Mosfilmovskaya 1 – MosFilm Tower, Moscow, Russia



photo © Igor Butyrskii
6. Pearl River Tower, China



photo SOM © Si-ye Zhang
7. Varyap Meridian Project, Istanbul, Turkey



photo © Nikola Sarnavka
8. UniCredit Tower, Milan, Italy – 231m high, the tallest building in Italy



photo © Giuseppe Labanca
9. Dumankaya IKON, Istanbul, Turkey



photo © TAGO Architects
~. Renaissance Barcelona Fira Hotel, Spain



photo © Ateliers Jean Nouvel
~. Zhengzhou Greenland Plaza, China



photo SOM © Si-ye Zhang
About Emporis
Emporis Skyscraper Award winners : 2012



photo : Gehry Photos
Sky City Tower – World's Tallest Building
The world's tallest building, in China



World Tallest Building image © BROAD Group
World Tallest Building
World Skyscrapers



World Tallest Buildings image © CTBUH
Architecture Walking Tours Europe
Skyscrapers
Burj Khalifa skyscraper, Dubai



photograph : Imre Solt
Best Tall Building Awards : CTBUH
Emporis Skyscraper Award Winner – 2011 : Eight Spruce Street – article
New York by Gehry, New York City, USA
Architect: Gehry Partners, LLP



photo : Gehry Photos
Al Hamra Tower, Kuwait
Architect: Skidmore, Owings And Merrill LLP



image © Skidmore, Owings & Merrill LLP
Great American Tower, Cincinnati, USA
Architect: HOK



photograph from architects
Reflections at Keppel Bay Singapore, Singapore
Architect: Studio Daniel Libeskind



image © Courtesy of Keppel Bay Pte Ltd
Comments / photos for the Emporis Skyscraper Award 2015 page welcome