CTBUH 2018 Award Winners, Tall Building Construction Trends, News, New Skyscraper Designs, Images
CTBUH 2018 Award Winners News
Tall Building Construction Trends – Tower Architecture: International Skyscraper News
Jun 6, 2018
CTBUH 2018 Award Winners – Best Tall Buildings
CTBUH Awards Winners Announced: Oasia Hotel Downtown Named Best Tall Building Worldwide
This category recognizes projects that have made extraordinary contributions to the advancement of tall buildings and the urban environment, and that achieve sustainability at the highest and broadest level. The winning projects exhibit processes and innovations that have added to the profession of design and enhance the cities and the lives of their inhabitants.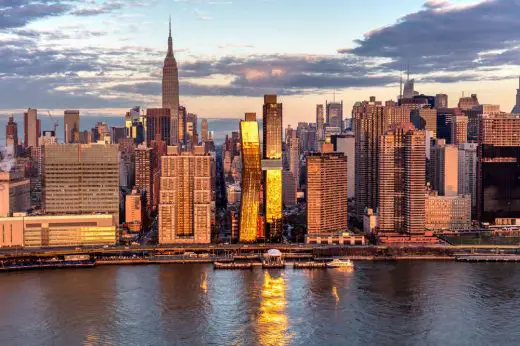 American Copper Buildings – photo © Max Touhey
Best Tall Building Americas Winner
American Copper Building represents a venturesome and highly visible architectural statement along the edge of New York City's East River. Clad in copper on the north and south façades, the color and refractive qualities of the towers will patina gracefully over time, shifting from a russet brown to a signature blue-green throughout the years, much like the iconic Statue of Liberty. Perhaps the most conspicuous structural element is the three-story skybridge connecting the East and West towers, which creates intriguing corner spaces and provides residents with a unique way to appreciate their home.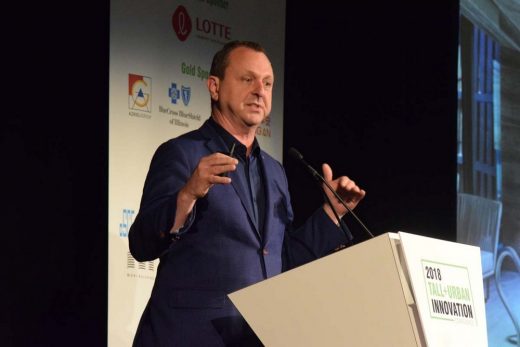 Gregg Pasquarelli
"One of our favorite features on this project was the skybridge. When we were designing the pool, we wanted the occupants to be able to swim from one skyscraper to the other, 300 feet in the air. Taken together with the building's focus on sustainability and resiliency, American Copper Building creates this new idea of what urban living on the waterfront can be." – Gregg Pasquarelli, Principal, SHoP Architects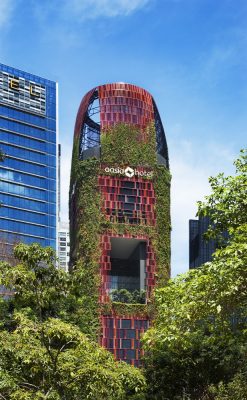 Oasia Downtown Hotel – photo © Patarick Bingham-Hall
Best Tall Building Asia & Australasia Winner
Oasia Hotel Downtown was also named Best Tall Building Worldwide. See above for more information.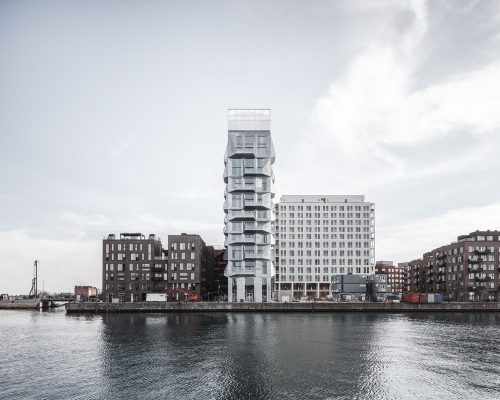 The Silo – photo © Rasmus Hjortshoj – COAST
Best Tall Building Europe Winner
The Silo has been transformed from a grain container in the formerly industrial Nordhavn area of Copenhagen into a contemporary residential high-rise. The interior has been preserved as raw and untouched as possible, while a façade made of galvanized steel has been installed on the exterior of the former silo to create a climate shield. The Silo embodies the importance of restoring original structures in cities, as a matter of environmental sustainability, as well as an ethical and visionary approach to cultural heritage.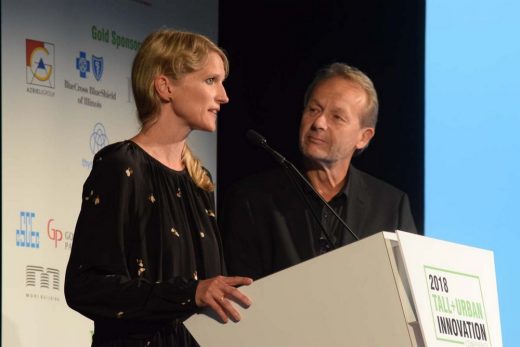 Caroline Nagel and Klaus Kastbjerg
"For architects, one of the hardest jobs of working on an adaptive reuse project like this is that you can fall in love with the original structure – which in this case was the old silo, this monolithic, slim and aesthetically pleasing building. In this instance, it's a question of how you can transform the original structure into a livable building that still contains the old soul of the silo." – Caroline Nagel, Project Director, COBE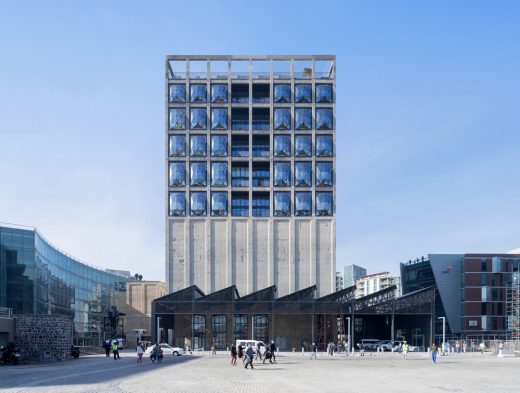 Oasia Downtown Hotel – photo © Patarick Bingham-Hall
Best Tall Building Middle East & Africa Winner
Zeitz MOCAA represents the adaptive reuse of a massive grain storage and silo complex on the downtown waterfront of Cape Town, South Africa. The top portion of the taller building was transformed into a luxury hotel, while the bottom portion of the elevator building and the storage annex would become Africa's first international museum dedicated to contemporary African art. From the outside, the greatest visible change to the original structure is the addition of glass windows inserted into the geometry, which by night transform the building into a glowing beacon on Table Bay.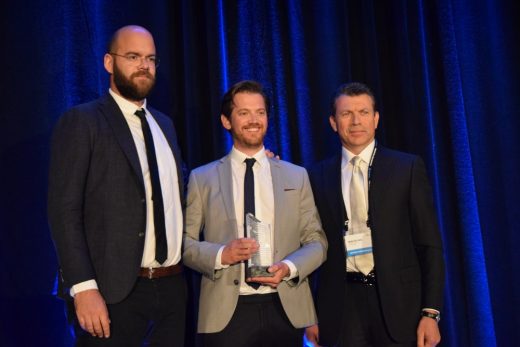 Mark Noble, Mat Cash, and Dario de Luca
"There were very loud calls for the original structure's demolition, and there's no surprise as to why – it's valuable real estate, and it's much less risky to build something new. But my response to that was, why would you do that? It was the mix of old and new that drew us to the project, and there's multiple layers of history there. We didn't want to wipe the slate clean, and what would you replace it with that has this much power?" – Mark Noble, Development Director, Victoria and Alfred Waterfront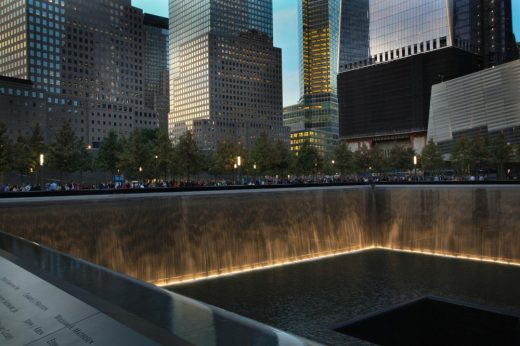 World Trade Center Master Plan
Urban Habitat Award
This award acknowledges that the impact of a tall building is far wider than just the building itself, and recognizes significant contributions to the urban realm in connection with tall buildings. Awardees demonstrate a positive contribution to the surrounding environment, add to the social sustainability of both their immediate and wider settings, and represent design influenced by context, both environmentally and culturally.
The World Trade Center Master Plan in New York City forms a welcoming and open space that is meant to foster the democratic values of public assembly that played a pivotal role in the city's collective response to the attacks of September 11, 2001. At the center of the space are two reflecting pools that deeply puncture the vast flat expanse of the plaza, forming empty vessels that delineate the location of the former towers. The design knits the site back into the urban fabric, allowing the site to be a living part of the city once again.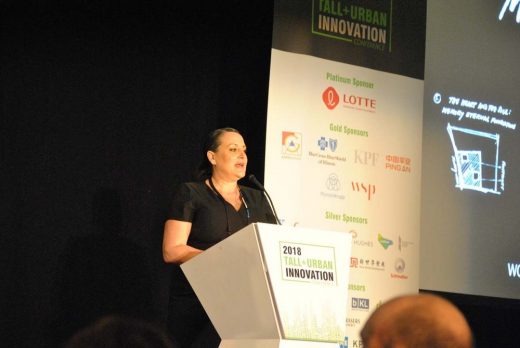 Carla Swickerath, Partner, Studio Daniel Libeskind
"You can break some buildings, but you can't break our spirit. In essence, this was the inspiration for the World Trade Center Master Plan. The most important aspect of the memorial is that it's open to all as a completely public space. Although the intention of the September 11 attacks was to frighten us, we didn't want security on the site; we wanted it to be open and free." – Carla Swickerath, Partner, Studio Daniel Libeskind.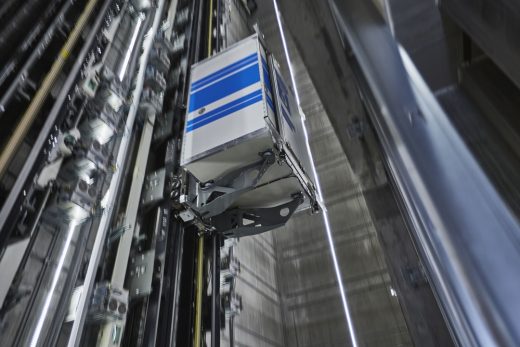 MULTI – photo © thyssenkrupp
Innovation Award
This award recognizes a specific area of recent innovation in a tall building project that has been realized in a design, implemented during construction/operation, or thoroughly tested and documented for its suitability in a high-rise. The areas of innovation can embrace any discipline, including but not limited to technical breakthroughs, construction methods, design approaches, urban planning, building systems, façades, and interior environment.
MULTI, the world's first rope-less, multi-directional elevator, harnesses the power of linear motor technology to move multiple cars in a single shaft, vertically and horizontally. The potential that can be realized from this innovation is extensive. MULTI requires fewer and smaller elevator shafts, and can thus increase a building's lettable space by up to 25 percent. Perhaps most exciting, the introduction of a multi-directional elevator opens up infinite combinations of vertical and horizontal building design opportunities.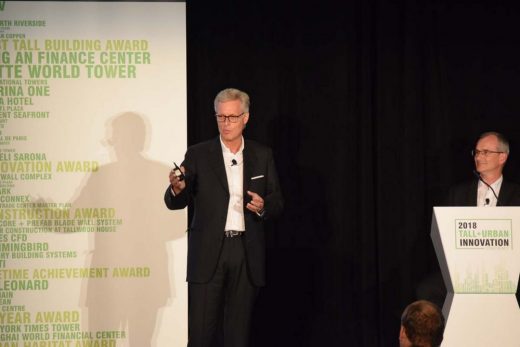 Michael Cesarz, CEO MULTI, thyssenkrupp; and Markus Jetter, Head of Product Development, thyssenkrupp
"Given the rapid advance of technology, who knows what buildings will look like in 10 years? Cities are changing, and we need to be flexible in order to adapt. MULTI is like a merger between a train and an
elevator using linear motor technology. In terms of frequency and routes, we can create the equivalent of highways and city roads in the shaft of an elevator." – Michael Cesarz, CEO MULTI, thyssenkrupp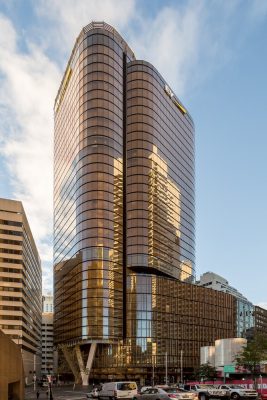 The EY Centre – photo © FJMT
Construction Award
This award recognizes construction excellence in a tall building project, made evident by superior quality in construction, significant technical innovations, the proficient execution of a complicated or exacting design, a triumph over difficult conditions, or the documentation of superlative speed and efficiency.
EY Centre employs a world-first timber-and-glass closed-cavity façade (CCF) system, made possible by innovation in digital technologies, that helps the building achieve impressive sustainability standards while creating an approachable office space for tenants. Attention to detail was critical in the project's delivery. A team used a 3D modeling platform to create an exact replica of the triangular timber soffit and awning, which could be meshed with as-built survey information to allow for prefabrication and high quality pre-assembly directly from the 3D models.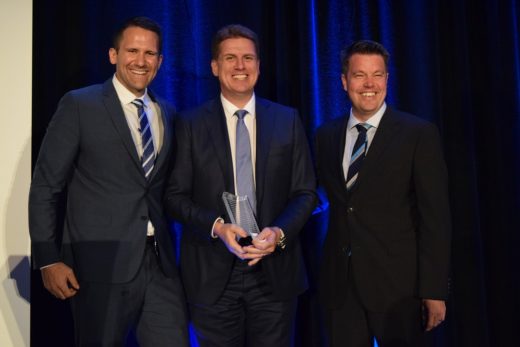 Tom Waters, Jason Viesseux, Adam Sutherland
"The façade is characterized by the revolutionary use of timber. Prior to the EY center, a closed-cavity façade had never been used a high-rise before. We wanted to reimagine the commercial high-rise as an art form. The best thing about the project is its sense of place; the vision was to use natural materials, in this case timber and stone, to make it more inviting." – Jason Vieusseux, General Manager, Design Management & Construction, Mirvac Construction
10 Year Award
The 10 Year Award recognizes proven value and performance over a period of time. This award gives an opportunity to reflect back on buildings that have been completed and operational for a decade, and acknowledge those projects that have performed successfully long after the ribbon-cutting ceremonies have passed.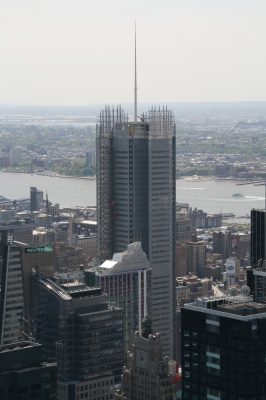 New York Times Tower – photo © Antony Wood
2007 Winner
New York Times Tower stands out in the city's busy skyline, with its distinctive grille of white ceramic brises-rods wrapping around the structure. These elements help the building achieve a high level of transparency while reducing the heat load to a point where the building is energy-efficient and yet has the great luxury of floor-to-ceiling, water-white glass. The façade includes a first-of-its-kind shading system that automatically adjusts to block glare, and the lights dynamically adjust to dim or turn off if the natural light is sufficiently bright.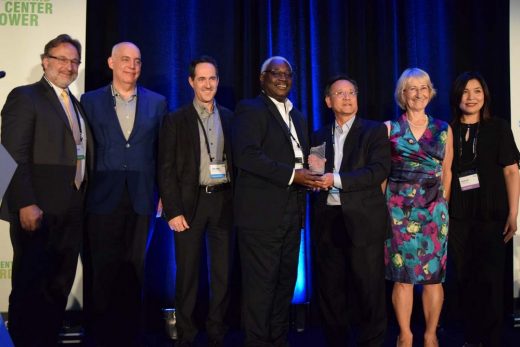 New York Times Tower Winners
"We wanted a building that would change our culture and how we were viewed by the community. At the time we had employees scattered within several buildings, but we wanted to bring management closer to our employees. As a global media organization, openness and transparency were our guiding principles." – Terry Hayes, Senior Vice President, New York Times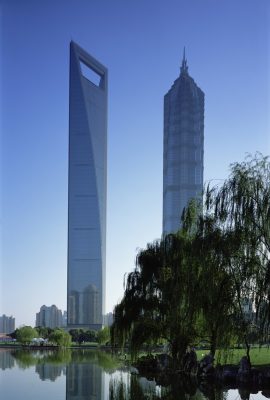 SWFC – photo © Shinkenchiku
2008 Winner
Shanghai World Financial Center is a symbol of commerce and culture that speaks to the city's emergence as a global financial capital. The tower's boldest feature, a 43-meter-wide portal carved through its upper levels, is dramatic, but also services a distinct structural function – it relieves the enormous wind pressures on the building. This design boldness has allowed the SWFC to endure as an indelible feature of the city's skyline 10 years later.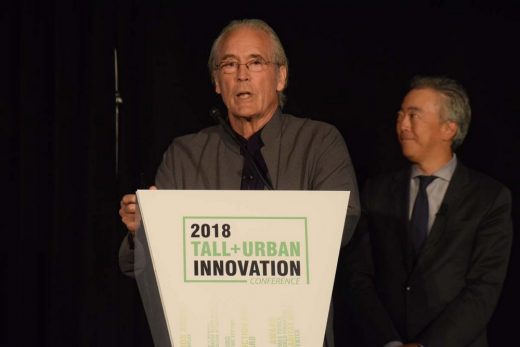 Wiliam Pedersen, Kohn Pedersen Fox; and Hiroo Mori, Mori Building
"When we began designing this building back in 1994, it was going to be the tallest building in the world. We focused very much on the symbolic quality of the building both within its community but also as a world symbol of the emerging global economy of China. With Shanghai's skyline growing, the purpose and role of this building was to create an urban stabilizer on the skyline, a focal point that welcomes the activity of the city." – William Pedersen, Principal, Kohn Pedersen Fox
CTBUH 2018 Award Winners images / information from CTBUH
Location: Chicago, IL, USA
CTBUH Awards 2016
2016 CTBUH Awards
Best Tall Building Worldwide 2016
– Shanghai Tower
Shanghai, China
Best Tall Building Americas 2016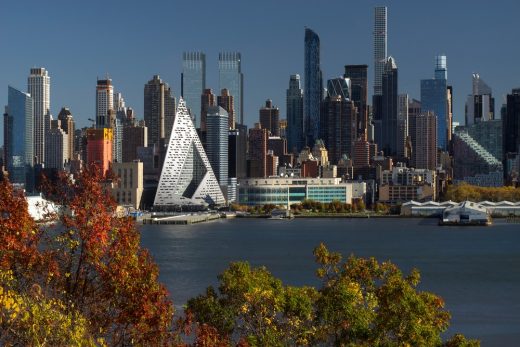 photo © Nic Lehoux
– VIA 57 West
New York City, USA
Best Tall Building Asia & Australasia 2016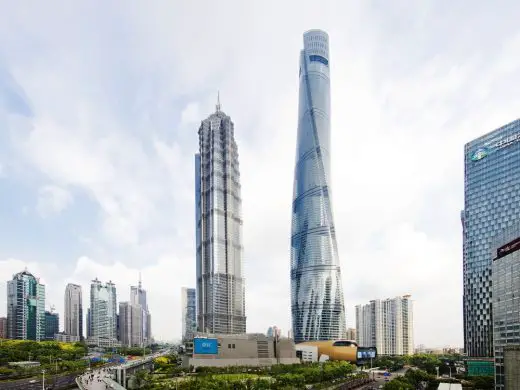 photo © Connie Zhou
– Shanghai Tower
Shanghai, China
Best Tall Building Europe 2016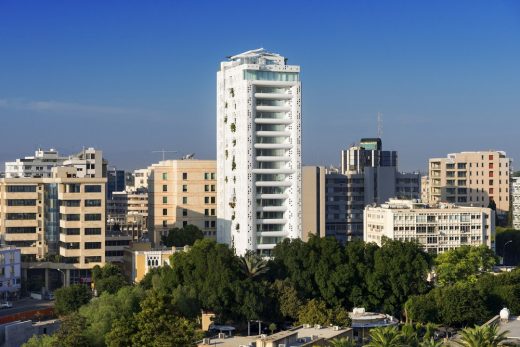 photo © Yiorgis Yerolymbos, courtesy of Nice Day Developments
– The White Walls
Nicosia, Cyprus
Best Tall Building Middle East & Africa 2016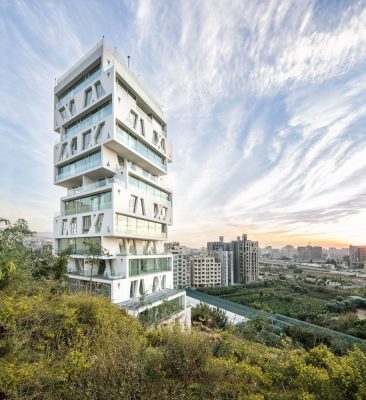 photo © Matthijs van Roon
– The Cube Tower
Beirut, Lebanon
Urban Habitat Award 2016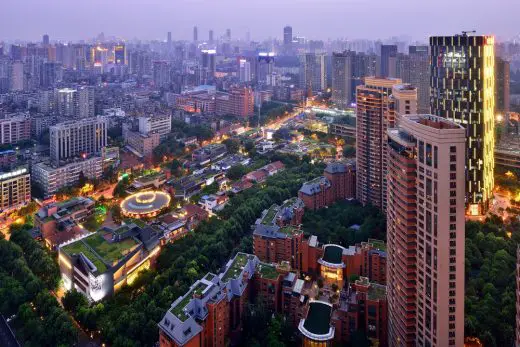 photo © Shui On Land
– Wuhan Tiandi Site A
Wuhan, China
10 Year Award 2016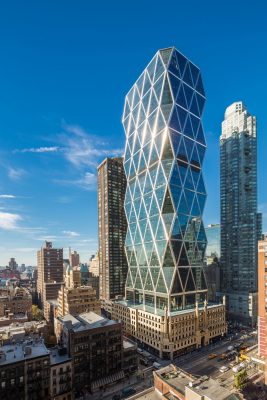 photo © Hearst Corporation
– Hearst Tower Building
New York City, USA
Innovation Award 2016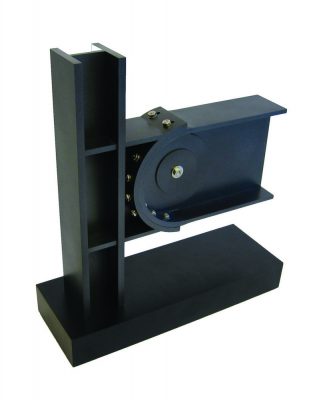 image © SOM
– Pin-Fuse Seismic System
Performance Award 2016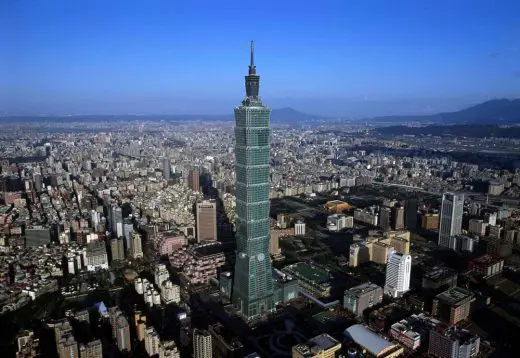 photo © Taipei Financial
– Taipei 101 Tower Building
Taipei, Republic of China (Taiwan)
2016 CTBUH Awards Winner – Shanghai Tower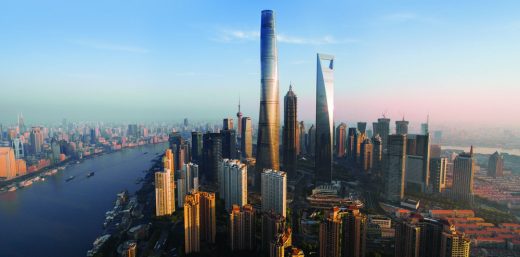 photo © Gensler
The full list of 2016 CTBUH Awards Winners and Finalists can be found here:
Aqua Tower Chicago – designed by Studio Gang Architects: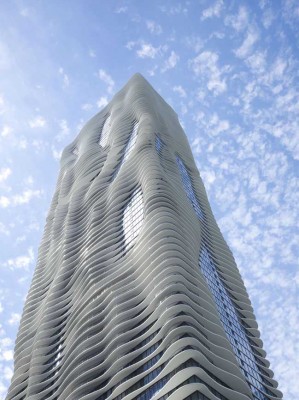 image from architects
The Gherkin Wins CTBUH 10 Year Award
30 St. Mary Axe, London, United Kingdom, popularly known as "The Gherkin."


photograph © Adrian Welch
The Gherkin


photo © webbaviation
CTBUH Events : Congress 2012 in Shanghai, China
CTBUH Awards : Dinner / Ceremony / Symposium
Skyscraper Buildings
Chicago Skyscrapers



photo courtesy of Jan Klerks
CTBUH Best Tall Building Overall – 2010 : Burj Khalifa
World Skyscrapers – Selection
Burj Dubai, Dubai



image from Edelman
Guangzhou TV Tower, China



Information Based Architecture
CTBUH Best Tall Building Middle East & Africa – The Cube, Beirut, Lebanon
Empire State Building, New York



photo © Andrew McRae
Absolute Tower, Canada



image from architect
CTBUH Best Tall Building Overall 2010 : Burj Khalifa Dubai
Comments / photos for the CTBUH 2018 Award Winners page welcome