Architectural Drawing Competition, 2008 Contest News, Denmark
Architectural Drawing Competition – Architecture
spaceimage : Henning Larsen Foundation
4 Mar 2008
"Passages" – Competition for architectural drawing

Architectural Drawing Competition
The Henning Larsen Foundation arranges an international competition for architectural drawing. The possibilities of expressing yourself in drawing are greater than ever. Apart from the classical, basic tools such as paper, pencil, charcoal, pen and colour, we now have computers and programmes to design various things in two and three dimensions. We are now able to design amazing worlds, animate them and make them visible from multiple angles.
In this competition The Henning Larsen Foundation wishes to challenge the imagination of everyone who draws. We ask if it is possible to draw new conceptions of space today, or if we really are forever bound to re-circle the spaces that we already know.
The theme of the competition is 'The Passage'. Architecture is never static. We move through the space, passing from one experience to another. How is this passage possible? Can we depict this? How much can the drawing express when lacking the sound, air and smell of the actual space? How is it possible to depict the space if it is always experienced in different ways, depending on season, mood or time of the day? Can we really depict all this? Or just some of it?
The jury will focus on the interpretation of space and spatiality of the entries and their capacity of renewing the architectural drawing.
The Henning Larsen Foundation was established and privately funded by architect Henning Larsen in 2001 and has since then awarded prizes each year on the founder's birthday, 20 August. In 2007 the foundation arranged an international photo competition on 'The Soul of Architecture'.
Entries in the competition for architectural drawing should be submitted no later than 9 May 2008 to Henning Larsen Architects, Vesterbrogade 76, DK-1620 Copenhagen V, Denmark. The winners will be published on 20 August 2008 – with a first prize of €7,000, a second prize of €3,000 and a third prize of €2,000.
The members of the jury are architect, Professor Henning Larsen, painter and graphic designer Jes Fomsgaard, artist Thomas Locher, architect Merete Ahnfeldt-Mollerup and architect Lars Steffensen.
Architectural Drawing Competition information from Henning Larsen Architects 4 Mar 2008
Location: Copenhagen, Denmark
Henning Larsen Architects
Architecture Drawing Competition – Eye Line 2016 contest
Winners of the International Competition Architecture & Music Announced
from left: Jakob Draminsky Højmark (2nd Prize), Cristian Vogel (1st Prize) and Henrik José (3rd Prize):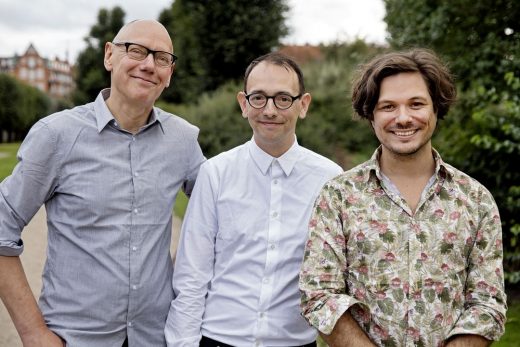 photo : Agnete Schlichtkrull
Architecture Drawing Competition
Henning Larsen Architects Denmark
Henning Larsen Foundation Architectural Drawing Awards



photo courtesy of architects office
Henning Larsen Foundation Awards
Architecture Awards
Press release from Henning Larsen Architects 04/03/08
Comments / photos for the Architectural Drawing Competition page welcome
Website: www.spaceimage.dk