4* Hotel Park's Velden am Wörthersee, Austria Lake Accommodation Building, Architect, Project Images
Hotel Park's Velden am Wörthersee
4-star Accommodation Building Development in Austria design by SHARE architects
17 Feb 2016
Design: SHARE architects
Location: Velden am Wörther See, Villach-Land District, Carinthia, Austria
English text, scroll down for German:
Hotel Park's Velden am Wörthersee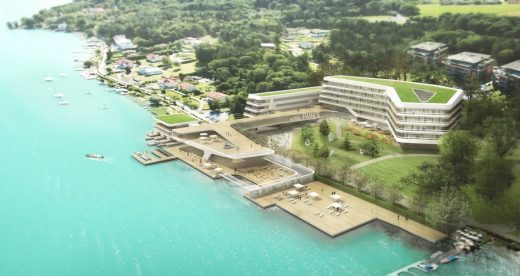 Hotel Park's Velden
General objectives
The Park 's Hotel is located on the south shore of Wörthersee´s Velden Bay and marks the end of large-scale hotel and apartment structure along the Seecorso. In this particularly important position of the townscape the design responds with a U-shape building volume.
The main building volume is connected with a skywalk to the floating building on the lake.
The apartments of the health center are situated at the eastern border of the site parallel to the skywalk while the lake´s side apartments directly positioned on the lake shore.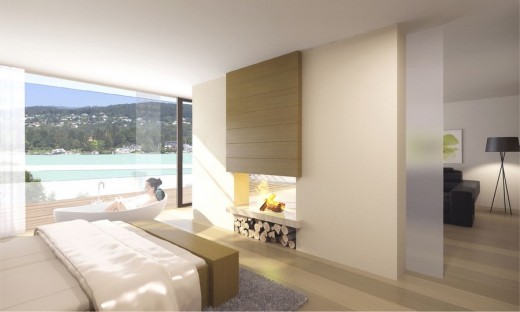 Design concept
The theme lake and water are transformed into central design elements. Fluidity as determining design language gives the new Park's Velden a distinctive and contemporary look.
Room configurations and flowing transitions are designed to connect the individual buildings with one another to create a lifestyle hotel with unique features.
Meandering facade bands, that goes from the bright glass-enclosed lobby to the apartments in front of the lake, creates an art space axis that accentuate the unique contemporary design concept.
The lake side´s apartments and the apartment buildings recall these forms and complete the new corporate identity of the new hotspots in Velden at the Wörthersee.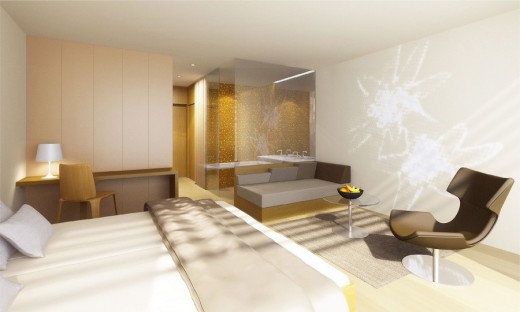 Function´s concept / Room´s programme
Coming from the town center a landscape staircases, along the sculpture park, leads us on the northwestern side to the level 0, where the main entrance of the new Hotel is positioned.
The spacious glazed lobby function as a distribution space and connects the hotel room with the restaurant, the conference zone and the skywalk to the spa and wellness area.
The hotel bar on level 1, with spectacular panoramic lake view is connected with an open and spacious staircase directly above the main lobby.
Between the lobby and the conference area, the hotel restaurant is situated with the possibility of using a partly covered outside terrace facing the sculpture park.
Underneath the cantilevering building volume, on level 0, is the conference area
The foldable walls guarantee maximum user flexibility with the option of an outside space onto a covered terrace.
The single-storey garage with 150 parking spaces and own delivery zone with direct access to the restaurant´s kitchen , is located on level -1, about 1 meter above the exiting street level , with direct access to the lobby, the sky walk, the apartments.
The main access and exit of the garage is located directly under the cantilevering apartment volume.
Additionally, 21 short time parking spaces are collocated: 6 in the drop-off area and 15 near the parking garage entrance.
The spa and wellness area on the floating platform has an external access from the public boulevard. Hotel guests are reaching the floating wellness and bathing area through the lobby and the sky link.

Hotel Park's Velden am Wörthersee – Building Information
Design: SHARE architects
Client: MRP- Consult GmbH
Type: Hotel
Total Area: 17.624 m²
Competition: 2nd Prize, 2016
Team: Hannes Bürger, Silvia Forlati, Thomas Lettner, Beatrice Broso, Stefania Catania, Zuzka Gallikova
Project Partner: Krainer Architect
Visualizations: SBDA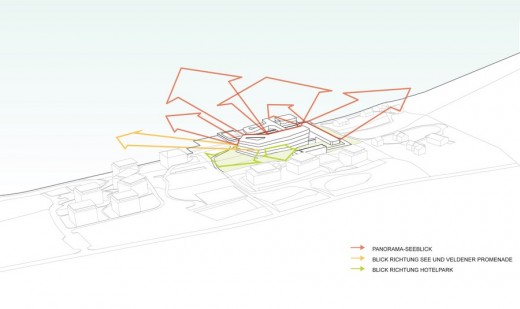 German text:
Hotel Park's Wörthersee Velden
Allgemeine zeile
Das Park's Hotel befindet sich am Südufer der Veldener Bucht des Wörthersees und bildet den Abschluss der großvolumigen Hotel- und Apartmentstruktur entlang des Seecorsos. Auf diese besonders wichtige Lage im Ortsbild von Velden reagiert der Entwurf durch eine den Bauplatz umschließende Formgebung der Baukörper. Das Haupthaus ist abgewinkelt und verschmilzt über die Verbindungsbrücke mit der Seeanlage zu einer gestalterischen Einheit.
Die Apartments (Gesundheitszentrum) wurden an der östlichen Grundgrenze als ein parallel zur Verbindungsbrücke verlaufender, leicht abgerückter, Baukörper konzipiert. In Verlängerung des Apartmentgebäudes wurden, auf Höhe der Seeanlage, ebenfalls leicht abgerückt, die Seewohnungen geplant. Sowohl das Apartmentgebäude als auch die Seewohnungen sind durch brückenförmige Volumen formal mit einander verbunden. Durch diese Anordnung ist es gestalterisch möglich das Apartmentgebäude z.B. erst in einer zweiten Bauphase zu errichten, bzw. in ein Gesundheitszentrum umzuwandeln.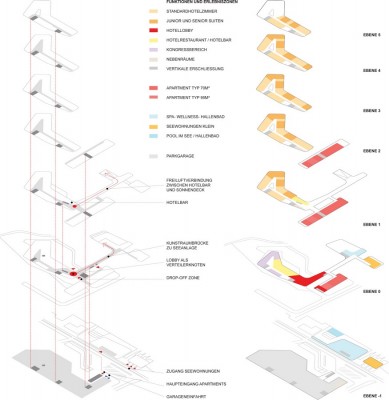 Designkonzept
Die Themen See und Wasser werden in zentrale Designelemente verwandelt. Fluidität als bestimmende Formensprache verleiht dem neuen Park's Velden ein unverwechselbares, zeitgenössisches Design. Fließende Übergänge und Raumkonfigurationen verbinden die einzelnen Baukörper miteinander und schaffen so ein, einem Kunst- Kultur und Lifestyle Hotel gerechtes, Alleinstellungsmerkmal. Mäanderförmige Fassadenbänder wandern von der hellen, verglasten Lobby über die als Kunstraum ausformulierte Verbindungsachse zur abgerampten Seeanlage und akzentuieren zusätzlich das unique zeitgenössische Designkonzept.
Die Seewohnungen und das Apartmentgebäude nehmen diese Formensprache auf und vervollständigen das neue Corporate Identity dieses neuen Hotspots in Velden am Wörthersee.
Funktionskonzept / Raumprogramm
Zu Fuß, vom Seecorso kommend, betritt man nordwestseitig, über eine weitläufige Treppe entlang des Skulpturen-Parks, auf Ebene 0, das neue Hotel Park's Velden.
Die großzügige, hell gestaltete, verglaste Lobby fungiert als Verteilerknoten und verbindet die Hotelzimmer mit dem Restaurant, dem Konferenzbereich und über die Kunstraumbrücke auch mit dem Spa-, Wellness- und Badebereich der Seeanlage.
Die Hotelbar befindet sich auf Ebene 1, mit spektakulärem Seeblick, direkt über der Lobby und ist über eine breite, offene Treppe erreichbar.
Das Hotelrestaurant mit angrenzender Hotelküche befindet sich zwischen Hotellobby und Konferenzbereich und wird durch eine mit dem Skulpturenpark verschmolzenen, teilüberdachten Terrasse erweitert.
Im Nordwesten der Ebene 0 befindet sich unter dem auskragenden Baukörper des Hotels der Konferenzbereich. Dieser kann durch raumhohe Faltwände flexibel konfiguriert werden und ebenfalls durch eine überdachte Terrasse erweitert werden.
Mit dem Auto biegt man vom Seecorso, kurz vor der Verbindungsbrücke, zwischen dem Haupthaus und dem neuen Apartment (Gesundheitszentrum), in die Hotelauffahrt ein und erreicht über eine überdachte drop-off Zone den ostseitigen Eingang der Lobby. Östlich der Apartments gelangt man wieder Richtung Seecorso bzw. zur Garageneinfahrt.
Die eingeschossige Garage mit ca. 150 Stellplätzen und eigener Anlieferungszone mit direkter Verbindung zur Restaurantküche, befindet sich auf Ebene -1, ca. 1 Meter über dem Niveau des Seecorsos, und hat direkte Zugänge zur Lobby, zur Kunstraum- (Verbindungs-) brücke, den Apartments und den Hotelpark. Die Zu- und Ausfahrt zur Garage befindet sich direkt unter dem auskragenden nördlichen Apartmentvolumen.

Zusätzlich sind bei der drop- off Zone 6 weitere Stellplätze und im Bereich der Garagen Ein- und Ausfahrt weitere 15 Parkplätze vorhanden.
Der Hauptzugang zum Apartmenthaus (Gesundheitszentrum) erfolgt über einen eigenen Eingangsbereich auf Ebene 0, direkt unter Kunstraum- (Verbindungs-) brücke. Ein weiter Zugang befindet sich auf Ebene 1 gegenüber der drop off Zone des Hotels.
Der Spa- Wellness- und Badebereich der Seeanlage besitzt einen externen Zugang direkt vom Gehweg entlang des Seecorsos. Hotelgäste erreichen den Spa- Wellness- und Badebereich intern über die (Kunstraum-) Verbindungsbrücke, direkt von der Lobby in Ebene 0, oder über die Freiluftverbindung am Dach der Verbindungsbrücke zwischen Hotelbar und Sonnendeck. Bewohner der Apartmenthäuser gelangen über kleine, teils geschlossenen Brücken ebenfalls auf die (Kunstraum-) Verbindungsbrücke bzw. deren Dach und somit in den Spa- Wellness- und Badebereich.
Die Seewohnungen mit jeweils eigener Bootsgarage erreicht man vom Seecorso über kleine, geringfügig ansteigende Brücken. Man betritt die Wohnungen im mittleren von 3 Geschossen. Von hier gelangt man intern jeweils in das unter und das obere Geschoß.

Hotel Park's Velden am Wörthersee – Datenblatt
Design: SHARE architects
Auftraggeber: MRP- Consult GmbH
Type: Hotel
BGF: 17.624 m²
Wettbewerb: 2. Platz, 2016
Team: Hannes Bürger, Silvia Forlati, Thomas Lettner, Beatrice Broso, Stefania Catania, Zuzka Gallikova
Projektpartner: Krainer Architect
Visualisierung: SBDA
Hotel Park's Velden am Wörthersee images / information from SHARE architects
4-star hotel on the shores of Lake Wörth
Address: Hotel Park's, Seecorso 68, 9220 Velden am Wörthersee, Austria
Phone: +43 4274 2298
Architecture in Austria
Austrian Architectural Designs – chronological list
AA nanotourism Visiting School, Sekirn on Wörthersee, Carinthia, southern Austria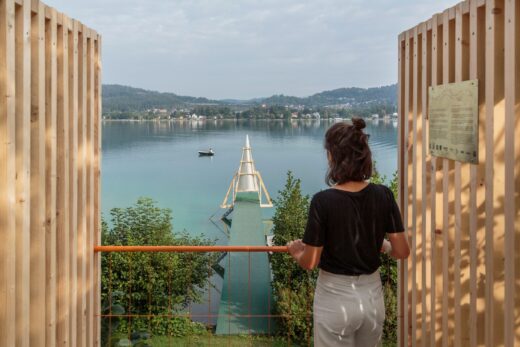 photography : Paul Sebesta / AA nanotourism archive
AA nanotourism Visiting School, Sekirn on Wörthersee
Austria Building Developments
Recent Austrian Architecture Designs
Deluxe Mountain Chalets in Austria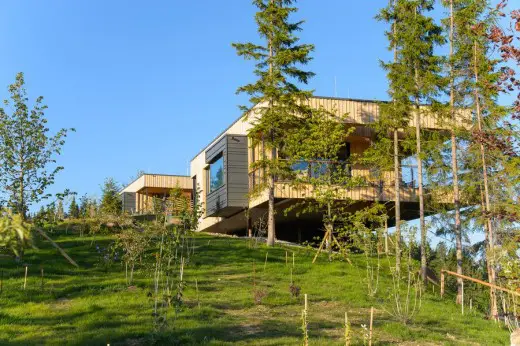 photograph : Andreas Tischler
Sölden Tyrol Ski Resort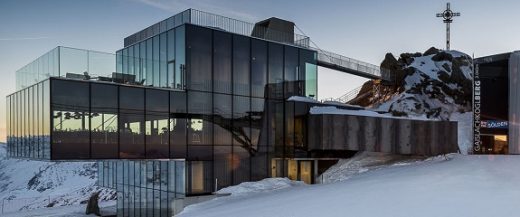 image from architect
Ronald McDonald House in Austria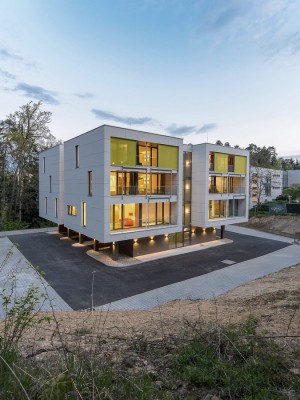 photograph : Courtesy of Viereck Architects
Swarovski Kristallwelten in Wattens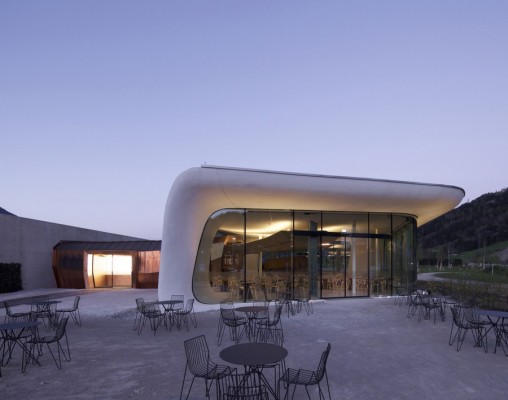 image from architect
Hotel Architecture Developments
Website: Hotel Park's Wörthersee Velden
Austria Architect – contact details
Comments / photos for this Hotel Park's Velden am Wörthersee page welcome
Website: Velden am Wörthersee