Bike Shed House, Melbourne, Victoria, Australian Real Estate, Building Project, Modern Architecture Images
Bike Shed House in Melbourne
4 September 2023
Architecture: Ande Bunbury Architects
Location: Northern Melbourne, Victoria, Australia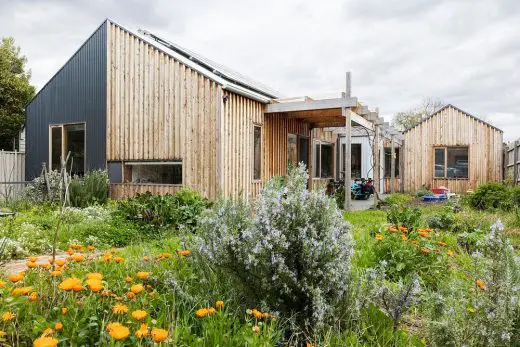 Photos: Drew Echberg
Bike Shed House, Australia
The owners of Bike Shed House in the inner North of Melbourne were extremely interested in sustainability and keen to maximise the usable garden areas around the home. They were also completely committed to using bicycles for transport and, with two young children, had a variety of bikes including electric cargo bikes that they wanted stored hanging inside the front hallway. The early design meetings were so consumed by discussions of how the bicycle storage was going to work and this generated the roof form and height at the front of the house. It also gave the house the nickname in our office The Bike Shed House.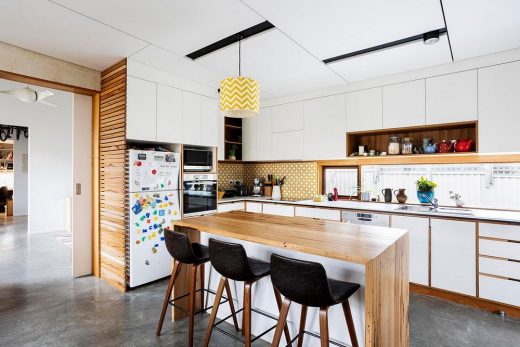 Planning siting requirements often insist that the house has a generous front setback from the street – in this case that equated to the front third of the site being given over to the front garden, an area rarely used. The front garden is a psychological transition space between the public realm and the private zone in the home. Did it really have to take up 150sqm? This is the size of a small house in itself. Are these siting requirements responsible for the urban sprawl of Australian cities compared to the rest of the world?
The house has been designed as a number of wings oriented for passive solar gain but also to create two large usable garden areas: a main garden to the north side of the house that extends right to the street at the front, and a productive garden to the rear. The owners love the side garden as it gives them a really good connection to the neighbourhood and they have quickly become part of the local community. Lots of exposed internal thermal mass was used to store winter heat from the sun but this creates lots of sound reverberation and we had one client who is deaf. So, unusually for a residential project, the ceilings of the house are lined with acoustic panels.
Another quirky feature of the house is the rabbit run as the other owner is a vet that specialises in rabbits. Their pet rabbits largely live in the laundry but have access via a cat door into the kitchen, and a bespoke terracotta rabbit-hole to an external run.
All projects by Ande Bunbury Architects have sustainability and energy efficiency at their core. See the list of sustainability features of this project below.
What was the brief?
To build a new 3 bedroom, 2 bathroom house on a very tight budget for a young family of four. They wanted separated living areas, a home office, and an additional living space that could be used as a guest bedroom for 2 people when grandparents come to stay. One of the clients was an environmental engineer and so maximising environmental performance was a key requirement and was the reason they selected Ande Bunbury Architects to work with. Bike storage was also a requirement of the building project and as keen gardeners they wanted to maximise usable garden area for children's play space and a productive food garden.
What were the key challenges?
There were multiple challenges on this project.
– As we progressed through the sketch design phases we had entire meetings where all we talked about was where and how the bikes were going to be stored. They wanted them in the house, able to be stored hung from the roof (including heavy electric cargo bikes) and with flush thresholds from the street and throughout the house.
-Planning requirements meant that the building had to be set back from the street so the front 1/3 of the site was front garden. We desperately wanted to make this a useful garden area.
– As one of the clients is deaf we had to design to maximise acoustic absorption to limit reverberation (so his bionic ear could work more effectively).
– Designing an indoor/outdoor rabbit run!
Key products used:
– Cypress macrocarpa board & batten cladding from CERES Fairwood for cladding to part of the front of the house. This has a low carbon footprint as the timber is salvaged from old farm windbreaks and has not been kiln dried.
– Colorbond corrugated iron cladding to the remainder of the house – durable and cost effective.
– Austral Masonry concrete block reverse block walls internally – left exposed as this absorbed more sound
– Autex Quietspace acoustic panels to ceilings
– Comcork rubber & cork flooring to bathroom floors.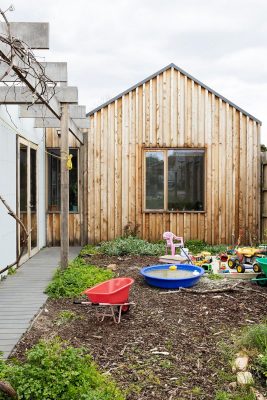 What were the solutions?
– The height and form of the roof at the front of the house was determined by the bike storage requirements – and reference to the roof forms of the adjacent houses. The bikes are housed at ceiling level in an oversized front hallway with space for at least 6 bikes including 2 heavy electric cargo bikes. Design for universal access provides a stepless entry path from the from the street and wider doorways are suitable for ageing in place, disability, and bikes! The client had previously designed a winch mechanism for lifting bikes and this was ramped up for their new home.
– We explored different building massing layouts and their energy ratings and eventually decided to locate the back bedroom wing on the north boundary to enable two large and distinct garden areas with access to both from a central kitchen/dining area. The north side garden extends right to the front of the property to allow connection with the neighbours and build community and to utilise this area for food production.
– Habitable rooms have optimal north solar access with appropriate shading. The back bedrooms have north-facing high level clerestory windows.
– One of the clients is an environmental engineer and was keen to maximise exposed internal thermal mass to store passive solar gain so we used exposed concrete floors and reverse concrete block walls. But these hard surfaces have a lot of sound reverberation so the ceilings are, unusually for a residential project, completely lined with acoustic panels.
– The clients were keen not not add mechanical heating and cooling to their 8-star house. Bedrooms have ceiling fans and a solar air heater was added to the laundry and rear bathroom. Otherwise the clients were keen to explore just using a small radiant infrared heater, or personal heating such as an electric throw rug.
– The pet rabbits are to be largely kept indoors and the concrete floors were ideal for this. It was decided that the laundry would be their main space with a lockable pet flap allowing access into the kitchen. The laundry joinery was modified with a cupboard door closing off the washing machine to prevent the rabbits chewing the rubber seals and other cupboards lifted off the floor to give the rabbits more space. They have a burrow-like nest in the bottom of another cupboard and this has access to an outdoor run via a terracotta chimney-pot.
Who are the clients and what's interesting about them?
One client is a vet specialising in rabbits, the other is an environmental engineer and who is profoundly deaf with a bionic ear.
How is the project unique?
see above – design for bikes, rabbits, deafness, no active heating and cooling.
What building methods were used?
Reverse block veneer to external walls to maximise internal thermal mass.
Fully insulated concrete slab floor (under and slab edge beams)
What are the sustainability features?
Net zero, all electric home
Energy rating – 8 stars
Bike Shed House in Brighton, Victoria – Building Information
Architecture: Ande Bunbury Architects – https://www.abarchitects.com.au/contact
Sanden Eco Plus heat pump hot water service
renewable energy
5.28 kW solar PV system by Elcon Solar (16 x 330W Jinko Solar Cheetah half cell panels &
Fronius 5.0 kW solar inverter)
Fronius Smartmeter
4 star WELS rated taps
Methven water saving shower heads
Water efficient toilets and appliances
Rainwater tanks – new 5000L & reused existing 2250L tanks connected to WCs, laundry and
garden taps
Aqua-2-Use underground greywater diversion system for garden watering (collects water
from washing machine, showers and basins). design, heating & cooling
passive
House oriented to maximise north solar access and usable garden area
Habitable rooms have north-facing solar access and shading to block out summer sun
High level north-facing windows to the back bedrooms
Reverse block veneer and exposed polished concrete slab to maximise internal thermal mass
Casement window sashes open towards prevailing breezes to maximise passive cooling.
Automated openers with remote access to certain windows to create cross-flow ventilation
even when not home
Artemis ceiling fans to all bedrooms, Living and Dining area
Temperature monitors used around the house – 24.7° inside on a west facing window sill when it was 45.4° outside!
active heating & cooling
Solar air heater Solar Venti Australia – SV7 Air to warm rear bathroom and laundry (for
the rabbits!)
Daikin split system airconditioner retrofitted to Living room – only used for the cold winter
mornings
Focus on using any heating only where needed – on the person eg personal electric heated
Timber cladding is cypress macrocarpa board & batten. Timber sourced from old farm windbreaks at end of life and very low carbon as it is not kiln-dried.
Other external walls in Colorbond corrugated iron to minimise cost
Internal concrete blocks used for reverse block walls (lower embodied carbon than brick)
Low maintenance external cladding materials – nothing to paint
Concrete slab has 30% slag/flyash supplementaries to reduce cement content & 20% recycled aggregate.
Thermal insulation: Knauf ClimaFoam (R2.7) extruded polystyrene board under slab, DOW Styrofoam RTM-X (R1.1) to slab edges, Knauf Earthwool batts to stud frame walls (R2.5) and roof (R4.0)
Acoustic insulation: Autex QuietSpace exposed acoustic panels to all ceilings except Study & wet areas
Recycled Messmate for study desk, kitchen island bench, window reveals, exposed shelves, and detail trim in kitchen joinery
Comcork cork & rubber flooring to wet areas
Low VOC emissions E0 MDF board for joinery
Terracotta chimney pot repurposed as a rabbit hatch. Air seals are provided to the joinery inside that this "burrow" opens into.
LED ceiling mounted can fittings from Archilux
Pendant lights with LED globes and reused hand printed lampshades from their previous house
Timber window & door frames, double glazed with low-e film
Warm edge spacer (not aluminium) between panes of glass in double glazed units
Roman blinds and honeycomb blinds used for further insulation as they create their own
pelmet at the window head. paints, finishes and floor coverings
Low VOC clear oil finishes to timber
Resene low VOCs paint finishes (zero VOCs to internal walls & ceilings)
Prestige Carpets Natural Loop 100% undyed wool carpets to kids' bedrooms
Comcork rubber & recycled cork flooring to wet areas
Net Zero Carbon construction – the house produces more energy than it uses and will
offset the embodied energy used in construction over the life of the building.
Transit by bike is prioritised with bespoke bike hangers in front hallway
Stepless entry and wider doorways for accessibility
Main garden area extends to the street and has a low and permeable front fence to create
connection with neighbours to create community
Front study has eye-level window facing the street to increase street safety
Fold down murphy bed and window seat in craft room provides guest bedroom accommodation for two
External clothes drying rack on covered west-facing deck
Project size: 150 sqm
Site size: 450 sqm
Completion date: 2021
Building levels: 1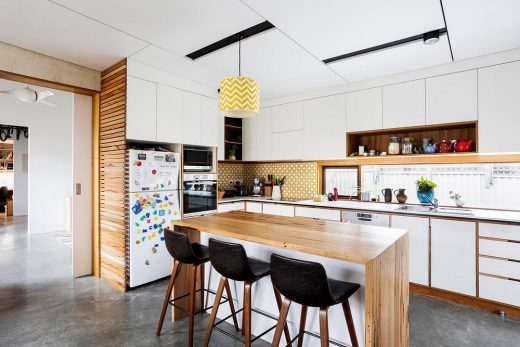 Photographer: Drew Echberg
Bike Shed House, Melbourne images / information received 040923
Location: Melbourne, Victoria, Australia
Victoria Architecture
Contemporary Architecture in Victoria, Australia
New Melbourne Buildings : current, chronological list
Melbourne Architectural Tours by e-architect
Another Victoria Community Hub building design on e-architect:
Callignee Community Hub
Design: DS Architects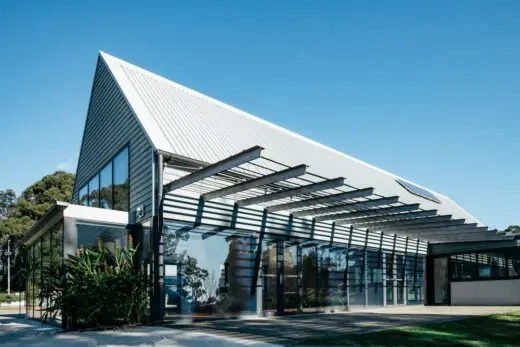 photo : Peter Schreuder
Callignee Community Hub, Victoria
Thompson Home
Design: McGann Architects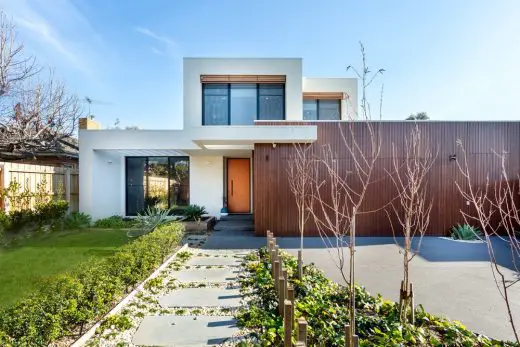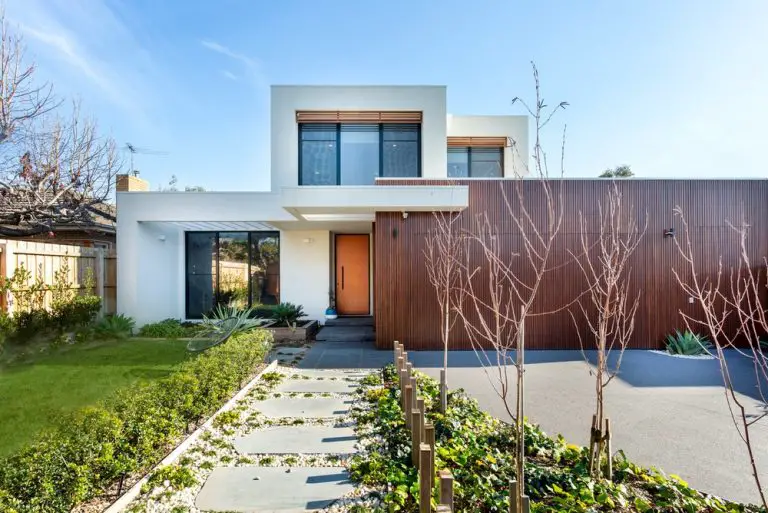 photograph : The Space Cowboy Photography
Thompson Home
This contemporary family home provides its owners with large nature light filled living and entertaining areas. A vaulted ceiling along the rear of the home maximises afternoon sunlight into the ground floor Kitchen, Dining and Living areas, while also providing a transition space to exterior entraining areas.
85 Spring Street
Design: Bates Smart Architects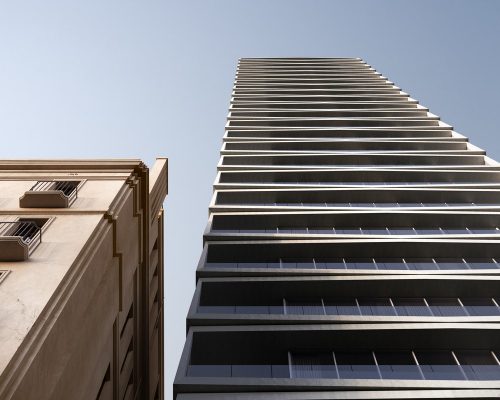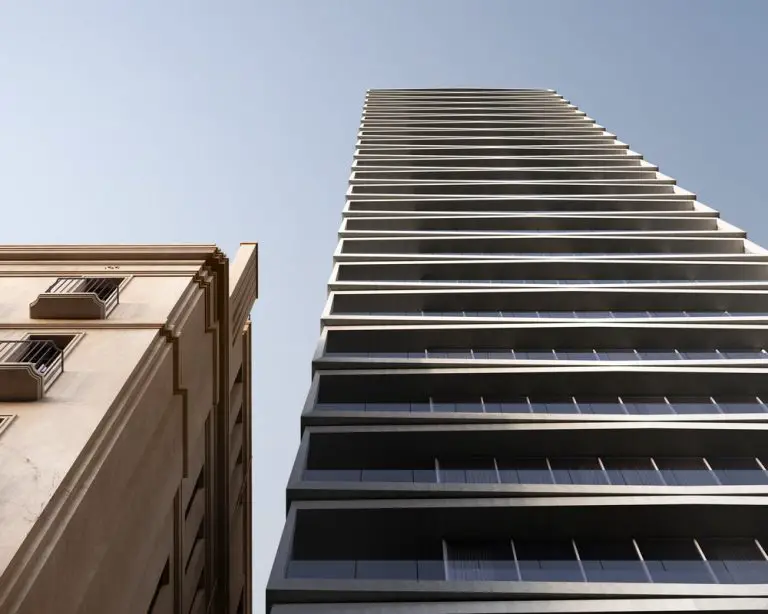 photo © Bates Smart
85 Spring Street Building
Australian architecture firm Bates Smart have unveiled designs for a 39-storey stacked concrete tower for developer Golden Age Group on one of the last developable sites on Melbourne's Spring Street.
Garden Studio
Design: MODO Architecture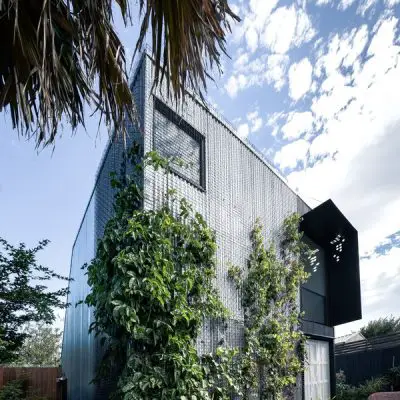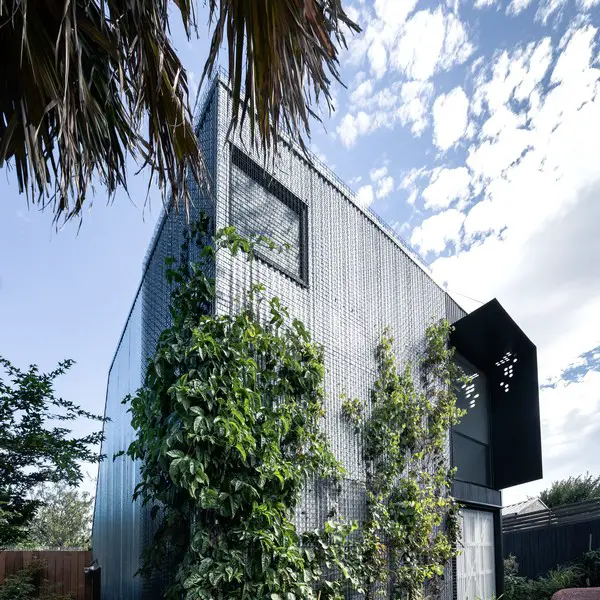 photograph : MODO Architecture
Garden Studio in Moonee Ponds
Following closely to the clients' lifestyle and philosophy to food and productive gardening, Garden Studio is a free-standing "extension" that provides to their family needs without compromising their love of gardening. It does so by providing a vertical garden on one of it's external walls.
Flower Merchant and Events Space
Interior Designer: Studio 103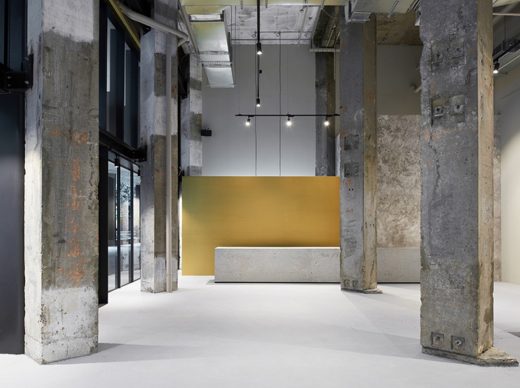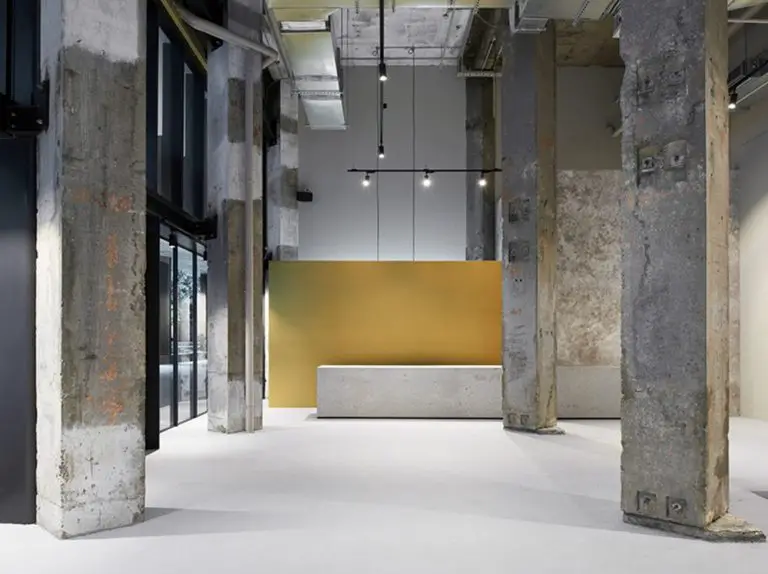 photograph : Dan Hocking
Flower Merchant and Events Space in Melbourne
Architecture in Australia
Australian Architectural Projects
Australia Architecture Designs – chronological list
Sydney Architect Studios – design studio listings on e-architect
Comments / photos for the Bike Shed House, Melbourne designed by Ande Bunbury Architects page welcome