Woven and tufted: why buy a luxury velvet sofa guide, Furniture tips, Online property advice
Woven & Tufted: Why Buy A Luxury Velvet Sofa?
26 Aug 2021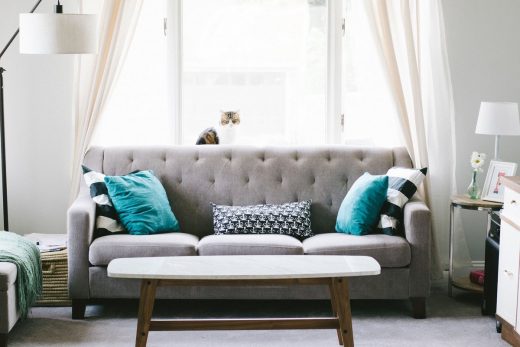 In recent times, velvet sofas have seen a rise in popularity. A luxury velvet sofa has become famous for taking "center-stage" in the living rooms of modern and traditional homes with its beauty. To this day, many are quite hesitant of these types of seats for their living room for several reasons. However, one should realize that they are missing out on this opportunity to buy one of these soft settees in their sitting rooms.
So what makes a luxury velvet sofa worth the price tag? To answer this, it would be better to know what this "velvet" exactly is.
A Luxurious Material With Historical Roots
With the name alone, anything velvet carries a significant amount of weight. It was an innovation of the Eastern cultures, specifically by the Egyptian civilization. Other Middle Eastern peoples and the Ancient Chinese civilizations utilized silk for their seats and other forms of comfort. While purely silk fabrics have become quite rare and expensive, synthetic fibers are the perfect substitute as it has made sofas as comfortable as the original. Modern and traditional homeowners need not worry as this could potentially blend in with the general theme of the home.
While costly, the design of a room is greatly affected positively as these may be used as the main attraction. There is just something about linen that attracts the eyes of guests and residents alike.
Versatile
As stated before, velvet is a material that may be used for multiple purposes, so one should not be surprised if it is seen in places such as bedrooms and foyers. In modern times, velvet has been used as an attraction that will catch the eye of any individual walking in the room.
Speaking of the material blending seamlessly, this is also the case with a velvet sofa as modern developments have introduced color into their design choices. All one needs to do is analyze what the room must feel like and decide on the color that will support this feeling. Almost any solid shade of black, brown, or white can fit the theme of any room available.
More Durable Than You Think
It is a common perception that velvet is an incredibly high-class material that is as difficult to take care of as other luxury items that need care. However, there is a problem with this perception as this would be different if the material wasn't named with such a luxurious sounding name as "velvet". With the heavy weight the name carries, you would only think of "velvet" as something high class. However, things are much lighter than you think.
When welcoming a guest into your living room, they will probably notice that soft and fuzzy-looking sofa and possibly bring up how much the seat cost. While it may be quite expensive, the material is built to "age like a fine wine" as the saying goes. It can last for decades if proper care is involved. Not to mention is it difficult for anything to get caught in the material.
Velvet is also known to get bruised through its usage. The shades of the couch may appear in different parts of the sofa, but this is no cause for alarm. As time passes, these bruises will eventually disappear. For those feeling a bit too conscious about leaving it for too long, all one needs to do is gently seam and stroke the cushion for it to return to normal.
Cleaning Velvet Sofas?
In the case of dirt or consumables spilling onto your velvet sofa, you don't need to worry as it is quite easy to clean given the right materials and cleaning regimens are present. For dirt, a vacuum cleaner may be used to remove the dirt accumulated over time. For food and drink spills, it would require stain repellents to counter these. It would be best to tackle these problems before they are dried up. Nevertheless, these are quick and simple solutions to solve these dirty problems.
Woven & Tufted Luxury Velvet Sofa Summary
It is no secret that velvet can be quite costly for a sofa, but truthfully, this is one long-term solution compared to the flimsiness of most designs. Aside from the beauty of this sofa, this one is designed to last you many years or even your whole life. All one needs to do is take care of it, and make sure that it looks appealing for the eye to see.
Comments on this guide to Woven and tufted: why buy a luxury velvet sofa? article are welcome.
Building Articles
Residential Architecture
Comfort & Luxury Home Gadgets Advice
Comments / photos for the Woven and tufted: why buy a luxury velvet sofa advice page welcome