Villefranche-sur-Mer villa for sale, French Riviera luxury property, Alpes-Maritimes house guide
Villefranche-sur-Mer villa for sale, France
16 May 2022
The French Riviera coastline was one of the first modern resort areas. It began as a winter health resort for the British upper class at the end of the 18th century.
For centuries, the Côte d'Azur or 'French Riviera' has been attracting the rich and famous, from British aristocrats and Russian nobles, to American movie stars and European artists.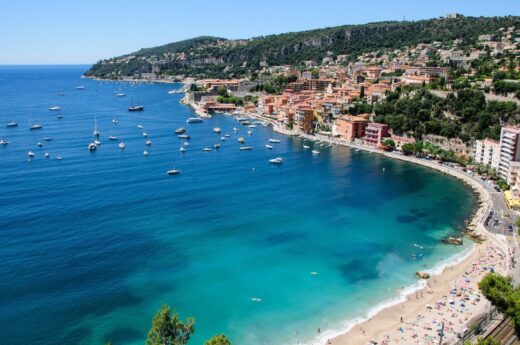 Villefranche-sur-Mer villas for sale on the French Riviera
Villefranche-sur-Mer is a commune in the Alpes-Maritimes department in the Provence-Alpes-Côte d'Azur region on the French Riviera and is located south-west of the Principality of Monaco, which is just west of the French-Italian border.
People often like to live on the French Riviera as it has some of the scenic views and one of the favourite spots for romantic couples and tourists. When it comes to hotels and villas this is your spot to be. Luxury villas are still available and you can have a wide variety of styles and types to choose from, you can view a villa for sale in Villefranche-sur-Mer here: https://hermitageriviera.com/sale/.
Villefranche-sur-Mer is a genuinely delightful seaside village. It is considered by many to be one of the best spots on the French Riviera.
Villefranche is perfect for those who want to get a taste of southern France and the Côte d'Azur. Enjoy the comfort and luxury in a villa with the most beautiful view on the whole French Riviera coast: the picturesque bay and resort of Saint-Jean-Cap-Ferrat.
The Mediterranean climate of the French Riviera has made it an attractive spot for a more releaxed life. There is a lot of greenery around and you will find many old ways that still hold here.
You will find some history and architecture and there is something for everyone in this place. There are a lot of places from which you can choose to visit. There are a lot of sporting opportunities along the coastline, with many water sports options. The local beaches have perfect views, and the climate makes it more perfect.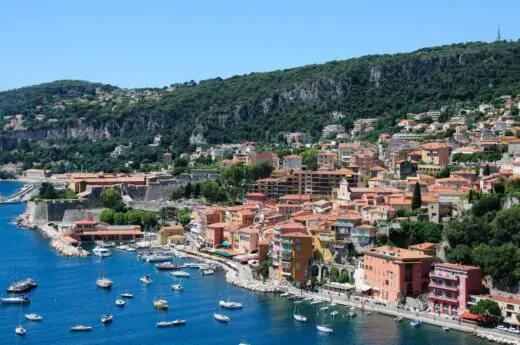 French Riviera Property Market
There are almost three million second homes in France, however, owing to the high propensity among the French to own a second home within the country, just 9% belong to foreign owners, according to Savills. Coastal locations are the choice of most (39%) overseas second-home buyers in France.
However, there are almost as many second homes in rural locations (37%), with a further 15% in the mountains and 9% in cities, such as Paris.
The Alpes-Maritimes (Nice, Grasse, Cannes, and Antibes) and Var (St Tropez, Toulon) départéments on the Côte d'Azur, are the two most popular locations for foreign second home ownership in France.
In recent years, there has been increased takeup in the luxury second home market among buyers originating from Russia and other areas of eastern Europe, including Ukraine and Kazakhstan. The situation in Ukraine in 2022 has led to a major change in this situation. Typically, these buyers prefer modern properties, close to the sea, in locations such as Cap Ferrat, Cap d'Antibes and St Tropez, which tends to draw both celebrities and a younger crowd in general, seeking the beach and party lifestyle.
In contrast, the British, Irish and Scandinavians active in the top-end of the market, are typically attracted to older, 'provençal' properties near villages in the region. Almost 40% of foreigners buy properties in France that were built prior to 1915, emphasising the lasting appeal of traditional French homes.
The Côte d'Azur offers both secluded, country locations with properties that reflect buyers' luxury lifestyles. It also benefits from proximity to Alpine ski resorts and good international flight connectivity via Nice airport.
The majority (60%) of foreign-owned second homes in France comprises houses, as opposed to apartments. Typically, Côte d'Azur properties with a minimum of four ensuite bedrooms, a garden, garages, a pool and above all, sea views are most sought-after. Features often include wine cellars and staff quarters, and in larger properties, home cinemas and spas.
Villefranche-sur-Mer luxury real estate
When you purchase luxury real estate in Villefranche, there are great sea views possible. Many people want to buy villas or houses to enjoy the panoramic view of the play of waves.
Villefranche-sur-Mer is a pretty town with the elegant traditional houses that date back to the 17th century. The villas typically have colorful facades, and are focused around the port.
Most private villas can offer you luxury pools, steam rooms, private gyms, hot tubs, saunas, which are surrounded by greenery all around. You can find luxurious homes near beaches that offers you best quality if life.
Coments for this Villefranche-sur-Mer villas for sale on the French Riviera post are welcome.
Location: Villefranche-sur-Mer, French Riviera, south of France, western Europe
French Riviera Villas
St Tropez Villa
Architects: SAOTA
St Tropez Villa in France
Maison H3 in Saint Tropez
Design: Vincent Coste Architecte
Maison H3 in Saint Tropez
French Houses
100% wooden house, Château de la Bourdaisière, Montlouis-sur-Loire
Design: LOCAL and Suphasidh Studio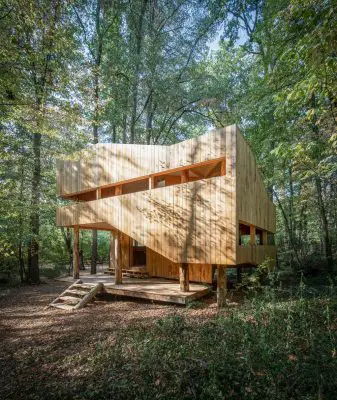 photo : Atelier Vincent Hecht
100% wooden house Montlouis-sur-Loire
Maison at Bordeaux
Design: architect Rem Koolhaas / OMA
Maison at Bordeaux
Villa in the Var, Bargemon, south of France
Architects: Dixon Jones and Jean-Paul Radigois
French villa
New Properties in France
French Architectural Projects
French Architecture Design – chronological list
French Architect Offices – design firm listings
St Tropez architects behind the town's most elegant buildings
Comments / photos for the Villefranche-sur-Mer villa for sale on the French Riviera page welcome