Vanity Height, CTBUH Study, Tall Buildings Around the World, Skyscraper Design
CTBUH Study on Vanity Height
Tower Architecture Investigation – by The Council on Tall Buildings and Urban Habitat
Sep 6, 2013
Skyscraper Design Study
The "Use-less" Space in Today's Tallest Buildings
The Council on Tall Buildings and Urban Habitat (CTBUH) has investigated the increasing trend towards extreme spires and other extensions of supertall (300-meter-plus) buildings that do not enclose usable space, and created a new term to describe this – Vanity Height, the distance between a skyscraper's highest occupiable floor and its architectural top, as determined by CTBUH Height Criteria.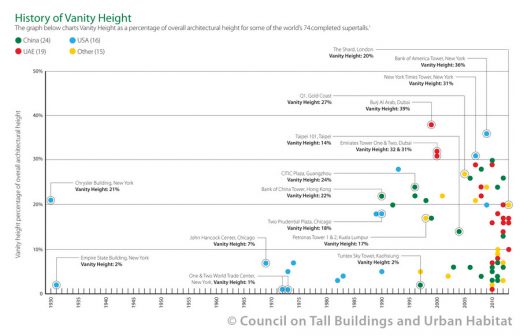 image from CTBUH
Here are some key findings of the study:
At 244 meters, the vanity height of the Burj Khalifa, Dubai, UAE, could be a skyscraper on its own – in fact, it would be Europe's 11th-tallest building.
The Burj Al-Arab, Dubai, UAE, has the greatest vanity ratio of any supertall building – 124 (39 percent) of its 321 meters is devoted to nonoccupiable space above the highest occupiable floor.
Without their vanity height, 44 (61 percent) of the world's 72 supertalls would measure less than 300 meters – thus losing their supertall status.
United Arab Emirates clocks in as the nation with the most "vain" supertall buildings, with an average vanity height of 19 percent.
New York City, USA has two of the tallest 10 vanity heights, and is set to gain a third with the completion of One World Trade Center in 2014.
Vanity Height Infographics:
According to CTBUH Height Criteria regarding telecommunications towers, a 50 percent vanity height would deem any structure a "nonbuilding."
The "vainest" building overall in the CTBUH database, although not a supertall, is the Ukraina Hotel in Moscow, Russia – 42 percent of its 206-meter height is non-occupiable.
Burj Khalifa, Dubai, UAE



photo : Nicolas Lannuzel
Zifeng Tower, Nanjing, China



photo : Ozonefrance
Bank of America Tower, New York City, NY, USA



photo : Ryan Browne
Burj al Arab, Dubai, UAE




photo : Joi Ito
Emirates Towers, Dubai, UAE



photo : Alma
New York Times Tower, New York City, NY, USA



photo : Eden Janine and Jim
Rose Rayhaan, Dubai, UAE



photo : Paul Fenwick
The Pinnacle, Guangzhou, China



photo : IndexxRus
Minsheng Bank Tower, Wuhan, China



photo from CTBUH
The Council on Tall Buildings and Urban Habitat Tower Architecture Investigation information / images from CTBUH
Skyscraper Designs
Al Hamra Firdous Tower, Kuwait City
SOM Architects
New York by Gehry
Frank Gehry
Infinity Tower Dubai
Skidmore Owings & Merrill
Wuhan Greenland Center, China
Adrian Smith + Gordon Gill Architecture
High-Rise Buildings
Comments / photos for the Vanity Height Study – Tall Buildings page welcome