Guide to Budget-Friendly Upgrades That Will Make Your Home Look Classy, Building Advice, Online Help
Budget-Friendly Upgrades To Make Your Home Look Classy
30 Dec 2020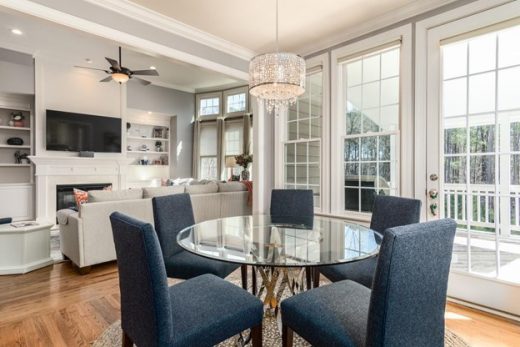 Having a flashy home can be challenging, especially if you're on a budget. If you're upgrading your home or merely building a new home, you can implement little luxurious ideas to spice your new home's look.
It's normal to want your home to look flashy and trendy, but it's not easy getting the look you want when you're stripped of money. Many homeowners think that price is an indicator when you want to gauge the value of something. While it's right to some extent, you can still have inexpensive upgrades to your home to achieve a good look. From repainting to adding mirrors on the wall, here are a few simple and cheap ideas to achieve an elegant look.
1.  How About a Fireplace?
Ever thought of setting up a fireplace in your home? Well, it's such a perfect idea to start with. According to home design experts from Essential Home and Garden, adding a fireplace to your home helps to create an expensive feel in your home. A good idea is to go for an electric fireplace. An electric fireplace is a good investment for someone living in a small space such as a studio or one-bedroom apartment. They're also cost-efficient compared to using a traditional fireplace.
2.  Paint
Many homeowners feel overwhelmed when it comes to choosing the right paint color for their homes; To some extent, this means that your interior paint should match your home décor. If you're after making your home look classy, it would be best to choose colors that add instant elegance to your home. Bold and dramatic colors are some of the best choices you can work with. You can also work with a soft hue to add more beauty to your home. However, choosing a specific color also depends on your personality. We would advise going for a color that best suits your taste and preference.
Additionally, you can also paint your interior doors black. A black matte creates an expensive feel without drawing much from your pockets. However, this option requires adding a few black accessories to complement the overall design.
3.  Choose Lighting Carefully
If you're on a small budget and looking to do some upgrades, start with the lighting. Compared to various upgrade things like flooring or painting, lighting is one of the cheaper items on the upgrade list. Many home design experts will choose conventional lighting fixtures that are out of style and old. However, you can implement a few tweaks to get the expensive look without spending much. You can start by buying fixtures from second-hand stores.
Some of them sell unique pieces at a pocket-friendly price. There are plenty of DIY tips from the internet you can also implement to spice your lighting feel. However, buying a new lighting fixture might mean doing a new paint job, so choose carefully. If you want to increase your home's elegant feel, we recommend adding several light sources in your home. Lamps are a great addition to make your home classier.
4. Consider Classics
Home design experts recommend a neutral palette as the secret to an elegant home. It will help if you choose neutral colors for costly items to update, like the floors or furniture. This allows you to play with various patterns and textures to get a more balanced feel. Upgrading your home doesn't have to entail repainting or replacing large items. Instead, it means using a few tricks to achieve the same feeling while spending less.
Additionally, classic items never go out of style. If you buy one, you can rest assured that it will last for many years to come. Choosing classics is a substantial investment for your money and one that you will thank yourself for in the future.
5.  Blend Metallics
Do you know that blending metallics and finishes is the golden rule of design? This is a standard home décor tip that many homeowners ignore. Combining your finishes can give your home a more elegant and custom feel by directing focus. It will help if you give more attention to your most eye-catching fixtures for a good look. You can achieve this quickly by choosing them in unique metallic fixtures. However, ensure that they are different from other fixtures in your home. For instance, having a gold faucet will have a more luxurious impact if most of your other fixtures are silver.
6.  High-Walled Curtains
Before hanging your curtains, it would be best to spend more time choosing the best piece. The right curtains will help make a fashion statement in your home. It makes little sense investing time and money into conventional curtains so that you can cover your windows; Hanging curtains the right way can make your home look better. Additionally, they can visually draw in more light and widen your windows. We would recommend hanging your curtains high since they give the illusion of height. It would help if you mounted the curtain rods five to seven inches above the window to create a picture of a taller ceiling. For a more elegant feel, try decorating your rods with decorative accessories.
7.  Hardwood Floor over Carpet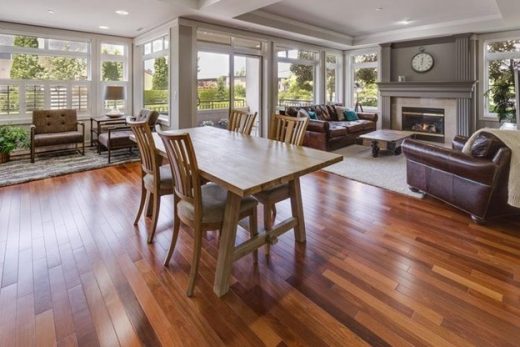 While it's true that a carpet in a home is warm and soft, this doesn't equal a hardwood floor. A hardwood floor provides an elegant and classic appearance in your home. Additionally, you can even find one at a low price. A hardwood floor is durable and provides a high return on investment (ROI) if you decide to sell your home in the future. Additionally, you can also try laminate, which is a modern carpeting solution for many homeowners. However, it would be best to buy the best quality available as this ensures lasting quality.
Budget-Friendly Upgrades That Will Make Your Home Look Classy Summary
As mentioned, you can use plenty of ways to make your home more elegant on a budget. Choosing the right paint theme, avoiding low-quality items, and buying wisely is the best way to create a high-end design in your home. Before doing anything, it will help if you take time budgeting for each section of your home. Finally, shop at smaller second-hand stores where you can find unique items at a budget-friendly price.
Comments on this guide to Budget-Friendly Upgrades That Will Make Your Home Look Classy article are welcome.
Building Articles
Contemporary Architecture
Comments / photos for the Budget-Friendly Upgrades That Will Make Your Home Look Classy Advice page welcome