Top 5 Kitchen Cabinet Options ideas, Building Design Tips, Online Property Interior Advice
The Top 5 Kitchen Cabinet Options
10 Jun 2021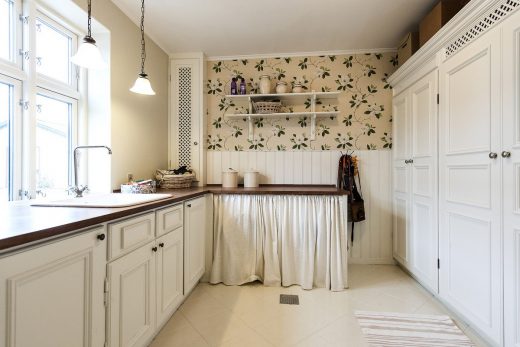 You face many choices when shopping around for your ideal kitchen cabinets. You can get as ornate and elaborate as you want, or you can go the sleek and streamlined route. Many homeowners prefer the latter. With that in mind, let's take a closer look at the top five kitchen cabinet options you need to know.
The Top 5 Kitchen Cabinet Options List
Shaker-Style Cabinets
While several traditional designs have dropped in popularity, Shaker-style cabinets continue to rise due to their minimalist but reliable, stylish look. Shaker cabinets have five components: vertical stiles, horizontal rails, and a recessed panel in the middle.
Shaker-Style Cabinets Pros:
Shaker-style cabinets are incredibly versatile and mesh with any kitchen layout. The clean lines work well with traditional, transitional, and contemporary styles alike. Thanks to their popularity, it's easy to find the precise version you want for a reasonable price.
Shaker-Style Cabinets Cons:
The panel edging can collect dirt and grime, requiring you to clean it often.
Glass-Front Cabinets
Glass-front cabinets help bring out the light in darker spaces and offer an attractive way to display items.
Glass-Front Cabinets Pros:
Compared to open shelving, your items are better protected from falling and collecting dust. You can install lighting to illuminate your items, and adding lights installed inside your glass-front cabinets will help enhance your kitchen's natural glow.
Glass-Front Cabinets Cons:
Since your things are on full display, you'll need to keep your glass-front cabinets clean and organized. Cleaning can be a little tricky with the combination of wood and glass, as well.
Beadboard Cabinets
Beadboard is a type of construction where vertical slats are fixed into each other. Inherently ornate, it adds a level of elegance and class that is unique among cabinet styles.
Beadboard Cabinets Pros:
Beadboard can provide a sense of old-world warmth, giving you a rich, textured look that flows well in various kitchen design approaches. It is available with slats of different widths, allowing you to create the precise look you desire.
Beadboard Cabinets Cons:
Beadboard needs careful cleaning, as the grooves can collect dirt and grime.
The price of beadboard ranges, varying by the kind of wood and the construction used.
Flat-Front Cabinets
Flat-front doors, also known as slab doors, are solid, without panels or framing. It's a clean, minimalist appearance that meshes well in any modern or contemporary layout. Flat-front doors are often made from a single piece of plywood or MDF, which is either painted or covered with wood veneer.
Flat-Front Cabinets Pros:
Flat-front cabinets are the most straightforward cabinets to clean. You can mix and match different hardware, displaying the cabinet pulls and knobs you want to highlight. Because of their minimalist build, flat-front cabinets can be cost-effective, but it depends on the kind of wood used, the chosen finish applied, and any accessories.
Flat-Front Cabinets Cons:
Flat-front cabinets can look a bit sterile, but you can quickly spruce it up by staining the wood or painting it. As a bonus, they're easy to paint.
Natural (Unfinished) Wood Cabinets
Unfinished wood cabinets are unorthodox but can work in various kitchen layouts, especially cottage styles and other less formal options.
Natural Wood Cabinets Pros:
Unfinished wood is affordable and versatile, providing you the opportunity to incorporate it into any layout in many ways. You can adjust the appearance by finishing the cabinets later and tailor the look in many different ways.
Natural Wood Cabinets Cons:
The main problem with unfinished wood is that it lacks protection, so it's a good idea to select a flat varnish or other finish that will keep oils and moisture from getting into the wood. There are varnishes that blend well with unfinished wood, bringing out the feel of the wood while providing protection.
Which Kitchen Cabinet Should You Go With?
Cabinet costs range significantly, depending on the quality of the materials, the finish, and the design. You will need to choose from ornate, minimalist, sleek, or textured looks and finishes as you shop for the ideal cabinet. Besides the style, you'll want to look at hardware options, joinery, and much more. And, if you do ever feel the need to switch out of your beadboard or Shaker cabinets, you can simply change out the doors to create a fresh, new look.
Choosing a high-quality cabinet comes down to the seller. As you sift through these five kitchen cabinet options, go with a company you trust. They should be reliable, well-rated, and provide exceptional customer service. One seller that checks all these boxes is Walcraft Cabinetry, offering top-notch products at reasonable prices, with consultants on hand to help you tailor your kitchen design plans.
At Your Service,
Sean Walsh
CEO – Walcraft Cabinetry
Comments on this Top 5 Kitchen Cabinet Options article are welcome.
Kitchen Design
Kitchen Articles
Installing Modular Kitchen in Your Home
Selecting the Right Storage Cabinets for Your Kitchen
Natural Stone Countertops in Your Kitchen
Building Articles
Residential Architecture
Comments / photos for the Guide to Top 5 Kitchen Cabinet Options advice page welcome