Trusted Time to Replace Your Roof in New Rochelle Home Advice, Westchester County, New York Roofing Tips
Time to Replace Your Roof in New Rochelle?
Nov 9, 2019
Time to Replace Your Roof in New Rochelle? Check Out Our Roofing New Rochelle Guide
Your roof is known to play a pivotal role in safeguarding your home, you, and your belongings. The moment you realize that your roof is damaged or compromised, you must take immediate action.
Seek expert advice and get the roof repaired or replaced if need be. Failure to get your damaged roof fixed on time could culminate in structural issues and expensive repairs shortly. If you have decided to get your old roof replaced you must consider the right time for getting the job done for the best results.
Aerial view of Pelham (left) and New Rochelle (upper right), northeast of Bronx – far north in New York City, photo taken on 10 July 2012: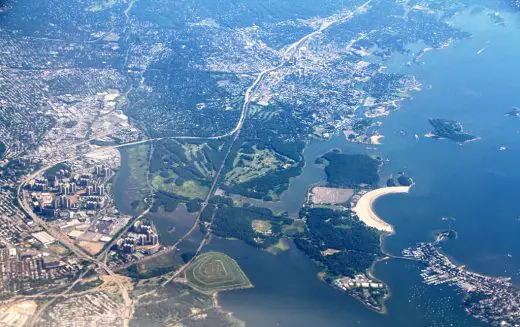 photo : Bjoertvedt, CC BY-SA 3.0 https://creativecommons.org/licenses/by-sa/3.0, via Wikimedia Commons
New Rochelle Roof Replacement
As per https://www.huffingtonpost.in, you must at once get in touch with your roofing professional when you notice streaking stains present on the shingles, buckled or curled shingles, rusted flashings or missing granules. Some other warning signs of potential issues are water stains showing up in the attic. Moreover, excessive leaking, serious water damage, mold, and moss accumulating on the roof are some serious warning signs of potential issues.
Even though experienced roofing contractors would be working throughout the year, it is better to get your roof installed when the weather conditions are favorable. However, a proficient roofer would be guaranteeing the same quality and standard of work irrespective of the season, temperature, or weather conditions.
However, to assist you in determining the best time for roof replacement, we would be providing you relevant information on ways the timing or the season impact the workmanship and ease of roof replacement. You could get in touch with On Time Roofing for perfect roofing advice and services.
Plan for the Best Time and Perfect Weather
You must consider scheduling a roof replacement or repair during a time that promises nice and favorable weather conditions in your area. We understand that most types of roofing jobs including new roof installation could be completed within a few days provided the weather seems fine.
In this context, you must know that winter or summer is not an ideal time for roof replacement because of extremes of weather. However, some roofers are known to offer attractive discounts provided you schedule a roof replacement during the off-season or the slow season. If you are interested in cost-cutting, you could plan well in advance and book your roofer in their off-season and save substantial money this way.
Consider Seasons & Roof Replacement
Spring seems to be quite a steady time for your roofing projects. Since you do not have to encounter extremes of climate, there should be no issues involving roof replacements. Spring is just the right time for booking your roof replacement.
Remember Summer Storms Hamper Roof Replacement
Summer is regarded as off-season for replacing your shingles. Generally, summer weather seems much less volatile so roofing issues are not so apparent hence, very few homeowners would be undertaking the roofing job during the summer months.
Do Not Forget Autumn Is the Right Roof Replacement Period
Autumn is the ideal time for a roof replacement with many families thinking about replacing their roof before the winter season arrives. Winter is harsh and cold so everybody wants their roofing job performed during autumn as roofers could perform to their full potential as the weather conditions are quite favorable. The warmer autumn temperatures help in better sealing of the shingles. Hence, roofers would be too busy so it is a good idea to do prior booking and scheduling with your roofer.
Keep in Mind that Winter Is Harsh & Cold: Not Ideal for Roof Repairs
Experts do not recommend roof replacement or even repair work during the freezing weather conditions in winter. Shingle roof replacements could be a total flop as due to the extremely low temperatures, the shingles may become cold and brittle and start cracking while they are being installed. However, if you are planning to use high-quality robust tiles or some other premium materials, you could go about your roof replacement project even during the winter. However, book your roofing contractor well in advance since he would be busy catering to numerous emergency repairs.
New Rochelle Roof Repair – Conclusion
Every homeowner would be having different priorities in terms of roofing concerns. Some homeowners are looking for ease of service while others want a bargain price. Depending on your priority, you must get your roof replacement done. However, if you are looking for a super-quick and fuss-free service, you may have to wait until summer or spring for avoiding the rush.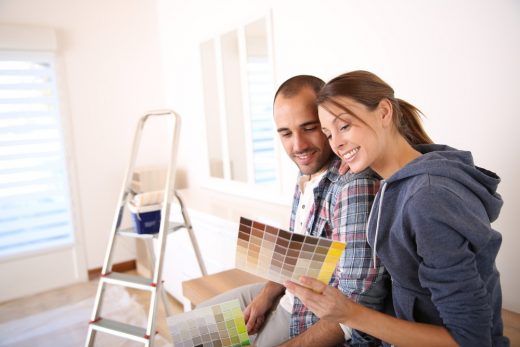 image courtesy of article provider
Comments on this Time to Replace Your Roof in New Rochelle?, USA, home advice article are welcome.
Property Articles
America Architecture News – latest building updates
Comments / photos for the Time to Replace Your Roof in New Rochelle? page welcome