Three Miami residences redefining luxury living, Florida luxurious real estate projects, FL property tips
Three Miami Residences That Are Redefining Luxury Living
Oct 20, 2022
Miami offers all the things that make life worth living in abundance. Pristine beaches, art and cultural hubs, world-class dining experiences, beautiful architecture, dazzling nightlife, and wonderful weather. These are just a few of the reasons Miami is such a coveted destination to visit and reside in.
Another thing that makes it such an incredible city is its flourishing, incredible residential properties. Take a peek at three groundbreaking residential towers that are redefining what it means to live luxuriously in Miami.
Three Luxury Condominium Projects To Keep an Eye On
If you're looking to own a residential property in one of Miami's premium neighborhoods, these three projects are the perfect blend of luxury living, comfort, elegance, and style.
1. Apogee South Beach
Apogee Building, South Beach: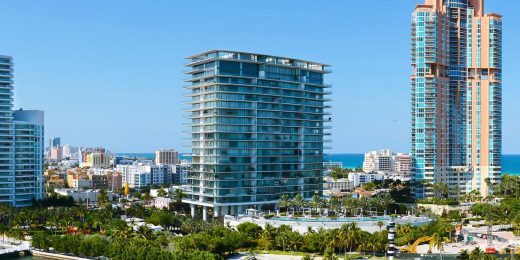 photo by The Related Group
Apogee Miami Condo is sixty-seven condos with mesmerizing views across 22 floors. With only four units per story and a flow-through design, Apogee Condo Miami Beach offers the utmost privacy and spacious living areas.
The interiors of the exclusive Apogee Miami Building are designed by Yabu Pushelberg. Featuring granite and French limestone exteriors with wrap-around balconies and state-of-the-art amenities, 11-foot-wide terraces, 10-foot-high ceilings, and the latest smart panels that provide access to building amenities. These smart homes also include keyless fingerprint entryways, double insulation across floors, and gas fireplaces.
Amenities at Apogee Condo Miami include everything necessary for a healthy and convenient lifestyle: a fitness center with the latest equipment, a state-of-the-art spa, an infinity pool, and an open-air pavilion.
The private lobby, valet, and concierge services ensure that all the needs of Apogee Miami Condo residents are met.
Enclosed parking spaces and private elevators make arriving and leaving your home in Apogee South Beach private and secure.
Developed by The Related Group and designed by Sieger Suarez Architects, the Apogee Miami Condo was designed and built by notable real estate professionals in the country.
Those looking for the best residences in the city will enjoy the priceless views, exquisite interiors, premium amenities, and exclusivity that Apogee Miami offers.
2. The Continuum Miami Beach
The Continuum Miami Beach building: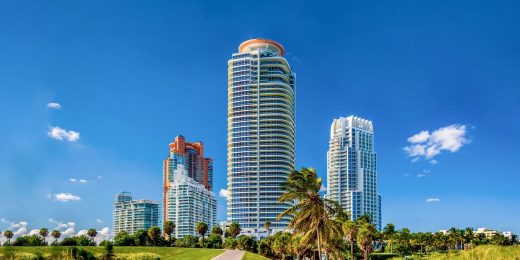 photo by Ian Bruce Eichner
The Continuum Building Miami Beach is the latest resort-style apartment building offering direct access to Miami's idyllic beach with a full-service Beach Club.
Continuum in South Beach offers two majestic towers that are 37 and 40 floors high. Each building has wraparound windows, ensuring that residents get the best views no matter which unit they're in.
The two towers of the Continuum Building Miami have 505 units in all. Each residence has floor-to-ceiling glass windows that allow residents to enjoy spectacular views of the beach, city, and ocean, once you arrive at your floor, you'll have a private elevator foyer.
Beautiful exteriors are meticulously matched by stylish and premium interiors. From the kitchens that have state-of-the-art equipment, to the bathrooms that feature whirlpool tubs and imported marble countertops, and in the master suite, you'll admire the small yet luxurious details that make Continuum Apartments Miami Beach an awe-inspiring gem in the exclusive South of Fifth neighborhood.
If you want to enjoy some of Continuum Condos Miami's amenities, you'll be spoiled for choice. The three-level fitness center has all the latest equipment and offers group exercise classes. Play tennis in one of three Har-Tru championship courts. His and her lounges and spa services are great for relaxation and rejuvenation. Swimming in the free-form lagoon pool offers an extraordinary swimming experience with its generous curves, large area, and unique shape.
When it's time to be a boss and do some business, the Miami Beach Continuum has multiple meeting rooms and a large conference room.
Whether it's time for work or play, it doesn't get any better than the Continuum Condos Miami.
3. Murano at Portofino
Murano at Portofino, South Beach, Florida: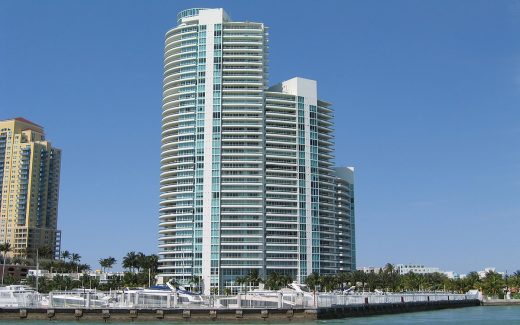 photo by The Related Group
Murano at Portofino South Beach is a 37-story bayfront building with luxurious one to three-bedroom apartments. Its Bay Side Beach Club offers heated lagoon pools and a spa, along with a saltwater pool and poolside cafe. This high-rise condo contains 189 premium units that enjoy spectacular floor-to-ceiling views of the Atlantic Ocean, Biscayne Bay, and Miami Harbor.
Inside, the most premium units of the Murano at Portofino Miami are treated to private elevator foyers, flow-through floor plans, walk-in closets, and other five-star comforts.
Located in the exclusive SoFi (South of Fifth) District, Murano at Portofino Miami offers spacious living/dining areas with adjacent balconies. Its bathrooms feature whirlpool tubs, marble flooring, European cabinets, granite vanities, and designer faucets. Select residences have additional eat-in breakfast areas which are equipped with premium appliances.
The Murano at Portofino Condo has a long list of exclusive amenities that includes concierge services, tennis courts, a fitness center, a spa, and 12 acres of manicured grounds.
If you've ever wondered what living it up in Miami means, the Murano at Portofino South Beach can show you all that you've been missing.
Comments on this guide to Three Miami residences redefining luxury living in South Florida, USA, article are welcome.
The Baccarat Residences include everything you need to offer your family the best life possible.
Comments / photos for the Three Miami residences redefining luxury living advice page welcome