The changing face of casino design, Gaming resort buildings, Gambling layout experience
The Changing Face of Casino Design
Aug 7, 2020
A casino is much more than just a room where you can play gambling games. Every aspect of a casino's design has been carefully planned to entice visitors inside, and, once there, to stay and keep playing for as long as possible. Why is it, then, that so many of them are rather unappealing?
Until fairly recently, almost every casino interior followed the same widely-accepted design principles, which is why most gaming rooms look very similar. The accepted wisdom regarding décor and layout has only started to be challenged over the past decade, and the result is a total transformation of these familiar spaces.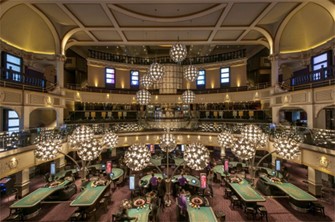 Classic Casino Design
The birth of intelligent casino design can be traced back more than twenty years and to the spiritual home of gambling – Las Vegas. Casino executive and former gambling addict Bill Friedman spent years analysing the interiors of the most successful casino floors, looking at what made players stay in the same space for hours at a time. His findings were later published as a large volume expounding thirteen principles of casino design. For many years, this book was considered the benchmark when creating gaming rooms.
Friedman's approach was heavily influenced by his own experiences as a gambler. His principles favour a layout that draws you in and then traps you, with a maze-like structure and short lines of sight in a room densely packed with tables and rows of slot machines. He also favoured low ceilings, no natural light and little in the way of superfluous decoration. Virtual Kubet casinos quickly realised that they must provide a smooth and seamless interface or lose out to the competition.
Friedman's argument was that visitors would feel less overwhelmed if they could only see their immediate vicinity, hence curving rows of slots and segmented spaces. A more honest assessment may be that the casino is slightly confusing to navigate and therefore difficult to leave. Having no sense of day or night also encourages players to lose track of time.
It is thanks to Friedman that there is such a disconnect between the image and the reality of many casinos. The exterior may be lavish and suggestive of wealth and glamour, but the gaming rooms inside can seem dingy, noisy and somewhat vulgar. The overall impression is usually underlined by the garishly-patterned carpets – ideal for concealing stains, but not so easy on the eyes.
Lessons from Casino Sites
When casino websites started out, they were not bound by the same constraints as their brick and mortar counterparts. While many sites emulated the colour schemes and imagery of traditional casinos, the site designers soon began to branch out and create a strikingly different aesthetic.
New casino sites that hit the market recently started favouring more playful themes, with lighter colours and a fresher look. Above all, sites must be user-friendly. With a multitude of other casinos available at a player's fingertips, there is no use trying to confound someone into staying. Virtual casinos quickly realised that they must provide a smooth and seamless interface or lose out to the competition.
While we can't say for certain that the advent of new online casinos helped inspire a different approach for land casino design, it's fair to say that they were the first to try and actively provide a pleasant environment for players.
The Changing Face of Casino Design – Out with the Old
The first person to really challenge Friedman's principles was Roger Thomas, chief designer at Wynn Resorts. Rather than simply tweaking Friedman's ideas, Thomas turned the whole concept on its head – with startling results.
Where Friedman had favoured the maze, Thomas's vision was that of a playground for adults. A beautiful, inviting space where people would stay because they wanted to, and not because they were trapped. The psychology behind this new style was based on the idea that players will spend more time and money in a place that is attractive, comfortable and welcoming.
Focus on Slots
Central to any casino, either land-based or online, are the slot games. Since the 1970s there has been an enormous shift towards these games, and they now account for more than two thirds of brick and mortar casino income. This shift has also been instrumental in how casino design is changing.
First, there is the question of demographics. When Thomas was first asked to redesign the slot machine room at the Wynn Las Vegas, he was briefed to create an atmosphere that would appeal to an older, masculine crowd. The resulting room, replete with leather armchairs and dark wood panelling, didn't make the expected profits.
As it turns out, slot games are favoured by the female clientele, meaning that the demographic makeup of casinos has changed rather dramatically over the past half a century. The answer, Thomas realised, was to create a space that was comfortable for women as well as men. In making this vision a reality, he rejected every one of Friedman's guiding principles.
The gaming rooms that Thomas creates are characterised by open, airy spaces full of natural light and beautiful objects. Rather than ensnaring habitual gamblers, these rooms invite tourists and casual visitors in as well. The surroundings are so enjoyable that players don't even mind as much when they lose. Wynn Resorts saw their profits rise, and other designers began to take note.
Slot machines are often laid out in long, snaking rows or in large blocks that obscure lines of sight. The new, open-plan gaming rooms favour smaller, free-standing groups of machines, with space in between. This layout has been made possible by modern video touchscreens, allowing multiple slot games to be housed in a single cabinet and thus reducing the need for so many machines.
Harmony of Design
Thanks to Thomas and his new principles of casino design, there is now much more unity between the exterior and the interior of casinos. Architects have long had free rein to conceive grand and opulent visions for their casino buildings, only for the rooms inside to be anonymous, underwhelming and dated.
Freed from the constraints of received wisdom, casino designers are pushing the boundaries to curate spaces where people want to go and be seen. The Palms Casino Resort in Vegas is one establishment that recognised the importance of tapping into the Instagram generation. Thanks to its bright, modern rooms and enormous collection of modern art, this photogenic casino has ensured that images are frequently shared on social media. Even the visitors who go only for a photo op will spend some time at the gaming tables. The renovation, completed in 2019, reportedly cost almost $700 million – an investment indicative of how far casino design has come.
Comments on The Changing Face of Casino Design article are welcome
Las Vegas Buildings
Las Vegas Buildings
Vdara Hotel Las Vegas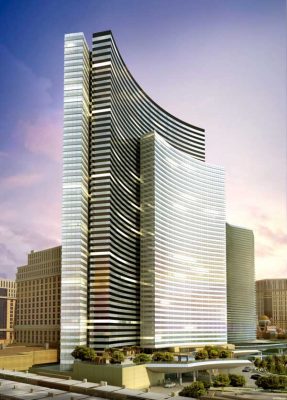 image : CityCenter Land, LLC
Monte Carlo Buildings
Monte Carlo Buildings
Hôtel de Paris Monte Carlo Reopening
The Pavilions Monte Carlo, Monaco Luxury Stores
Comments / photos for the The Changing Face of Casino Design page welcome