Stylish ways to update the furniture in your home, Building design style tips, Home coffee table
3 Stylish Ways to Update the Furniture in Your Home
30 Dec 2022
Not everyone is into home renovations, but that doesn't mean you're satisfied with the current look of your home. Maybe you've had the same décor for years and it's starting to feel tired. Perhaps the style in your home no longer reflects you and your lifestyle, which is normal over time. If you want the perfect solution to these problems, furniture could be it. We've got some great and stylish tips when it comes to updating the furniture in your home for 2023.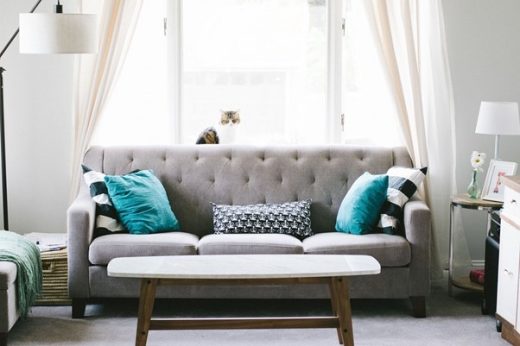 Create a Sense of Space with More Streamlined Furniture
While you need furniture in your home, something that homeowners often fall victim to is buying pieces that look great in the shop but don't necessarily work in the space. If you have a smaller home, furniture needs to work in proportion to the space. You need to have room to move about and function without the space feeling crammed full of furniture. If it currently feels like an obstacle course to get from one corner of the room to another, it's time to reassess.
Shopping for pieces that are more streamlined, slim, multi-functional, and offer space-saving features should be the priority. Nesting tables are a great example and can be found at shops like VidaXL. They provide a function yet they can all be stacked or nested neatly and pushed out of the way when not in use.
Many companies make smaller pieces meant for small spaces, seek these out in particular. And remember, just because the pieces may be smaller it doesn't mean you have to sacrifice comfort and style.
Add Sophistication to Your Dining Room
If you're the type who loves playing the host and entertaining but aren't exactly thrilled with how your dining room currently looks, new furniture can once again be the answer. Stylish new pieces will transform the space, bring out different features in the room, and can even make the colour palette appear differently. Furniture may be all that's needed to update the space, making it perfect for your next dinner party.
Perhaps you already have a dining table that you're attached to. If so, try looking at different chairs. Don't feel you need to pick the same material, finish, colour, or style in chairs as the table. Mixing and matching create a high-end customised vibe. It will look like a designer set.
The Bedroom Furniture Needs to Be More Than Just Comfortable
Then there is your bedroom. There's no question your mattress needs to be comfortable, but the furniture in the space should also reflect your design concept. This is another room where mixing and matching materials, styles, sizes, and designs is recommended. If you want a magazine-worthy bedroom, mixing and matching are a must.
Because the bed is the largest piece in the room, it's wise to start with the bedframe or headboard and let that act as your inspiration.
A Fresh and Beautiful Space to Call Home
All of these tips will help you to update the furniture in your home in 2023 to create a stylish new space.
Comments on this Stylish Ways to Update the Furniture in Your Home article are welcome.
Furniture
Furniture Posts
Popular types of wood for furniture
Ideas for arranging a living room with corner sofas
Bauhaus inspired architecture and furniture
Property
Residential Architecture
Comments / photos for the 3 Stylish Ways to Update the Furniture in Your Home page welcome