Smart Home Accessories trends guide, Building Design Tips, Online Advice
Smart Home Accessories
Apr 1, 2021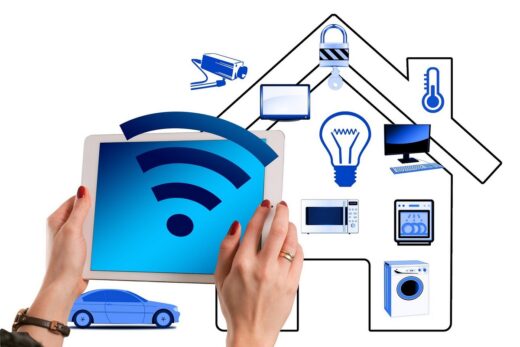 The classic Hanna-Barbara cartoon "The Jetsons" conjured up some farfetched ideas of what the future could look like when it debuted in 1962. Set 100 years in the distant future of 2062 (Which by the way is just about 40 years away at the time of writing), it would seem that they got a lot of it correct, particularly when it comes to our homes. And while our homes aren't balanced atop sky-high spires in the clouds, they have become about as automated as the fictional sci-fi sitcom fantasized them to be. To anyone trying to find a home for sale, or considering a remodel, below are some examples of how you can easily bring your home into the once thought to be fantastical future.
Alexa
At the hub of the smart home wheel is what makes all this fancy integration possible in the first place – Alexa. Google Home is another option as well and just as viable, but for simplicity's sake, we will be focusing on the Alexa option for these examples.
Alexa is the software that acts as a personal assistant for your home. What Google Assistant and Siri are to phones, Alexa is to homes. The catalog of Alexa's functions is expanding all the time, but if you are looking to begin a smart-home design, start here.
Routines
One of the best features of Alexa is the ability to add "routines". Simply put, routines are a combination of functions that you can have Alexa perform by executing a key phrase. For instance, If somebody drops by unexpectedly, you can say "Alexa, we have guests". Depending on the routine that you set up, Alexa can turn on or dim the lights, play some mellow music, maybe even pre-heat the oven for a pizza. You will see this more prevalent in upscale neighborhoods, and areas thriving with Alexa technology.
Robots
Maybe you are lucky enough to be afforded the luxury of time before your guests drop by. You can set up your robot vacuum to respond to a command that you give to Alexa, or if you would rather not have to step over your robot while you're walking around as if it were an overly affectionate pet, you can tell Alexa to start the vacuum at a time that you know you'll be out of the house. By the way, they make robot mops and even lawnmowers now too.
Lawn & Garden
Don't have a green thumb? Not a problem. Some nerds somewhere programmed one for you to use. Like the aforementioned Robot lawnmower, there are some remarkably cool ways Alexa can help you maintain your lawn while you do practically nothing. For instance, there are smart irrigation systems and controllers. Old-fashioned analog sprinkler timers may be set off to water the lawn at a certain time every day. Not ideal if it just rained. If you notice the lawn is looking a bit dry, simply tell your smart sprinkler system "Alexa, water the lawn". Done. You can set up programs in separate locations if you have a garden with plants that require more or less water than your lawn.
Home Security
This is one of the most fleshed-out and versatile features that Alexa offers. Between smart locks and security cameras, you can personalize your home to give you the kind of peace of mind only available here in the future. At this point, everyone has seen doorbell cam footage of porch pirates, antagonistic visitors, solicitors, or neighborhood nuances from burglars to vermin and even bears.
Get an alert anytime somebody walks in front of your door. Even instruct Alexa to lock or unlock the door virtually with a voice command if you are not home. There's even sophisticated integration between smart devices such as your phone and easily installed security cameras. Home intruder? "Alexa, Intruder alert!"
There is a lot you can do with this one. Have Alexa call the police, set all lighting to flash red, sound an alarm, if you have a smart safe with a firearm, unlock the safe with this command, or set up a special password that you can change later so irresponsible parties cannot access it. Some entire communities in popular cities across the country are connected through their home security systems.
Kitchen
One of the most popular functions of a smart kitchen is a smart oven. You can pre-heat the oven to be at the temperature you need while you are on your way home from a commute. Or if you think you may have left it on, instruct Alexa to turn it off remotely. If your roast or casserole is done cooking, change the temperature to have it keep warm while you finish prep of your side dishes. One thing we suggest is an Alexa-compatible Coffee maker that has its brewing at your command.
Smart Home Accessories – Wrapping It Up!
As we inch ever closer to the year 2062, it may be such that we find ourselves ahead of the virtual technological milestones that The Jetsons set for us. And while we may be a ways away from having our own Rosie, we can get by with the conveniences that virtual assistants such as Alexa have made available to us.
Comments on this guide to Smart Home Accessories article are welcome.
Locks
Door Lock Posts
24 7 mobile locksmith company service
How to add extra privacy to your home
How to choose the best home security company
Learn how to lock your house securely
Building Articles
Residential Architecture
Comments / photos for the Smart Home Accessories Guide page welcome