Site Specific Architecture, Building Design, Architectural Understanding
Site Specific Buildings : Understanding Architecture
Architecture Discussion by Colin Eaton
27 Mar 2012
Site Specific Architecture
Site Specific Buildings article by Colin Eaton, architect, Dublin
When this week's material appeared in my 'inbox', the buildings, 'a mixed bag of projects' as Isabelle put it surprised and delighted me. Some I knew very well – indeed had visited previously and indeed in previous iterations others I had less knowledge of.
But no matter, notwithstanding, as a practicing architect I am always, (and sometimes painfully!) aware of the effort and work required to firstly come up with the concept, or plan and ultimately to realise it whilst all the while maintaining its original potency and strength but simultaneously addressing the less ephemeral concerns such as budget, building regulations, city codes, program and time frame. Such concerns being even more pertinent in today's more challenging economic environment.
That buildings get built at all is testament to the bravery, confidence and trust a commissioning client places in themselves, their architect and the prevailing, (or perhaps forecast!) economic and political conditions.
And so it is with the selected projects. The new hotel to be constructed at Schipol International Airport by Hilton Group shows their confidence in the business and leisure travel sector and its potential for growth. Those who commission have an imagination and foresight to see beyond the current economic and political situation to something else.
Hilton Schiphol Hotel, Amsterdam, Holland
Mecanoo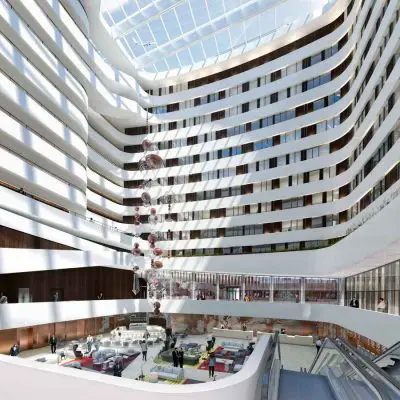 image from architects
Whole rafts of discussions have formed around Foster's proposal to create a new airport on the Thames Estuary rather than extend or reconfigure those existing airports in the south east of Britain. How do we as architects touch a given site? Lightly or otherwise! Sometimes it needs that force. Sometimes indeed a tabula rasa is appropriate. Sometimes not!
Peter Lorenz Ateliers (PLA) has completed the reconstruction of the Asfinag office block in Innsbruck in the Tyrol region of western Austria. The Asfinag office building sews together and involves the building with its urban surroundings. Its moves and form are strong but yet the combination of its geometries and façade materials somehow ground it to its site and give it a sense of permanence, or having always been there.
Asfinag Office Innsbruck, Austria
Peter Lorenz Ateliers


image © Günther Wett
Varying degrees of confidence and intervention! I frequently travel to Paris and it is a source of constant amazement that what one takes for the 'old' Paris was in fact planned from a tabula rasa by Haussmann. The much later intervention at Les Halles and also the Pompidou Centre similarly took a tabula rasa approach. Interestingly the current refurbishment work at Les Halles is working more closely with the given conditions and interweaving.
Indeed when Jacob and Mc Farlane won the competition to redevelop the former Magasins d'Austerlitz on the Quai d'Austerlitz into a venue for fashion, design shops and restaurants they chose to retain the insitu concrete framed building. Whilst most competition entries favoured total demolition Jacob and Mac Farlane retained the frame and draped a green wave-like enclosing glazed element along the whole façade animating the Seine at that point and housing circulation.
The building is completed but apart from the Cite de la Mode et du Design the shops and restaurants have yet to be opened there due to economic forces. Or maybe the brief was wrong to begin with? I put that as a question rather than a statement. Certainly Jacob and Mac Farlanes contribution has been outstanding.
A more current example in my beloved Paris is the refurbishment of La Samaritaine. Tokyo based Pritzker Prize winning architects SANAA were commissioned by LVMH to completely refurbish Magasin La Samaritaine. The project is described as the largest privately funded project undertaken in Paris.


photograph © Colin Eaton
SANAA describes their scheme as a structure which reproduces the Haussmanian rhythm and integrates with other facades. The all glass facade they say, is designed to let the light in and create interactivity between the street and indoors. They further say that the wave motion that envelops the island, reduces its monumental scale and contributes to the register with softness in the Parisian landscape of the neighbourhood.
It may be that their new glass structure will act more as a mirror to its Haussmanian neighbours. Viaplana and Pinon's intervention at CCCB (Centre de Cultura Contemporania de Barcelona) is an example of respecting the old and creating something entirely new and modern in contrast, where the 'U-shaped' Pati de les Dones was preserved with a 'closing-in' of the square – a fourth façade composed entirely of reflective dark glass.
The French general public sometimes bemoan what one might say 'a la recherche du temps perdu'. However with each generation we have a duty to be 'of our own time', to understand the past but not live in it.
Although his urban planning (and that is what Haussman is more widely known for afterall) has given us the Paris of those Grands Boulevards that we know and love today much of his work was bombastic and inhuman in its endeavour. Under Haussman the state expropriated those owners whose land stood in the way of his renovation plans for grand boulevards. Such plans were a reflection of the Empire's authoritarianism.
This intervention may very well become a wonderful piece of modern architecture to add to the canon of Paris monuments and that of the ever expanding and interesting portfolio of SANNA. It is in any event a remarkable intervention into a historic fabric and one worthy of critical debate, not just for the object in itself but its wider associations.
This brings me to my next area of thought. I have touched on how we, as architects intervene and communicate with the site.
Those who commission have an imagination and foresight to see beyond that which exists, the site – the current economic and political situation – to something else. What that also requires is people. Architects – but not only architects! Whole teams from various related and sometimes disparate areas.
On perusing the projects one element which connected them for me was the idea of collaboration of professions and individuals on the one hand and sometimes segregation of those roles and tasks on the other the hotel project at Schipol by Mecanoo being representative of my thoughts in this area.
Here Mecanoo are responsible for the 'architecture' and the commissioners have engaged two further practices to provide the 'interiors'. I have always seen buildings, indeed most projects as seamless and all encompassing transcending boundaries and divisions of labour or skill. That being said I understand and appreciate the complexities, particularly in larger commercial or public buildings and the need for specialist skills, indeed given the speed at which such buildings are sometimes required it is no doubt necessary that the work be 'divided up' as it were to ensure budgetary and timescale deadlines are met.
On the one hand I see the purity in a project such as church designed some years ago, again by Mecanoo. The St. Maria of the Angel Roman Catholic church in the 'St Lawrence' cemetery. Completely from the hand of Mecanoo it combines historical influences with the layering of modern forms. Its impressive roof with its golden soffit, or ceiling and the undulating walls provide a sensuality and completeness.
On the other hand collaboration between many individuals, practices and disciplines can often enrich a project far beyond what it may have been had just a single hand been involved. I am thinking of the new hotel in Paris called Mama Shelter. Owned and commissioned by the Trigano family of Club Med fame and French philosopher Cyril Aouizerate, whose Urbantech project seeks to help renew dilapidated area with real-estate projects they chose as their architect Roland Castro of Atelier Castro Denissof Casi, who since then has become engaged in the social role of architecture and its power to integrate.
They also however chose Philippe Starck to design the interiors and in fact the collaboration of many strong and talented minds served to create a positive dialogue between professions or roles and indeed between artefact and public user. Interestingly having a philosopher on the team may, I imagine have lead to, or at least reinforced the idea of genus loci and indeed its relationship to Paris. By placing the new project in the twentieth arrondisement, an area slightly off the general tourist trail with fewer tourist monuments, (Pere Lachaise being the most noteworthy) the team have reconfigured our way of looking at and interacting with the idea of hotel as building and its relationship to context and society.
(I reviewed it separately here: http://www.paris-update.com/fr/hotels/flash-news-hotels/797-mama-shelter-revisited)
Another of this weeks featured projects highlights the benefits of collaboration and cross disciplinary fertilization.
The small Brabant town of Schijndel which is the birthplace of Winy Maas suffered from Operation Market Garden bombings resulting in an oversized market square. In 1980 the then 20 year old Winy Maas urged the mayor to fill in the gap. Now MVRDV start construction on the Glass Farm, a multifunctional building in the village square. Construction will be completed in December 2012.
By coincidence, the maximum envelope that was defined by the town planners had the form of a traditional Schijndel farm. In collaboration with MVRDV, artist Frank van der Salm photographed all the remaining traditional farms, and from these composed an image of the 'typical farm'. This image will be printed using fritted procedure onto the glass facade, resulting in an effect such as a stained glass window in a cathedral. The print will be more or less translucent depending on need for light and views.
MVRDV Glass Farm, Netherlands
MVRDV Architects



picture © MVRDV
Artist and architect as one. We will await the results of this project eagerly.
And so my thesis being that collaboration, not just in the traditional sense of architects, structural engineers, services engineers, facade specialists and such like but in the wider sense as in cross fertilisation transcending the traditional skills sets to embrace seemingly unconnected skills allows us to start again questioning ourselves and our modus operandi. It also enriches argument and critical judgement all of which infuses the project with a greater sense of being.
Collaborative tendencies have always formed part of my studio work and yet that does not take from the primary duty of the architect. In my studio I have a little saying
'The purpose of the Architect is to give the Client not only what they asked for but rather what they never dreamt they wanted or could have'. That is not always possible perhaps, but as a starting point we, as architects, as eternal optimists promulgate dreams.
And on the subject of dreams. The Vila Tugendhat has a special place in my memory as I had visited with a dear architect friend from Prague just before it had closed for refurbishment in 2005. Back then it was less publicised and we felt as if we had stolen upon an architectural gem and discovered for ourselves its wonders. I am delighted to see such a thorough and considered restoration has now taken place thereby ensuring the villas longevity.
Tugendhat Villa Renovation, Czech Republic
Mies van der Rohe – new photos



photo : Colin Eaton
Fritz and Grete Tugendhat had a dream. They wanted a house free from the bourgeois constricts of their parents. They wanted to embrace modern times politically, socially and above all to display that in how they lived.
They first met Mies van der Rohe in Berlin in the summer of 1928 and during that summer Mies visited the site which was originally belonging to a house in Sadova Street owned by Alfred Low-Beer, Grete's father. Construction of the villa was completed in August 1930 with the Tugendhats moving in during December of that same year. They were forced to leave in 1938!
Fritz and Grete Tugendhat in commissioning Mies and such a piece of architecture showed a great deal of bravery and intelligence. Both coming from wealthy bourgeois families they broke the mould! Theirs was a house which at the time of its creation met with much interest and enthusiasm and even scandal. The idea of the house involved a denial of the traditional concept which regarded the house as functional units distinctly separated from one another.
Here emphasis was placed on the significance of space and those spaces inter linking and of their relationship with each other and their outside spaces. Unlike the bourgeois compartmentalised rooms of the Tugendhats parents houses and indeed their neighbours their newly commissioned villa celebrated dynamic continuity arising from an uninterrupted flow with areas or 'rooms', (on the living, or second floor in particular) delineated by way of screens or columns.
Those wonderful polished chrome columns in 4 sections, seen also in Mies Barcelona Pavilion. Other devices used to denote, or suggest spaces were the free standing red onyx wall and the semicircular in plan wall at the dining space using Makassar ebony. Curtains and placement of specially designed furniture also defined spaces. The organisation of space and the inter-relationship became important and subsumed the mere decoration of compartmentalised spaces as would have been seen generally at the time, particularly in such bourgeois circumstances.
In short Fritz and Grete Tugendhat dreamed a dream and Mies helped them realise that dream. Was Vila Tugendhat the dream that they dreamt? Who knows? Their journey was as important as that dream. One imagines that my little saying 'The purpose of the Architect is to give the Client not only what they asked for but rather what they never dreamt they wanted or could have', most certainly applies here.
The Tugendhat Villa Brno renovation architects AMOS Design have used all available resources available to inform their work here including period photographs, project documentation as found in museums, including MOMA, literature, contacts with the families of the original owners, the Tugendhats and those of van der Rohe as well as research visits to many buildings designed by Mies.
For me, personally (if somewhat selfishly!) I have always to some extent questioned the refurbishment of these buildings in relation to the 'how far does one go?' question.
For me they sometimes run the risk of losing their essence and primary function, (which as a private dwelling in this case no longer in any event exists) and becoming more akin to entertainment venues, shopping malls, interpretative centres, souvenir shops and the like. I also wonder whether using materials no longer generally used because of sustainability concerns is valid. Perhaps it is?
That being said, there is no doubt that villa Tugendhat, (and indeed its commissioning owners) experienced a varied and sometimes turbulent history and it is to be celebrated that, particularly given its seminal and architectural importance it now enjoys a somewhat calmer existence thanks to this careful and complete refurbishment by AMOS Design.
Enjoy this week's e-architect and its many projects.
Keep looking. Keep searching and researching. Keep questioning and above all – enjoy.
Architecture is for all.
Colin Eaton


photo of Colin Eaton
This week's guest editor Colin Eaton is a practicing architect based in Dublin.
Graduating from University College Dublin in 1993 he established his own practice in 2009 which is based in Dublin city centre. It is an innovative architectural practice known for its design quality and commitment to the particularity of context, brief and client and its cross disciplinary approach. His practice also focuses on crossing disciplines to communicate the message of design to both clients and the wider public.
Comments on this Site Specific Buildings article are welcome.
Website: Architecture City Walking Tours
International Architectural Designs
Architectural Aura : article by Dr. Peter Magyar. May 2011
Architecture Narrative : article by Trevor Tucker. Aug 2010
Design Narrative : article by Lee Miles – Sep 2010
Planetization Architecture : article by Mphethi Morojele – Aug 2010
Comments / photos for the Site Specific Buildings – Architecture Article page welcome