Rethinking healthcare design in Covid-19 pandemic, New Hospital Architecture after Coronavirus, BDP Buildings
Rethinking healthcare design in pandemic
12 Jan 2021
Rethinking healthcare design in Covid-19 pandemic
Rethinking healthcare design: lessons learned from a global pandemic
NHS staff are the heroes of 2020, we owe them immense admiration and gratitude for their incredible efforts and dedication. As we look forward to a new year with the prospect of vaccinations for all, what better way to help than to design healthcare estates that help improve their services.
Designing healthcare spaces that can be flexible to the changing needs of an area will be more essential than ever.
Southmead Hospital, Southmead, Bristol, England, UK: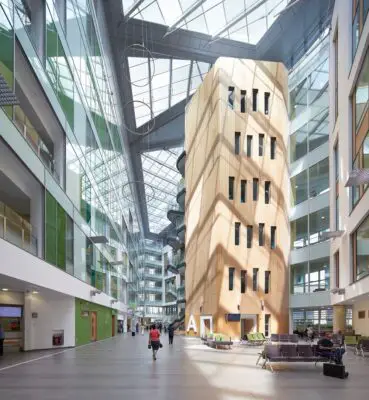 photograph © Hufton+Crow
The design needs to reflect how patients will access healthcare. During the pandemic, many services were delivered virtually and video conferencing has become the norm for outpatient and doctor appointments. This could mean we need to design areas with much less outpatient space required but with flexibility in mind so that any space could potentially have multiple uses over its lifespan, including refurbishing and reconfiguring existing layouts to increase diagnostic and treatment space.
When BDP designed Southmead Hospital in North Bristol NHS Trust, for example, rooms were loose fit with services provided to accommodate multiple functions and arranged in defined clusters. Scenario testing showed that major items of equipment could be replaced with minimal reconfiguration giving operational flexibility over the life of the building.
Acute hospitals will also need to provide care for Covid-19 patients at the same time as returning to business as usual. This means that facilities will need to consider a careful re-design of emergency departments and other patient admission points.
One idea being developed is streamlining patients in existing hospitals so that admission areas are expanded to become triage points where patients are directed into clearly streamed flows. This way infected people would be separated from others to reduce the likelihood of infection. A green zone would be a clean zone where you can be reasonably certain that nobody is infected. A blue zone is where Covid-infected patients would be sent and an amber zone is where the state of the patient would not be known. The result would be not only addressing clinical needs more efficiently but also giving the wider public confidence that it is safe to use emergency services again.
Offsite construction methods worked for the BDP designed Nightingale hospitals and healthcare spaces of the future could make use of modular and mobile facilities. We adopted a 'kit of parts' approach, creating a beautifully engineered solution, to solve a very practical problem.
The Grange University Hospital, Caerleon Road, Cwmbran, Gwent, Wales: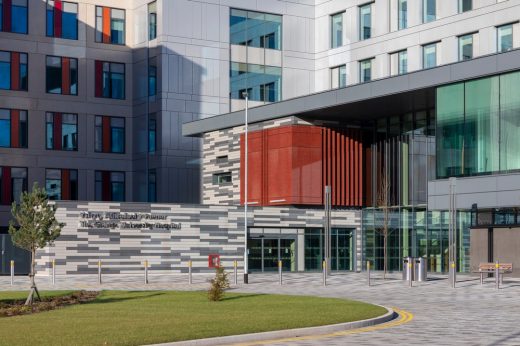 photo : BDP Michael Whitestone
At BDP we use the principles of Design for Manufacture and Assembly (DfMA) in our hospital designs combined with extensive off-site fabrication to ensure that projects are delivered promptly, and indeed often ahead of time.
At the Grange University Hospital, a new specialist and critical care centre in the UK, the design concept was based on the use of extensive off-site manufacturing. Combining this with Laing O'Rourke's exemplary construction management and delivery, the hospital was able to open a part of the facility a year early to help fight the Covid-19 crisis and will open fully for patients four months earlier than planned – a time saving of 23% on a traditional programme.
As we consider the future of healthcare design and how spaces need to be more flexible than ever to address the potential ebb and flow of Covid-19 cases, the ability for our clients to visualise and test out potential scenarios in the most realistic way possible adds real value to business case optioneering.
The use of 3D visualisation technology brings a design to life at the earliest stages of the process. It also allows the design team to test different scenarios and how they could play out in a design space. This is invaluable as it allows healthcare providers to see their project in 3D so that adaptations and improvements are implemented before a project goes to site.
Immersive visualisation and virtual reality give clients, with the use of a headset, to walk around a new building months before the construction even starts. This approach can transform the effectiveness of healthcare facilities, long before they are built.
The client is more informed and can then collaborate from the first stages of a project. It also informs the operational management of buildings and can test many options from infection control and social distancing to lighting and environmental factors.
The possibilities here are endless. Last year showed us how quickly society could embrace new technologies and the benefits it brings. We are feeling positive about the year ahead and relish the opportunities to design supportive healthcare estates. This will be our way of showing gratitude for the tremendous work of our NHS.
Christoph Ackermann is a Principal at BDP's Glasgow Studio: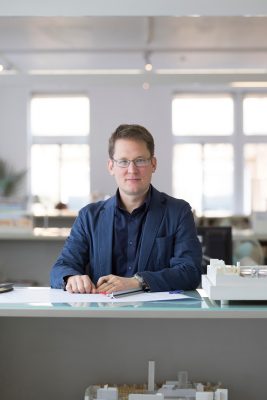 photo courtesy of BDP Glasgow Studio
Rethinking healthcare design in global pandemic images / information from BDP Architects, 120121
BDP Architects
Previous article in this series on e-architect:
Lessons Learnt for Sustainable School Design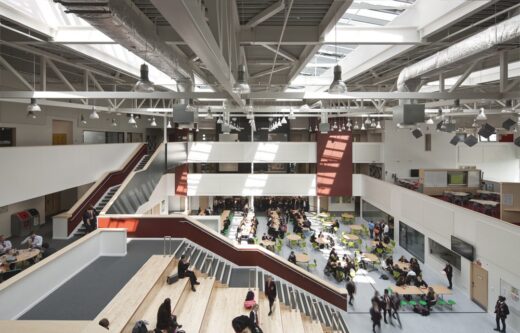 image courtesy of architects practice
Lessons Learnt for Sustainable School Design
Healthcare Building Design
Comments / photos for the Rethinking healthcare design in global pandemic page welcome