Complete guide for peel and stick wallpaper installation in bathroom, Home bath fixtures design, Australia property interior style
Complete Guide for Peel and Stick Wallpaper installation in Bathroom
5 May 2023
The interior design scene has been revolutionized by peel and stick wallpaper, providing an effortless and practical solution to refresh your home's aesthetics. A common question arises when considering the application of peel and stick wallpaper in bathrooms of your home.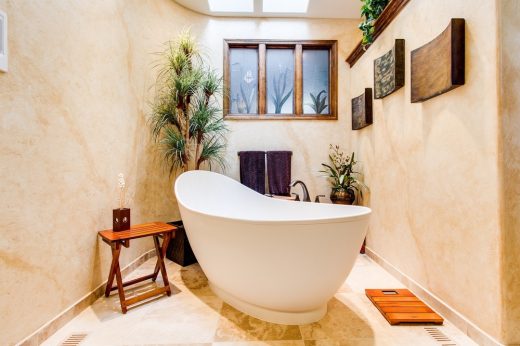 Is it a suitable choice for a moisture-rich space?
The answer is yes – with the correct wallpaper selection and precise installation, peel and stick wallpaper can be a safe and fashionable choice for bathroom walls. In this article, we will explore the advantages of using peel and stick wallpaper in your bathroom, crucial aspects to remember when selecting the right product, and an indispensable guide for guaranteeing a durable and successful installation. Confidently transform your bathroom and craft the sanctuary you've always dreamt of with peel and stick wallpaper.
Tips & Selections Peel and Stick Wallpaper for Bathrooms
Peel and stick wallpaper is a popular choice for bathrooms due to its ease of installation and ability to instantly transform the look of the space. Here are some tips and selections to help you choose the best peel and stick wallpaper for your bathroom:
Consider the moisture level: Bathrooms tend to have high humidity levels, so look for wallpaper that is water-resistant and can withstand the moisture. Vinyl and PVC wallpapers are good options as they are durable and easy to clean.
Choose the right pattern: Bold patterns and bright colors can make a statement in a small bathroom, while neutral tones and subtle patterns can create a calming and relaxing atmosphere.
Measure the walls: Before purchasing wallpaper, measure your walls to ensure you have enough to cover the entire surface. Don't forget to take into account any windows or doors.
Prepare the wall: Clean the wall surface thoroughly to ensure that the wallpaper sticks properly. If the wall is porous, you may need to prime it first.
Start with a plan: Plan the installation process by starting from the center of the wall and working your way out. This will ensure a more even and professional-looking finish.
Some popular peel and stick options for bathrooms include: options for bathrooms include:
Mosaic Tile: A mosaic tile pattern is a classic choice for a bathroom and adds texture and interest to the space.
Marble: Marble wallpaper creates a luxurious and sophisticated look in the bathroom, and is a great option for those who want the look of marble without the cost.
Geometric: Geometric patterns are a trendy and modern option for a bathroom. Choose bold, bright colors for a statement look, or soft neutral tones for a more understated style.
Wood: Wood-look wallpaper adds warmth and texture to a bathroom and can help to create a spa-like atmosphere.
No matter what style you choose, peel and stick wallpaper is a quick and easy way to give your bathroom a fresh and updated look.
Transform Your Bathroom with Peel & Stick Wallpaper
Many clients wonder, "Is it possible to use peel and stick wallpaper in a bathroom?" We're always thrilled to respond with a resounding "Yes!"
We love adorning bathrooms with peel and stick wallpaper. It is simple to apply and can swiftly transform your bathroom into a serene, spa-like oasis in just three easy steps. There's no need for messy pastes or extensive renovations, making peel and stick wallpaper installation in a bathroom a hassle-free DIY home endeavor.
Our Giffywalls peel and stick wallpaper collection provides a captivating and distinctive method to enhance a bathroom without paint. With many exceptional designs at your disposal, removable wallpaper is a hidden gem for converting small bathrooms into lavish home spas.
Add Boldness & Elegance to Your Bathroom
Whether you're a wallpaper novice or a seasoned enthusiast, your bathroom is an ideal space to experiment with peel and stick wallpaper. Typically, bathrooms are among the smallest rooms in your home, encouraging you to be more daring with your choices.
From making a bold statement with vibrant colors to opting for subtle elegance with classic patterns, a bathroom wallpaper design will likely suit your taste. When searching for the perfect peel and stick wallpaper, ensure it is heat and moisture-resistant.
At Decorsafari, our high-quality wallpaper designs are heat- and moisture-resistant, making removable wallpaper an excellent choice for homes, rentals, offices, restaurants, and more.
We provide a wide range of wallpaper prints to suit any room. Depending on your style, any of our designs could enhance your space. Below, we've highlighted some popular wallpaper prints suitable for small and large bathrooms.
Advantages of using wallpaper in the bathroom
Peel and stick wallpaper is a popular choice for bathroom walls as it offers a number of advantages over traditional wallpaper and other wall coverings. Here are some of the key benefits of using peel and stick wallpaper in the bathroom:
Easy to install: self adhesive wallpaper is extremely easy to install and does not require any special tools or skills. Simply peel the backing off the wallpaper and stick it to the wall.
Removable: Unlike traditional wallpaper, peel and stick wallpaper can be easily removed without damaging the wall. This makes it a great choice for renters or homeowners who like to change up their decor frequently.
Water-resistant: Most peel and stick wallpaper is water-resistant, making it a great choice for bathrooms where moisture is a concern.
Cost-effective: Peel and stick wallpaper is often more affordable than traditional wallpaper, making it a cost-effective option for bathroom walls.
Wide range of designs: Peel and stick wallpaper is available in a wide range of designs, from classic patterns to modern geometric designs. This means you can find a wallpaper that perfectly matches your bathroom décor.
Quick and easy to clean: Unlike traditional wallpaper, peel and stick wallpaper can be easily wiped clean with a damp cloth. This makes it a great choice for bathroom walls where splashes and spills are a concern.
Peel and stick wallpaper for walls is a versatile and cost-effective option for bathroom. With its ease of installation, water-resistance, and wide range of designs, it is a great choice for anyone looking to update their bathroom without breaking the bank.
FAQs – Peel and Stick Bathroom Wallpaper
Are you looking to replace your bathroom with a fresh, new style?
Revamp your bathroom with a stylish makeover! Discover chic designs, modern fixtures, and cozy accents to create a personal oasis. Transform your space and indulge in the luxury of a revamped retreat. Dive into a world of inspiration, and make your bathroom the ultimate relaxation destination.
Is peel and stick wallpaper OK for a bathroom?
Yes! Bathrooms are a great place to hang peel and stick wallpaper for walls. The material is made from vinyl, so moisture buildup won't affect it, making it a reliable choice for bathrooms. Plus, the adhesive backing means you don't need extra glue or messy tools when applying – peel and stick! It also makes the installation process considerably faster and easier too. So if you're looking for an easy way to spruce up your bathroom while avoiding any damage due to water exposure, go with peel and stick wallpaper!
What type of wallpaper is best for a bathroom?
If you're looking for the best type of wallpaper for your bathroom, you should look no further than 100% vinyl wallpaper. This kind of wallpaper is waterproof, resistant to mold and mildew, and easy to install. It also comes in various colors, patterns, and textures – so you can easily find one that suits your home decor needs. That said, choose a high-quality product, as poor-grade effects might not last very long in humid conditions like bathrooms. So if you plan on using 100% peel and stick wallpaper for your bathroom walls – be sure to go with one from a trusted company!
Can peel and stick wallpaper work in a bathroom?
Yes, peel and stick wallpaper can work in a bathroom. Certain types of wallpaper, specifically vinyl or polypropylene, are water-resistant and moisture-resistant, making them ideal for high-traffic areas such as bathrooms. They're also easy to install, as you only need a measuring tape, leveler, scissors, and a smoothing tool. The backing on the paper peels off for application allowing you to create professional-looking walls without hiring an expensive contractor. Additionally, should condensation buildup cause any damage, these papers are designed for easy cleaning with just mild soap & warm water – making them perfect for the humid bathroom environment!
What is the best wallpaper for a moist bathroom?
The best wallpaper for a moist bathroom is vinyl, which is highly durable and can resist humidity. Unlike conventional wallpapers made of paper or cloth, vinyl-coated wallpaper will not rot or peel when exposed to moisture. It is also designed with an embossed texture that helps deflect water splashes and other stains in your bathroom. Furthermore, if you regularly take care of the wallpaper, like wiping it down with a damp cloth to remove dust and other debris, your walls should last significantly longer. Additionally, vinyl wallpaper comes in various stylish designs for you to choose from; this means you can customize your bathroom look without sacrificing durability.
Where to buy waterproof wallpaper for a bathroom?
If you're looking for waterproof wallpaper for your bathroom, then Giffywalls and Decorsafari are where you need to shop! Both of these online stores provide a variety of high-quality, waterproof wallpapers that can be used in bathrooms. They offer different designs, textures, and colors to suit every individual's preference. The products are also reasonably priced, so you don't have to break the bank when shopping for wallpaper. All their products come with an added protection layer which helps to keep moisture away from their surface – this makes sure that it lasts longer than other types of wallpapers and is perfect for use in humid environments such as bathrooms. Moreover, the brands at Giffywalls and Decorsafari offer quick delivery services across India, so shopping with them is incredibly convenient no matter where you are located!
Conclusion
Peel and stick bathroom wallpaper is a convenient, cost-effective, and stylish solution for renovating your bathroom. It is easy to install, remove, and replace, making it an ideal choice for renters and homeowners alike. With the variety of patterns, colors, and textures available, you can easily find the perfect wallpaper to match your personal style and bathroom decor. Whether you're looking for a bold statement or a subtle accent, peel and stick bathroom wallpaper is a great way to transform your space. So why wait? Get started on your bathroom makeover today!
Comments on this Complete Guide for Peel and Stick Wallpaper installation in Bathroom article are welcome.
Bathrooms
Home Bathroom Design Style Posts
Designing the perfect bathroom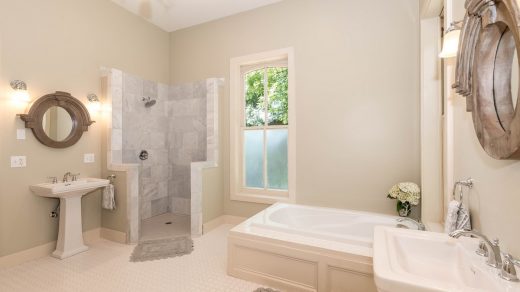 Bathroom remodeling important factors
Why opt for bathroom remodelling
Water
Water Posts
Water damage cleanup and repair service
Water damage restoration professional tips
Average Energy Bills in the UK
Buildings
Residential Architecture
Comments / photos for the Complete Guide for Peel and Stick Wallpaper installation in Bathroom page welcome