Open-plan Living Building Regulations Questions, Interior Architecture, Property
Open-plan Living Design
Building Regulations Questions: Residential Architecture Design Queries – Home Improvement
26 Jul 2016
Open-plan Living Design Questions
8 Key Open-plan Building Regulations Questions to Ask an Architect
Open-plan designs are always popular, but what are the Building Control requirements you should know before starting?
Open-plan Living Design Questions
Article first published on Houzz
Michael Schienke, Houzz Contributor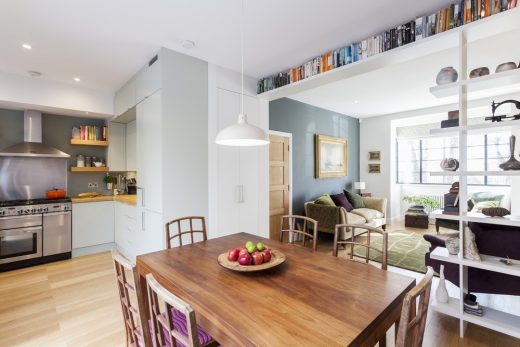 Just moved home or about to renovate your living and kitchen space? The trend for opening up a property – removing walls to get that amazing feeling of space, as well as making your mark on your home or a new house – continues to grow. However, going open-plan can be a Building Regulations minefield; there are various issues you may come up against, but the key focus is always fire safety. As you weigh up your design options, here are some tips to help you to create a safe and legally compliant open space.
What are the main Building Regulations issues for open-plan spaces?
The main issues associated with open-plan areas are fire safety and safe escape.
For example, is your staircase separated from your open-plan space by a fire door to allow a safe passage out of the building from other parts of the house? Is the kitchen – which is, of course, a fire risk area – closed off by a fire door? What about ventilation? One of the most common questions I'm asked when it comes to open-plan spaces is how to work around the issue of the kitchen fire door, which many people don't want to install.
You might hear about friends or neighbours who plan to get their Building Regulations Certificate and then remove the fire doors the regulations stipulated they must have, but which they never really wanted. Be aware that this is not only illegal, it's also unsafe: the regulations are designed to save your life.
So before you get swept away in the excitement of your new, open-plan space, it's important for your architect to consult with Building Control sooner rather than later to ensure your design is actually achievable. (More on Building Control inspectors shortly.)
If you're still deciding on your design, take a look at lots of open-plan kitchens for more ideas.
Is there a fire escape route?
One of the major questions your architect and Building Control officer will ask is, 'Will it be safe to escape in the event of fire?' It's an issue nobody should take lightly, and even though dealing with it often makes open-plan spaces more difficult, it's nevertheless important to stick to these rules.
For example, a staircase providing an escape route from upstairs rooms wouldn't generally be allowed to go through the kitchen. This is because the kitchen is considered a fire risk, and therefore no escape route should lead through it. Staircases are escape routes as well, and usually all rooms need a 30-minute separation – in other words fire doors – around them on the ground floor. The only way an escape route could lead through a kitchen is if you have a mist system installed, or sprinklers.
In this open-plan space, no doors are needed between the kitchen and reception rooms. Why? Because there's a 'secondary escape'. Read on for more about these.
Is there a secondary fire escape?
In order to create an open-plan living/kitchen/dining area like this one (the living area is where the photo has been taken from), you'll need to have an alternative fire escape, or what Building Regulations terms a 'secondary escape', from these areas.
These escapes could be doors into the garden, or even windows, provided they are of a minimum size. If this is the case, you may not need to separate your kitchen from your diner and your living space with doors.
Explore architectural tricks from Houzz that will enhance the look of your open-plan space
Do you need a sprinkler system?
Sprinklers, already touched upon earlier, are probably something most homeowners want to avoid having to install, especially as they can be expensive.
However, since Building Regulations states there must be a safe passage through open-plan spaces adjacent to stairs, this could be the only solution for this kind of layout, as escape routes are made safer if a fine water mist is 'sprinkled' in the event of fire, allowing for more time to escape.
You need to consider sprinklers when:
your design means you'll need to go through a kitchen from a staircase to your entrance door or a bedroom.
you want a completely open-plan layout, for example in a loft. The sprinklers then usually take the function of doors and walls to separate rooms.
you have very long corridors in your house and no secondary means of escape.
Discover more large industrial spaces like this one on Houzz
Is there sufficient kitchen ventilation?
In open-plan kitchens, mechanical ventilation needs to be installed for the kitchen extractor. A recirculating design is not sufficient, because not only do extractors get rid of smells, CO2 and other harmful gases, they also remove water vapour, which is created when you cook. Without correct extraction, mould can grow, just as it would in a bathroom without ventilation.
A side point here, back on the topic of doors: at the rear of this open-plan kitchen, there are double doors closing it off from the hallway, staircase and front door, which in the event of a fire in the kitchen provide a safe exit from the staircase. If you want to install glazed doors in a situation like this – as here – you'll need to ensure the glass is fire-rated.
Is the glazing safe?
Any glazing below 800mm needs to comply with safety standards and to meet Building Regulations requirements. This would apply, for example, to secondary escape route doors, such as the external glass patio doors pictured here (as well as the internal doors pictured previously).

Fire-rated glass must have confirmation from your supplier that it meets required safety standards, and there should also be a sticker on the glass to prove it. The sticker is key, as without it you have no proof the glass is safe, and you wouldn't get a Building Control Certificate.
How do I ensure split-level open spaces comply?
If your open-plan space is not all on one level, don't worry. As long as the steps from one level to another are like your stairs, and therefore not considered a 'trip hazard' (as a barely noticeable threshold would be), you will be fine.
With higher than usual spaces, safe fire escape routes are different. The same rules apply, but they can be challenged with the help of a fire consultant's report. This includes calculations to prove that, for example, the escape route can be longer because there is more void above, which needs longer to fill with smoke (meaning it's OK if people need more time to escape).
If you have such a space or would like to create one, I'd always suggest using an approved inspector, which means a private company can give you a Building Control Certificate. This type of inspector is, in my experience, more likely to be flexible with interpreting the regulations, while of course keeping your safety in mind as a priority at all times.
Are we seeing an end to open-plan living? Check out the debate
Can I have sliding doors?
How often do you close the door to your kitchen in an otherwise open-plan space? Probably rarely or never. Since, however, a fire door is required, and the cost of a fire shutter or sprinklers is much higher, let's consider pocket sliding doors. This solves both of these issues – you are still safe and legal, and by sliding the door into the wall, the sense of open space remains.
New regulations do allow sliding doors into kitchens in open-plan spaces. (Previously they were not allowed at all.) A few years ago, such doors needed to be self-closing, but the regulations have been adapted. However, if the door is glass, as seen in this room, it must also be fire-safe as described earlier.
Property Articles
Rotana Salalah Five Star Hotel, Oman
Design: GM Architects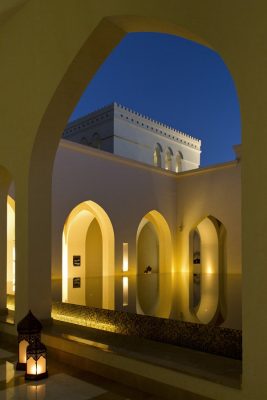 photo from architects
Renaissance Barcelona Fira Hotel, Spain
Design: Ateliers Jean Nouvel



photo : Agostino Calandrino
Comments / photos for the Open-plan Living Design Questions page welcome
Website: Architectural Walking Tours