NZ Architecture At its Finest, Modern New Zealand home photos, Residence architectural design
NZ Architecture At its Finest: Get Ready For Your Jaws To Drop!
21 Nov 2023
New Zealand is a spectacular oceanic country known for its stunning skylines and remarkable architecture. If you are in New Zealand for a vacation, don't simply pass through. There are way more to look at than its divergent nature and insane peaks.
Modern New Zealand is donned with charming architecture that will stun you. In this article, we walk through all the attractive, historic, quirky, and minimalist architectural designs. Keep reading to uncover the most extraordinary architecture in New Zealand.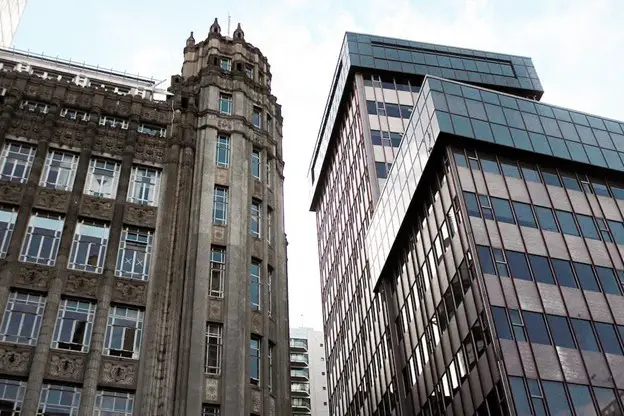 Dunedin Railway Station
Address: 3074332, Central Dunedin, Dunedin 9016, New Zealand.
Beauty has different names, and one of them is Dunedin Railway Station. The South Island city of Dunedin has a lot of grand old architectural designs, but the railway station steals the show. It was built in 1906 by black and white stones quarried in Otago. Plus, the station's interiors are just as good as its exteriors. Its floors are lined with over 700,000 Royal Doulton tiles, beautifying the open indoor space.
Although the location is termed a "railway station", it's more of an art gallery, event centre, and restaurant. Even so, the station still has a few office stations. And on the weekends, it's a full-blown farmers market.
Sky City Casino
Address: Victoria Street West, Auckland CBD, Auckland 1010, New Zealand
Towering over most buildings in its environment, Sky City Tower  is an urban sight you can't miss. And in the tower is the magnificent and lone casino in the whole of Auckland. Sky City Casino is built as a casino deserving of the title "one and only." The contemporary architecture wonder is in one of the tallest structures in the most populous city in New Zealand, Auckland.
The tower has an impressive height of 328 meters. At the top of the tower, you get a 360° panoramic view of the city below. The building has been standing for over 25 years, and the undiluted view of Tāmaki Makaurau adds to the building's post modern architecture intrigues. It is an astonishing product of our modern age technology. But it is the casino that steals the show. Usually only such architectural buildings do mass gatherings, shows, performances and also house stationary casinos. After all, what not the interior and architecture decorates places where a lot of adrenaline and cool mood. But if you are not close to the usual casinos, then you may like offline casinos.
For those intrigued by the world of gambling, New Zealand offers a variety of equally fascinating options. To explore these alternatives, you can visit https://nz-casino.online/casinos/real-money/. Discover the diverse array of offline and online casinos that contribute to New Zealand's vibrant gaming scene, each with its unique charm and offerings.
The Beehive, Wellington
Address: Pipitea, Wellington 6011, New Zealand
Beehive, or the executive wing of the New Zealand Parliament, is in the heart of Wellington. You only need a glance at the contemporary infrastructure to see the reason behind its name. The rotund, latticed structure takes a close semblance to that of a typical beehive.
The modern architecture wonder was by Basil Spence, who kick-started the construction in 1969 and continued well into the 1980s. Currently, the location is listed as a Category 1 Heritage building for every Wellington visitor. It received fascination for its innovative geometry. Undoubtedly, it is an incredible architectural design from concrete and steel. Remember to visit the innovative mid century modern architecture the next time you visit New Zealand.
Ratana Churches
Address: Waipounamu Street, Rātana 5010, New Zealand
Ratana churches are related to a Maori religious sect that constantly pulls the strings in New Zealander politics. Aside from their thick societal ties, the churches are heavy on aesthetics. Their structure catches the eye.
Unlike typical churches, Ratana is decorated with a star and crescent at the pinnacle of the building, an audacious concept. The church has an archaic and minimalist look that stands out in the modern setting, which gets many passersby looking. However, other churches also receive similar admiration. Here they are:
Cardboard Cathedral
Church of the Good Shepherd
Christ Church
The Taranaki Cathedral Church of St Mary
Waitangi Treaty Grounds
Address: Tau Henare Drive, Waitangi 0293, New Zealand
Waitangi Treaty Grounds form a big part of New Zealand's history. The location was where Maori chiefs signed a contract with those who represented Britain in 1840, taking sovereignty of their land. Here, tourists are often shown around and taught a brief history lesson at the location. There are many aesthetic buildings in the space. However, the Treaty House and Te Whare Rūnanga (the House of Assembly) are the most striking.
Te Whare Rūnanga, New Zealand: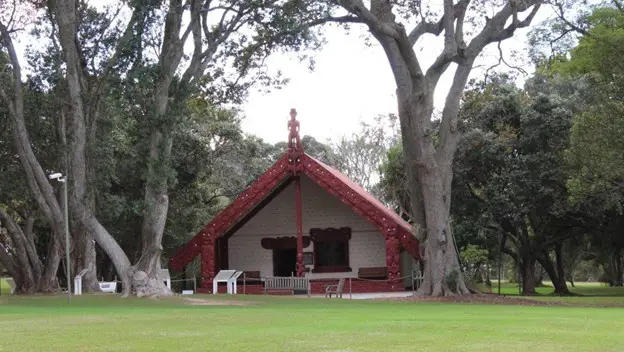 Te Whare Rūnanga is carved out of timber. The structure dates back to 1940, and the architectural fascination comes from its carvings and weavings. On the other hand, the treaty house was where the treaty was signed. The building's construction was in 1833. It is one of the oldest standing buildings in New Zealand and is grouped under Category 1 Heritage building. The building was made with sustainable materials that have stood the test of time.
Rongomaraeroa Te Marae, Te Papa
Address: Museum's 4th floor overlooking Wellington harbour
While Rongomaraeroa Te Marae, Te Papa is the last on our list, it has unparalleled beauty. The building has an artistic and architectural style that transcends time. The museum retains the traditional Marae style. Its sculptures are delicate, light, and colourful glass figurines.
The coloured windows also add to the building's beauty with reflected coloured light lines on its floors. Plus, this location isn't only an architectural design. It is rich with New Zealand's culture and traditions. Rongomaraeroa Te Marae is often used for ceremonial purposes. It is just as exceptional in functionality as it is in its design.
NZ architecture at its finest – best New Zealand building designs
Final Words
Aside from the beautiful open beaches and volcanic mountain peaks, New Zealand is home to attractive architectural designs. Remember to soak in all the aesthetics on your next visit. Above are our top six recommendations you should include on your to-visit list (if you have one). However, you can explore even more. The massive island is full of options regarding incredible architectural designs.
Comments on this guide to NZ Architecture At its Finest article are welcome.
New Zealand Architecture
Contemporary New Zealand Buildings
New Zealand Architecture Designs – chronological list
New Zealand Architecture Studios
New Zealand houses featured
Cottage Sandwich, Auckland, North Island
Architects: Matter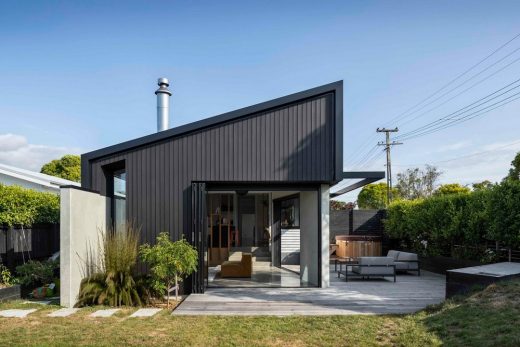 photo : Simon Devitt
Cottage Sandwich
Green Walls & Gables Residence, Auckland, North Island
Architects: Matter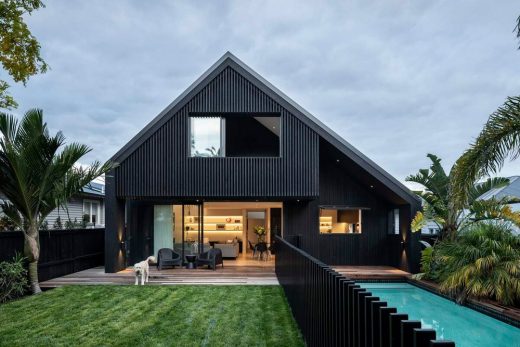 photo : Simon Devitt
Green Walls & Gables Residence
Comments / photos for the NZ Architecture At its Finest welcome.