Moving into a new house? Our checklist of tasks to do when you first move in, Moving house, Property relocation advice
Moving Into A New House? Our Checklist Of Tasks To Do When You First Move In
26 October 2022
Moving into a new house is exciting, and with all the excitement comes the possibility of forgetting to handle some tasks. Changing the environment can also be exhausting, making a tendency to ignore and eventually forget pressing duties that need handling. Unfortunately, regardless of the work that moving requires, it is still essential that there are no specific tasks pending when you first move in.
Planning your tasks for when you move in helps make moving less stressful. With our checklist of work to do when you first move in, you can check off the steps, making sure that everything ends as when due.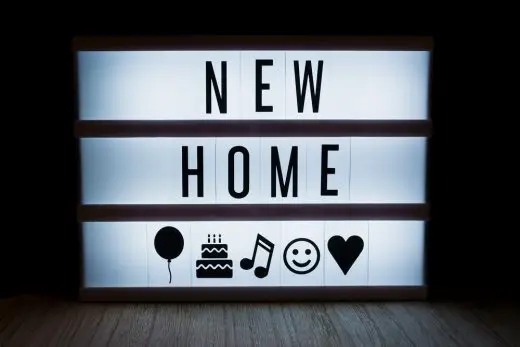 Moving Into A New House Checklist
Do A Full Cleaning
It does not matter how clean your new house is; it is always better to do a complete cleaning when you first move in. Full cleaning of the house ensures that the house is tidy and ready for unpacking and a proper inspection. A thorough house cleaning would involve sweeping and moping the floors, dusting surfaces and wiping down counters/cupboards or shelves. Doing a proper clean-up would also help get rid of unpleasant smells and possible rodents. A new beginning starts with a fresh, new look to a house. Cleaning is the best way to make your new home feel like yours.
Make A House Inventory
Making a house inventory is doing a thorough inspection of your new home. Everything needs to function properly or at its best to confirm that you moved in nicely. For example, you must inspect the house's smoke alarms, fuse box, water valve, utilities or possible damages. If you just moved to a rented house, all damages must be accounted for and created into an inventory given to the house owner.
Doing a house inventory would ensure you aren't liable for damages to the property you found at your initial move-in. If you do any repairs, compiling a stock of the repairs will ensure you get a refund of the money spent. An inspection of the house would also ensure that you are aware of possible repairs to damages in the house. You want to note what repairs require the handyman when he arrives.
Unpack Everything
It is always best to start your moving tasks with unpacking simply because this can take a while. Unpacking usually involves carefully removing delicate items and organising and sorting out properties. When unpacking, it is usually best to start with the bedroom and kitchen items, as those are a priority. You want to be able to take a rest or sort out your food if you haven't completed your unpacking by the end of the day. It is best to take your unpacking process so that it does not leave you exhausted. You can also create a plan that helps you quickly get your unpacking done if you are the type that doesn't like to unpack.
Set Up Utilities And Services
The best way to settle into your new home is to have your utilities and services functioning at your new house. Unfortunately, sometimes moving means, you might have to either disconnect from your previous service and connect to a new one or handle reconnecting your service. Setting up your utilities and service might take a bit of time, so it is best to start early on connecting them. It is best to list utilities and services that require setting up so you can keep track of them.
Change Your Locks
Sorting out your locks is crucial when you first move in, as you do not know all the people with access to your house keys. It is best to change the locks of your new house immediately after you move in to avoid any break-in situations. Changing locks is also a way to ensure your safety and quickly settle into your new environment.
Make Spare Keys For Someone You Trust
Moving is stressful for everyone. With the stress of moving sometimes comes forgetfulness and clumsiness. It is best to create spare keys for your house and hand them to someone you trust if you lock yourself out of the house and can't get in. If you do not have someone you can trust with your keys, you can always search for a safe hiding spot around your house to store your key. It is important to note that it should not be in a place that is visible enough to be stolen by an intruder.
Update Address For Every Official Document
A new house signifies a new address, which means that you must ensure every official document is promptly updated. It is best to sort out the update of your official document immediately. You do not want a delay that leads to your information getting stuck in the wrong address. Everything that indicates your address needs to be updated to your new one as quickly as possible to avoid problems.
Schedule Maintenance/Repairs
It is best to immediately see your repairs or maintenance if your new house requires one. Searching for a handyperson in a new environment may prove difficult due to unfamiliarity, so it is best to start your search early. You also need to immediately begin maintenance of the house to prevent it from appearing rundown after a while. Some maintenance to organise may include mowing the lawn, cleaning the driveway etc. it is essential to take care of repairs that the house might require immediately. Getting your repairs done can be as simple as searching online for plumbers in Manchester if you live in Manchester, or you can follow this link to enlist help from MyBuilder to help you find a handyperson near you.
Explore The New Neighbourhood
As a person who just moved into a new environment, a task to perform would be to explore your new neighbourhood. Discovering your area is essential because it helps you navigate your new surroundings so you know where significant places you might need to visit often. For example, the hospital, grocery store, bank, gas station and police station are places whose locations you might want to take note of for future purposes.
Meet New Neighbours
As someone new to the environment, it is best that you introduce yourself to your new neighbours. Meeting your neighbour benefits you in several ways because neighbours help in emergencies. Neighbours are also great at detecting potential criminals lurking around your house. Knowing a few faces around your house also helps you settle nicely into your new environment. You don't have to introduce yourself to your neighbours at their door; even a little hi when moving around the environment is enough. Your neighbours can be companions to prevent the loneliness that sometimes comes with moving to a new environment. Take advantage of the new community you find yourself.
Conclusion
First, write down your tasks to ensure you remember everything you need to do. The key to remembering is pencilling things down. Second, allow yourself some room to breathe. The great thing about moving is that there is no rush to complete tasks in your new environment, so take your time. Tackle each item on your checklist when you can; before you know it, they are all completed.
Whatever happens, celebrate your new move; it is undoubtedly worth it.
Comments on this Moving Into A New House? Our Checklist Of Tasks article are welcome.
Moving Posts
Moving Articles
Tips That You May Follow When Paying Your Moving Company
Take what property when moving to a new place
Building Articles
Residential Architecture
Comments / photos for the Moving Into A New House? Our Checklist Of Tasks page welcome