Living large with 4 of Miami's most luxurious real estate projects, Florida property tips, Real estate maintenance help
Living Large With 4 of Miami's Most Luxurious Real Estate Projects
Oct 12, 2022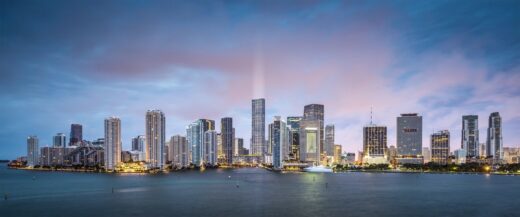 Florida is the third most populous state in the United States and has a flourishing real estate market, especially in Miami.
For those who love beautiful beaches, thriving nightlife, beautiful skylines, and an overall ambiance of luxury and fun, Miami is the place to be. Whether you're looking for art, commerce, culture, or entertainment, this coastal haven has it all.
If you covet the finer things in life, Miami has it all in abundance. To know what the "must-know" properties in Miami are, you've come to the right place. Here are some top-notch real estate projects that offer the best that Miami has to offer!
Top Four Real Estate Projects In Miami
Here are four luxurious projects that are functional, comfortable, stylish, and much more:
1. Una Residences, Brickell, Miami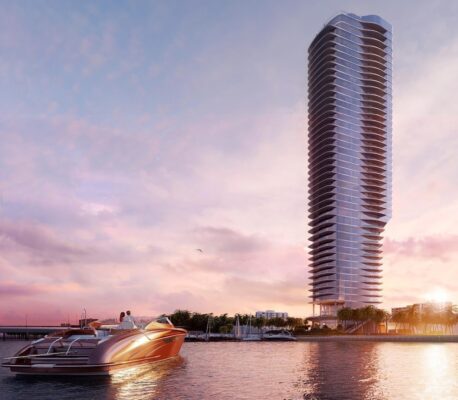 UNA Residences, Brickell – By OKO Group and Cain International
Una Residence Brickell is the definition of "spectacular'' with its striking silhouette and breathtaking views of the city and Biscayne Bay, the residents will experience living in Brickell, one of the most exclusive places in Miami. The spacious interiors and luxurious landscaping complete its luxurious look and feel.
This pre-construction project was developed by the recognized developer OKO Group and Cain International, making the interior design conjoint with the design architecture of Adrian Smith + Gordon Gill and the landscape design by Enzo Enea.
The astonishing inside spacious interiors and luxurious landscaping will leave the residents in awe, and the resplendent metallic structure and wrap-around glass facade make the Una Residences a jewel in Miami's skyline.
The residence amenities will be enjoyed by all the family members, Una Residence will count with a pool deck on the third floor, which includes a lap pool, a family pool, and a jacuzzi, so there's something for everyone, but if you want to take a swim while enjoying views of the pristine blue waters of Biscayne Bay, the bayfront pool is designed for exactly that.
Health and happiness go hand-in-hand at the Una Residences in Brickell which is why they also have a fully equipped, modern fitness center. If you're looking to be pampered after a hard workout, you can treat yourself to one of their spa services too!
With a movie theater, lounge area, private marina, and catering kitchen, this is an entertainer's paradise. It also has a beauty salon so you can look and feel beautiful without leaving the premises.
From its beautiful architecture and ample amenities to its central location, the Una Residences at Brickell is built to please even the most discriminating buyers.
2. Waldorf Astoria Residences, Miami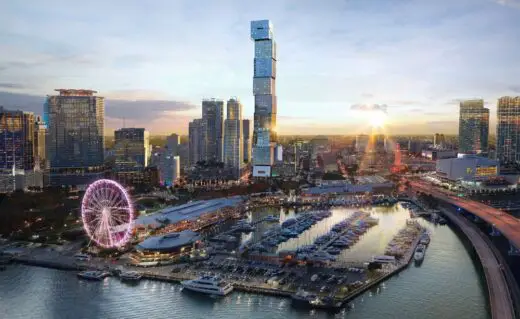 Waldorf Astoria Residences, Downtown Miami – By PMG (Property Markets Group) and Greybrook Realty Partners
The Waldorf Astoria Miami Beach is a pillar of elegance and class in the dazzling Miami skyline. It stands tall in the most premium neighborhood with all the best stores, restaurants, and cultural spots just around the corner.
When you look out of the floor-to-ceiling windows of Waldorf Astoria Miami, you can enjoy unobstructed views of Biscayne Bay, Brickell Avenue, and downtown Miami. You can also soak in the perfect Miami weather at the private residential amenity deck with its lovely pool.
This 1,049-foot and 100-story luxury structure is the tallest building in Miami. Designed by notable architects Sieger Suarez and Carlot Ott, it was developed by Property Markets Group (PMG) and Greybrook Realty Partners.
The Waldorf Astoria Residences offers over 800,000 square feet of space that overlooks Brickell Avenue, Biscayne Bay, downtown Miami, South Beach, and Key Biscayne.
Private and semi-private elevators lead to exclusive residences with 10-foot windows and awe-inspiring views. Located on the 23rd and 24th levels, the state-of-the-art spa, and fitness center have the latest equipment and the best trainers around.
The 21st floor's cafe and signature menu offer all you need for a relaxing coffee break or a casual get-together.
If you're hosting an event, the Waldorf Astoria Residence Miami also has a main ballroom, junior ballroom, and multi-purpose lounge.
However high your expectations, the Waldorf Astoria in Miami is sure to meet and exceed them.
3. The Perigon Condos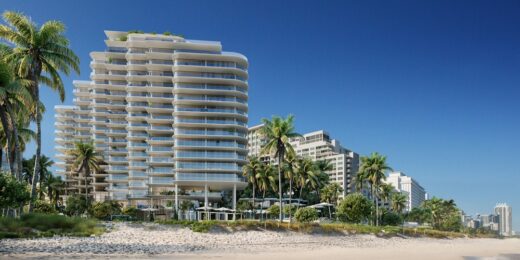 The Perigon, Miami Beach – By Mast Capital
The Perigon Residences Miami Beach showcase the best of contemporary, sophisticated architecture and understated extravagance. It is the epitome of a lavish lifestyle with premium interiors and exquisite finishes that only the best homes can offer.
The Perigon Miami are oceanfront units with floor-to-ceiling windows, ensuring you get unobstructed gorgeous views of the Indian Creek and the Atlantic Ocean.
Its 213-foot-tall contemporary architecture is surrounded by spacious outdoor terraces. Choose from 82 luxury residences with two to four bedrooms and thousands of square feet for your living space.
Enjoy world-class amenities that include a pool, bar, easy beach access, spa and fitness center, beachside pool, and an exclusive waterfront restaurant. With 183 parking spaces, you and your guests will have more than enough slots for your vehicles at The Perigon Miami Beach.
All the experiences that make life worth living are right within reach at The Perigon Residences Miami Beach.
4. Baccarat Residences Miami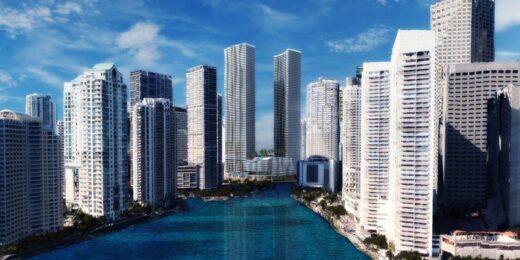 Baccarat Residences, Brickell – By Related Group
The Baccarat Condos Brickell is managed by Baccarat Hotel, so it's guaranteed to offer world-class services and hospitality. Despite its abundance of sophistication and luxury, this architectural gem was also built with your children's comfort in mind.
This stunning residential complex features an all-star development team that includes Miami's largest condo developer, Related Group, design firm Arquitectonica, and interior designer Meyer Davis.
Professionally managed by Baccarat Hotel, the Baccarat Residences Brickell is a 40-story mixed-use development with three towers for hotel, business, and commercial use.
A family-friendly luxury residence, the Baccarat Residence has all the facilities you could want for rest and recreation, with a beautiful children's playroom that will transport your child to a magical wonderland, the Baccarat Condos Brickell is just what a kid needs to learn, have fun, and make friends.
Homeowners will also appreciate the heated resort pool, kids' pool, and fitness room with the latest equipment. Round-the-clock valet services and secure parking give you additional peace of mind and convenience.
The Baccarat Residences include everything you need to offer your family the best life possible.
Comments / photos for the Miami's Most Luxurious Real Estate Projects page welcome