Guide to Make your interior attractive with nebulizing diffuser, Home aromatherapy advice, Property smell help
Make Your Interior Attractive And Functional With The Nebulizing Diffuser
14 Dec 2020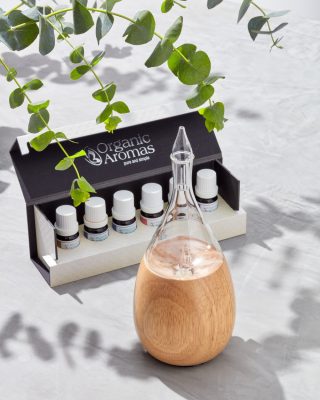 For attractive interiors, adding decorative pieces tastefully is key. From paintings to plants and other art, making a huge impression is possible as long as creativity and inspiration are employed. In addition to traditional interior decor ideas for centerpieces, it is good to consider modern ideas as well. A good example is incorporating functional decor into your space; the nebulising diffuser is an aromatherapy tool that also sets an artistic tone.
Apart from sanitizing and deodorizing your space, a nebulizer delivers therapeutic benefits to help you relax and ward off stress and anxiety. Other benefits like minor pain relief and a boost in concentration are worth mentioning. A nebulizer works by delivering fine essential oil particles into your space so that you can enjoy all the benefits. The Nebulizing diffuser by Organic Aromas is not just a trusted tool for all your aromatherapy needs, it is a wonderful piece of art that will transform your interior.
This article explores some of the wonderful features of the diffuser to inspire you to consider high quality aromatherapy with distinct style.
The Organic Aromas nebulizing diffuser and how it works
There are many essential oil diffusers in the market. However, not all of them are effective in their work. The most reliable diffuser is the nebulizing diffuser for many reasons. First, this diffuser has been proven most effective when it comes to rendering natural scents from essential oils.
From organic oils, you are able to enjoy 100% quality tiny oil particles in the air. Many diffusers in the market alter the quality of oil by adding water and using heat. Some have harmful plastic parts while others are fire hazards in the home or office. The Organic Aromas nebulizing diffuser is completely safe and makes no messes. It is also quiet and does not need any heat or water to function.
How it works
The nebulizing diffuser works through pressurized air employing the Bernoulli principle. This is a fluid dynamic theorem that is responsible for the emission of very fine pure oil mist to the air. The diffuser is expertly made with two main parts to deliver high level aromatherapy.
The device is made using a towering hand blown pyrex glass and a plantation harwood base; handcrafted elegantly with excellent detailing. All the elements that make up the diffuser work harmoniously to give you the best aromatherapy benefits. As hinted to above, it is not just the functional part of the diffuser that is impressive; the aesthetics can also improve your interior significantly.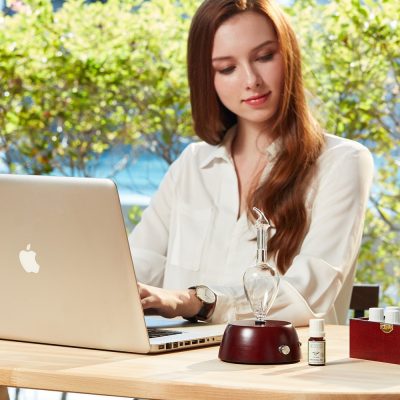 Choosing an artistic nebulizing diffuser for your space
The Organic Aromas nebulizing diffuser comes in a wide array of colors, shapes and sizes. You can choose a variety that goes well with your decor. Some of the most notable diffuser options by Organic Aromas include Raindrop, Radiance, Elegance, Magnificent, Exquisite, Opulence; the list goes on.
Raindrop
This is one of the most iconic nebulizers from this range and is shaped like a raindrop. It features a rounded plantation hardwood base, coupled with a conical glass reservoir and a candlewick top. This artistic piece suits a variety of spaces including spa, office and even at home. The aromatherapy tool is fitted with rainbow LED carousel lighting to create the most dramatic ambiance. This easy-to-use diffuser is highly rated to give you the best aromatherapy with a touch of style.
Radiance
This uniquely shaped nebulizer is remarkable to say the least. It is clothed in a swirling design that hugs the rounded glass reservoir. It is finished with a charming hardwood base in which one can choose a light or dark wood shade. This refined piece blends well with any decor and compliments your space effortlessly. It also features charming rainbow-colored LED mood lighting. Just like all other nebulizer varieties by Organic Aromas, it is completely safe, efficient and doesn't use heat or water.
Elegance
This is another excellent choice when you want to enjoy thoughtful functional art in your space. It is a stunning piece that is the flagship product from the maker. Its glass reservoir is shaped like an hourglass to deliver an overall elegant tool that is sure to refine your interior. With LED mood lighting and a host of control features, this is the perfect way to enjoy aromatherapy in your home or office.
Magnificent
If you are into a more classic theme for your decor, this is the perfect nebulizing diffuser for you. This instrument enjoys a smooth finish on the attractive hardwood base with an hour-glass shaped glass reservoir. The unique style is bound to compliment your space. It sports all the excellent functional features to give you a safe, reliable and quiet diffuser to meet your needs. Keep in mind that all nebulizing diffusers by Organic Aromas use very little energy and are completely safe for use.
Exquisite
For the modern person who adores contemporary styles, this is the perfect diffuser for you. It comes with a modern touch of style for fresh ambiance. This polished piece comes in a number of colors to give your space a custom touch as desired. The stunning white LED mood lighting and a host of other great features make this option worthwhile.
Conclusion
There are many other diffuser styles to talk about in addition to the ones mentioned above. For example, you can opt for hand carved styles with themes like dragon, gecko, butterfly, buddha, tropical forest among others. These custom made diffusers are produced by experienced artisans on the beautiful island of Bali, Indonesia.
You also have a chance to fully customize your diffuser design by having them custom printed or laser engraved. Take time and look at the awesome nebulizing diffuser galleries by Organic Aromas. You are bound to be inspired. Look at what other people are saying about this nebulizer; and get a feel of what you can expect. No matter where you are, you can enjoy top notch aromatherapy with these nifty nebulizing diffusers.
Comments on this guide to Make your interior attractive with nebulizing diffuser article are welcome.
Building Articles
Contemporary Architecture
Comments / photos for the Make your interior attractive with nebulizing diffuser advice page welcome